Good morning, and success! Welcome to Saturday Morning Garden Blogging.
It's been another warm week here in Denver, with daytime highs consistently climbing into the 90s. And the overnight lows haven't been all that low — Friday morning the low was a frigid 67°. We had a few sprinkles of rain, but nothing substantive.
However, the aftermath of our weird, cold, soggy April and May is still upon us. I'm keep discovering plants that should be there… but aren't, killed by the record-smashing, 9° overnight low in early April. Like, a patch of achillea just gone — achillea? Really?
And Johnson's Blue cranesbill — I used to have volunteer plants from self-seeding everywhere, but only a single plant came back. Ah well, at least I still have one, so there will be more volunteers.
But… I now, officially, have to stop bitching. Because as of Wednesday, Denver Water has moved us from Stage 2 to Stage 1 drought — much less stringent watering restrictions. We can water up to 3 days a week, on any day we choose, rather than limited to twice a week, assigned-day watering. And that's because of the miserable, wet, cold, snowy April and May we endured.
And my rhubarb survived! You must understand — this is my fourth or fifth attempt at rhubarb. Having never seen rhubarb bloom before, I allowed it to flower, and now I know why nobody grows rhubarb for the blossoms.
As to other successes, this little cutie (and it is little, about the size of a dime) is the blossom on a French charentais melon plant — the hot weather has sent the vines growing like mad. Last year the plants were much later in blooming, and only one melon ripened before the first freeze. This year I may actually have melons in August, rather than September.
I have a good start on a fair crop of leeks, too. I didn't totally eliminate the problem of pooties digging — but their digging was confined to the edges of the large rectangle I planted the leeks in, and the leeks planted in the center are growing like gangbusters. Works much better than planting them in rows like I tried last year.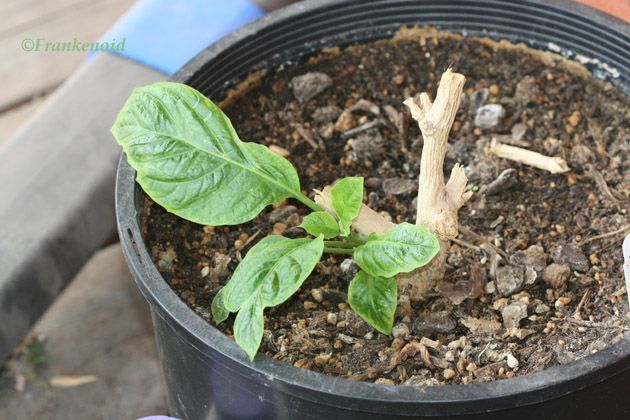 This is photo is success springing from failure — and a demonstration of the amazing resilience of brugmansias. I let this plant, one of my smaller brugs, dry out too much over the winter. All the stems were crispy and hollow; it looked dead.
But I watered it anyway, put it in a sheltered spot, and after about a month new growth emerged at the base. Brugmansias are a little touchy to get to blooming — but a well-rooted brugmansia is very forgiving and has an astounding ability to recover from your mistakes, allowing you to figure out exactly what it needs.
That's what's happening here. What's going on in your gardens?