The Eurozone crisis has been declared dead and buried by multiple european politicians.
Nevermind that the Eurozone is in recession, and that unemployment is rampant in southern Europe, and that the banking system is on life support. The politicians have declared it to be true, so it must be true.
What matters is that the bond market is satisfied...well, until a few days ago.
Portuguese borrowing costs topped 8 percent for the first time this year after two ministers quit, signaling the government will struggle to implement further budget cuts as its bailout program enters its final 12 months.
"It sounds the alarm bell of austerity fatigue," said David Schnautz, a strategist at Commerzbank AG in New York. "This domestic noise is definitely negative."
Portugal's official unemployment rate is over 17% and is
expected to top 18%
later this year. The economy has contracted for 10 straight quarters and is expected to continue to contract 2.3% more this year.
But that's not why the bond traders are in revolt. They are in revolt because the breakdown in the government is expected to delay another round of austerity cuts. Two more ministers are expected to resign and protestors are out in the streets against more austerity.
The working class of Portugal is expected to suffer more in order to pay for larger banker bonuses.
If the problems only involved Portugal this would hardly be worth mentioning. Portugal is very small. So is Greece and Cyprus. But when you combine all three, you have a significant issue.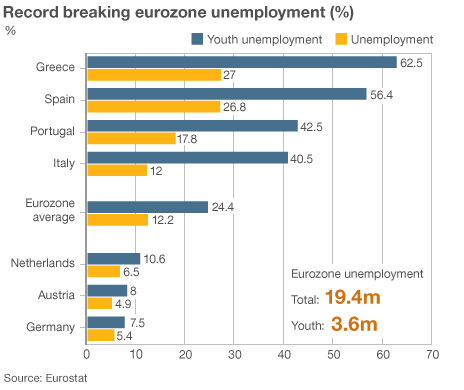 Greece's government nearly collapsed a few weeks ago when a major leftist political party left the coalition in protest over austerity cuts. However, that coalition was repaired a few days ago when some moderate politicians joined the coalition.
Problem solved, right?
A Greek minister in charge of reforming the country's bloated public sector said late Tuesday he will need several months to overcome delays in a staff restructuring program demanded by rescue creditors.
The government has failed to sign up any public sector employees to a new mobility scheme — which includes involuntary staff transfers — that should have included 15,000 people by the end of 2012.
Translated, that means that the government is way behind in implementing a huge new round of austerity cuts on a country in a very deep depression, and will need several months more to do so.
However, the international bankers in charge of Greece's bailout have given the country
only 3 days
.
Greece has three days to reassure Europe and the International Monetary Fund it can deliver on conditions attached to its international bailout in order to receive the next tranche of aid, four eurozone officials said on Tuesday.
Recall that Greece's economy has only gotten worse since the last time you read about them. The unemployment rate is now 27% and the average citizen has lost a third of their disposable income because of austerity policies. Their economy has been in contraction since 2009 and is expected to continue to contract in 2014.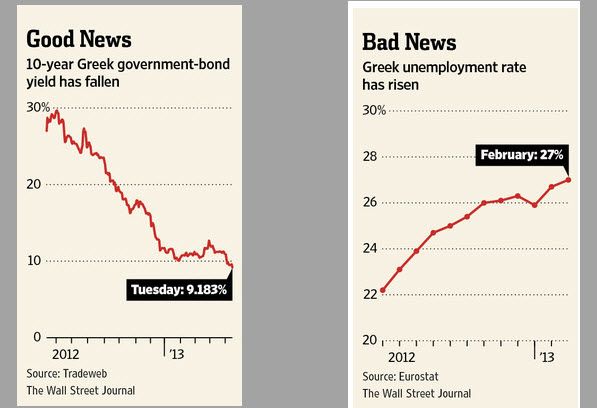 Finally, we have Cyprus.
Cyprus defaulted on their debt a few days ago and their debt is now rated as "junk" despite still being part of the Euro. Their unemployment rate is 16.3% and their economy is shrinking at a 4.4% rate.
But that isn't what has people worried. The big concern is that the president of Cyprus is asking the european banks to make the terms of the austerity less strict. The Eurozone officials have already said that renegotiation is unlikely.
The ongoing crisis isn't limited to small countries.
People in Spain have nearly stopped having babies while the anti-austerity protests have taken on an unusual element.
In an odd turn of events, firefighters were the ones starting the fires at the latest austerity protest in Spain. Spanish firefighters clashed with riot police in Barcelona Wednesday as they protested against spending cuts in Catalonia, the economically powerful northeastern region of the country.
The elephant in the room is Italy. No one wants to talk about it because there is simply no way to bail out an economy that large. Yet that doesn't stop the country from
needing that bailout
.
ITALY is likely to need an EU rescue within six months as the country slides into deeper economic crisis and a credit crunch spreads to large companies, a top Italian bank has warned privately.
Mediobanca, Italy's second-biggest bank, said its "index of solvency risk" for Italy was already flashing warning signs as the worldwide bond rout continued into a second week, pushing up borrowing costs.
With
protestors in the streets
more austerity in Italy might not be possible.