A wet and wonky welcome to you! Your host, your ol' fuzzy pal Marko, is slogging about in the rain this week. Just a couple of photos to share; too much work waiting to get done. And perhaps a bit of sleep later?
As always, Coffee Hour is an open thread diary offered to the good folk of the Street Prophets group to romp in. Any other wanderers who followed the scent of cookies to the door are always welcome to come in and partake. When residents of Prophecy Street put an "Open" sign in the window it means the place is open -- we're kinda funny like that ...
Hop below the ginger hairball for a peek at some of the work I've done on my kiln and what the rickety kick-wheel is spinning. Then hop over that and give fuzzy-headed Marko something to read with his morning coffee won't you?
I'm enjoying a working vacation. I've been busy getting ready for a kiln firing in August. You can read about my wood-fire kiln project and the first firing at these links:
What Are You Working On? (WAYWO)
WAYWO (What Are You Working On)? Fire it up!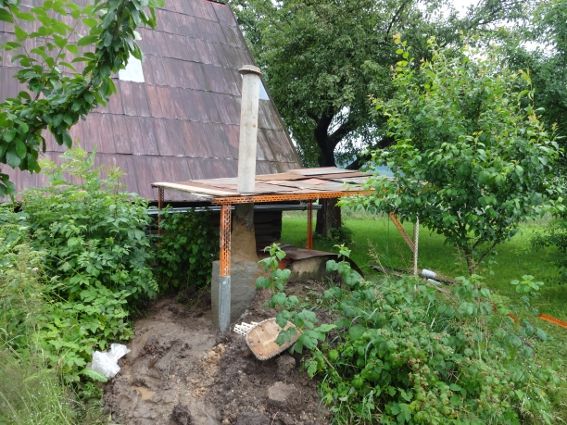 And there's a view of the back end of the kiln. I've reinforced the base of the chimney with brick and mortar (and a massive iron pry-bar). I've begun to insulate a further section of the chimney with my clay and chaff mixture wistfully reinforced with a bit of old chickenwire. But the big project for this week has been (other than cleaning and painting the main room of the chalupa (that's an old Czech farm house)) putting a roof over the whole kiln. I set four posts in concrete and built a rough metal frame. I'm covering that with sheet metal, some thin wood and probably that'll be topped with tar paper.
And here's a look at a couple of fresh pots I threw on Thursday. I surprised myself a bit with these because I usually ruin the first pot I throw on any given day but yesterday it was the third pot that fell apart. I was already pretty tired I guess.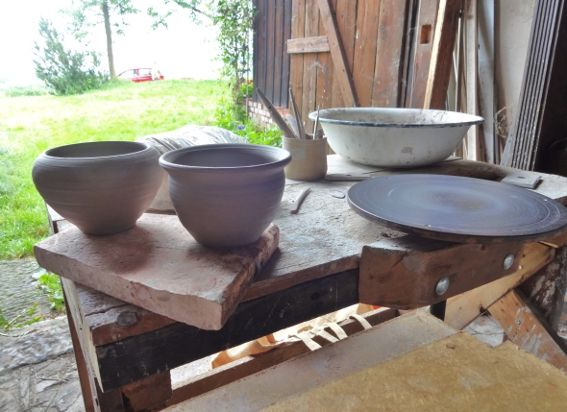 Been a busy week. Lots of work in the garden, with all the rain I fear the slugs are winning. I'll get out some beer traps and spread some ashes in the hope of resisting the tide of slime-beasts. Lots of socializing this week with visits to friends in the area and one visit from some friends this afternoon. With our big cleaning and painting project came a few discoveries-- like a couple packets of sparklers (just in time for Independence Day!) that had lain atop a cabinet for 15 years! And wonder of wonders, they still work ...
Hope you all had a lovely Fourth and hoping you'll have a great weekend!