And in other non-related News:
The Pope is still Catholic; and Bears still sleep in the woods.


New Evidence Shows Fracking Contaminates Groundwater in Pennsylvania
A Duke University study finds methane in drinking water wells, along with two additional gases associated only with shale gas extraction.
by Brett Walton, Circle of Blue -- 25 June 2013

[...]
Drinking water wells within one kilometer of shale-gas drilling sites in northeastern Pennsylvania had methane levels six times higher on average than wells farther away, according to a study published online Monday in the Proceedings of the National Academy of Sciences. Methane was found in 82 percent of samples.

The authors suggest that poorly constructed gas wells are the most likely source of contamination, an assumption that will be addressed more rigorously in a future paper.

Led by researchers at Duke University, the study is consistent with the results of two other Duke studies that found methane contamination in water wells in Pennsylvania's Marcellus shale formation and a hydrological connection between deep and shallow aquifers. None of the three studies has found groundwater contamination from the chemicals used in hydraulic fracturing, also called fracking.
[...]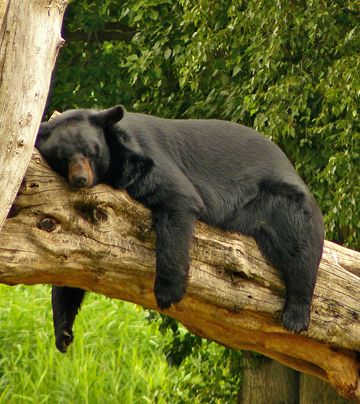 [ Source -- AWH -- alwayswithhonor.tumblr.com ]

They say, "It's best to let sleeping bears, lie."
(Although "they" never really explain, Why?)

Here's something we'll probably never see on our TVs (... too many PSA's from the Natural Gas Alliance, you see)
-- Here's that Duke Study about the-once clean groundwater, in Pennsylvania:
Proceeding of National Academy of Sciences. PNAS

Increased stray gas abundance in a subset of drinking water wells near Marcellus shale gas extraction

Robert B. Jacksona,b,1,
Avner Vengosha,
Thomas H. Darraha,
Nathaniel R. Warnera,
Adrian Downa,b,
Robert J. Poredac,
Stephen G. Osbornd,
Kaiguang Zhaoa,b, and
Jonathan D. Karra,b

Author Affiliations

a. Division of Earth and Ocean Sciences, Nicholas School of the Environment and
b. Center on Global Change, Duke University, Durham, NC 27708;
c. Department of Earth and Environmental Sciences, University of Rochester, Rochester, NY 14627; and
d. Geological Sciences Department, California State Polytechnic University, Pomona, CA 91768

Edited by Susan E. Trumbore, Max Planck Institute for Biogeochemistry, Jena, Germany, and approved June 3, 2013 (received for review December 17, 2012)


Abstract

Horizontal drilling and hydraulic fracturing are transforming energy production, but their potential environmental effects remain controversial. We analyzed 141 drinking water wells across the Appalachian Plateaus physiographic province of northeastern Pennsylvania, examining natural gas concentrations and isotopic signatures with proximity to shale gas wells. Methane was detected in 82% of drinking water samples, with average concentrations six times higher for homes <1 km from natural gas wells (P = 0.0006). Ethane was 23 times higher in homes <1 km from gas wells (P = 0.0013); propane was detected in 10 water wells, all within approximately 1 km distance (P = 0.01).

Of three factors previously proposed to influence gas concentrations in shallow groundwater (distances to gas wells, valley bottoms, and the Appalachian Structural Front, a proxy for tectonic deformation), distance to gas wells was highly significant for methane concentrations (P = 0.007; multiple regression), whereas distances to valley bottoms and the Appalachian Structural Front were not significant (P = 0.27 and P = 0.11, respectively). Distance to gas wells was also the most significant factor for Pearson and Spearman correlation analyses (P < 0.01).
[...]
Bon appetit!

[ Source -- Start day with a glass of water and maintain the vitality -- healthyfresh.org ]

It's only water ... they can make more, right?