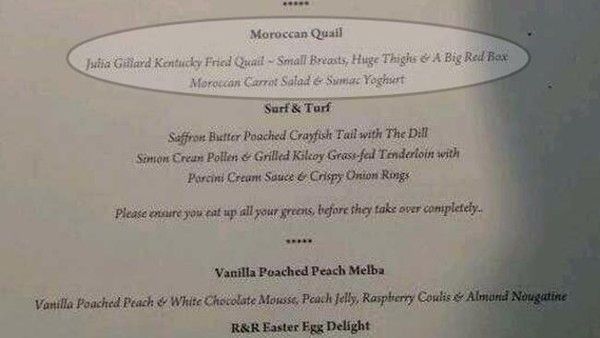 Hopefully the blatant racism we've seen since Pres. Obama's election disabused all of us of the notion that overcoming prejudice enough to elect a president from a disadvantaged group mean prejudice withers away. It seems anecdotally that racism has gotten worse. Not that there are more racists around, but the troglodyte right seems to feel freer to express itself. Maybe psychologists can explain why bigots come out from under their rocks when progress gets made, but we don't need an explanation of why that happens to be able to predict it.
So Americans may look aghast at how the first female PM of Australia was treated, but then we must ask if we're any more advanced. Hillary Clinton is expected to win the Democratic nomination if she runs, with a good chance to win the presidency. Will that be the end of misogynistic attacks on female politicians, or will it be more like open season. We need to break the glass ceiling eventually, but prepared for what follows:

As her popularity dropped — especially among men — Ms. [Julia] Gillard's failings were unfairly pegged to the fact that she had dared to talk about the perils of female leadership. With gender dominating front pages for months, the media described her daily as a failed experiment. Even her fiercest critics conceded, in the final weeks, that no other prime minister was ever treated with such vitriol.

At her last news conference, Ms. Gillard said being the first woman "does not explain everything about my time in the prime ministership, nor does it explain nothing." Her voice quavered when she said, "What I am absolutely confident of is that it will be easier for the next woman and for the woman after that and the woman after that, and I'm proud of that."
What I take from it isn't that we should never have a female president just so we don't have to hear complaints from misogyny gallery, but that when we have our first female president, whoever and whenever that is, the reaction will be ugly. It has to be gone through however, and the history of breaking color barriers and glass ceilings suggests that it gets better for whoever is second and third and so on. Expecting it
won't stop it, but at least we can avoid dashed expectations, like some seem to have experienced when the first black president didn't mark the end of racism. Let's steel ourselves for the first female president showing that in that one awful way, we're a big Australia.
Two points to clarify: first, this isn't specifically about Clinton, since she hasn't said she'll run and she could decide against going through that awful marathon again, assuming she found it awful. The right certainly hates her, but I bet they could transfer that hate to any female presidential candidate.
Second, the image above is the menu from a fundraiser for Australia's conservative party, where an item named for the female prime minister included, "Small Breasts, Huge Thighs & A Big Red Box", and the link goes to a story about it on Examiner.com. "Box" is slang for female genitalia. The Australian Liberal Party is the conservative party, despite its name. The liberal party is Labour, like in Britain.