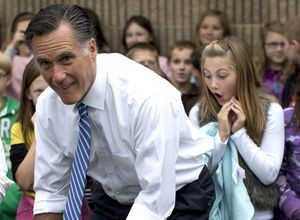 This just in from our "this is too good to be true" department - Mitt Romney may be on the comeback trail as Steve Peoples reports the announcement of an August 6 Mitt Romney New Hampshire Fundraiser

BOSTON — Republican officials have confirmed that Mitt Romney is scheduled to attend an August fundraiser for the New Hampshire GOP, the first time the 2012 Republican presidential nominee will headline a political fundraiser since his November loss. ...

After his humiliating election loss, Romney has stayed in seclusion, but recently "has hinted at a desire to play a more active role ahead of the 2014 midterm elections." I sure hope he doesn't find a way to make an ass of himself. Or, "show his ass," - what is the right expression?
He told the Wall Street Journal in May that he plans to re-emerge in ways that would "help shape national priorities."

His brand suffered after losing what was widely considered a winnable election, but Romney maintains a national fundraising network that could help generate millions of dollars for candidates, super PACs and party committees. He attended a three-day summit last month in Utah that featured prominent Republican fundraisers, a handful of potential 2016 GOP presidential candidates and even some high-profile Democratic strategists.

Oh, what a delightful development - Mitt Romney reemerging to help "rebrand" the image of the Republican Party. As if were not enough that Republicans have already elevated anti-immigration efforts, and attacked women's right to choose in Texas as major themes of their "New Republican Party" rebranding efforts. Is it too early to hope for Rick Perry, Mitt Romney, Newt Gingrich, and Rick Santorum to run again in 2016 on a "Let's return America to the 47%" platform?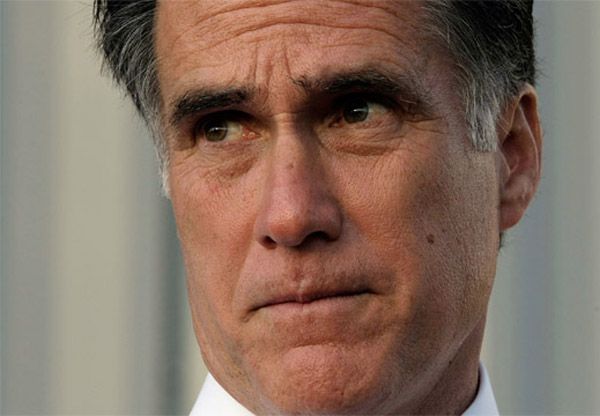 And our ever vigilant and spritely New Hampshire Democratic Party deserves our highest praise, and gives me such a warm feeling in those "special places of my heart," when they immediately pounced on this opportunity to counter-attack and fundraise, like a coiled jungle cat, highlighting the conspicuous failure of Republican rebranding:

"It didn't take long for Republicans to abandon their pledge to rebrand after a disastrous 2012 election," the state party wrote in a message asking supporters to donate $12. "New Hampshire Republicans are bringing back their standard bearer – Mitt Romney – and his infamous 47 percent comments for an exclusive fundraiser on Lake Winnipesaukee this summer. "

These New Hampshire Democrats are world class professional operators in top form. Great job New Hampshire Democrats. If we can spread this vigor to other state organization we can paint the national map blue in the next two elections. If someone can find us a link for an address let's all of us donate $12 to support this first rate New Hampshire Democratic Party state organization. Please give us a link to your bank account and I will write the first check from Daily Kos for $12.01 oh, what the heck, let's make it $15.00.
Our other state parties should take note as our New Hampshire org shows how it should done in the big leagues - counter punching so quickly, and on target, that they get our message in on the coattails of the same news cycle. Bingo! Let's turbo-charge our 2014 efforts to recapture state offices from these regressive Republicans.
And, what a great opportunity to announce that I'm back, after a much deserved long unannounced break, to announce my official start of the 2014 election cycle. Let the games begin!
I stopped writing after the tragic, post-election blunder of the New Years Eve Biden-McConnel compromise fixing government tax revenue at 18% of GDP, while our current national spending is 23% of GDP, ripped my heart out, after working so hard to re-elect this team. But I couldn't bear the thought of changing my writing focus to pointing out the shortcomings of our own Party leaders so I lost my "voice" and succumbed to my private despair. I seem to serve best when focusrd against the Republicans, where I can at least claim 2 out of 3 when I ask myself "is it true, is it helpful, is it kind?"
So happy days are here again, for this HoundDog. Thanks so much for all my old and new friends who recommended my comeback post yesterday. Please remember I'm one of the volunteer writers who write for love, not a paycheck. So your generous tips and recs are the only motivation I've got.
**********
PS. Well, that and the advancement of progressive and Democratic causes. Yes, your generous tips and recs, and the advancement of progressive Democratic are my only reasons for living.
Well, that and the common good and good of our nation... Among my many motivations for writing are ... (Monty Python fans can continue the allusion.)
And, lets not forget fun and humor. These are the only motivations for me to write. Oh, and let's not forget the "Mojo". Yes I'm a mojohound/addict. So many of you repeatedly point out that we can't do anything with mojo, and cluelessly ask "what's the point?" But, I've suggested to Markos a dozen times that he should let us redeem mojo for valuable prizes, like a frequent flier program. This is such an obviously brilliant suggestion I have not doubt I will eventually win him, and the powers that be over to the side of goodness.
For 10,000 points we could get an autographed photo of Markos and family. For 20,000 Meteor Blades, or one of the front pagers could rec one of our posts and pretend like they notice us "non-frontpagers".
And if you redeem 50,000 mojo points, Markos himself could comment in one of your posts - like "great post, HoundDog keep up the good work, and thanks for volunteering 8 years of your life, and writing over 700 posts, and 24,000 comments to helping build Daily Kos into the greatest Democratic blog site in the world. You are a much appreciated contributor to the Daily Kos community!"
And, for 100,000 mojo points, dare I say, we could be allowed to have a second sock-puppet account so we could talk to ourselves in those lonely posts that get no comments from a community organized around the "austerity - anti-inflation theory of recommending posts.
So this fun part is really important to me. In an effort to go along with the dominant new more respectable culture that has taken root here, I too some how became more respectable. But, lost my soul and joy de vivra. So, for those of you who think I may get a tad silly, compared to the somber professional demeanor of our (more) professional writers, please keep a more generous Keynesian tip and rec philosophy in mind if you want to motivate us second tier writers to keep on trucking for Democratic and progressive causes. Hello! Tips and recs cost you nothing - except the danger of "mojo-inflation." So let's help bring back the "good ole days" of fun and playfulness - at least, at one fringe of the community - in the late hours, after the big cats take the day off.
Just to illustrate, this quirky aspect of my personality, and my advanced skills of mojo-pandering, I ask you to follow the suggestions of the hypnotoad when he advises:
Please rec this post if you want to support volunter writers, anti-Republican efforts, enhance the good of the nation, bring back fun back to DKOS, and Democratic Party, spread goodness, and encourage our poor, lonely HoundDog to come back and write again.
Woof, woof!