Please help us spread the word about our fantastic stores in Kos Katalogue, like WINGS: HANDS ON SILVER. Wings's primary medium is sterling silver from which he creates jewelry artwork using Native silversmithing techniques. His silverwork is hand-cut and hand-stamped, using only natural gemstones like turquoise, coral, garnet, onyx and other precious gifts from our earth. You can see from his jewelry that he draws his inspiration from the world around him: "A ray of light, a passing shadow, the movement of water that runs through the Pueblo, the flash of a dragonfly, the flicker of a bird's wings, like a gentle heartbeat, the strength and grace of a running horse, the healing beauty of sage and Indian paintbrush… and always, always the lessons left by the Ancient Ones who have gone before."
I could tell from his silverwork that his inspiration was our beautiful environment and life because his work reminded me of my mom's artwork (jewelry, paintings and sculptures), and she did the same. When I see this type of artwork/silverwork, I also feel it.
If you like one-of-a kind silverwork or jewelry, you can have a field day at Wings Hand on Silver at Taos Pueblo in New Mexico.
Hard to see what all is available from this picture of his store, so my diary will give you a better look of SOME of his beautiful silverwork.
Bracelets are generally in the $100 to $500 range, including these gems:
Wings's has numerous bracelets available on the Web site, but let's start with two of his newest. The first is a flowering hoop link bracelet made within the past few weeks. The second is a cuff style bracelet with three beautiful rectangular cabochons of Bisbee turquoise on the top. Amazing detail and eloquence.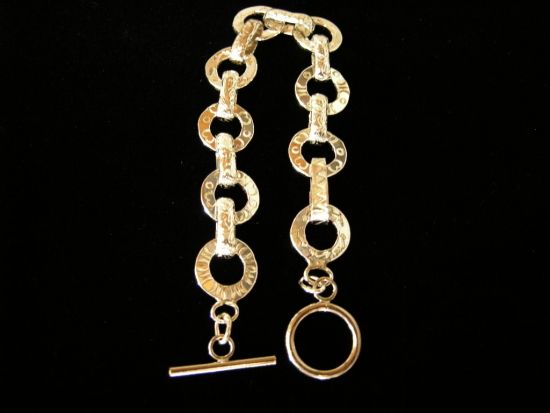 "The Flowering Hoop" Link Bracelet. Sterling silver. $450 + shipping/insurance.

"Squash Blossom Sky" Cuff Bracelet. Sterling silver and Bisbee turquoise. $425 + shipping/insurance.
Wings's bracelet collection includes: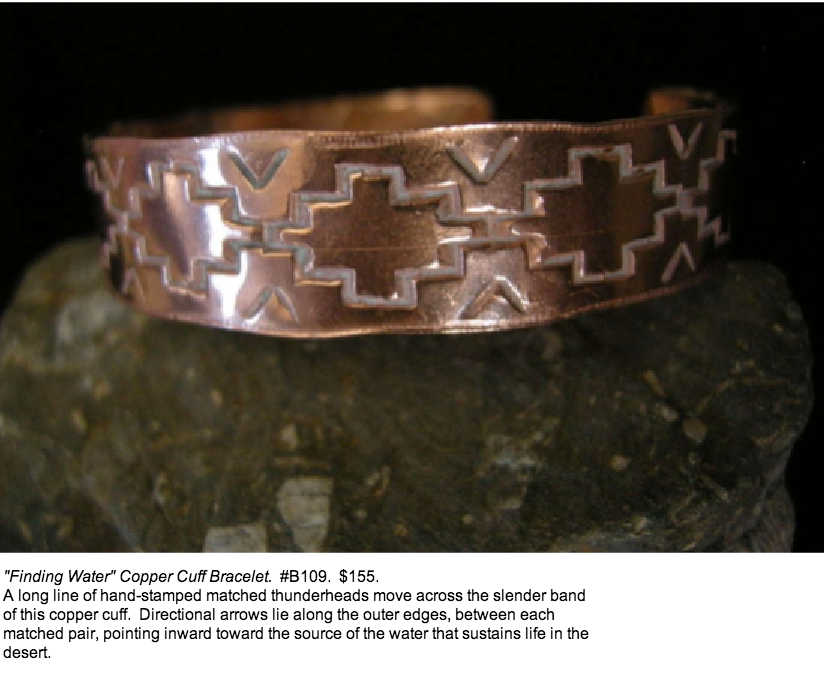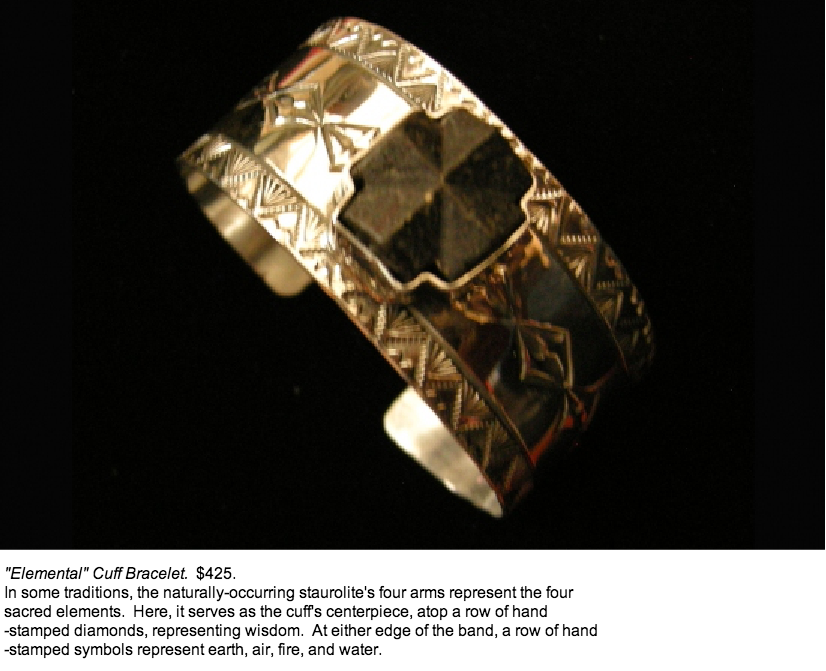 If you really love an item that has been sold, Wings can do a commissioned version that will not be identical because each piece is unique, which is what I am doing for the last bracelet! If you have an idea for a piece of jewelry, Wings also does commissioned work to bring your vision to life. Wings created these beautiful matching pendant and pin in the shape of turtles for internationally acclaimed author George R.R. Martin and his wife: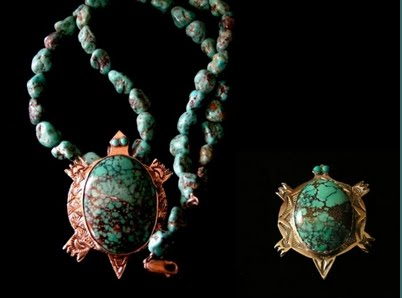 Do you like earrings? Dee sent me this picture:
The newest earrings include spiderweb turquoise cabochons - Skystones, or hardened rain fallen to Earth - are held by a pair of spirit beings.

"Rain Men" Earrings. Sterling silver and blue spiderweb turquoise. $250 + shipping/insurance.
The "Honor Fan" earrings are elegant in their simplicity of slender drops of solid sterling silver, each with a subtle stampwork at the end.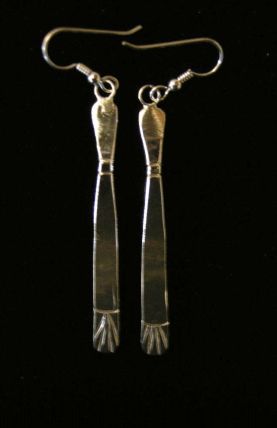 "Honor Fan" Earrings. Sterling silver. $135 + shipping/insurance.
Belts and Buckles
The concha belt shown below includes hand-stamped black leather belt, hand-stamped sterling silver conchas, and hand-stamped sterling silver buckle.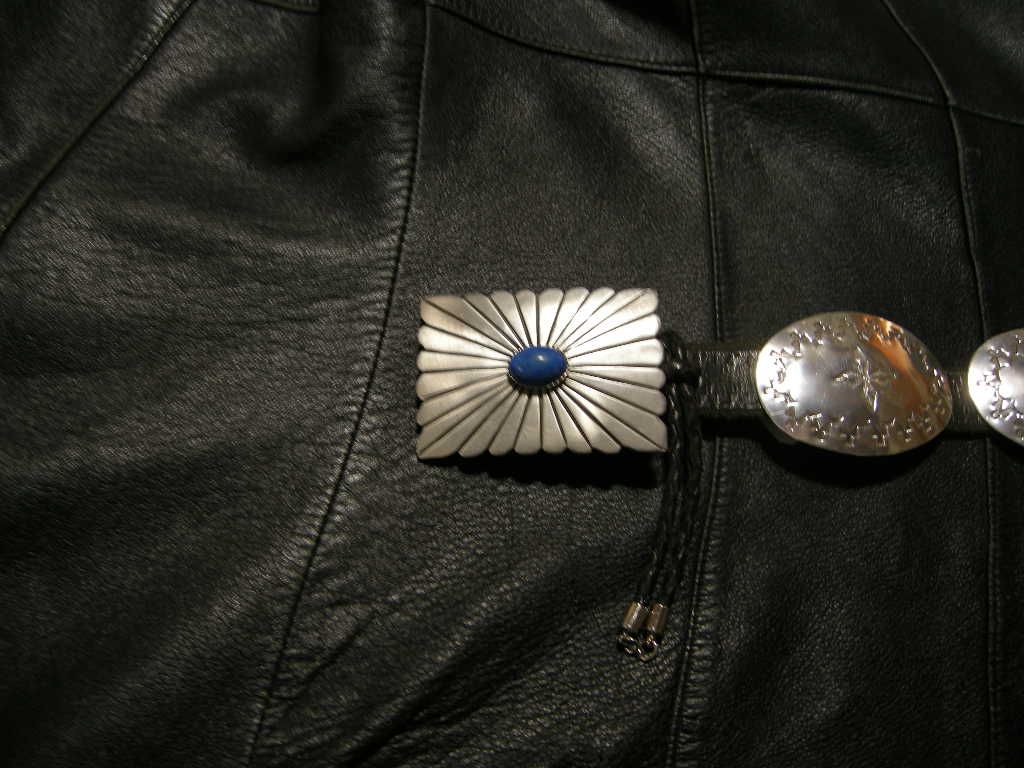 "Star Kiva" Concha Belt. Sterling silver; denim lapis; black leather. $1,100 + shipping/insurance.
Two of Wings's newer belt buckles are designed to be worn by anyone.

"The Way of the Sun" Concha-Style Belt Buckle. Sterling silver and green turquoise. $525 + shipping/insurance.

"Sunburst Sky" Concha-Style Belt Buckle. Sterling silver and blue turquoise. $480 + shipping/insurance.
Necklaces
Aji describes this piece, which is "a homage of sorts to two of our horses (Cree, the matriarch, and her daughter, Shade): It's their horse-hair that has been used to create the tassels. The flask itself is two-sided, with identical stones and stampwork on each side, hand-domed and trimmed with twisted silver. The tobacco flask itself is a replica; it doesn't open, so that there's no fear of the bail coming apart and the pendant being lost."

"Horsetail Sky" Replica Tobacco Flask Necklace. Sterling silver; amethyst; horse-hair tassels; white deerhide thong. $425 + shipping/insurance.
Aji describes the intricacies of this dragonfly necklace: "For Northern New Mexico tribes, summer brings one of our spiritual exemplars: Dragonflies. His version of this little spirit usually has feathery wings created by dozens, even hundreds, of tiny hand-stamped symbols, as is the case with the two below."


"Wind Dancer" Dragonfly Necklace. Sterling silver. $325 + shipping/insurance.

"Star Dancer" Dragonfly Necklace. Sterling silver and Sleeping Beauty turquoise. $325 + shipping/insurance.
Aji explains the creation of Buffalo's hair: "As with the dragonflies' wings, similar miniature hand-stamping creates Buffalo's hair around his hump. The necklace, by our beadwork artisans, is made of several strands of tiny multi-color beads, with an emphasis on white. The beads are contemporary, but designed to look like old-style trade beads."

"Buffalo Beads" Necklace. Sterling silver and multi-color trade-style beads. $225 + shipping/insurance.
Pins
Wings has a number of signature designs for pins: the Warrior Woman, the Spirit Horse, and the Pueblo pin. No two are the same, which is incredible because Wings makes them for clients all over the world.
Aji's written before about the origination of the Warrior Woman pin:

Wings lost his mother to complications from diabetes in 1999. Back then, you had to drive all the way to Santa Fe for dialysis, and he was the one who took her faithfully, four days a week. He said that watching her through it all, he realized that women were much stronger warriors than men, and he made the first Warrior Woman pin for her. After that, he continued to make them, first in her honor, then in her memory, to honor the strength of all women. No two are ever identical.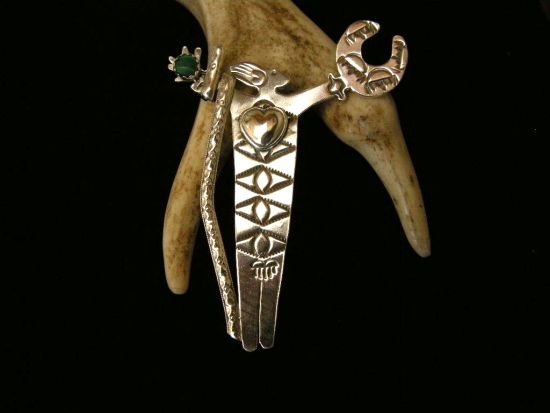 "Storm's Eye" Warrior Woman Pin. Sterling silver and malachite. $225 + shipping/insurance.
The Spirit Horse is another signature design which first appeared to Wings in a dream.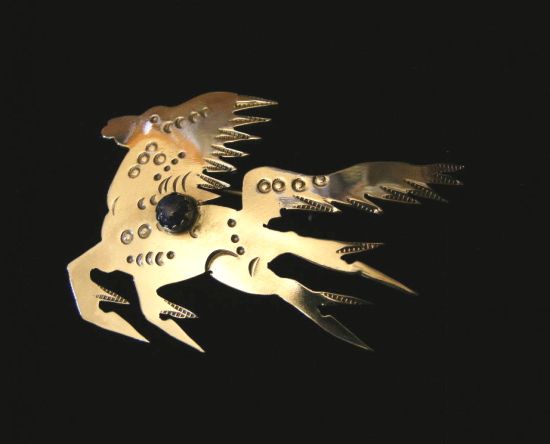 "Moonlit Trail" Spirit Horse Pin. Sterling silver and lapis. $225 + shipping/insurance.
The Pueblo Pin is modeled on Taos Pueblo's famous North House, and includes hand-cut and hand-stamped traditional windows, doors, vigas (roof beams) and pine ladders.

"Tiwa Mist" Pueblo Pin. Sterling silver and blue opal triplet. $225 + shipping/insurance.

Rings
From Aji: Wings often makes solitaire rings in the iconic Southwest Indian style. However, Wings's three newest rings are exceptions with multiple stones and unusual settings.
The first, the Summer Lodge ring, is a cactus-blossom style. The hand-stamped band is suitable for a man or a woman.


"The Summer Lodge" Ring. Sterling silver; blue turquoise; green turquoise; opal triplet. $195 + shipping/insurance.
This Lariat Moon ring features six small moonstones against a sterling silver back. Twisted silver encircles the stones and forms the band itself. ("Lariat Moon" ring is now RESERVED, but remember, Wings does commission work.)

"Lariat Moon" Ring. Sterling silver and moonstone. $150 + shipping/insurance.
From Aji: The last of the new rings resembles a human figure - but its features are unclear, as is so often the case with spirit beings. Stacked garnet cabochons in saw-toothed bezels form the figure itself; the band is hand-stamped in swirling patterns.


"Red Spirit" Ring. Sterling silver and garnet. $150 + shipping/insurance.
Collectibles
Wings's newest collectibles piece is a small, hand-stamped pillbox with the outlines of a butterfly with spread wings.


"Butterfly Medicine" Pillbox. Sterling silver. $150 + shipping/insurance.
This minature collector's spoon from the current inventory highlights the beauty of detailed, hand stampwork.

"Spirit Path" Miniature Collector's Spoon. Sterling silver. $125 + shipping/insurance.
Kossacks love jewelry by wings


Thank you to everyone who sent me pictures and testimonials! (Some pictures from comments posted at DK.)
kitsap river took a picture of her pieces, and endured tech problems to try several times to send to me for this diary!

I love my Wings jewelry and wear it frequently. My brother Wings' love of his art is almost palpable in each piece; it is no wonder he's won awards for his work! I look for occasions to wear these, and every time I do, I get compliments and people ask me who made them. I love to dress very simply in cold weather, in a charcoal gray cashmere sweater and dark jeans, and wear all three of these pieces at once; the dark background sets them off so well and they shine. And to me, there are spiritual links in each piece to the sacred all around us. With what money I have, I hope to become a collector of his work, little tiny bit by little tiny bit. It is unique and lovely. I look for occasions to wear these, and will wear them on special occasions set against a plain background as well as day to day. Wings' art works with just about anything I have.
smileycreek
:
paradise50: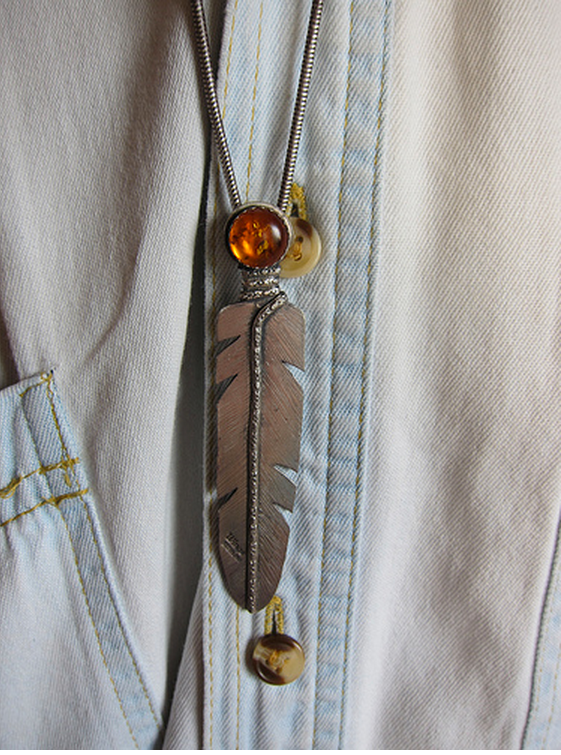 belinda ridgewood:

I ordered my Thunderbird bracelet because I was tired of messing with costume jewelery and wanted one nice piece I could wear all the time. I didn't know these things: 1) I was buying not only a beautiful work of art, but a small, wry familiar who would ride around on my wrist and keep me company; 2) I was making friends with two spectacular humans and a large company of four-legged and feathered creatures with kind hearts; 3) Once you see the gallery, the idea of being satisfied with just one nice piece goes right out the window.
maggiejean
: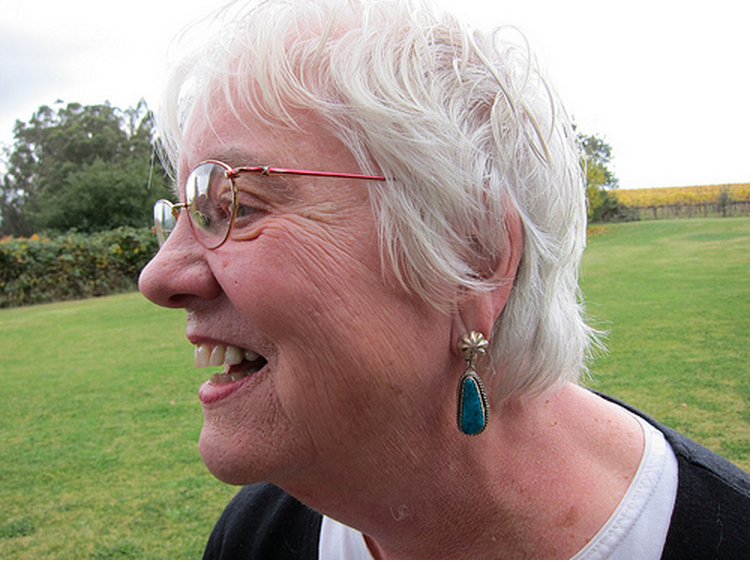 no way lack of brain:
winglion: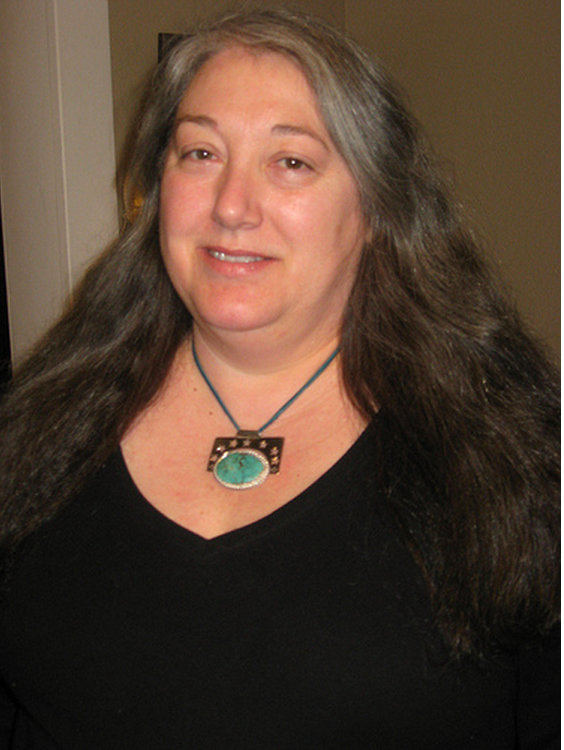 A closeup of the necklace Wings made for winglion!
Sara R's earrings:
[I am the lucky recipient of a] beautiful—no, magnificent—piece of jewelry that Wings made (designed by Aji and using a stone from 4Freedom) which generous Kossacks, acting collectively and anonymously, arranged to have given to me. It is a necklace with a pendant in the shape of a white hawk, a gorgeous silver setting around a lovely trapezoidal gray aventurine.
Mnemosyne has a Warrior Woman Pin, a signature piece by Wings to honor women. Each one is unique.
ZenTrainer has a bracelet from Kos Katalogue Secret Santa and a ring of ICE that she bought for herself as a post cancer birthday gift. ICE is "used for cleansing and healing, keeps new beginnings within your grasp. Hints at dimensions and powers waiting to be tapped by the wearer." ZenTrainer won't take the bracelet off because "it seems to already become a part of [her]."
weck noted that wings' work is "museum quality."
Wings's artwork was awarded Best in Show at the Millicent Rogers Museum for this miniature flask.











blue jersey mom's earrings:
Avilyn does a lot of her holiday shopping at kos katalogue…and for herself too!

Here's some pictures of the cuff/pendant Wings made for me, as well as the necklace I bought from them as a Christmas gift.

The necklace is "Four Directions" Silver/Onyx, and it was literally a jaw-dropper gift when my Aunt opened the box.

The cuff is an adult size Amethyst Blossoms, and the pendant is named "Evening Star Spirit". Now the cuff, I had an idea what it would look like, since they sell a child size version normally. For the pendant, I knew I wanted moonstone, and some of the symbology I wanted incorporated in the stamping (water, spirit, flowers, female strength). From there, I gave Aji a price range, and let her convey the information to Wings, who worked his magic and came out with the extraordinary pendant you see in the photos. I couldn't be more pleased, and you can feel the energy/blessing Wings adds to his work when you wear it. I have plans to commission earrings to go with the set down the road, and every confidence that they'll be just as perfect.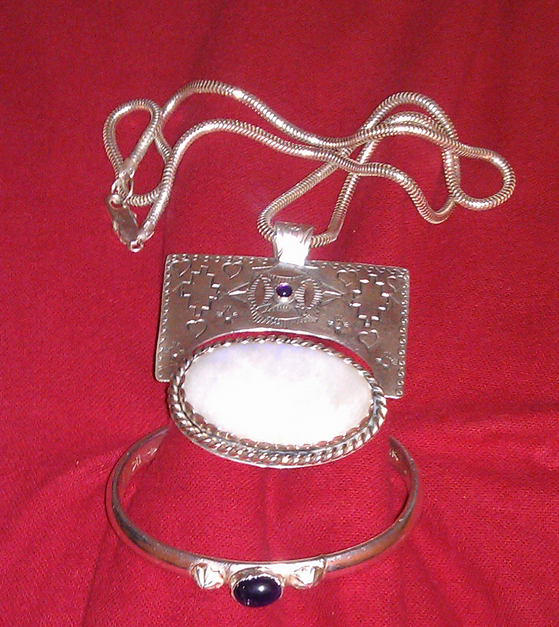 rb137's earrings were just delivered!

This is beautifully crafted silver -- elegant down to the tiniest detail. I love these earrings.

The jewelry comes with a traditional blessing that I wear them in health, happiness, peace, and prosperity.
Kos Katalogue is Community Building. Daily Kos is the best progressive website with an incredible community, complete with stores on our village square, selling everything from artwork to jewelry to pootie pads to personal services.
Kos Katalogue is a grassroots movement to provide jobs by starting new small businesses not provided by DC or the corporate private sector. Kos Katalogue also interconnects and networks our online community with cities and towns across America. Two years ago, Sara R suggested that we hold online gallery shows for Kos Katalogue. In one of our phone chats, I suggested we also do fundraisers here at DK to buy artwork from a kos katalogue store, and then we donated the artwork to a community facility. Artist/Kossack David W then delivered our donated painting to a community clinic in Florida assisting men living with HIV/AIDS. The painting included a plaque stating it was donated by our DK community, and providing our website addy.
The Executive Director of this center thanked DK:
This is another perfect example of the great work that all of you have accomplished over the years and you keep doing it day after day! I am so proud to work alongside you. We can't fix everything but we can do a little bit each day.
Yes, we can do "a little bit each day." Our next Community Art Project will be a triptych of Wings's photographs, or a selection of three that are clearly Indian in theme and related. These magnificent photographs will be donated to an Indian organization, such as an organization regarding health care, child welfare, domestic violence prevention, or a substance abuse Native-method treatment program.
---
Building Community. Creating Jobs. Donating Art to Community Organizations.
---
Kos Katalogue Blogathon: July 10-July 12, 2013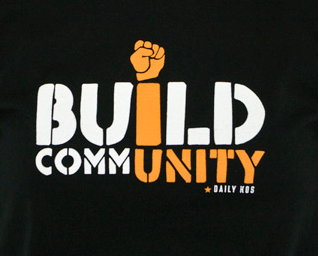 Daily Kos is the best progressive website for a good reason: it has, by far, the most vibrant, dynamic, and supportive online community. While policy and political issues dominate everyday debates and conversations, it is the participation, dedication, and caring attitudes exhibited by the blog's members that has made this place unique among online communities. In short, you are responsible for its success over the past eleven years since 2002.
When you decide to buy online gifts for friends and family members or for your own personal use, please consider buying an item or two from Kos Katalogue. By supporting the Daily Kos Community small businesses, you encourage job creation. With millions of average Americans struggling in this fragile economy, sensible economic proposals emanating from Washington, DC and the corporate sector are non-existent and, thus far, unable to stimulate sufficient job growth.
Kos Katalogue consists of dozens of online stores, encompassing the talents of hundreds of brilliant, creative people and featuring unique items for sale. It also connects our online community with towns and cities across the United States. For example, with generous financial support from our community members, the Gallery Kos Community Art Project has donated artwork to community organizations around the country. Such initiatives by members of Kos Katalogue facilitate networking in the real world and strengthen community ties.

A complete list of Kos Katalogue online businesses can be found in this diary posted by Sara R on Tuesday, July 9th - Kos Katalogue Mothership - HOTLIST THIS!!!
A Personal Request from Patriot Daily News Clearinghouse, Aji, and JekyllnHyde

Both sisters have been an integral part of Daily Kos for a long time. In years past, the three of us have worked with them on several occasions in many blogathons and other special projects. For as long as we can remember, they have selflessly comforted others in need and helped to foster a strong sense of community. Now, they need our help.

Sara (Sara R) and Ann (winglion) are facing some hefty medical bills, vet bills for their beloved pooties, and a host of other economic issues. If you can help, please go to PayPal.com and make a contribution to rainwoman AT mac DOT com.

Thank you in advance for your generosity.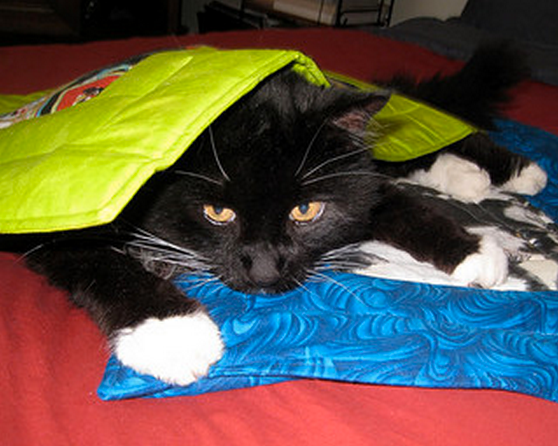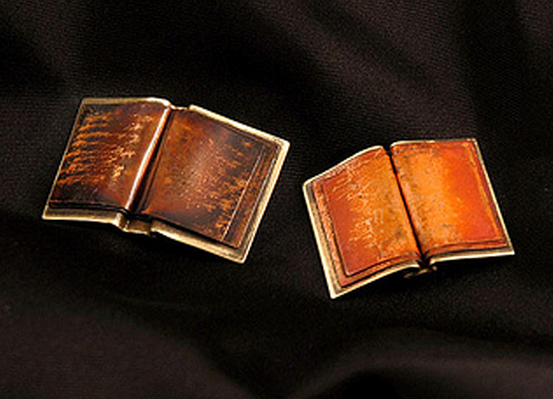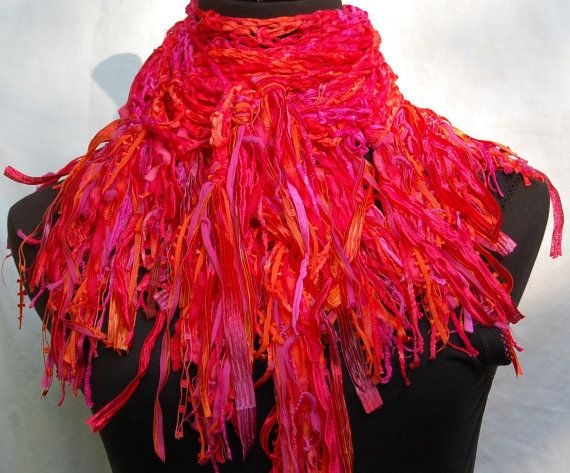 Kos Katalogue is easy, consumer-friendly shopping – just let your mouse do the clicking! If you hotlist this diary by Sara R, you will always be two clicks from Kossack-owned stores, covering everything from artwork to quilts to jewelry to scarves to personal services.
Please support members of the Kos Katalogue Community, as your help is needed. For those of you on Facebook and Twitter, please help to spread the word by hitting the FB and Tweet links at the top of this diary. Use hashtag #KosKatalogue to tweet all diaries posted during this blogathon. Our Daily Kos community organizers are Patriot Daily News Clearinghouse, Sara R, Aji, and JekyllnHyde.
Diary Schedule - All Times Pacific
If you would like to be added to our email list used for email notifications once Kos Katalogue diaries are posted, or for our blogathons, please Kosmail Aji, Sara R, or Patriot Daily News Clearinghouse. Emails are always sent bcc to ensure privacy.
11:00 am: Tapping into our community's creativity and entrepreneurship by Kos.
1:00 pm: Kos Katalogue: Winglion Quilts and the Community Quilt Project by Aji.
2:00 pm: Kos Katalogue: Graphic Designs by Marko the Werelynx by michelewln.
3:00 pm: Kos Katalogue: Three Talented Kossacks: Fineena, Lorinda Pike, and asterkitty by peregrine kate.
5:00 pm: Kos Katalogue: Christmas in July!?! by jan4insight.
9:00 am: belinda ridgewood.
11:00 am: Patriot Daily News Clearinghouse.
1:00 pm: remembrance.
3:00 pm: rb137.
5:00 pm: One Pissed Off Liberal.
7:00 pm: JekyllnHyde.
9:00 am: rserven.
11:00 am: ZenTrainer.
1:00 pm: Yasuragi.
3:00 pm: Kitsap River.
5:00 pm: smileycreek.
---
Please remember to republish these diaries to your Daily Kos Groups. You can also follow all postings by clicking this link for the Kos Katalogue Group. Then, click 'Follow' and that will make all postings show up in 'My Stream' of your Daily Kos page.