We've known for some time that Climate Change has locked us into centuries of rising sea levels. There has been some debate about just how fast sea level will rise. This new five nation study quantifies what we can expect over a very long time frame.

Each Degree Celsius of Warming May Raise Seas 2 Meters

By Alex Morales - Jul 15, 2013

Sea levels may rise by more than 2 meters (6.6 feet) for each degree Celsius of global warming the planet experiences over the next 2,000 years, according to a study by researchers in five nations.
The findings signal that melting of ice in the Antarctic will take over from thermal expansion, where warmer water occupies more space, as the main cause of rising seas. In the worst-case scenario examined, a temperature gain of 4 degrees Celsius (7.2 Fahrenheit) would result in seas rising by about 9 meters since industrialization began in the 18th century.

"Continuous sea-level rise is something we cannot avoid unless global temperatures go down," Anders Levermann, the lead author of the study, said by e-mail from the Potsdam Institute for Climate Impact Research in Germany, where he is based. "We need to adapt. Sea-level rise might be slow on time scales on which we elect governments, but it is inevitable and therefore highly relevant for almost everything we build along our coastlines, for many generations to come."
A few years ago the City of Seattle was planning to put a major transportation artery in a cut and cover tunnel along the downtown waterfront. I thought it was a terrible idea because of sea level rise. Highway planners weren't looking at a long enough time frame IMHO. That plan was eventually scrapped.
Below the fold I am republishing a recommended diary on sea level rise from 6 months ago.
NOAA's New Study: Coastal Impacts, Adaptation, & Vulnerabilities - National Climate Assessment
As a resident of a low lying coastal area I was doubly interested to see this new N.O.A.A. report on coastal impacts from Climate Change. But then I'm far from alone since over half the US population lives in coastal counties when you include the Great Lakes. Here are some excerpts from the first third of this comprehensive 150 page report detailing of the multitude things and processes that are likely to be affected and altered by the problems associated with climate change and sea level rise.

Coastal Impacts, Adaptation, and Vulnerabilities pdf

Executive Summary

Physical Climate Forces

A changing global climate combined with intense human activity imposes additional stresses on coastal environments. Although the climate is warming at a global scale, the impacts and the timing of the impacts are highly variable across coastal regions. Some effects, such as rising sea level, are already evident in increased erosion of beaches, more frequent flooding from both rivers and tidal surge, and wetlands converting to open water. Sea surface temperatures have risen over much of the globe, and hurricane activity has increased over the past several decades, particularly in the Atlantic basin, although it is uncertain whether these storm changes exceed the levels expected from natural causes. In addition, increased uptake of atmospheric carbon dioxide by the oceans has increased ocean acidity that threatens coral reefs and shellfish. The primary driving forces are: sea-level rise, changes in temperature, precipitation, major storm events including waves, winds and currents, and changing ocean circulation patterns. These driving forces interact in complex ways with the landforms and infrastructure that make the coasts particularly vulnerable to many of the impacts of climate change.

Key Findings

• The coasts of the U.S. are home to many large urban centers and important infrastructure such seaports, airports, transportation routes, oil import and refining facilities, power plants, and military bases. All are vulnerable to varying degrees to impacts of global warming such as sea-level rise, storms, and flooding. High Confidence.

• Physical observations collected over the past several decades from the land, coasts,
oceans, and the atmosphere, as well as environmental indicators, show that warming and some related environmental changes are occurring globally at rates greater than can be expected due to natural processes. These climate-related changes are highly varied, but some are likely due in large part to anthropogenically increased atmospheric concentrations of greenhouse gases and altered land surface properties. High Confidence.

• Findings from many independent scientific studies conclude that these changes are
consistent with global warming. The primary changes observed are rising sea level and
average global air, land, and ocean temperatures; heightening temperature and precipitation extremes in some regions; and increasing levels of oceans acidification and
rates of glacier and ice sheet melt. High Confidence.

• Most coastal landforms, such as barrier islands, deltas, bays, estuaries, wetlands, coral reefs, are highly dynamic and sensitive to even small changes in physical forces and feedbacks such as warming, storms, ocean circulation, waves and currents, flooding, sediment budgets, and sea-level rise.High Confidence

• Sea level change and storms are dominant driving forces of coastal change as observed in the geologic record of coastal landforms. Increasingly, sea-level rise will become a hazard for coastal regions because of continued global mean sea-level rise, including possibly accelerated rates of rise that increase risk to coastal regions. As the global climate continues to warm and ice sheets melt, coasts will become more dynamic and coastal cities and low-lying areas will be increasingly exposed to erosion, inundation, and flooding. High Confidence.

• Global sea level rose at a rate of 1.7 millimeters/year during the 20th century. The rate has increased to over 3 millimeters/year in the past 20 years and scientific studies suggest high confidence (>9 in 10 chance) that global mean sea level will rise 0.2 to 2 meters by the end of this century. Some regions such as Louisiana and the Chesapeake Bay will experience greater relative rise due to factors such as land subsidence, gravitational redistribution of ice-sheet meltwater, ocean circulation changes, and regional ocean thermostatic effects. Other regions undergoing land uplift, such as Alaska, will experience lesser sealevel rise. High Confidence

• Observations continue to indicate an ongoing, warming-induced intensification of the
hydrologic cycle that will likely result in heavier precipitation events and, combined
with sea-level rise and storm surge, an increased flooding severity in some coastal areas, particularly the northeast U.S.. Moderate Confidence.

• Methane is a primary greenhouse gas. Large reserves of methane are bound-up in Alaska's frozen permafrost. These are susceptible to disturbance and methane release if the Arctic continues to warm. The additional methane released may result in even greater greenhouse warming of the atmosphere. High Confidence.
Urban Infrastructure and Vulnerability: Most of the U.S. population lives with coastal watersheds and a significant portion of the nation's infrastructure is at risk due to increased inundation and erosion from storms and sea-level rise.
Storm surge flooding and sea-level rise pose significant threats to public and private infrastructure that provides energy, sewage treatment, clean water, and transportation of people and goods. These factors increase threats to public health, safety, and employment in the coastal zone. High Confidence.
• Although state and federal governments play a major role in facilitating adaptation planning, most coastal adaptation will be implemented at the local level. Local governments are the primary actors charged with making the critical, basic land-use and public investment decisions and with working with community stakeholder groups to implement adaptive measures on the ground. Very High Confidence.
Many of these processes involve positive and negative feedback mechanisms that interact in complex ways; even small changes in atmospheric warming can have cumulative and multiplying effects across entire regions and even globally. These feedbacks are important in regulating climate affecting all aspects of the Earth system, but many of these environmental feedbacks and physical tipping points are neither well understood nor predictable with high confidence.
Although oceans are likely to experience rising levels, the Great Lakes are predicted to experience dropping lake levels in the near future due to warming and increased evaporation. A drop in lake levels below historic levels has serious implications for the entire Great Lakes region for activities that rely on freshwater resources and commercial navigation.
If the sea rises more rapidly than the rate with which a particular coastal system can keep pace, it could fundamentally change the state of the coast. For example, rapid sea-level rise can cause rapid landward migration or segmentation of barrier islands, disintegration of wetlands, and drowning of coral reefs (CCSP, 2009a).
Society should be concerned about current observations of sea-level rise and projections of significant increases in decades ahead for two key reasons: 1) population densities have increased greatly and coasts have undergone intense development during a period of relatively stable sea level over the past century. Although, in theory, people could relocate landward to accommodate rising seas, human infrastructure, private land ownership, and current policy tend to prevent such adaptation measures. 2) Coastal landforms such as barrier islands, wetlands, and deltas are already dynamic and therefore highly vulnerable to sea-level rise. Many coastal urban areas including Boston, New York, Washington D.C., Norfolk, Charleston, Miami, New Orleans, San Francisco, and Honolulu are also at high risk, yet few coastal states and communities have plans for adaptation to warming temperatures, changes in storminess, and rising sea levels.
The states of Louisiana, Florida, and North Carolina each
have more than one thousand square kilometers of dry land less than 1 meter above high tide; in the case of Louisiana, much of this low land is already below mean sea level and kept habitable by dikes and pumping systems.
General trends shown from the analysis are that annual total precipitation, number of precipitation days, and extreme event precipitation amounts are increasing in the coastal areas of the Great Lakes, the Texas/Louisiana coast, and, to a lesser extent, in northern California/Oregon/Washington and in the New England states. The southeast
region generally had relatively stable precipitation statistics.
It looks at hurricanes which are expected to decrease slightly in frequency and increase substantially in force and with more variability in the likely storm tracks. But hurricanes aren't the only storms increasing threats to our coasts.
Extratropical storms are formed at relatively high latitudes by cold air masses moving down from subpolar regions and colliding with warmer air masses. The strongest storms develop during the winter. Considerable attention has been given to the occurrence in recent decades of increasing wave heights in both the North Atlantic and the Northeast Pacific generated by these storms.
This report has an enormous amount of research supporting its sobering conclusions, and I have only scratched the surface here. I urge you to read at least the first parts for yourself.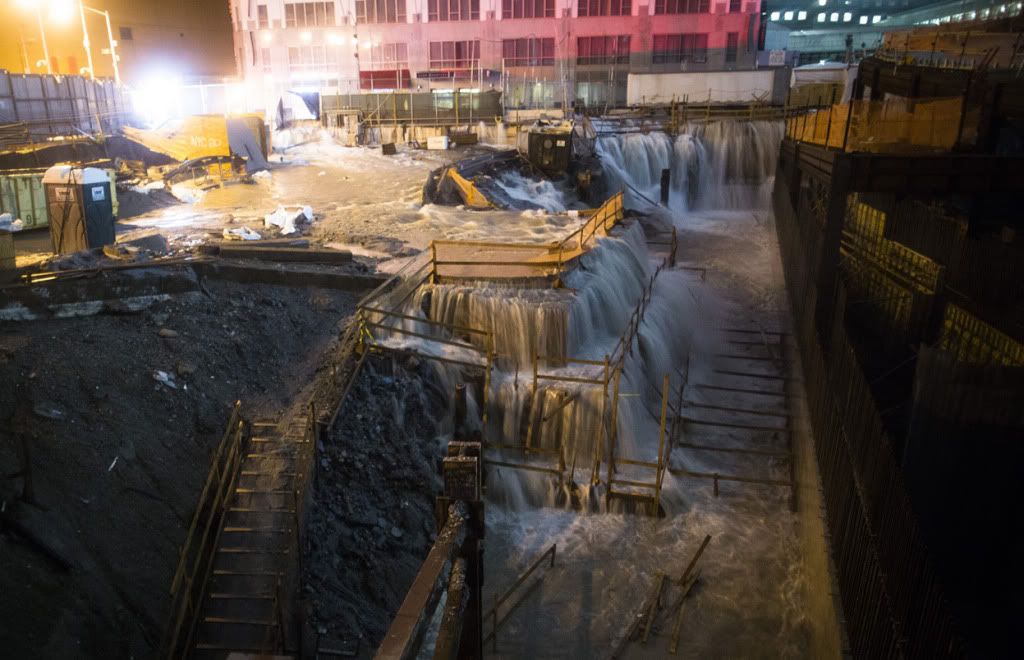 World Trade Center Flooding
As we are confronted by these often unwelcome changes, we as a society must stop treating the symptoms of our changing climate as isolated disconnected events in a piecemeal fashion. We need a coordinated and substantial response to mitigate and reduce the scope of the problems we are creating for ourselves.