Every day is a new day and with that, a new opportunity.
EVERYONE is welcome and please join us each morning at 7:30 AM PACIFIC
to tell us what you're working on, share your show & tell, vent, whatever you want...
...this is an open thread. Nothing is off topic.
Boujou!
As expected, Baby Veronica is being taken away from her biological father and her current home in Oklahoma, to be sent to live with the non-Indian couple who have been trying to adopt her.
Tribes fear that this sounds a death knell for the Indian Child Welfare Act [ICWA]. They may be right.
People will argue that it's only an inch, and besides, there are special circumstances here. Yes, and that inch always turns into a mile, and every theft of every type from Indians has always involved "special circumstances.'
In this case, everyone loses — except, perhaps, the white adoptive parents. But I'm much more concerned with the precedent this will set, and how much more other Indian children and families stand to lose by it.
Genocide need not depend upon heedless and bloody slaughter.
Stealing the children is enough to do the job.
LAKOTA PEOPLE'S LAW PROJECT PRAISES S.D. GOVERNOR
DENNIS DAUGAARD FOR NEW STANCE ON ICWA
Speaking of the ICWA:
Courtesy of navajo, we learn that the Lakota People's Law Project has just issued a press release praising South Dakota Governor Dennis Daugaard for his new-found public support of the tribes' efforts to claw back sovereignty over their own children and families.
According to the press release, Daugaard committed his words to writing in a letter sent to U.S. Health and Human Services Secretary Kathleen Sibelius:
In his letter to Secretary Sabelius [sic], Governor Daugaard wrote, "Recently, several tribes have expressed interest in providing child welfare services, including foster care, to their members. They have indicated they may be contacting you to pursue this possibility. I want you to know that I am fully in support of these efforts, and I ask you to favorably consider the requests of any South Dakota tribe to directly administer child-welfare or foster-care services to their members."
You'll understand if I'm skeptical. I've had more than ample reason to be harshly critical of Daugaard in the past, and his track record, on this issue alone, doesn't inspire confidence. It carries with it the faint odor of damage control in the aftermath of a wave of negative publicity in Indian Country when no one from Daugaard's staff could be bothered to show up at the South Dakota tribes' June summit with federal and state officials on correcting ICWA violations.

It appears that tribal attorney Chase Iron Eyes (Standing Rock Sioux), while praising the letter, is likewise waiting to see whether the nice words are followed by real action:
"It is a good first step, and we appreciate the governor's willingness to support our inherent right to sovereignty in the area of child and family services. However, the Department of Social Services remains in violation of federal ICWA law. Furthermore, there are thousands of our youth still caught up in the state system. In addition to supporting us, over time, in developing a direct funding relationship with the federal government, we hope South Dakota will endorse the appointment of an independent, special master to review all current, non-ICWA-compliant placements—in the interest of returning Lakota children to their extended families and tribes."
Maybe Daugaard really has traveled his own road to Damascus on this issue. And maybe it's pure political opportunism. Of the two, I think you probably already know my own take.

Regardless, if he follows up his nice words with actual teeth and muscle, and throws the weight of his office behind the tribes' efforts, then I'm much less concerned with how he got here than with helping to reinforce his support.


MONTANA NATIVE VETS' VOTING RIGHTS LAWSUIT COULD SOLIDIFY
DEMOCRATIC CONTROL OF U.S. SENATE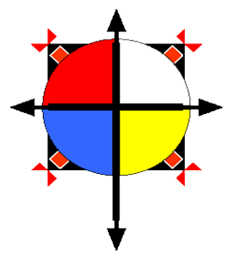 A week before the U.S. Supreme Court gutted the Voting Rights Act, it handed tribes a voting rights victory in Arizona v. Inter Tribal Council of Arizona [ITCA]. I noted then that the two decisions had implications for another American Indian voting rights case currently wending its way through the federal court system, Wandering Medicine v. McCulloch. I've written about Wandering Medicine before; the case is now before the Ninth Circuit, and at last report, the parties were awaiting notice as to whether oral argument would be required (and as I said last month, I suspect that the parties will be instructed to resubmit briefs in light of Shelby County before any decision is made on a need for oral argument).
Now, however, if the plaintiffs in Wandering Medicine manage to win the case, The Hill is reporting that they (and the rest of us) may see even greater long-term gains, including maintaining control of the U.S. Senate in 2015.
First, a little background: The individual plaintiffs in the case are 16 American Indians from Montana tribal nations; nine are military veterans. They sued the state for refusing to provide satellite offices for early voting on or near reservations, arguing that the state's refusal has a racially discriminatory disparate impact, because it does provide satellite offices (and greatly expanded early-voting periods) in urban and suburban areas populated almost exclusively by non-Indians. Most Montana Indians live on reservation lands, which may be a day's trip to and from any established voting center.
The three Montana counties now being sued have historically lost Section 2 Voting Rights Act cases. However, for the state's overwhelmingly poor and geographically isolated Native Americans — who vote predominantly for Democrats — the Montana fight is deeply personal. Tribal leaders say it is an issue of fundamental fairness.

An estimated 50,000 Native Americans are eligible to vote in Montana. Many of them live on reservations throughout the sprawling 550-mile-wide state, which means driving more than 100 miles for some to reach polling sites established long before Native Americans got the right to vote.
To add insult to injury, many of the people now effectively being denied the right to vote fought, served, and bled for this country. As I've noted in the past, Native Americans enter military service at a higher rate than any other ethnic group in the country. The nine vets serving as plaintiffs are clearly acutely aware of that irony. What I did not know is that it was the death of just such a veteran that finally lit the lawsuit's spark.

Tom Rodgers (Blackfeet), a Native lobbyist, was notified last year of the combat death of a fellow tribal member, U.S. Army Spc. Antonio Burnside, also known as Many Hides, while on his tour of duty in Afghanistan. Many Hides's family could not afford the expenses associated with his funeral and traditional memorial, so Mr. Rodgers stepped in to help raise the needed funds. Thereafter, however, the injustice continued to gnaw at him:
"Some of the poorest of the poor can fight a war and die for you on a hellish moonscaped mountainside and then when they return home in a flag-draped coffin, you seek to diminish their native brothers' and sisters' ability to vote. Young dead soldiers do not speak. They leave us their deaths. It is us who must give them meaning by remembering them," Rodgers said. "We got tired of the dark lies in rooms of white marble. Now the plaintiff warriors will take their faith in justice by acting with justice to other rooms of white marble: the 9th Circuit Court of Appeals and Congress."
State officials, naturally, deny that race plays any role in their refusal to establish such offices. Predictably, they continue to protest that their hands are tied by the law. Tribal leaders know differently — as, it appears, does a former lawyer with the U.S. Department of Justice's Civil Rights Division, J. Gerry Hebert, who now runs the Campaign Legal Center and who has allowed herself to be quoted publicly to that effect.

The Montana Democratic Party, however, has been noticeably tepid in its support. I suggest that readers here, Montanans and non-Montanans alike, do something about that — particularly since U.S. Senator Jon Tester and former Governor Brian Schweitzer are both darlings of the Netroots who would not be where they are today without the support of this site and others like it, nor without the support of the American Indian vote.

It's time to call in some markers, folks.

You can read more about this country's history of attempting to suppress the Indian vote in Meteor Blades's diary here, and his coverage of the effects on American Indians of the SCOTUS decision striking down portions of the Voting Rights Act here. You can also learn more about this case and associated issues from the Native nonprofit spearheading the case, Four Directions.


More "This Week In American Indian News" and Latest Updates on Kossack Regional Meet-Up News Below the Frybead Thingey
SCOTUS VRA RULING "ROB[S] ALASKA NATIVES OF THEIR VOICE"
Speaking of voting rights, courtesy of Meteor Blades comes this bit of news:
Lost in the discussion of the SCOTUS ruling striking down salient portions of the Voting Rights Act is the fact that the decision will create a return not only to Jim Crow, but to Jim RedCrow as well. Most people don't realize the extent to which the same powers and interests that have actively worked to prevent African Americans from voting have done the same to American Indian voters. [As noted above, see Meteor Blades's recent diaries for a discussion of the history of Indian voter suppression and the likely effects of the latest SCOTUS decision.]

But the history of such efforts hasn't been forgotten by Alaska Natives. Too many of them remember their families' humiliation at having to pass "civilized person" tests, not only to be allowed to vote, but to be allowed to keep their children.
This was the 1950s. At that time, Natives were no longer required to pass the "civilized person" test in order to gain citizenship and vote. This was the test devised for Natives by the territorial legislature in 1915: five white people had to sign a document stating they'd known the Native applicant for a year, and could testify the Native person had met certain requirements, such as living in a Western style house, eating Western food, working for wages at least part of the year, and regularly attending a church.

But the "civilized person" test was a standard that still ruled people's lives, [Alaska Native Helen] McNeil said. She said the Bureau of Indian Affairs used it to evaluate Native families while she was growing up, although the signatures of five white witnesses were no longer required.

If your family was determined to be "civilized," McNeil said, your children were allowed to stay home. But if your family didn't pass, your children were forcibly removed and put into boarding schools, sometimes in Southeast Alaska, but sometimes in the Lower 48. Families who couldn't afford to fly the children back up in the summer wouldn't see their children again. Some children succumbed to disease and never came back, McNeil said.
To white people, this is unthinkable: the notion that anyone would ever have the arrogance, the unmitigated gall, to subject them to a test of any sort to determine whether they were "civilized." That doesn't even approach, much less address, the notion that it would take the written affirmations of five people of another race and culture before anyone would even consider allowing one to cast a vote, or keep one's family intact. But that's the history of race in this country, and where this continent's indigenous peoples were concerned, it was simply one more tool in the box labeled "genocide."

It's also why the preclearance requirements of the Voting Rights Act were not restricted to Southern states.
"It could be used as a tool by the (Bureau of Indian Affairs) to intimidate people who were doing things the BIA or the territorial government didn't like," McNeil said. "A lot of people who were outspoken, that was one of the threats that were used: 'Well, if you don't stop this we'll just take your kids away and send them to boarding school.' And the people who didn't voluntarily give their kids up were put in jail, and their kids were sent anyway."

That legacy of discrimination once held Alaska, along with a handful of Southern states and counties, to a set of requirements in Section 5 of the Voting Rights Act. A formula under Section 4 of the Act determined which local governments, due to their histories of racial discrimination, should receive extra federal oversight over elections to ensure they aren't suppressing minority voting. In Feb. 2013, the U.S. Supreme Court heard opening arguments in Shelby County, Alabama's suit to have both sections overturned.
And, in fact, the Supreme Court did overturn Sections 4 and 5.

Alaska officials, of course, like Montana officials, deny strenuously that race plays any role whatsoever.
The state argues that discrimination is in the past, and that differences in policies have to do with the practical logistics of administering in rural areas, which are populated by people who just happen to be Native. On the other side, Native groups charge that discrimination from the past continues to disenfranchise voters, and that discriminatory practices still exist and hurt Native voters.

Some of the discrimination still affecting voters today, Tucker said, has to do with education. In what has become known as the Molly Hootch case, named for one of the plaintiffs, 26 Native school children successfully sued the State for failing to provide them an adequate and equal education. All lived in villages where there were elementary schools, but no high schools. In its 1976 settlement, the state agreed to redress the grievance in part by offering a high-school level education in villages.

That means many older Native voters today are left out of the voting process, Tucker said, particularly if they only understand minimal English. (The State is required under the Voting Rights Act to provide Native language assistance to those voters, Tucker said, under Section 203, which is unaffected by the Supreme Court ruling. A 2010 settlement in federal court affirms the State's obligation to provide that assistance, which consists of a poll worker reading a Yup'ik translation to voters.)

The amicus brief filed on behalf of Native groups states that education discrimination continues to create a barrier to voting, and that voting disparities between Native and non-Native Alaskans remain high.

The state says the problem has nothing to do with race at all.
And, of course, Alaska Natives know better. Helen McNeil certainly does. Her grandparents served as officials in the Alaska Native Brotherhood [ANB] and Alaska Native Sisterhood [ANS], organizations established in 1912 and 1915, respectively, to help serve the needs of the Alaska Native population and to advocate for their rights, including voting rights. [The photo above, at left, is of members of the ANB, circa 1914.]

While you're contacting members of Montana's Democratic Party and congressional delegation, you might do the same for Alaska's.

NEW TRAVELING SMITHSONIAN EXHIBITION HIGHLIGHTS CODE TALKERS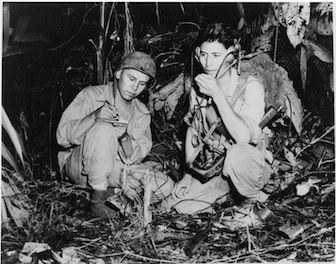 And speaking of Native vets:
On Saturday, "Native Words" opened at the Idaho State University Idaho Museum of Natural History in Pocatello, Idaho. A project of the National Museum of the American Indian [NMAI] and the Smithsonian Institution Traveling Exhibition Service [SITES], the exhibit details the role American Indian Code Talkers played during World War II. The exhibit runs at this location through September 29.
The U.S. military first enlisted American Indians to relay messages in their Native languages during World War I, even though the United States did not consider American Indians citizens until 1924. These encoded messages proved undecipherable by the enemy and helped the United States achieve victory.

The involvement of the code talkers expanded during World War II. Soldiers from the Comanche, Meskwaki, Sioux, Crow, Hopi and Cree nations, among others, took part in the effort. The best known of these projects is the formerly classified Navajo Code Talker Program, established by the U.S. Marine Corps in September 1942. The encoded messages proved to be a fast, accurate and indecipherable-to-the-enemy alternative, which suited the demands of the battlefield better than the painfully slow military devices that had been standard.
As noted above, American Indians to this day enter military service at a rate higher than any other ethnic group in the nation. Part of it may be a warrior ethos; part of it may be a desire to serve one's country; part of it is undoubtedly the seeking of a means to a better life, assuming that one survives. The Code Talkers were no exception — and they served at a time when they knew they would return home to a larger society that refused to regard them as citizens, and denied them the franchise of the ballot box.

Four months ago, I profiled Chester Nez (Navajo), the last surviving member of the 29 original Navajo Code Talkers of World war II. You can read more about Hastiin Nez's experiences in his two memoirs of his service: Code Talker: The First and Only Memoir By One of the Original Navajo Code Talkers of WWII and The Life and Times of the Code Talker

As one of Hastiin Nez's fellow Code Talkers noted:
"My language was my weapon."

—David Patterson (Navajo), 4th Div., U.S. Marine Corps.
Today, in a different context, our languages are still our weapons. They save our cultures, our traditions, our identities as Native peoples.

For more information about Code Talkers of all tribes, as well as Native language preservation efforts, visit the National Museum of the American Indian's associated site, Native Words/Native Warriors.

CALIFORNIA PBS STATION AND SAN MANUEL BAND OF MISSION INDIANS
LAUNCH NATIVE TELEVISION CHANNEL FNX

California PBS station KEET has partnered with the San Manuel Band of Mission Indians to launch its first all-Native American television channel with FNX, the First Nations Experience Channel.
FNX describes its role and mission as follows:
FNX Channel illustrates the healthy, positive, and real lives and cultures of Native American and indigenous people around the world showcasing TV series, documentaries, short films, PSAs, and films in the categories of lifestyle, children's, drama, comedy, sports, music, art, dance, politics, news, social, cooking, health, animation, fitness, talk show, nature, and gardening. All encapsulating a true voice of Native American and indigenous communities across the globe.

FNX is currently available on VerizonFios (channel 471), DirecTV (channel 24.2), and locally (channel 24.2) in the greater Los Angeles area with an average of 2 million viewers and over 500 hours of programming. FNX features FNX NOW, a series presenting current and relevant news topics covering all the Native American tribes across southern California, The HUB and On Native Ground, a series showcasing Native American artist[s], entertainers, cultural dancers, pop culture, and filmmakers. Currently, there are several documentaries in development and production.
This is an important advance. Most television programming "for Indians" has been anything but: The best of it tends to be cable showings of Indian-made movies, plus the occasional PBS-style documentary. More often, it's programming for non-Indians dressed up in Redface: Johnny Depp, old Westerns, pretendian coverage of stories and events that aren't actually Native at all, or racist offal of the "Ancient Aliens" sort.

But in most places even in Indian Country, finding regular programming actually designed for Indians to speak to the needs of and reflect the experience of their daily lives? Nonexistent.

And that's where FNX appears that it will shine: in telling our peoples' stories, both ancient and contemporary, in their words and voices, from their own actual experiences.

For the San Manuel Band of Mission Indians, this is not an especially new approach; the tribe has long emphasized the preservation of language, culture, and tradition:
Today, the San Manuel Cultural Awareness and Tribal Unity Program, with a mission to "recapture our past to preserve it for the future," endeavors to pass on Serrano heritage to future generations. Each year, the program holds classes on the Serrano language, basketry and pottery, games, gourd making, and bird singing. Activities such as the Yaamava' spring celebration, yucca harvest, and California Indian Cultural Awareness Conference, regularly bring together the families of the San Manuel Band of Serrano Mission Indians, members from local tribes, and noted American Indian scholars to educate people on and off the reservation about factual California Indian culture.

Children, parents, and elders share in their culture through education and demonstration of the Serrano way of life. Above all else, the San Manuel Band of Serrano Mission Indians believes that the Serrano language plays a central role in maintaining their culture. By introducing the language early, tribal children develop a deeper understanding of their living heritage. Today, the Serrano language is being preserved in part by the Serrano Language Revitalization Program who work with native speakers to pronounce the words in Serrano creating lesson plans developed to teach carefully chosen words including the names for plants, animals, and numbers.
The tribal nation also plays a central role in the California Indian Cultural Awareness Program, which works to educate non-Indians in southern California about indigenous issues, including organized efforts through the office of the San Bernardino County Superintendent of Schools, the San Bernardino City Unified School District, and the San Bernardino campus of California State University.
KEET seems energized by the new venture, and also seems dedicated to promoting it:
"Native Americans play a vital role in our local communities and KEET is proud to bring this channel to our area," said Ron Schoenherr, executive director of KEET-TV. "I hope that area cable companies will find a place in their channel line-ups for this important programming service."
We can help make that happen. If you live in the area, contact your cable provider and urge them to add FNX to their line-up. If you live elsewhere, but have family or friends in the area, urge them to do likewise. And, of course, you can help by spreading the word via your social media networks.


PAWNEE RAPPERS COMPETE ON "AMERICA'S GOT TALENT"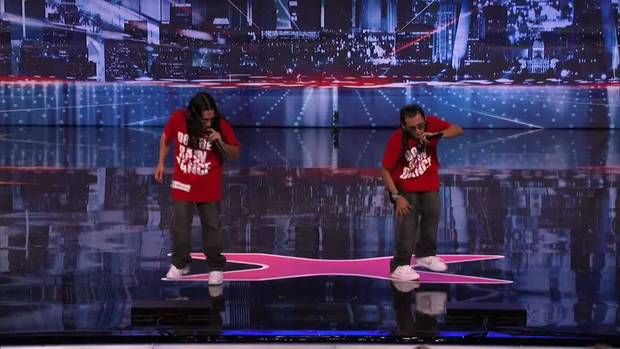 Mike Bone, the Pawnee Rap duo, debuted on NBC's American's Got Talent some three weeks ago.
Lil Mike and Funny Bone, who are members of the Pawnee tribe, performed their original song "Rain Dance" in their initial audition in San Antonio, Texas, which aired July 2. All four judges praised their rapping and dancing, and they even had host Nick Cannon dancing along backstage. The performance has since garnered more than 644,000 YouTube views.

"This is really weird. I was like not expecting to sit here and enjoy this," said judge Howard Stern. ["]You did a really credible job. I though you were really good."

["]I thought it was great. I loved the song – it's in my head," said Howie Mandel, who goggled when the brothers playfully told him he'd be even more impressed with their "Rain Dance" after he went outside in about 30 minutes.

Mel B said[,] "I loved it, but I hated it. I know it's already in my head," adding the dancing was "spot-on."
That performance was enough to move them on to the finals last Wednesday. Unfortunately, the judges were not nearly as kind this time around:
After performing "Crunk Nativez," the Pawnee/Choctaw duo of Lil' Mike and Funny Bone was criticized harshly by the judges for what seemed to be a disorganized routine. After they had left the stage, celebrity judge Howard Stern made the unconventional move of calling them back out. He berated them for a lack of preparation and informed them that the four-judge panel was unanimously against them continuing on to Radio City Music Hall.
One wonders whether Stern would've been so insistent on the repeated public shaming with another act — say, for example, one comprising non-Indians of Stern's own size.

The brothers are LPs ["Little People," or people with dwarfism]. They're also well-known in their Muskogee, Oklahoma area. In 2010, they were profiled in documentary short Looked Over But Never Overlooked: The Story of Lil Mike and Funny Bone, a film that appeared in two Oklahoma film festivals: the 2010 Trail Dance Film Festival and 2010 Bare Bones International Film & Music Festival.

You can watch the film on YouTube here. The brothers also have a Facebook page to promote it here. You can view their performance of "Rain Dance" on America's Got Talent here, and a full version of "Crunk Nativez (Idle No More)," of which barely a fraction apparently aired on the NBC program, here.


Chi miigwech.

:: COMMUNITY BUILDING UPDATES ::
Let's build communities!

Every region needs a meatspace community like SFKossacks.
We take care of each other in real life.
I urge YOU to take the lead and organize one in your region.
Please tell us about it if you do and we're here for advice.
•
THINK GLOBALLY, ACT LOCALLY
>>>Instructions on
HOW TO FORM A NEW DAILY KOS GROUP
NEW GROUPS IN THE PROCESS OF ORGANIZING:


Send a Kosmail to the organizers and ask for an invitation to the group.

• Northern Indiana Area: Kosmail Tim Delaney

• Long Island: Kosmail grannycarol

• Northern Michigan: Kosmail JillS

• Nebraska: Kosmail Nebraska68847Dem

• Westburbia Chicago Kossacks: Kosmail Majordomo

• New York Hudson Valley Kossacks: Kosmail boran2

• North Carolina Triangle Kossacks: Kosmail highacidity

• Caprock Kossacks (Panhandle/Caprock/Lubbock/Amarillo area) : Kosmail shesaid

• West Texas Kossacks (including Big Bend Region and El Paso) : Kosmail Yo Bubba

Note to the above new leaders: Feel free to leave a comment any day reminding readers about your new group. Also, tell us about your progress in gathering members. Kosmail me when you've chosen a good name for your group and have created a the group. Then I'll move you to the NEW GROUPS LIST. When you've planned a date for your first event I'll make a banner for you to highlight your event in our diaries and your diaries.
These are the groups that have started since * NEW DAY * began. Please Kosmail navajo if you have started a group before that.
NEW GROUPS LIST:

• California Central Valley Kossacks - Formed: Jul 29, 2012, Organizer: tgypsy

• New England Kossacks - Formed: Aug 6, 2012, Organizers:
Clytemnestra for Lower New England (Conneticut, Massachusetts, Rhode Island)
nhox42 for Upper New England (Maine, New Hampshire, Vermont)

• Houston Area Kossacks - Formed: Aug 7, 2012, Organizer: Chrislove

• Kossacks in India - Formed: Aug 14, 2012, Organizer: chandu

• CenTex Kossacks - Formed: Sep 9, 2012, Organizer: papa monzano

• Central Ohio Kossacks - Formed: Sep 26, 2012, Organizer: VetGrl

• Kansas City Kossacks - Formed Oct 15, 2012, Organizer: [Founder stepped down]

• Phoenix Kossacks - Formed Oct 16, 2012, Organizer: arizonablue

• Chicago Kossacks - Formed: Oct 31, 2012, Organizer: figbash

• Koscadia the Pacific Northwest coast from Northern California to Alaska
- Formed Oct 17, 2012, Oganizer: Horace Boothroyd III based in Portland, OR

• Boston Kossacks - Formed: Nov 7, 2012, Organizer: GreyHawk

• Motor City Kossacks South East Michigan (Detroit) Area - Formed: Nov 10, 2012, Organizer: peregrine kate

• Pittsburgh Area Kossacks - Formed: Nov 12, 2012, Organizer: dweb8231

• Salt Lake City Kossacks - Formed: Nov 17, 2012, Organizer: War on Error

• Twin Cities Kossacks - Formed: Nov 17, 2012, Organizer: imonlylurking

• Dallas Kossacks North Texas - Formed: Nov 21, 2012, Admins: Catte Nappe and dalfireplug. Please contact them to join the group. An Event Organizer needed.

• The Southern California Inland Empire Kossacks - Formed: Dec 3, 2012, Organizer: SoCaliana

• Los Angeles Kossacks - Formed: Dec 17, 2012, Organizer: Dave in Northridge

• Northeast Ohio Kossacks - Formed: Jan 16, 2013, Organizer: GenXangster

• Kansas & Missouri Kossacks - Formed: Jan 17, 2013, Organizer: tmservo433

• I-77 Carolina Kossacks who live from Columbia, SC to north of Winston-Salem, NC. - Formed: Jan 30, 2013, Organizers: gulfgal98 and eeff

• Indianapolis Kossacks - Formed: Feb 6, 2013, Organizer: CityLightsLover

• Southwest Ohio Kossacks - Formed: May 10, 2013, Organizer: Dr Erich Bloodaxe RN

• Northern Arizona Kossacks - Formed: Jul 5, 2013, Organizer: Sam Sara
ESTABLISHED GROUPS LIST: (List will grow as we discover them)

• SFKossacks Founded by navajo, Formed: May 2, 2005

• Maryland Kos Founded by timmyc, Formed: Feb 23, 2011. Contact: JamieG from Md for a group invite.

• New York City Founded by Eddie C - Contact the group organizer for meet-up events: sidnora

• Baja Arizona Kossacks, Event Organizer: Azazello

• Three Star Kossacks Tennessee, Founded by maryKK, Formed: Apr 8, 2011

• Nashville KosKats, Founded by ZenTrainer Formed: Jan 30, 2012

• Virginia Kos Founded by JamieG from Md, Formed: May 3, 2011

• Kos Georgia Founded by pat208, Formed: Feb 13, 2011

• Colorado COmmunity Founded by Leftcandid, Formed: Feb 13, 2011

• New Mexico Kossaks Founded by claude

• Philly Kos Founded by mconvente Formed: Aug 29, 2011

• DKos Florida Founded by ThirstyGator, Formed: Feb 14, 2011, Currently organizing: Kosmail Vetwife to be included in next event.

• Oklahoma Roundup Founded by BigOkie, Formed: Feb 13, 2011, Currently organizing: Kosmail peacearena to be included.

• DKos Asheville Founded by davehouck, Formed: Feb 13, 2011 - Organizing Assist by: randallt
:: Events Currently on the Books for ALL Kossacks ::

Sunday, August 4th

SFKossacks Meet BeadLady and the Okiciyap Quilt!

TIME: 1:00 PM
LOCATION: Saul's Restaurant & Delicatessen
1475 Shattuck Ave (at Vine) • Berkeley

ORGANIZER: Send navajo a kosmail to attend.

RSVPs:
1. BeadLady
2. navajo
3. Catilinus
4. dharmasyd
5. norm
6. Lorikeet

Maybees:

Sunday, August 4th

NYC Kossacks Meet-up

TIME: Noon
LOCATION: Spitzer's Corner
101 Rivington Street (Ludlow) • NYC

ORGANIZER: Send Sidnora a kosmail to RSVP.

RSVPs:
1. joanbrooker
2. mconvente
3. belinda ridgewood
4. Yasuragi
5. sidnora
6. Its the Supreme Court Stupid
7. blue jersey mom
8. kathny
9. ask
10. rubyr
11. plf515
12. thankgodforairamerica
13. No Exit
14. gchaucer2

15. MBNYC
16. andgarden

Maybees:
Ollie Garkey
Ian Reifowitz
wader
nyceve
aoeu


Latest diary: NYC Meetup 8/4: Beat the Dog Days!

Saturday, November 2nd

SFKossacks BBQ in the Wine Country

TIME: TBD
LOCATION: Andrew McGuire's home in the Wine Country
Address to be given privately to RSVPs • Windsor

ORGANIZER: Send navajo a kosmail to attend.


Andrew McGuire is Executive Director of California One Care

RSVPs:
1. Andrew McGuire
2. navajo
3. Shockwave
4. Hunter
5. elfing
6. Hunter/elfling offspring
7. smileycreek
8. paradise50
9. dharmasyd
10. maggiejean
11. norm
12. Lusty
13. dksbook
14. Mr. dksbook

15. kimoconnor
16. jpmassar
17. side pocket
18. Mrs. side pocket

Maybees:
Glen The Plumber
remembrance
TLO™

Send navajo a kosmail if you post a diary about an event so we can update our round-up.

Okay. Floor's open.
Tell us what you are doing on this NEW DAY?
tags: community, Navajo's New Day, NEW DAY team, SFKossacks,