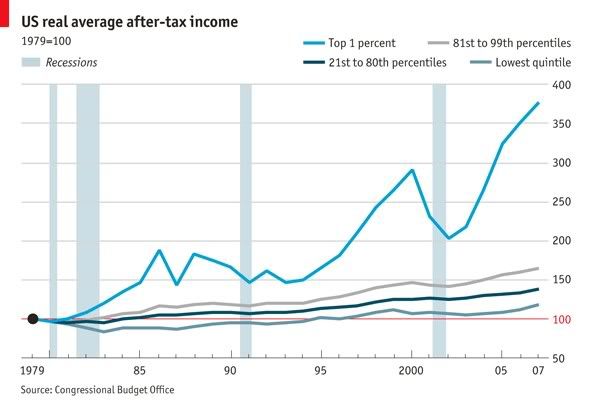 On July 24 2013, President Obama gave a 40 minute interview to the New York Times at Knox college in Galesburg, Illinois. The Times reported on certain segments of the interview throughout the latter part of the week and released the full transcript yesterday. The interview provides a window into the President's thinking on issues such as the economy, the environment, the GOP House, and, notably, the issue of income inequality and its impact on the country. Parts of the interview concerning the Keystone XL Pipeline were addressed in Meteor Blades' post yesterday.
But the President's most remarked upon statements, as taken from a various newspaper and media outlets who reported on the interview, were his conclusions about the corrosive effects of burgeoning income inequality in this country and its consequences to Americans. From the Times' synopsis:

Obama Says Income Gap Is Fraying U.S. Social Fabric

In a week when he tried to focus attention on the struggles of the middle class, President Obama said in an interview that he was worried that years of widening income inequality and the lingering effects of the financial crisis had frayed the country's social fabric and undermined Americans' belief in opportunity.

"If the economy is growing, everybody feels invested," President Obama said in an interview last week in Galesburg, Ill. "Everybody feels as if we're rolling in the same direction.

Upward mobility, Mr. Obama said in a 40-minute interview with The New York Times, "was part and parcel of who we were as Americans."

"And that's what's been eroding over the last 20, 30 years, well before the financial crisis," he added.

"If we don't do anything, then growth will be slower than it should be. Unemployment will not go down as fast as it should. Income inequality will continue to rise," he said. "That's not a future that we should accept."
"Frayed the country's social fabric and undermined Americans' belief in opportunity."
Could anything be more serious than that? Can anyone think of another event or circumstance in American history that "frayed the country's social fabric and undermined Americans' belief in opportunity?"
The President is saying that income inequality is killing what it means to be American.
The President's full statement vis a vis income inequality issues:

And the work [Robert Putnam]'s doing right now has to do with this issue of inequality. And it applies to a city like Galesburg, where 30 years ago, anybody in this town who wanted to find a job, they could go get a job. They could go get it at the Maytag plant. They could go get it with the railroad. It might be hard work, it might be tough work, but they could buy a house with it.

The kids here all went to the same school -- the banker's kid and the guy working at the Maytag plant's going to the same school. They've got the same social support. College is affordable for all of them. They don't have to take out $100,000 of debt to do it. And there was a sense of not upward mobility in the abstract; it was part and parcel of who we were as Americans. And that's what's been eroding over the last 20, 30 years, well before the financial crisis.

Now, the financial crisis made things a lot worse. And so I had to spend the first four years in my presidency getting us back to ground level. We had to make sure the banking system wasn't collapsing. We had to make sure the auto industry didn't collapse. We had to make sure that we put people back to work short term and boosted demand until the markets got going and consumers got more confident and housing started to recover.

And so here we are, having dealt with this massive crisis, but those trends -- that erosion of what a Galesburg or a [Port]* Clinton, Ohio, where Bob Putnam lived -- those trends have continued.

And that's what people sense. That's why people are anxious. That's why people are frustrated. That's what they talk to me about and that's what they write to me about: "I'm doing okay right now, but what I've seen over the last 20 years and what I learned profoundly during this crisis is that the ground under my feet just isn't as secure, and that the work I'm doing may not be rewarded." And everything that I am proposing and everything I will be proposing over the next three years goes right at that issue. And if that's not what Washington's talking about, then we will be missing the boat.

And racial tensions won't get better; they may get worse, because people will feel as if they've got to compete with some other group to get scraps from a shrinking pot. If the economy is growing, everybody feels invested. Everybody feels as if we're rolling in the same direction. And so a lot of the other issues that we're talking about -- whether it's climate change or immigration, or how we manage our trade relations -- all those are eased if we've got our economic act together.

But that's not what we talk about. And it's true that Congress moves at such a glacial pace these days that sometimes if you start a bill like immigration and you're thinking this should be done by now, it seems to take a year of folks just sitting around spinning their wheels, that can be frustrating. But we should be able to attend to some of these other issues even as we're staying focused on this central issue. That's at least what I'm going to be doing.
Obama's remarks were made in the context of a discussion about
Robert Putnam
, a political scientist and professor of public policy at Harvard. Putnam, the author of
Bowling Alone, The Collapse and Revival of American Community
, has argued that
class now trumps race
in determining social mobility:
"Relatively speaking, racial differences controlling for class are decreasing while class differences controlling for race are increasing in America," he said. "Non-white folks with a college education are looking more and more like white folks with a college education and white folks who haven't gotten beyond high school are looking more and more like nonwhite folks who haven't finished high school."
Whether or not you believe in the effectiveness of the President's efforts to address the growing disparity of wealth in this country or the increasing impossibility of the middle class' achieving financial security in the face of increased health care costs, child care costs, education and food costs, and wage stagnation, the injection of income inequality into the national conversation is a singular development in and of itself. If nothing else, it shows that the President recognizes the importance of the issue and the need to emphasize it to the American people.
While that may not seem particularly noteworthy to us, we who have lived, breathed, mapped and debated the issue to exhaustion, the American public is coming late to the party. And why would it be otherwise? The average American doesn't spend his time glued to a political website or the editorial page of the New York Times. When he looks at all, the average American looks to his elected Representative, assuming he knows who that is (a big assumption). But by and large he'll glance at the headlines of his local newspaper for his information. The headlines are usually dominated by what the President says or does.
Income inequality? Wealth disparity? Bill Clinton never touched it. George W. Bush would not have known what it was, and when Dick Cheney explained it to him he would not have cared. Mitt Romney would have fled from it like a scalded dog.
Good luck hearing those words from a Republican Congressman if you happen to live in his district. Talk radio won't go near it. In fact, Rush Limbaugh's very purpose for existence is to divert as many Americans from that issue as possible.
It seems pretty obvious that the only thing that brought the issue to the forefront of this country's consciousness at all was the Occupy movement. Mention that to anyone who suggests that movement failed to achieve anything. Mention the fact that the President of the United States in effect is saying it's the most serious issue facing the country in recent memory.
That's progress, of a sort. But there is also a big problem.
As evidenced in a poll conducted by the Times in April, Americans are becoming increasingly aware of the problem but are skeptical of our government's ability to do anything about it.

Our research suggests that merely talking more about inequality is unlikely to change Americans' policy preferences. Americans are already aware of inequality and are troubled by it. Proponents of greater redistribution can probably save their breath pointing out that inequality is a problem. Instead, they face what seems to be a much more difficult task: convincing them that their government is up to the task of addressing it.
The corporations and special interests that keep Republican Congressmen afloat through their gerrymandered districts are very much aware that the more cynical the public's feelings about government, the easier the task of maintaining the status quo. Their means of obstruction by saying "no" to everything the President proposes is an end unto itself. They
want
the average voter to throw up his hands and walk away in disgust. It makes their job so much easier.
Finally, although the President's making the issue a centerpiece of his second term is a good start, as pointed out by Christopher Flavelle, writing for Bloomberg news, there is much, much more work to be done:
After noting the decline of unions at the start of his speech, the president failed to mention them again. He argued, correctly, that a secure retirement is a cornerstone of being middle class -- but said not a word about the share of private-sector workers in defined-benefit plans, which fell from 38 percent to 20 percent between 1980 and 2008, or how federal policy might address that shift.

One explanation for Obama's unsatisfying proposals is that inequality is partly the result of underlying changes in the economy, as the chairman of the president's own Council of Economic Advisers pointed out earlier this year. Another is that inequality is a product of cultural changes as well as of government policy.

The increased social acceptability of conspicuous consumption; the growing antipathy toward government; the decline of the social compact between employers and workers; the segregation of communities by income; the declining exposure of the average person to unions; the shifting focus toward other areas of social consciousness, including environmentalism and gay rights -- each could be seen as both cause and effect of the economic changes the president bemoaned.