As you can see by Itzl's concerned look, this group is for us to check in at to let people know we are alive, doing OK, and not affected by such things as heat, blizzards, floods, wild fires, hurricanes, tornadoes, power outages, or other such things that could keep us off DKos. It's also so we can find other Kossacks nearby for in-person checks when other methods of communication fail - a buddy system. Members come here to check in. If you're not here, or anywhere else on DKos, and there are adverse conditions in your area (floods, heatwaves, hurricanes, etc.), we and your buddy are going to check up on you. If you are going to be away from your computer for a day or a week, let us know here. We care!

We have split up the publishing duties, but we welcome everyone in IAN to do daily diaries for the group! Every member is an editor, so anyone can take a turn when they have something to say, photos and music to share, a cause to promote or news!

Ok, we have a current diary schedule. If you would like to fill in, either post in thread or send FloridaSNMom a Kosmail with the date. If you need someone to fill in, ditto. FSNMom is here on and off through the day usually from around 9:30 or 10 am eastern to around 11 pm eastern.

Monday: BadKitties
Tuesday: bigjacbigjacbigjac
Wednesday: Caedy
Thursday: weck
Friday: FloridaSNMOM
Saturday:broths
Sunday: loggersbrat
If you'd like to be part of the Itzl Alert Network, please leave a comment asking to join, or send us a message asking to join. We'd love to have you. The bigger our network, the less likely someone will be stranded all alone.
Monday, July 29 2013
Well, stop it long enough for me to read the bumperstickers! We've all seen them, but I got to wondering about how long they've been around and who started them. We know that graffiti goes back to the dawn of written languages; I've seen some written by Roman soldiers on the walls of building in the UK. Goodness knows, we have our share of graffiti here, as well. Some of it borders on great art, some of it is just plain ugly, both in style and language. But curiousity got the best of me, so I went poking around the interwebs and discovered a few interesting things.
The 1927 Ford Model A was the first car in the US to sport bumpers. Until then, I guess you just had to ask a person what they thought of a particular issue, and hope the answer was brief enough that you got home before dark!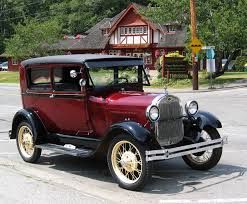 One online source credits the current bumper sticker to Forest P. Gill, a silkscreen printer from Kansas City. Since no other inventor has disputed the claim, we'll let Forest…erm…run with it.
The first widespread use of the advertising bumper might have been one for a tourist attraction at Lookout Mountain, Tennessee.


In the 1940s, visitors to the site had a sticker applied to their car, which duplicated the famous signs painted on the roofs of barns throughout the southeastern USA. In the late 1940's, Rock City staff would circulate through the parking lot, applying the promotional sticker to every car. Although called "stickers", they were really lightweight, screen-printed cardboard. They were attached by means of thin aluminum strips, running through the end of the sign and wrapping around the bumper.
By the 1960's, though, the bumpersticker as we know it was everywhere! Many were political in nature, some were still advertisements. And then…we got creative!
Forthwith, are some of my faves. Feel free to share yours in the comments.
You are the result of four billion years of evolution; fucking act like it!
Teach children how to think, not what to think.
Now the voices are texting me!!
Forget world peace, visualize using your turn signal.
Cogito Ergo Femina Sum
I think, therefore I am Female.
Save the Earth; it's the only planet with chocolate.
Happier than a bird with a French fry!
Attitude is the difference between an ordeal and an adventure.
My karma ran over your dogma.
You had me at "bacon wrapped"!
Michigan: First Line of Defense Against Canadians
Babies ate my dingo
Mater Tua (Your Mother)
Werewolf? There, Wolf!
Time flies like an arrow. Fruit flies like a banana.
Et tu, dufus?
Every Life Should Have Nine Cats
And since I did learn how to photobucket…here are a few I picked out for the diary: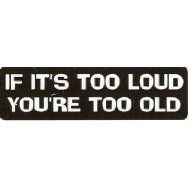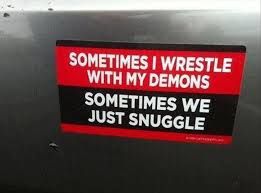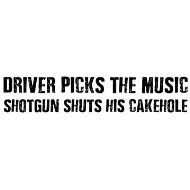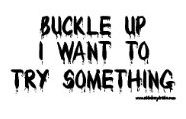 Now you just have to guess which ones I chose for cactusgal. There will be no prizes..but lots of laughter. Until she catches up with me, at which time, you will hear me whimpering. :-)
Have a great day kids!!
Marti