Well, you know, not really THE Amazon, but Amazon.com . When I read that the President made one his speeches at that Republican bastion Amazon I was all 'WTF!!!!" .
Apparently I was not alone.
via AFL-CIO Blog:
Sorry, Mr. President, Amazon Isn't the Place to Go for Good Jobs

In his speech in Chattanooga, Tenn., yesterday, President Obama rightfully called out for an increase in jobs that pay high wages and offer good benefits, what he called "middle class jobs," and for a focus on creating manufacturing jobs. While those are laudable goals, Obama chose to give a speech about these topics at the Amazon Chattanooga Fulfillment Center, a location that neither pays those good wages and benefits nor is a place that offers manufacturing jobs.

According to various reports, many of the 15,000 jobs at the 70-plus warehouses around the world pay $12.50 per hour. Most workers have no health care (unless they pay for it themselves) or paid leave. Full-time employees do have health insurance, 401(k) funds and get stock shares, but most employees are not full-time.

Work conditions at the fulfillment centers are widely reported to be horrible. Workers report walking 10 miles or more on the average day, often in blistering heat. Workers were regularly sent to the emergency room after working in temperatures that sometimes exceeded 110 degrees. Morning Call reported that at least one location hired a paramedic to wait outside closed warehouse doors to treat employees who fainted or were suffering from dehydration.
They hire most employees as temps, have been anti-union for years.
While it iss well and good that the speech was calling for support of policies that would expand good jobs, the fact it was given where it was lessens its credibility and impact, and is a slap in the face to Union supporters of the President.
More

Another key for manufacturing jobs is the right to organize and collectively bargain with management. The Seattle Times notes that unions are unwelcome at Amazon.

Early on, Amazon took a hard line against unions. A high-profile organizing effort by the Communications Workers of America (CWA) at an Amazon call center in Seattle ended in 2001, when the center was shut down and some 400 workers were laid off as part of a larger company restructuring.

Fulfillment center workers say that they were forced to attend a meeting once a year where the company would denigrate unions and warn employees against joining them. The use of a largely temporary workforce also undercuts union organizing efforts, since the workforce is constantly changing and few workers are there long enough to participate in or lead organizing efforts.

So, while it is laudable that the president is pushing policies that would expand good jobs, he should pay a little more attention next time around to where he's giving such a speech and make sure that the company he's gracing with his presence isn't part of the problem.
There's more, and it ain't pretty.
Yes, the President's current series of speeches raise some good points, but would also like to see the President working to do away with the sequester and encourage Federal hiring vs all the austerity, which would surely help the economy and put people to work.

Republicans! Republicans! Yes, but we can't let that be an excuse for giving up.
Millions remain unemployed. They need hope.
Others, like the workers at Amazon, need a living wage.
One thing we ourselves can do is at least support raising wages: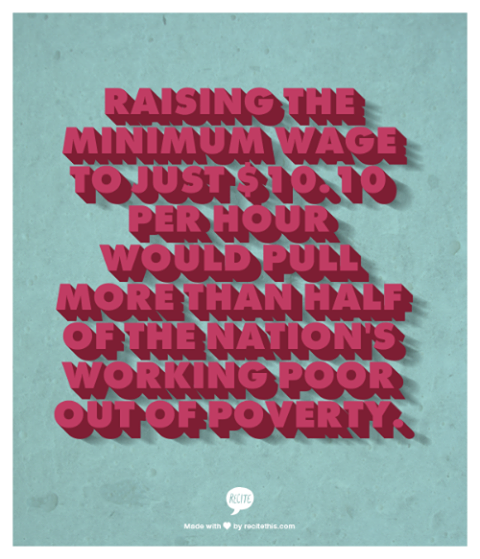 Petition:

It's Time to Raise the Wage

It's been four years since workers in the United States got a raise.

Working families can't afford to let the minimum wage stagnate any longer.

Tell lawmakers to do the right thing and support the Fair Minimum Wage Act of 2013.
###
Update:
Here's some more interesting info on the President's choice of Amazon from the Washington Times.

Amazon scored a rare, exclusive interview with President Obama on Tuesday, and a report by the New York Post has suggested it may have something to do with the hefty donation the retailer giant's employees gave the president for his reelection.

According to the report, Amazon employees donated more than $116,000 to Mr. Obama's 2012 campaign — more than four times as much as the company's workers gave Mitt Romney.

Before Obama's speech about his economic plan at an Amazon.com warehouse in Tennessee, the company announced it was hiring more than 5,000 new full-time workers at its warehouses across the country.

Read more: http://www.washingtontimes.com/...
Follow us: @washtimes on Twitter
5000 new FULLTIME jobs would be good news indeed.