William Caxton started printing in Westminster (England) in 1476. His publication of Thomas Malory's Le Morte d'Arthur was the first print bestseller in English. While the printing press helped drive the transition from Middle English to Early Modern English, there are a number of misconceptions about the advent of printing which need to be addressed.
Shown above is a painting by Daniel Maclise in which Caxton is showing the first specimen of his printing to King Edward IV and Queen Elizabeth at the Almonry, Westminster.
First, the printing press did not bring about universal literacy. While it did bring an increase in the number of books which were available and it did lower the costs of these books, literacy remained an elite characteristic for another century or two.
Second, printing was initially oriented toward the upper classes. Caxton, for example, advertised himself as a printer for "clerks and gentlemen." Located in Westminster, Caxton established himself as a printer with royal and aristocratic patrons.
Third, in the beginning printed books did not look much different from the hand copied manuscripts: the early type fonts were based on handwriting.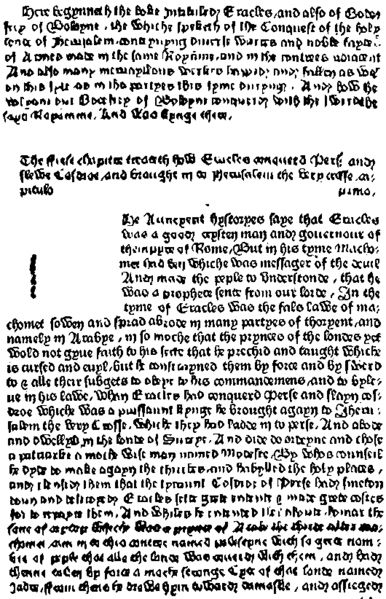 Shown above is page 1 of Godefrey of Boloyne which Caxton printed in 1481.
Printing helped to standardize English. When Caxton started his printing business, the English language was in flux. There were many different dialects in the spoken language. Caxton recounts the story of a group of London sailors who found themselves becalmed in Kent. Seeking food, one of them approached a farmer's wife and:

"axed fo mete and specially he axyd after eggys"
The woman replied that she "coude speke no frenshe." In other words the London dialect could not be understood in Kent which was only 50 miles away.
In translating from the spoken language to the written language Caxton had to begin the process of standardization with regard to spelling, word usage, grammar, and so on. This was the beginning of a literary standard for English: a standard which widened the gap between spoken English and written English.
With regard to spelling, some historians credit Caxton with inserting the silent h in "ghost."
During his printing career, Caxton printed an estimated 108 books, most of which were in English. Caxton translated 26 of these books into English himself.
During the two centuries after Caxton established his press it is estimated that some 20,000 titles in English were published in England.