In the 'What Could Possibly Go Wrong' column....
The revelations this week that DEA has been getting intel from the NSA with the understanding that DEA would have to hide the source was much on my mind when I read a distressing post today on Truth-out. Trusting the Administration to not abuse its power and hide behind a curtain of secrecy has been quite hard for some of us.
Drones Abroad, Drones at Home
That post I read in Truthout was distressing in part because I was unaware of some of the history related to current US policy on use of military grade weapons capable drones domestically, but I'll get to that post in a minute.
Bush v. Obama vis a vis National Security
President Obama, while making some changes, has to a large extent continued the National Security polices of the disgraceful Bush administration. In several important areas, some would contend that his administration has been much worse.
On National Security, Obama Follows Bush's Lead
by Frank James
June 06, 2013 6:24 PM
SNIP
But if anything, on national security Obama appears to be an extension of the prior administration. In some instances, he has even far surpassed a predecessor whom few would accuse of being wimpy on national security.

Obama, for instance, has presided over significant expansions of some national-security tactics that took shape under Bush. Obama has greatly increased counterterrorism strikes by armed drones like the Predator in places like Pakistan and Yemen, even killing several U.S. citizens without anything resembling the kind of due process Americans generally think of as guaranteed by the Constitution.

Obama has also aggressively pursued leaks of classified information with more prosecutions than all prior administrations combined. The Justice Department's controversial collecting of Associated Press phone records was apparently part of that continuing effort.

Throughout all this, the president has generally managed to maintain public support for his approach. His own have stayed mostly above water with his approval at around 50 percent, though surveys also indicated that more of the public of certain policies, like the Justice Department's subpoenas of journalist phone records in its hunt for leakers.
SNIP
James goes on to posit that this has been a good way to go for Dems in that it removes a Republican strong point of being militarily stronger and stronger on national security. It makes me sick to think that this would even be a consideration under a Democratic President....

Flying the Friendly Skies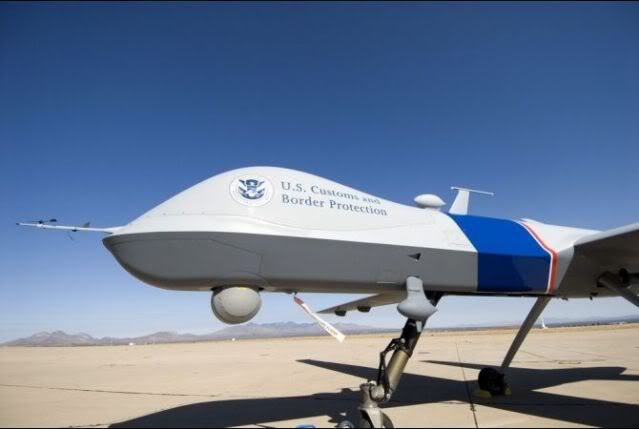 Source: http://livewire.talkingpointsmemo.com/...
Using Predator Drones over US airspace, though begun under Bush, has continued with gusto under our current President although the current Administration claims it has not armed drones as was planned under Bush.
After the Boston Marathon bombings brought into question the efficacy and gigantic expenditures of Homeland Security/NSA, lowering trust in secret programs could be likely to increase given current revelations by Snowden and others.
This continued controversial use of domestic drones is timely and worth investigating. The article featured in Truth-out was quite the eye opener, and now I am more convinced than ever that the President could improve his legacy by leading the turn from this huge waste of treasure to better uses.

Homeland Security Taps Generals to Run Domestic Drone Program:

The Rise of Predators at Home

Wednesday, 07 August 2013 00:00 By Tom Barry, Truthout | News Analysis
snip
DHS decided - with virtually no reviews or evaluations - to purchase unarmed versions of the Predator drones used abroad for "signature strikes" (targeted drone killing). The department, whose mission includes "border security," has also relied on military bases along the land border and coastal waters to host its own drone fleet.

Since DHS began acquiring Predators, along with Predator variants called Guardians, from General Atomics nine years ago, this domestic drone program has proved an abysmal failure - whether measured by its effectiveness in immigration enforcement, drug control, or counterterrorism. A series of reports by the General Accountability Office, Congressional Review Service, and the DHS Inspector General's Office have documented the paltry achievements, the alarming strategic confusion, and near-systemic logistical and technical shortcomings of the DHS drone program.

These government reports pointed to the complete absence of any cost-benefit evaluations and efficiency assessments of the DHS drone program.

Yet these official reviews failed to shed any light on the department's controversial decision to deploy only the hugely expensive military-grade Predator drones and to enter into sole-source contracts with General Atomics to provide, maintain, and even operate the federal government's domestic drone fleet.

Nor did they probe the decision by DHS to hire military men to run the domestic drone program, despite their total lack of experience in law enforcement, border control, drug control, and immigration enforcement. Instead, from the start, DHS brought in generals with a history of procurement and management of the military's killer drones to hunt down immigrants and illegal drugs with Predator drones.

The continuing rise of Predator drones at home has been fueled by the bizarre merger of military influence in domestic affairs and by the key role of border hawks in the politics of immigration reform. The decision early on by DHS to tap generals involved in the military's own controversial overseas drone program to shape and direct the domestic drone program points to the increasing merger of the post-9/11 homeland security/border security complex with the military-industrial complex.
snip
So yes, Bush Admin chose a General, and then the Obama Admin did the same. What could possibly be wrong with that?
Below is a list of subtitles, hope you will go read the entire post.
Drones in Immigration Reform's Proposed "Border Surge"

CBP Contract with General Atomics

Homeland Security and Border Security Merge with Military-Industrial Complex

The Predator is Born and Bred

Warfighting Commander Takes Control of CBP Drone Program

Militarized Border Surge Needs Review
Living in a [militarized] world
After the military like response to peaceful civil disobedience during Occupy Wall Street I have grown in my concern about security actions here at home.
During the last election the President told Jon Stewart that in some areas related to use of drones he needed to be reigned in. He of course said this in relation to drone use abroad, but in looking into this its become clear to me that we need to institute more controls over their use here at home.
Earlier this year Stewart pointed out that the Administration is sometimes slow to get out information even when it promises in the State of the Union.
(Anybody else missing Jon Stewart this summer?)
What Could Possibly Go Wrong?
Its tough to get information about drones, especially with the Administration being so secretive in relation to drones...
And what's really surpised me was to learn that the current debate over immigration reform is fueling talk of more use of military grade drones here at home. What. Could. Possibly. Go. Wrong?
Source: http://borderlinesblog.blogspot.com/...
Why, except for Contractor Welfare influenced by ex Generals put in charge by both this administration and the last, would there be any reason to choose incredibly expensive drones which could be armed in secret by this or a future administration for use here at home? Again, WHAT COULD POSSIBLY GO FRIGGIN' WRONG ? Sorry.
###
Ahem. We should all do our best to influence the President and Congress (yes, I now, the Republicans, the Republicans) to change this dead ender course imo.
Action
Domestic Drones Petition
David V. Aguilar
Deputy Commissioner
U.S. Bureau of Customs and Border Protection
1300 Pennsylvania Avenue, N.W.
Washington, D.C. 20229

Dear Mr. Aguilar:

The undersigned organizations and individuals hereby petition the Bureau of Customs and Border Protection ("CBP") to establish privacy regulations for the use of Unmanned Aircraft Systems ("UAS" or "drones") in the United States. This petition is pursuant to Section 553(e) of the Administrative Procedure Act. Pending the completion of the rulemaking, the CBP drone program should be suspended.

The use of drones for border surveillance presents substantial privacy and civil liberties concerns for millions of Americans across the country. According to the Agency, the border area encompasses all areas within 100 miles of an external boundary, including both land and sea borders. Approximately two-thirds of the U.S. population resides within this area, including all residents of New York City, Chicago, Miami, and San Diego.

The risks to the public are further exacerbated by the Agency's practice of allowing federal, state, and local law entities to utilize the CBP drones for operations unrelated to CBP's mission. A 2012 Report of the Department of Homeland Security ("DHS") Inspector General demonstrated that CBP had flown drones for the Department of Defense, the Federal Bureau of Investigation, and various local law enforcement agencies, among others. As a result of this practice, anyone in the United States could be subject to surveillance by a CBP-owned drone.

Recent documents obtained by EPIC from CBP under the Freedom of Information Act establish that the CBP Predator B drones carry payload technology to intercept communications and to identify human targets on the ground. Both activities raise substantial questions about compliance with federal privacy laws, including the Electronic Communications Privacy Act of 1986 and the Privacy Act of 1974. DHS has expressed interest in other technologies that would increase drone surveillance capacities, including automated license plate readers and terahertz scanners.

The American public is substantially affected by the uses of drones in U.S. airspace and the Agency has failed to provide legal authority or to seek public comments on a program that allows for the interception of private communications and the surveillance and tracking of individuals in the United States.

The Agency may not operate outside the law. CBP must begin a public rulemaking to assess compliance with federal privacy laws and to establish privacy safeguards for the lawful deployment of drones in the United States.

If you have additional questions regarding the claims set forth in this petition, please contact the Electronic Privacy Information Center, 1718 Connecticut Avenue, NW, Suite 200, Washington, D.C. 20009, (202)-483-1140.

Sincerely,
[Petitioners]

Current Organizational Signatories (19 March 2013, 10:00 AM EST)

Advocacy for Principled Action in Government
Alameda County Against Drones
American Civil Liberties Union
American Policy Center
Arab American Institute
Bill of Rights Defense Committee
Brennan Center for Justice at NYU Law School
Center for Democracy and Technology
Center for Financial Privacy and Human Rights
Constitutional Alliance
Constitution Project
Cyber Privacy Project
Electronic Frontier Foundation
Electronic Frontier Foundation - Austin
Electronic Privacy Information Center
Government Accountability Project
Liberty Coalition
Nachtpult
National Association of Criminal Defense Lawyers
Patient Privacy Rights
Privacy Activism
Privacy Journal
Secure Arkansas
Stop Real ID Coalition
Take Back Washington
Link to sign the petition is
here.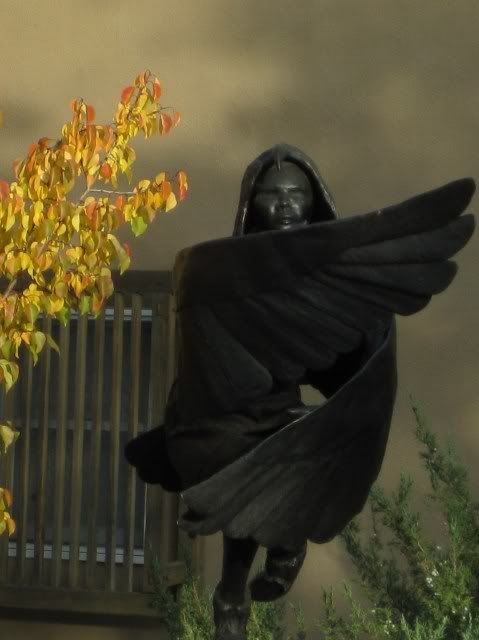 Thanks for stopping by.....and have a great evening.
And if you will leave a tip, rec or comment I will see about getting you a no bid single source gravy train contract that will surely make us ALL safer. :)