In the spirit of putting their mobility into their own hands -- or hands and feet in this case -- 35 bicycle riders and support crew will pedal 540 miles across California from UC Berkeley to UCLA in order to raise awareness for comprehensive immigration reform.
The 5th annual Tour de Dreams, which was conceived of by undocumented university students, begins at UC Berkeley early Friday morning and arrives 10 days later at UCLA. The trip serves as both fundraiser and as political activism to raise awareness of the lives of undocumented students and workers and the need for a federal DREAM act and comprehensive immigration reform.
The riders are congregating in Berkeley tonight!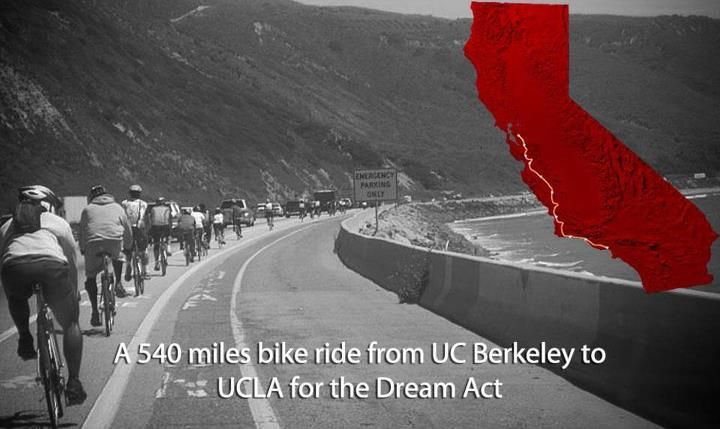 The tour is made up of "undocumented students, undocumented workers, people of color, friends, allies, and U.S. citizens" of all stripes.

I'll let the words of some of the riders, (quoted in Good Times Santa Cruz), tell the story of the Tour de Dreams:
"It is representative of the power and potential we all have to be self-sufficient, to move freely, without fear," says Santa Cruz resident and Tour rider Irene O'Connell, who is of Mexican and Irish descent. "This is definitely a form of activism … committing time to a long-distance, physically intensive, political participatory action."
"It's very symbolic. When it started out … a lot of the riders were undocumented—they didn't have a way to get around the community," says Evelyn Martinez, an organizer of this year's tour. "Rather than breaking the law and driving [without a license], or standing on corners and waiting for buses, they decided to take their mobility into their own hands and ride bicycles."
"[In past years] we have had folks … who will say, 'Wow, getting up that hill was hard.' There were folks on that [Santa Cruz Mountains] ride who are so focused, who say it reminded them of their journey through junior college or college, and how sometimes that journey seems like it will never end. We say that playfully, but there's also something profoundly significant about that analysis or interpretation." -Xochitlquetzal
The Tour serves as a way to raise tuition money for some of the undocumented students, who solicit sponsors to pay them by the mile or make a donation.
California has passed its own version of the DREAM act and other related legislation:

The 540-mile bicycle route is a nod to California's AB 540, says Martinez, a law that allows undocumented students who attended high school in California to pay in-state tuition at public institutions.

In 2011, California's DREAM Act allowed undocumented students to apply for private scholarships, and later added state aid, such as Cal Grants, to their list of options.
As of Nov. 2012, twelve states had their own versions of a DREAM act, which allow undocumented students who meet certain requirements to
pay in-state tuition.
And the Obama administration last year acted to provide temporary legal status to certain undocumented young people who apply, though it could be undone by any
future president
.
The federal DREAM act seeks to rectify the policy of making undocumented young people (who came to the U.S. with their parents) subject to deportation to countries that most have no memory of. It was first introduced in 2001 by Dick Durbin and Orrin Hatch and has been reintroduced in various forms, but none have passed. This year, as most here know, the Senate overwhelmingly passed comprehensive immigration reform, but the House has not acted on it.
According to Rep. Sam Farr, (D-Santa Cruz), activists like those in the Tour de Dreams have played a role in shifting the debate:

"Young activists are playing an important role in the immigration debate," says Farr, who has co-sponsored every version of the federal DREAM Act, which has never passed Congress. "The collective story of the DREAMers is a major reason there has been a shift in public opinion. The Tour de Dreams is a great way to continue to raise awareness around the need for comprehensive immigration reform."
To save money, they prepare their own food and carry sleeping gear:
The riders and support crew pool their money for meals and trip expenses. They don't stay in motels or eat at restaurants. Instead, everyone brings a sleeping bag and they make arrangements with local universities or other free places to sleep. Sometimes they sleep outside. Volunteers cook food in whatever kitchen facilities can be arranged in each town they stay in. Given this structure, organizers say they are grateful for the generosity of supporters who donate food and first aid supplies or the cash needed to purchase them
Here's the
itinerary
for the Tour de Dreams. If you're local and you're able,
go out to cheer them on!
We will be staying in Berkeley Aug 8th
Aug 9th San Jose
Aug 10th Santa Cruz
Aug 11th Monterey Bay/ Salians
Aug 12th King City
Aug 13th Paso Robles
Aug 14th Guadalupe
Aug 15th UC Santa Barbara
Aug 16th Oxnard/ Ventura
Aug 17th Los Angeles
(Note: I have quoted liberally from the Good Times article with permission from the author)