Greetings my dah'links,
Welcome to another Street Prophets group open thread. Of course, I just dropped by this evening to share some scribbles. Next week it'll be photos, photos, photos unless somebody or something stops me first.
My week was off to a pretty idyllic start. I and my little family spent a couple of days out in a small village, in the home of a friend with her and her children. The home was lovely and the garden around it was spectacular. And each morning, I awoke, shuffled downstairs, made myself a cup of coffee and took my sketchbook out into the garden to draw. I was surrounded by birds, flowers, butterflies, frogs, a calm, friendly Golden Retriever named "Andy" by my feet.
So what did I draw when the stresses of the work week had melted away?
There must be something wrong with me.

Hopping over the curiously symmetrical ginger hairball will allow you a peek at a couple of very bandwidth friendly (less than 100 KB each) pages from my sketchbook. Hopping over those pictures will find you in open territory. All are welcome to comment and no subject is closed.
Now, I kinda blame this first one on Andy. I wish somebody would find out what this creature is holding because I obviously haven't figured it out yet. This is a brush and ink drawing: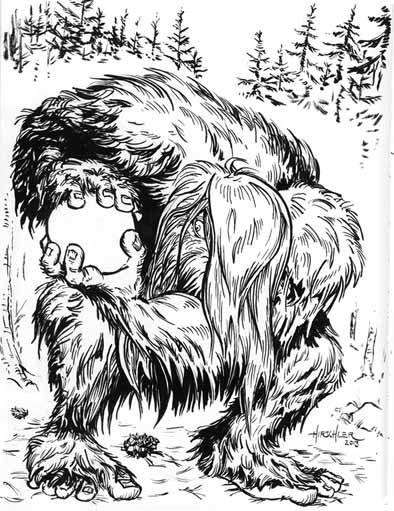 The second picture I started in the evening of the same day as the first picture and finished it the next morning. I've been thinking about making some tongs for myself to make my little (almost portable) forge more useful. Our friend commented that I'm always drawing dragons but it's really just there to help fill up the space. I thought it made a great addition-- maybe she's right, maybe I am always drawing dragons. This drawing was done with an old traditional croquil (crow quill) dip pen and India ink:

I got a bit of a start on a third drawing and then my Favorite Female's toothache got to be too much to bear and we made an emergency run back into the big city so she could visit her dentist. I had a business meeting the next morning so I just stayed while she returned to the group in paradise. Turns out it was just as well that I stayed. The folks that I'm doing the graphic design work for had managed to ignore my declaration of a web-less week and had sent several emails requesting several hours of extra work out of me-- which I more or less managed to get done by the meeting. I'm grumbling evil grumbles at the idiots at Adobe software that seemingly can't manage to write a version of their program Illustrator that is capable of opening a document created in another version of Illustrator without mangling something. This project that was supposed to be done, printed, by April just won't go away. Which reminds me of my old friend Catfish from Madison, Wisconsin who is fond of telling the drunk hecklers, "How can I miss you if you don't go away?" when he's out busking.
Ah well, gotta keep dreamin'.