Dear Friends, Tonight we meet to honor the service and sacrifice of Spc. Nickolas S. Welch, a soldier who lost his struggle to survive on August 7th after being wounded in an IED in Afghanistan attack in July.

I Got the News Today is a diary series intended to honor, respect and remind. Its title is a reminder that almost every day a military family gets the terrible news about a loved one. Diaries about the fallen usually appear two days after their names are officially released, which allows time for the IGTNT team to find and tell their stories.

All of the U.S. fatalities can be seen here and here. They all had loved ones, families and friends. The DoD news releases are here. I Got the News Today is intended to honor, respect and remind.

Click the IGTNT tags below to see the series, which was begun by i dunno, and which is maintained by Sandy on Signal, Monkeybiz, Noweasels, Chacounne, Twilight Falling, Joyful, SisTwo, Spam Nunn, True Blue Majority, CalNM, Wide Awake in Kentucky, Maggie Jean, Jax Dem, Kestrel 9000, TheFatLadySings, Ekaterin and me, blue jersey mom.

Please bear in mind that these diaries are read by friends and family of the service members chronicled here. May all of our remembrances be full of compassion rather than politics.

Please follow me below the fold.
On Thursday, the Department of Defense made the following announcement:

The Department of Defense announced today the death of a soldier who was supporting Operation Enduring Freedom.

Spc. Nickolas S. Welch, 26, of Mill City, Ore., died Aug. 6, in Bethesda, Md., of injuries sustained July 23, when enemy forces attacked his unit with an improvised explosive device in Soltan Kheyl, Wardak Province, Afghanistan.

He was assigned to the 3rd Battalion, 15th Infantry Regiment, 4th Infantry Brigade Combat Team, 3rd Infantry Division, Fort Stewart, Ga.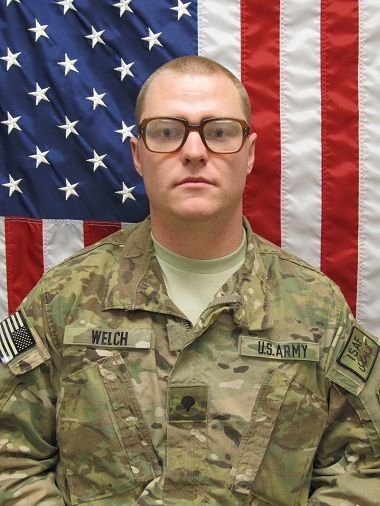 Spc. Welch was 2005 graduate of Santiam Canyon High School, located about 30 miles east of Salem, Oregon. As a high school student he was a member of the football team. Welch joined the Army in August of 2010 and arrived at Fort Hood in December of that year. He was on his first deployment at the time of his death.
Nikolas Welch was fatally wounded in an attack that killed three other soldiers. They have been identified as: First Lt. Jonam Russell, 25, of Cornville, Ariz.; Sgt. Stefan M. Smith, 24 of Glennville, Ga.; and Spc. Rob L. Nichols, 24, of Colorado Springs, Colo.
Spec. Welch was initially flown to a hospital in Germany. He was subsequently transferred to a hospital in Bethesda, MD where he lost his fight to survive.
Welch's mother wrote the following tribute on his Facebook page:

Today, the biggest heart in the whole wide world stopped beating at 2 54 pm. eastern standard time.

Nickolas Shane Welch left his journey from this cold world to venture on to something better.

Please don't ever forget my son or his fabulous smile or his witty personality or his kind heart...
The family has not spoken to the media and has asked that their privacy be respected. Funeral plans have not been announced.
Spc. Welch has received the Purple Heart.
Thank you, Nikolas Welch, for your selfless service to our nation. Poppies are the universal symbols of remembrance. May we never forget your service and your sacrifice.
Rest in peace.