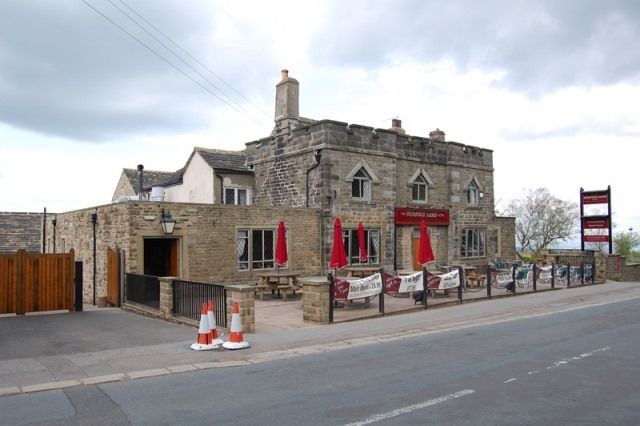 The scene, sister and brother-in-law's house, (45 minutes away from the base at RAF Finningley). I am just thinking about trying to lure Peter and Heather out for a meal (on me) when Peter blurts out, "I don't feel like cooking tonight, fancy a meal at the Norfolk Arms?' 'Do I ever!' I grin at him, 'My treat.' Peter swings to the bottom of the staircase with the lovely Victorian oak barleycorn twist bannisters, and yells 'Heather! Come on, we're going out to the Norfolk.', and I hear gentle trundling sounds as sis swings into action.
We pile into my Volvo, and swoop down into the valley of the little River Porter, up the other side, turn right onto Ringinglow Road, and 200 yards from the edge of the Peak District National Park, there it is, 'The Norfolk Arms Hotel'. Ten minutes from 'home' and a world away from any stresses and strains the day might have bought. As we swing into the car park we see the sign:-
"Welcome to the Norfolk Arm
Open from Breakfast to Bedtime
Real Ales
Real Food
Real Friendly Staff
Real Country-Pub Feel"
The building is constructed in local stone, with a very appealing castellated parapet. There are picnic style tables at the front of the pub, but most people use the extensive rear grounds.
The pub's name is, technically, The Norfolk Arms Hotel, and is does have some very nice en-suite accommodation, including one room with a modern four-poster bed - you can book this as part of a 'Romance Package'! It does indeed, cater for weddings, as you can see from the size of some of the rooms, the Mayfield Room and the Fulwood Room in particular. The Norfolk Arms does hold many late night functions, until midnight - the JPS Jazz Band on Mondays is great - so if you are sensitive to noise, please let the management know, and they will try to move you to a quieter room.
The food is just excellent. I used to be a hearty eater (sadly, not any more) but even I have been known to be defeated by their 'Barnsley Chop'; Peter sometimes had a Gammon Steak with a fried egg on top and a braised pineapple ring! There are endless specials and tempting desserts, too.
What makes the Norfolk so special is - location, location, location! The official boundary to the Peak District National Park -marked by the Park symbol, a millstone mounted on its edge - is around 200 yards away, up the Ringinglow Road. The views from the grounds at the rear of the pub are simply stunning. You look out across the Mayfield Valley in the direction of the Redmires Reservoirs (the only place where a flamingo was seen, in 1939 - it was a stray, of course, but Peter had all this down pat, as he was an avid 'birder'). It is, of course, a great place to use as a base for exploring all that the Peak District has to offer in the way of hiking, sightseeing, mountain biking, hang gliding (or gliding, at Great Hucklow), or famous stately homes like Chatsworth or Haddon Hall. Not far out of the big city of Sheffield, with its excellent rail connections, and close enough to wild country that you can start hiking immediately outside the front door.
Then of course, in winter there was 'Pig & Pint Night' on Fridays! A huge hot pork or honey glazed ham sandwich and all the trimmings, plus a pint of ale or cider, or soda (for the designated driver, of course, I didn't mind!) all for a fiver! Wonderful....
There are hundreds of happy memories in the Norfolk Arms, and I used to add to them, each year when I used to go 'home' and stay with Heather & Peter. Sadly, they are now tinged with immense sadness.
You see, three years ago, Heather and Peter went on a hiking holiday to Switzerland. This is something they did regularly. They were in a small party of 15 or so, mostly people from London (where they had once lived, and where Marianne, who is now an MD with children of her own, was born). Peter had gone ahead with a couple of other guys to photograph some wild flowers on a glacial path in the mountains near Geneva. His ankle turned on a stone, he slipped and fell, and went over the edge. Heather didn't see this, fortunately.
Heather lost a wonderful husband, the Halle Orchestra Choir a superb bass, Marianne a devoted father......and I lost my best mate.
The Norfolk Arms Hotel - a lovely place, full of memories.
http://shortfinals.wordpress.com