Every day is a new day and with that, a new opportunity.
EVERYONE is welcome and please join us each morning at 7:30 AM PACIFIC
to tell us what you're working on, share your show & tell, vent, whatever you want...
...this is an open thread. Nothing is off topic.
Boujou!
It's been one of those weeks where there's much more going on in Indian Country than we have time, much less space, to cover.
On the infuriating front: NPR's ombudsman has, to much fanfare, issued an 80-page report slamming his own outlet's reporters for their work to cover the story of South Dakota's state officials' serial violations of the Indian Child Welfare Act.
Otherwise known as a whitewash.
Gee — wouldn't it have been nice to see NPR's ombudsman invest 80 pages in dissecting real non-stories, like, oh, say, alleged Iraqi links to 9/11, or those WMD that seemed to vanish into thin air? But in typical Beltway fashion, he has his priorities straight: Republican state officials trump Indian kids any day of the week.
On the funny front: Then there's Michigan's Republican Governor, Rick Snyder. The state's gaming compact with Michigan tribes is up for renewal this year; if no changes are made, it will auto-renew under the terms of the current compact. Snyder wants to change that so that the tribes give his state government more of their revenue, in exchange for . . . nothing. "Don't laugh," he says to tribal officials.
They laughed.
On the fun front: This past weekend was Santa Fe's famed Indian Market. The Plaza was teeming with Native artists, collectors, casual shoppers, media, attention-seekers, tourists, and the usual fleet of that other type of artist — the con artist. The label "fun" probably applies to everyone but those in the first category: For indigenous artists, it's a huge amount of work, and a huge expense. In recent years, we've heard serious complaints from friends about how the set-up is handled, and about how too many of them not only don't make a profit on it, but actually take significant losses.
Maybe it's time for Indian Market organizers to revisit the event's structure and implementation, with a greater focus on, you know, the Indian artists.
But there's a lot of news we can cover today, so let's get to it.
WHILE AUTHORITIES ARREST BABY VERONICA'S FATHER, WOULD-BE ADOPTIVE PARENTS SEND REALITY TV STAR TO TRY TO TAKE HER FROM PRE-SCHOOL
Warning: What follows is more rant than reporting.
So much for the best interest of the child.
Baby Veronica's biological father, Dusten Brown, was arrested last week for alleged custodial interference. He has since been released after posting a $10,000 bond.
Meanwhile, the child's welfare was seriously jeopardized last week, in a particularly ugly manner.
In what twisted, proprietary worldview is it in a child's "best interest" to send a celebrity-hound reality "bounty hunter," complete with camera crew and "enforcement," to trespass on the grounds of a tribal pre-school with every apparent intention of abducting the child?
Apparently, in the universe of Matt and Melanie Capobianco, the white couple who have fought all the way to the U.S. Supreme Court and beyond to be able to adopt a part-Cherokee child with a Cherokee family who wants her, and who, Samuel Alito notwithstanding, fell within the protections of the Indian Child Welfare Act [ICWA].
The last few weeks have turned extraordinarily ugly, as custody proceedings are wont to do when one party views a child as property. Despite the fact that the Capobiancos, all attorneys, and the South Carolina court were all informed well in advance that Dusten Brown, an Iraq War veteran with National Guard duties, would be deployed to a training program in Iowa on a specific date, the court nevertheless ordered Mr. Brown to bring the child to South Carolina for transfer to the family during the period of his training deployment. His commanding officer released him to return to Oklahoma, whereupon he was immediately arrested for "custodial interference." Meanwhile, Oklahoma's Republican Governor, Mary Fallin, began making noises about extraditing Mr. Brown to South Carolina.
Throughout, Mr. Brown's attorneys, as well as Cherokee Nation attorneys and officials, have insisted that the have begged the Capobiancos and their representatives to sit down for mediated discussions so that the entire process can be handled in a way that is in Baby Veronica's best interest. The Capobiancos reportedly have refused.
They have, however, done their best to use the media to further their cause. They hired a reality TV huckster, Troy Dunn, who calls both his show and himself "The Locator," to "locate" Baby Veronica. Of course, they knew exactly where she was, so they weren't doing any "locating" at all. Rather, The Locator took his own private "enforcement" and a camera crew to Tahlequah, Oklahoma . . . to the Cherokee Nation pre-school that Baby Veronica attends.
According to reports, they trespassed on the grounds while school was in session, accosting children and intimidating staff, invasively demanding that they produce Baby Veronica. Afraid that this aggressive celebrity would abduct the child for his clients, school officials called Cherokee Nation Marshals, who escorted the TV star and his entourage off school grounds with polite instructions not to return.
Cherokee officials are furious:
"He is neither a counselor, nor a mental expert, although he perpetuates that illusion on TV," said Cherokee Nation Attorney General Todd Hembree late Thursday afternoon. "Furthermore, in his more than year-long involvement with the Capobiancos, he has proven himself not to be a neutral party in this matter; he has made inflammatory statements to the media and has publicly posted degrading comments about Veronica's real father, Dusten Brown."

Dunn had dominated the Capobianco's [sic] press conference on Wednesday, dramatically challenging Brown to meet with him privately, with no others present. Legal experts say that not only was Dunn's presence at the press conference a "distraction" and "sideshow," but also that his behavior raises serious ethical questions regarding his role—with the Capobiancos approval—in attempting to assert himself in brokering a deal in one of the most contentious custody battles in U.S. History.

"My concerns of [Dunn's appearance] yesterday were well founded in that today, Troy Dunn and his hired TV cameras were asked to leave Cherokee Nation school premises by Cherokee Nation Marshals," said Hembree. "His antics are inappropriate and dangerous. The safety and well-being of our children is our first priority."
Imagine the result had they found four-year-old Veronica and accosted the child before staff could intervene.

But Alito and his colleagues are worried over an "ICWA trump card."

Because a child's best interest is served so much better by televised, in-your-face celebrity exploitation for profit.

Under the ICWA, she's a loved, cared-for, integral part of a community on numerous levels, for life. To "The Locator" and his clients, she's commodified as a mere piece of property.

"[S]erious ethical questions." Gee, ya think?

Note: The image above is from the Facebook campaign Standing Our Ground for Veronica Brown.

SOUTH CAROLINA POISED TO BECOME HAVEN FOR ADOPTIONS THAT VIOLATE ICWA?
South Carolina is suddenly fast developing a certain reputation in Indian Country, and it's not a good one.
Raymond W. Godwin, the initial lawyer for Matt and Melanie Capobianco, who are trying to adopt Baby Veronica [discussed immediately above], is now representing another white South Carolina family in an illegal adoption of an Indian child.
Three-month-old Baby Deseray, as she is known, was born to a member of the Absentee Shawnee Tribe of Oklahoma, and her status has already been confirmed as falling within the protections of the Indian Child Welfare Act [ICWA]. No signed application under the Interstate Compact for the Placement of Children [ICPC] has been filed with the state of Oklahoma, and no custody order has been issued by a court, yet the infant is currently living with a white couple in South Carolina. Ironically, in this case, the non-Indian biological parent is working with the child's Absentee Shawnee grandmother to return her to her people.
The tribe had no advance notice, nor did state officials, reportedly:
According to Charles Tripp, attorney general for the Absentee Shawnee Tribe of Oklahoma, the tribal attorneys were caught off guard in late May when they received notice from the ICPC office in Tulsa that another Oklahoma child had been unlawfully removed to South Carolina.

"She was already gone and out of the state before we even received notice," said Tripp. "The adoptive couple paid their money and took off with the kid without the required approval of either the State of Oklahoma or the Absentee Shawnee."

Tripp said that the child is currently residing with another adoptive couple without any kind of court order for custody. As attorney general of the child's tribe, he told ICTMN that he will be retaining counsel in South Carolina and going to court there to put a stop to what he calls the "human trafficking of our tribal children in South Carolina."
Mr. Tripp didn't stop there. He's clearly angry, and rightly so:
Tripp also said that the current trend in adopting Native American children in the U.S. carries with it the patina of colonial "missionary mentality."

"It's 'Oh, look what I did to help the poor Indians,'" said Tripp. "It's like they're going to the Third World without actually having to go overseas to get their kids. But ICWA is law for a reason, and we are not in need of their 'help.'"
It's more than a "patina" — it's solid, full-metal colonialism, through and through.

It's also, as I keep repeating, genocide by other means. I'm beginning to feel like the proverbial broken record, but every week, this gets reinforced anew:

Genocide need not depend upon heedless and bloody slaughter.

Stealing the children is enough to do the job.

More "This Week In American Indian News" and Latest Updates on Kossack Regional Meet-Up News Below the Frybead Thingey
EDUCATION ACHIEVEMENT GAP GROWING FOR NATIVE STUDENTS
While we're on the subject of children, there's troubling news from the educational sector.
The Education Trust, a nonprofit organization that defines its mission as "promot[ing] high academic achievement for all students at all levels," released a new report last Tuesday on "The State of Education for Native Students" [.pdf]. The report cites evidence that, while students of color from other ethnic groups are making strides toward parity with their white peers, measurements for American Indian and Alaska Native students have remained virtually flat, creating a widening achievement gap.
In 2005, Native students were actually outperforming their peers in two other communities of color, African American and Latino students, with regard to fourth- and eighth-grade benchmarks in reading and math. Six years later, in 2011, that lead has disintegrated, and the performance gap between Native students and white students has actually increased.

In 2011, just 18 percent of Native fourth graders were proficient or advanced in reading on the National Assessment of Education Progress (NAEP), while 42 percent of white fourth graders had reached those levels. Meanwhile, fourth grade reading performance for all other major ethnic groups rose between 2005 and 2011, but results for Native children stayed flat. They even had a lead over African American and Latino students in 2005 that has since disappeared.

Results are similar for eight grade math. Just 17 percent of Native students were proficient or advanced on those tests and nearly half were below the basic level. Yet 43 percent of white students were proficient or advanced and just 17 percent were below basic. Native children barely saw improvement in their scores between 2005 and 2011 while other groups made advancements.
The reasons are manifold, but one statistic that jumps off the page is the fact that only 76% of Native students attend schools that even offer Advanced Placement [AP] classes. For other ethnic groups, the report lists the numbers as follows: Asian American, 97%; White, 91%; Latino, 91%; and African American, 89%. Now, the fine print notes that for purposes of the report's analysis, a high school was "considered to offer AP courses if at least one student took an AP exam in 2009–10," which means that for all schools analyzed, the notion of "AP courses" is probably generous. For schools serving Native populations, that's actually worse: It means that in 24% of those schools, not one student even took an AP placement exam in the years covered.

Some might assume that the fault lies with traditional Indian schools — i.e., those chartered under the Bureau of Indian Education [BIE]. As a matter of fact, however, only 7% of all Native students attend BIE schools; the vast majority — nearly 93% — attend ordinary public schools (with a select few enrolled at parochial/sectarian, charter, magnet, or other private schools).

Unfortunately, even beyond middle and high school, the study's pattern remains: Only 69% of Native students graduated from high school within four years; only 25% earned "college-ready" math scores on the ACT; only one-third scored at the "college-ready" level in reading; only 52% enrolled in college in the semester following their high school graduation; and of those matriculating at four-year institutions in 2004, only 39% had earned a bachelor's degree by 2010.

By way of asserting that such outcomes are "not inevitable," the report notes that Native students in Oregon and Oklahoma significantly outperform those in other states, such as Arizona and Alaska, and it describes those two states' efforts as "worth inspecting."

Here's something to inspect: Money.

Oklahoma tribes tend to have significant revenues; Oregon, a decidedly blue state, no doubt places greater emphasis on education resources across the board than states such as, say, Jan Brewer's Arizona. And we already know that, however bad the report's numbers are, any follow-up investigation will find that they have been greatly worsened by the effects of the sequester on education in Indian Country.

So how about a concerted effort at all levels of government to increase education funding for Native students?

BLACKFEET TRIBAL BUSINESS COUNCIL CANCELS OIL AND GAS LEASES
AT BASE OF SACRED MOUNTAIN
The Blackfeet Tribal Business Council has announced that it has canceled all proposed oil and gas leases that were previously granted for an area at the base of Montana's Chief Mountain.
Chief Mountain is sacred to the people of the Blackfoot Nation. In their origin stories, it is a site given to them by the Creator for specific purposes, and its top is where some of their ancestral heroes rest. Members of all three nations of the Blackfoot Confederacy, both on the U.S. and the Canadian sides of the border, make pilgrimages there for spiritual purposes. For decades, no one who is not an enrolled tribal member has been permitted within a two-mile buffer zone of the mountain's base.
On January 3rd, the Tribal Business Council voted to approve a proposal by Nations Energy, LLC, to develop mineral leases on 4,000 acres of tribal land. Nations Energy is a Canadian energy firm founded by three venture capitalists, none of whom appears to be Indian. The company does, however, make significant hay of its "partnerships with First Nations" communities. Although they bill themselves as geared toward sustainable energy solutions, it appears that a significant stake of their business is plain old oil and gas drilling.
The resolution, recently reaffirmed by the Tribal Business Council, provided that the first well would be drilled with 18 months of the signing of the leases, with a total of three wells to be developed within the first five years. Copies of the resolutions and the lease agreements were posted on the Bureau of Indian Affairs [BIA] Web site, where they were reportedly downloaded by someone identified only as an environmental activist and posted on a personal Web site to drum up opposition to the deal. As a result, opponents of the project planned to stage a demonstration at the base of the mountain last Saturday to protest the deal. Prior to the scheduled protest, the Tribal Business Council canceled all of the leases, citing nonpayment by Nations Energy as the reason. Although there was opposition to the deal from within the tribe, it's unclear how many of the would-be protestors were actually tribal members. From a little digging, it appears that the activist in question is non-Indian; he is apparently a white photographer who lives in the area. The Tribal Council's reaction seems to confirm that, since its public statements have been very pointed.
"The current proposed leases by Nations Energy, which are the subject of so much misinformation, were canceled on July 24, 2013 due to nonpayment by the company," the tribal council news release states. "The intention of such leases was to explore an area of the reservation which is at least two miles from Chief Mountain and at least one half mile from the mandated buffer zone."
. . .
"The Blackfeet Tribal Business Council has always considered Chief Mountain as one of the most sacred sites on the Blackfeet Reservation," the news release states. "This area was for spiritual use of the Blackfeet people only. This protection continues to this day and nothing has or will disturb this area, including any oil and gas development."
. . .
The tribal council goes on reassert its "absolute right to develop its own resources on its own land."

"The council is clear in its purpose to create a better economic environment for its people who currently suffer some of the highest rates of poverty and unemployment in the United States," the news release states. "With that responsibility to better the lives of its people, however, comes the absolute mandate to do no harm to the tribe's cultural sites, traditions and resources, including water. The two duties go hand-in-hand and this council will follow its oath and the Blackfeet Constitution to protect and defend its land and to responsibly develop its many and valuable resources."
Some activists will no doubt be offended by the tribe's blunt assertion of sovereignty, but its position is understandable. With sovereignty constantly at risk, to say nothing of the tribe's own economic well-being, including jobs and other fundamental needs, appearing to capitulate to outside pressure merely lays the groundwork for outsiders to make continued incursions that violate tribal sovereignty in all sorts of ways. Our peoples have a long and harsh experience with capitulation, and know well the dangerous precedent that it sets. Activists who wish to change hearts and minds on such issues would do well to keep that historical context, as well as current political realities, firmly in mind and approach negotiations with the respect due to sovereign, autonomous governments.

Note: I have used the names "Blackfoot" and "Blackfeet" interchangeably here for a reason. My reading indicates that "Blackfoot" is the English-language term the people themselves prefer to use, which they consider more accurate. The U.S. government uses the term "Blackfeet," which appears to be a mistranslation, although some tribal members use it as the path of least resistance. The members of the Blackfoot Confederacy comprise populations on both sides of the U.S.-Canadian border, and include the Blood, the Pikuni, and the Siksika. Their name for themselves in their own language is Niitsitapi.

PINE RIDGE OGLALA VOTE TO LEGALIZE ALCOHOL ON REZ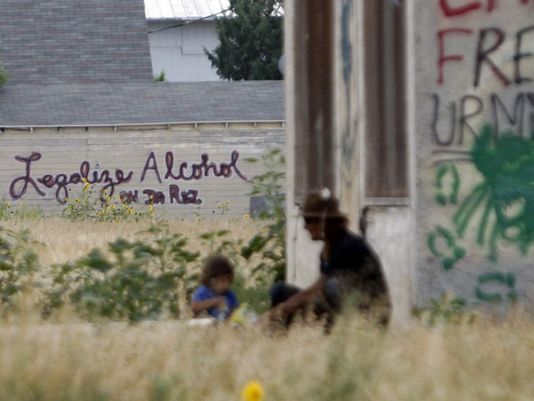 It's a strategic vote.
I've written at some length about the alcoholic scourge inflicted on Pine Ridge by neighboring Whiteclay, a "town" that exists solely to push alcohol sales to Pine Ridge, where alcohol has been outlawed virtually continuously since the reservation was established in 1889.
Oglala Nation leaders took the unusual step of putting legalization up for a vote in an attempt to gain control of the situation: If the sale and possession of alcohol are legal on reservation lands, it could put Whiteclay entirely out of business. And since every other effort at shutting down that toxic dump has failed, from lobbying to lawsuits to boycotts to roadblocks, tribal members are looking at this as a matter of strategy. It may seem counterintuitive in this instance, but as a last-ditch effort, appealing to the forces of profit might succeed where all other measures have failed so thoroughly.
It was not an easy vote, by any means. Early counts put the numbers at 1,871 in favor of legalization and 1,679 against, meaning that the margin was a mere 151 votes. Tribal President Bryan Brewer appears to lean toward the side opposing it, saying that he "find[s] this entire matter troubling." Publicly supporting legalization is Tribal Law and Order Committee Chair James "Toby" Big Boy, who cites "taking control of the revenue" from alcohol sales and reducing the workload of an already-strained tribal police force as points in its favor.
Big Boy says he is looking forward to the affect such a decision would make on the town of Whiteclay and the proprietors that sell alcohol to OST [Oglala Sioux Tribe] residents. "One or two of the establishments will close, one of them might stay open but people will still buy it from them. But there will be a nice big dent into them. We don't need to go over there and burn it down; we just need to shut it down."
Regardless, President Brewer points out that the vote itself is not binding. The Tribal Council will have the final word on whether to go forward with legalization. But some tribal leaders have already begun circulating a draft version of a tribal ordinance that would address many of the concerns of those who voted against it, including a complete tribal monopoly on alcohol importation and sales via tribe-run liquor stores; creation of a separate division of the tribal government set up solely to oversee the liquor stores; and profits funneled directly to a new, multifaceted set of treatment programs, including education, counseling, and two full-service rehabilitation centers on the reservation.


NATIVE VETERANS ISSUES TAKE CENTER STAGE WITH FIRST NATIONAL SUMMIT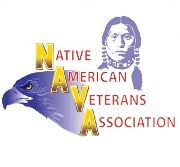 So far, August has been an important month for American Indian veterans and their issues. The Native American Veterans Association [NAVA] hosted its first national summit; the Navajo Code Talkers celebrated their annual observance; and the National Congress of American Indians has passed a resolution urging Congressional action to reimburse veterans who fell victim to state tax "double-dipping."
First, the summit: The Native American Veterans Association [NAVA] hosted its first annual Veterans Summit on August 7th and 8th in Long Beach, California. The event was presented in conjunction with Pacific Clinics and the Long Beach Veterans Healthcare System.
One of NAVA's threshold goals for the summit was to attract at least 100 attendees; with 150 participants over the program's two days, the group exceeded its target. NAVA co-founder and commander William Givens told Indian Country Today Media Network:
One of the most important things is that communities unite to offer veterans "a show of support," said Givens. "They need to be welcomed home and feel welcome. That's what the greatest need is."
The summit's theme was built around the motif of the the Four Directions, with particular program sessions serving as each "direction": Readjustment; Families and Relationships; Education and Training; and Mental Health and Wellness. Sessions were lightened by the presence of Indian drummers and dancers, and the talents of 16-year-old singer Decymbr Maye Frank (Diné) [link goes to YouTube performance].

Second, honoring Navajo Code Talkers: August 14, a week after the Native vets' summit began, was National Navajo Code Talkers Day. This year celebrated the 68th anniversary of their initial landing at Iwo Jima during World War II; thereafter, they "successfully delivered more than 800 encrypted messages without error."
Code Talkers first served in World War I, and originally came from a variety of different tribal nations. The most famous, however, are the Navajo. August 14th was first designated as National Navajo Code Talkers day by Ronald Reagan in 1982, on the 40th anniversary of the launch of the Navajo soldiers' efforts. Since then, they have received official Pentagon honors (in 1992), including dedication of a monument to their service; and the Congressional Gold Medal (in 2000) was awarded to the original 29 Code Talkers of World War II (24 of them posthumously).

One reason that the Code Talkers' service went unremarked for so long is "national security": Files related to their service were not declassified until 1968.

Today, only one of the 29 original Navajo Code Talkers remains: Chester Nez.

Finally, seeking tax justice for Indian veterans: The National Congress of American Indians [NCAI] has passed a new resolution designed to address an old problem, that of American Indian veterans who for decades were subject to illegal taxation by states.
According to federal law, service members with active duty status who legally claim to live on federal reservations are not subject to income taxation by the state in which the reservation is domiciled.

This new resolution argues that 26 states have taxed service members for as long as 24 years.
This is not the first such effort; in 2004, then-Congressman Tom Udall [D-NM] introduced the American Indian Veterans Pay Restoration Act. The bill died in committee — ironically, in the House Armed Services Committee, which failed to support the measure. Five years later, in 2009, New Mexico became the first, and apparently only, state to reimburse its Native veterans on a voluntary basis. The state set up a temporary reimbursement fund; veterans had to submit claims to be considered for reimbursement, and the fund expired on January 1, 2013.

Because the NCAI resolution was approved by a majority of the body's General Assembly at its 2013 Midyear Session, it is now official NCAI policy.

I covered this issue a little over three years ago, following up on a piece posted at Native American Netroots by an American Indian vet. It has also been covered in greater depth — and accompanied by action — by DaNang65, whose diary on the matter appears to be no longer available.

Chi miigwech.

:: COMMUNITY BUILDING UPDATES ::
Let's build communities!

Every region needs a meatspace community like SFKossacks.
We take care of each other in real life.
I urge YOU to take the lead and organize one in your region.
Please tell us about it if you do and we're here for advice.
•
THINK GLOBALLY, ACT LOCALLY
>>>Instructions on
HOW TO FORM A NEW DAILY KOS GROUP
NEW GROUPS IN THE PROCESS OF ORGANIZING:


Send a Kosmail to the organizers and ask for an invitation to the group.

• Northern Indiana Area: Kosmail Tim Delaney

• Long Island: Kosmail grannycarol

• Northern Michigan: Kosmail JillS

• Nebraska: Kosmail Nebraska68847Dem

• Westburbia Chicago Kossacks: Kosmail Majordomo

• New York Hudson Valley Kossacks: Kosmail boran2

• North Carolina Triangle Kossacks: Kosmail highacidity

• Caprock Kossacks (Panhandle/Caprock/Lubbock/Amarillo area) : Kosmail shesaid

• West Texas Kossacks (including Big Bend Region and El Paso) : Kosmail Yo Bubba

Note to the above new leaders: Feel free to leave a comment any day reminding readers about your new group. Also, tell us about your progress in gathering members. Kosmail me when you've chosen a good name for your group and have created a the group. Then I'll move you to the NEW GROUPS LIST. When you've planned a date for your first event I'll make a banner for you to highlight your event in our diaries and your diaries.
These are the groups that have started since * NEW DAY * began. Please Kosmail navajo if you have started a group before that.
NEW GROUPS LIST:

• California Central Valley Kossacks - Formed: Jul 29, 2012, Organizer: tgypsy

• New England Kossacks - Formed: Aug 6, 2012, Organizers:
Clytemnestra for Lower New England (Conneticut, Massachusetts, Rhode Island)
nhox42 for Upper New England (Maine, New Hampshire, Vermont)

• Houston Area Kossacks - Formed: Aug 7, 2012, Organizer: Chrislove

• Kossacks in India - Formed: Aug 14, 2012, Organizer: chandu

• CenTex Kossacks - Formed: Sep 9, 2012, Organizer: papa monzano

• Central Ohio Kossacks - Formed: Sep 26, 2012, Organizer: VetGrl

• Kansas City Kossacks - Formed Oct 15, 2012, Organizer: [Founder stepped down]

• Phoenix Kossacks - Formed Oct 16, 2012, Organizer: arizonablue

• Chicago Kossacks - Formed: Oct 31, 2012, Organizer: figbash

• Koscadia the Pacific Northwest coast from Northern California to Alaska
- Formed Oct 17, 2012, Oganizer: Horace Boothroyd III based in Portland, OR

• Boston Kossacks - Formed: Nov 7, 2012, Organizer: GreyHawk

• Motor City Kossacks South East Michigan (Detroit) Area - Formed: Nov 10, 2012, Organizer: peregrine kate

• Pittsburgh Area Kossacks - Formed: Nov 12, 2012, Organizer: dweb8231

• Salt Lake City Kossacks - Formed: Nov 17, 2012, Organizer: War on Error

• Twin Cities Kossacks - Formed: Nov 17, 2012, Organizer: imonlylurking

• Dallas Kossacks North Texas - Formed: Nov 21, 2012, Admins: Catte Nappe and dalfireplug. Please contact them to join the group. An Event Organizer needed.

• The Southern California Inland Empire Kossacks - Formed: Dec 3, 2012, Organizer: SoCaliana

• Los Angeles Kossacks - Formed: Dec 17, 2012, Organizer: Dave in Northridge

• Northeast Ohio Kossacks - Formed: Jan 16, 2013, Organizer: GenXangster

• Kansas & Missouri Kossacks - Formed: Jan 17, 2013, Organizer: tmservo433

• I-77 Carolina Kossacks who live from Columbia, SC to north of Winston-Salem, NC. - Formed: Jan 30, 2013, Organizers: gulfgal98 and eeff

• Indianapolis Kossacks - Formed: Feb 6, 2013, Organizer: CityLightsLover

• Southwest Ohio Kossacks - Formed: May 10, 2013, Organizer: Dr Erich Bloodaxe RN

• Northern Arizona Kossacks - Formed: Jul 5, 2013, Organizer: Sam Sara

• Mexican Kossacks - Formed: Apr 14, 2013, Organizer: roberb7
ESTABLISHED GROUPS LIST: (List will grow as we discover them)

• SFKossacks Founded by navajo, Formed: May 2, 2005

• Maryland Kos Founded by timmyc, Formed: Feb 23, 2011. Contact: JamieG from Md for a group invite.

• New York City Founded by Eddie C - Contact the group organizer for meet-up events: sidnora

• Baja Arizona Kossacks, Event Organizer: Azazello

• Three Star Kossacks Tennessee, Founded by maryKK, Formed: Apr 8, 2011

• Nashville KosKats, Founded by ZenTrainer Formed: Jan 30, 2012

• Virginia Kos Founded by JamieG from Md, Formed: May 3, 2011

• Kos Georgia Founded by pat208, Formed: Feb 13, 2011

• Colorado COmmunity Founded by Leftcandid, Formed: Feb 13, 2011

• New Mexico Kossaks Founded by claude

• Philly Kos Founded by mconvente Formed: Aug 29, 2011

• DKos Florida Founded by ThirstyGator, Formed: Feb 14, 2011, Currently organizing: Kosmail Vetwife to be included in next event.

• Oklahoma Roundup Founded by BigOkie, Formed: Feb 13, 2011, Currently organizing: Kosmail peacearena to be included.

• DKos Asheville Founded by davehouck, Formed: Feb 13, 2011 - Organizing Assist by: randallt
:: Events Currently on the Books for ALL Kossacks ::

Monday, August 19th

Inaugural I-77 Carolina Kossacks Meetup for Charlotte Moral Monday

Note: Charlotte traffic is a bear to navigate on a good day so SteelerGrrl tried to set things up so out-of-towners don't have to stress over parking, getting around or arriving hungry. Anyone is welcome to join us at any time, no worries if you can't make it early.

MEET AT ANY OF THE THREE LOCATIONS:

• Meet & greet, free parking and carpool to light rail:
TIME: Noon-1:00 PM
LOCATION: SteelerGrrl's home
Send Kosmail for directions • [City?]

• Late lunch and refreshments:
TIME: 2:00 PM
LOCATION: The Common Market
1515 S. Tryon St. • Charlotte
Onsite parking for patrons only
2 blocks from Bland Street Station on Lynx

• Moral Monday Protest at Charlotte's Marshall Park at 5:00 PM:
TIME: Plan to assemble between 3:30 and 4:00, location TBA
LOCATION: Marshall Park
800 E. Third Street • Central Park Region in Charlotte

ORGANIZER: Send SteelerGrrl a kosmail to attend.

RSVPs:
1. SteelerGrrl
2. Blazehawkins
3. MsSpentyouth
4. eeff
5. goheelsgodems

Maybees:

Latest diary: [Waiting for linked diary]



Saturday, August 31st

Houston Kossacks Meet-up

TIME: 1:00 PM
LOCATION: Hollywood Vietnamese-Chinese & French Cuisine
2409 Montrose Boulevard • Houston

ORGANIZER: Send Chrislove a kosmail to attend.

RSVPs:
1. Chrislove
2. jmbar2
3. cosette
4. mister mustardhead
5. Bree Davis
6. doraphasia
6. Libby Shaw
7. suesue
8. mr. suesue

Maybees:
Mr. cosette


Latest diary: Houston Area Kossacks: Meet-Up Scheduled for Saturday, August 31!


Sunday, Sept 15th

Chicago Kossacks Meet-up at a Powwow!

TIME: 11:30 AM
LOCATION: Chicago's 60th Annual American Indian Center Powwow
Busse Woods Forest Preserve • Elk Grove Village

ORGANIZER: Send figbash a kosmail to attend.

RSVPs:
1. figbash
2. broths
3. Mr. broths
4. Satya1
5. Liberal Granny
6. Railfan
7. Expat Okie
8. LeftOfYou

Maybees:
peregrine kate
palantir
edwardssl
Millie Neon


Latest diary: Chicago Kossacks Go To A Powwow: Sunday, Sept 15 2013





DeKalb, Illinois Kossacks




Saturday, September 21st

DeKalb, Illinois Kossacks Dinner & a Show!

DINNER:
TIME: 6:00 PM
LOCATION: Rosita's Mexican Restaurant
642 East Lincoln Highway • DeKalb

SHOW:
TIME: 7:30 PM
LOCATION: The Stage Coach Players Theater
126 South 5th Street (2 blks. from dinner) • DeKalb

ORGANIZER: Send NormAl1792 a kosmail to attend.

RSVPs:
1. NormAl1792 (on stage as Henry II)
2. winifred3
3.

Maybees:
1864 House
luvsathoroughbred
Mr. luvs
Amber6541
edwardssl
jwinIL14


Latest diary: Northern IL Kossacks Dinner and a Show - Saturday, Sept. 21

Saturday, October 19th

DKos Asheville Kossacks Meet-up

TIME: 1:00 PM
LOCATION: The Bywater
796 Riverside Dr. • Asheville

ORGANIZER: Send randallt a kosmail to attend.

RSVPs:
1. randallt
2. davehouck
3. Joieau
4. Gordon20024
5. gulfgal98
6. DawnN
7. Sandy on Signal
8. Mr Sandy on Signal
9. Munchkin
10. Alecia
11. Mr Alecia
12. cultjake
13. flwrightman

Maybees:
Otteray Scribe
Burns Lass
people power granny
One Pissed Off Liberal
Christian Dem in NC
SteelerGrrl
SteelerGuy
polecat
Audri
Phil S 33


Latest diary: DKos Asheville - Weekly Open Thread




Sunday, October 20th

MEGA Philly/NJ/NYC Kossacks Meet-up!

TIME: Noon
LOCATION: Stuff Yer Face
49 Easton Avenue • New Brunswick, NJ

ORGANIZER: Send mconvente a kosmail to attend.

RSVPs:
1. mconvente
2. belinda ridgewood
3. thankgodforairamerica
4. gchaucer2
5. sidnora
6. rubyr
7. mattc129
8. hayden
9. mallyroyal
10. Avilyn
11. blue jersey mom

Maybees:
aravir and son
ask
Cinnamon
No Exit
andgarden
asterkitty
pfiore8
joanneleon


Latest diary: Philly/NJ/NYC Mega Meetup! Initial Information & Interest Diary





Friday, October 25th

LAKossacks & SoCal Inland Empire See Lewis Black!

TIME: 9:00 PM
LOCATION: Agua Caliente Casino Resort & Spa
32-250 Bob Hope Dr. • Rancho Mirage

ORGANIZER: Send 714day a kosmail to attend.

RSVPs:
1. 714day
2. jakedog42
3. susans
4. Otoelbc

Maybees:

Latest diary: L.A. Kossacks, Lewis Black Fans in So Cal

Friday, October 25th

Meet the Daily Kos Editorial Staff!

TIME: TBD in the PM
LOCATION: Daily Kos HQ
Address given privately to RSVP'ers • Berkeley

ORGANIZER: Send navajo a kosmail to attend.
You will need to bring Potluck. Stay tuned for assignments.

RSVPs:
1. Markos
2. Susan Gardner
3. Meteor Blades
4. Faith Gardner
5. Will Rockafellow
and many more staff... stay tuned
6. navajo
7. Lusty
8. side pocket
9. paradise50
10. smileycreek
11. citisven
12. norm
13. Lorikeet
14. kimoconnor
15. remembrance +TLO?
16. Glen the Plumber
17. madhaus
18. dharmasyd
19. ceebee7
20. lineatus
21. Dave in Northridge
22. linkage

Maybees:
Cedwyn
LinSea


Saturday, November 2nd

SFKossacks BBQ in the Wine Country

TIME: TBD
LOCATION: Andrew McGuire's home in the Wine Country
Address to be given privately to RSVPs • Windsor

ORGANIZER: Send navajo a kosmail to attend.


Andrew McGuire is Executive Director of California One Care

RSVPs:
1. Andrew McGuire
2. navajo
3. Shockwave
4. Hunter
5. elfing
6. Hunter/elfling offspring
7. smileycreek
8. paradise50
9. dharmasyd
10. maggiejean
11. norm
12. Lusty
13. dksbook
14. Mr. dksbook

15. kimoconnor
16. jpmassar
17. side pocket
18. Mrs. side pocket
19. ceebee7
20. ceebee7's sister
21. leema (will carpool from Marin)
22. Meteor Blades

Maybees:
Glen The Plumber
remembrance
TLO™

Send navajo a kosmail if you post a diary about an event so we can update our round-up.

Okay. Floor's open.
Tell us what you are doing on this NEW DAY?