who blogs at Dirigo Blue and Tiny Ripples of Hope
and would like to use the BIG eraser below.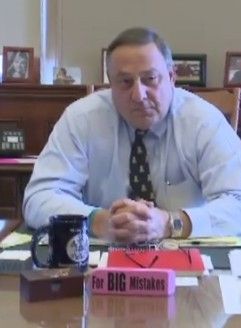 Follow me on Twitter @brucebourgoine
Governor Paul LePage of Maine has once again stepped over the line by saying at a private fundraiser that President Barack Obama "hates white people." The infamously crude chief executive has a long history of off-the-cuff nasty remarks.
According to the Portland Press Herald:

"Two Republican lawmakers confirmed the comment when asked directly by a Press Herald reporter, but asked that their names be withheld for fear of political retribution. Each said LePage talked about how Obama could have been the best president ever if he highlighted his biracial heritage. But, LePage said, the president hasn't done that because he hates white people."
As of the moment no Maine Republican official from the party or elected has stepped forward to condemn LePage's remarks which are being reported by national news sources now. The Governor's office has not issued a denial. Republicans operatives are seemingly going on the spin record to assert that LePage is not racist and other GOP elected office holders at the event of 60 individuals claim they "didn't hear" the remark.
LePage is infamously crude. He's told the Maine NAACP to "kiss my butt", joked that his opposition to banning Bisphenol A (BPA) in child products worst outcomes would be "little beards" on women, suggested that the IRS is "the new Gestapo" in his official weekly radio address, et cetera. The Governor was on a veto tear recently and had been lobbing continual bombastic insults at opponents and banning administration officials from publicly testifying on the budget or talking to selected newspapers in the state. And LePage recently said Democratic State Senator Troy Jackson "claims to be for the people but he's the first one to give it to the people without providing Vaseline."
LePage faces a very strong challenge from newly declared gubernatorial candidate Congressman Mike Michaud. Since the Governor's strategy is only a possible plurality win in a three–way race [which was the key to his election in 2010], it appears tossing red meat to his extreme tea party minority base will continue. Like Romney's "47%" remark at a private fundraiser this tells us what LePage really believes and hopefully Maine voters will reject his racism.