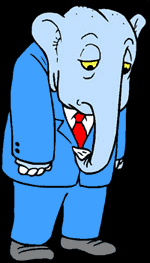 Might Democrats have a chance of defying history and picking up seats in a midterm election? They might, according to the Democracy Corps Battleground survey. The gist of their survey is they looked only at the 80 most competitive seats, and they find Democrats ahead in generic polling, including in the Republican seats. Seniors are splitting about evenly. Testing different attacks found some attacks moved voters by several points, which wasn't the case in 2012.
These might be the key bits (bolding theirs):
Seniors are a potentially big story. Seniors broke heavily for Republicans in 2010, and they are a disproportionate voice in off-year elections. This survey shows the race tied with them, which would be a huge turnaround. And it is seniors who move the most after the attacks in the survey.

…

Like in the Republican battleground, seniors may be the story. Democrats lead Republicans among seniors by 4 points and are statistically even among white seniors.
Seniors were the most Republican age group in both
2010
and
2012
. They tend to have the lowest dropoff in turnout in midterm elections. If they break evenly, that worth a few points to Democrats.
Democracy Corps tested the effects of different attacks, and found voters moved a few points in response to attacks based on gridlock, violence against women, and privatizing medicare. The Republicans insistence on getting all or noting in Congress and their hostility to women's rights is hurting them, and among seniors, the attempts to cut Medicare are killing them. We might recall how attacks based on Republican intransigence and Obama being the grownup in the room failed utterly in 2010, but apparently times have changed.
Our experience in Minnesota last year with the photo ID amendment also showed a vulnerability for the GOP. Not only did voters reject the photo ID arguments at the ballot box, but seniors voted against it as much as other age groups. For all that they leaned Republicans when voting for president, they figured out that photo ID would hurt them, maybe more than any other demographic group. Democrats have been pushing to making voting easier in the states they control, and this push should combine well with the Republicans' push to restrict voting rights. Democracy Corps appears not to have asked about voting rights, but Minnesota's experience indicates voting rights could play well as an issue. Probably every senior who has stopped driving and doesn't get out much or have any use for a photo ID gets how they'll be affected.
Regarding young voters, which Democracy Corps calls "the Rising American Electorate", they found significant movement towards Democrats when the issue raised was background checks for gun purchases. Of course, that doesn't resolve the longstanding problem of young voters skipping midterms.
Ruy Teixeira at Think Progress was exploring the possibility of Democrats actually retaking the US House, noting not just what Democracy Corps found about seniors, but also some numbers about non-white voters:
Start with minorities. It's not well-known, but Republicans in 2010 benefited not only from relatively low minority turnout (standard for an off-year election) but also from relatively low minority support for Democratic candidates. Emphasis here is on the relative: minority support for House Democrats in 2010 was 73-25 — high, but below the 77-22 margin that minorities averaged in the three off-year elections that preceded 2010. If minorities snap back to 77-22 Democratic support as a consequence of Republican misbehavior, and the expected 2 percentage point increase in the share of minority voters from population trends emerges, then the Republican 6.8 percentage point margin in 2010 will be immediately sliced in half. And if the minority vote goes even stronger for the Democrats, reaching 2012 levels, that would eliminate about three-quarters of the Republicans' 2010 advantage all on its own.
If his math is right, and if Democracy Corps' findings about seniors hold up until election day, that's enough to let Democrats match the Republican in popular vote. Of course, Democrats are still more packed in their districts than Republicans are in theirs, but the self-packing of Democrats in densely populated areas was already in effect in 2010, so the new part is the gerrymandering of congressional districts made possible by Republicans massive gains in state legislatures in 2010.
Understand however, before getting too optimisitc, that just taking more seats would buck history. I didn't say flipping congress, but merely winning more congressional or legislative seats at all is unusual for the presidential party. It has happened just three times since the Civil War, a time chosen I expect for the standardization of our election system and development of our modern political parties. You could start with the popular vote election of senators in 1912, and it's still just three times, 1934, 1998, and 2002. Those were three unusual years, not that next might not be unusual too (go for impeachment House GOP, please!) but historically, it's just that hard for the president's party to pick up seats.
However, let's bust one myth before getting too pessimistic. Second midterms are not worse than first midterms. Each two-term president does seem to have a terrible midterm, but it's as likely to be the first as the second. Obama had his horrible midterm already. One of the requirements seems to be that the president's party has to have a lot to lose, and thanks to 2010, Republicans already hold the US House, most governorships, and most legislative seats. Democrats are still likely to lose seats next year, unfortunately including the Senate, but that's based on history, not any tangible signs of impending doom. If the GOP has alienated a significant percentage of seniors, the non-white vote looks like 2012 instead of 2010 in terms of party preference and comes in high for a midterm in terms of turnout, there really is a chance for Democrats to win the congressional popular vote and have that translate into votes in other elections. Picking up seats instead of losing is absolutely possible.