Walmart's low wages and retaliation against worker activists drew major protests around the country Thursday, with arrests in several cities. Three New York City protesters were arrested as they tried to present Walmart board member Christopher Williams with a petition, six workers and seven community supporters were arrested near Seattle, and 700 people rallied outside the company's Los Angeles offices. The protests weren't confined to the coasts, though. They included Raleigh, Dallas, Chicago and Cincinnati.
700 #walmartstrikers and supporters at #walmart LA headquarters."Pay us enough to support our families."
http://t.co/...
— @ForRespect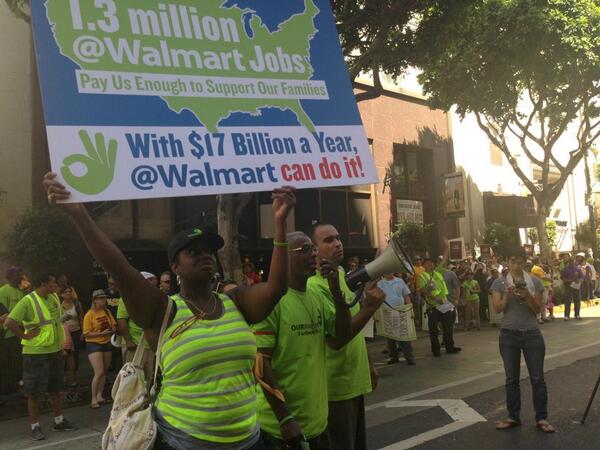 Hey #Walmart, rehire illegally fired #walmartstrikers!
http://t.co/...
— @hanson_alan
Join Making Change at Walmart and Daily Kos in telling Walmart and the Waltons to respect their employees and pay a real wage.
2:11 PM PT: Protesters in Los Angeles are now also being committing civil disobedience and being arrested.