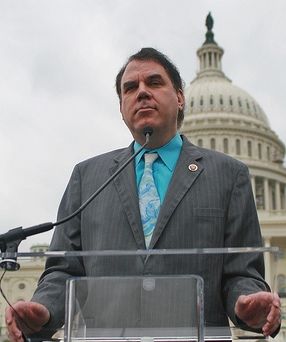 Alan Grayson is whipping against the resolution for the authorization of military force in Syria. He was interviewed on Tuesday by Molly Ball of
The Atlantic
. In the
interview
, Grayson explained why he is "confident it will be defeated in the House" of Representatives.
"A very substantial number of Democrats and Republicans have come out against attacking Syria, and we have begun the process of informing our Democratic colleagues about what their other colleagues are saying," Grayson said and confirmed that he is working with Republicans to halt the authorization push.
"You're going to see Democrats and Republicans lining up against [the military authorization]," he said.
Grayson explained that he didn't "feel at liberty to go into a lot of detail about that at this point" about how he was working across the aisle to stop the authorization, but the congressman from Florida 8th congressional district is well posited to work with his Republicans colleagues in stopping the march to war. In July, Slate reported that Grayson "is now the most effective member of the House", having passed more amendments than any other member. Grayson and his staff "resurrect or mold bills that can appeal to the libertarian streak" of Republicans and then "lobbies his colleagues personally."
Grayson said in the interview that he believes it is "very revealing" that the whip count kept by the Washington Post does not have a category for 'leaning yes', but there is one for 'leaning no'. House Republicans, especially, want to stop this authorization despite their leadership, John Boehner and Eric Cantor, backing the war.
Grayson said:

When you actually look at the comments being made by those who are characterized as "leaning no," I think they're leaning pretty heavily. If anything, the sentiment when members talk to each other is far more negative than the public [statements] reflect. Particularly among Republicans -- the Republicans are hearing overwhelmingly from their own districts that this has nothing to do with us. We're talking about ordinary voters and activists both, they're vehemently against this. If anything, what you're seeing in public is an understatement of the actual sentiment among House members.
"Conceivably it will end up losing two to one instead of four to one," Grayson said. "Undecideds" will have to break in favor of war authorization by "a staggering percentage" for it to pass, he explained. "The ones listed as undecided, I've talked to lot of them. They're not really undecided. They're just waiting for a prudent time to make clear that this doesn't make sense for America," he said.
Grayson said:

I am confident it will be defeated in the House. That's not to say we can defeat it by doing nothing. The administration is trying to dominate the discourse here. They've scheduled four meetings with Democratic members this week, and they are basically seeing to it that skeptics or opponents don't get any time in front of other members. They feel if they just repeat themselves often enough, they'll be able to prove their case. I don't think it's going to work based on what I'm hearing.
Public opinion is crucial in swaying members of Congress to vote against the authorization to use force against Syria. Grayson has an
online petition
that had nearly 45,000 supporters, up from 25,000 when he was interviewed on Tuesday,
"There's no sense among members that they're going to be able to explain a 'yes' vote here to their constituents, particularly if it turns into a quagmire," Grayson said.