Further below is a sampling of the postcards sent to my Swiss immigrant great grandparents (shown in the photos above) and their children in the U.S. from their relatives in Switzerland between 1902 and 1928.
All are in French. Some translations were provided by a cousin, some by me via Google Translate, as best as I could make out. Feel free to correct me. I won't mind.
A little background-- L'autre Mama (the other mama) had at least two brothers who lived in Switzerland, Alois and Paul. There is also a Henri, but I'm not sure if that's another brother or Paul's middle name because their father was Paul Henri. Her family was from Sainte-Croix, though it appears that Paul lived in Lausanne. Two of L'autre Mama's siblings also immigrated to the U.S.
Papa had three siblings: Olga, Georges, and Fritz. I was told one of his brothers also immigrated here, but I never found out who. His father and sister lived in La Brevine, aka Swiss Siberia.
In a card dated 1942, Paul explained that it took 3 months for a letter to reach its destination, so that was why most of the correspondences were through postcards.
Hope you enjoy the postcards. You can click on anyone of them and it'll take you to my photobucket account, and while there you can see bigger pictures in a slide show format. There are a number of cards there that I didn't include in this diary.
Ste Croix Dec 25, 1902 Dear Sister, Best wishes for the New Year for you, your husband, and your children. Our best wishes for happiness and health. Kisses for all the family, Alois G--
1905
My dear niece (Yvonne), ??? to your whole family and a kiss from your uncle. Next time I will write to Lily. Alois
1907 My dears, just a few words to let you know of the upcoming wedding that will take place on Nov. 2nd. Greetings from the whole family and those of the house. Alois

A more recent picture of Beau-Rivage here. It's still standing!
Dear children, I have not been able to write you, but you have not been forgotten. Uncle Henri.

An official card commemorating the first 100 years of canton Vaud, 1803-1903, but it is postmarked 1907.




Front: Winter at Ste. Croix. Back of card: Best wishes for the new year. I have the pleasure to announce the birth of a little girl on December 29th, 1908. Greetings to the whole family. Alois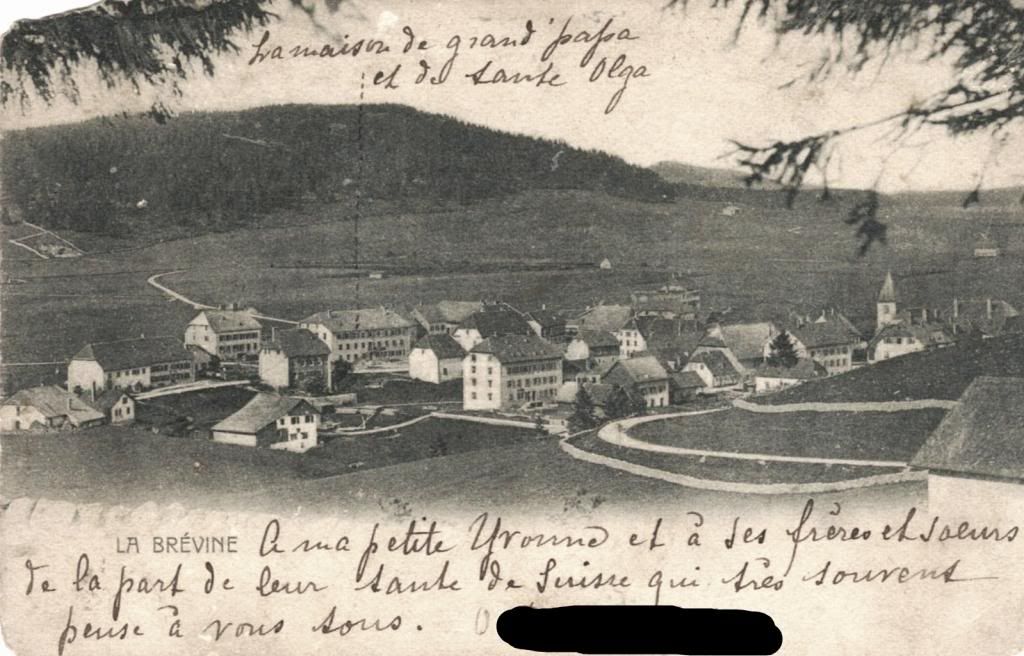 Top of card: Home of grandpapa and Aunt Olga. (father and sister of my Papa). You can see dashed lines pointing down to the house, or rather, to a window.

Bottom, best I can make out is: To my little Yvonne and (her) brothers and sisters, from your Swiss aunt who often thinks of you. 1909

Front: Too much water at La Brevine. Back: It is with great pleasure that I have received your card. A big thank you from my heart. At your convenience, can you give me more detailed news about what you are doing? your grandfather (Papa's father)
3 May 1913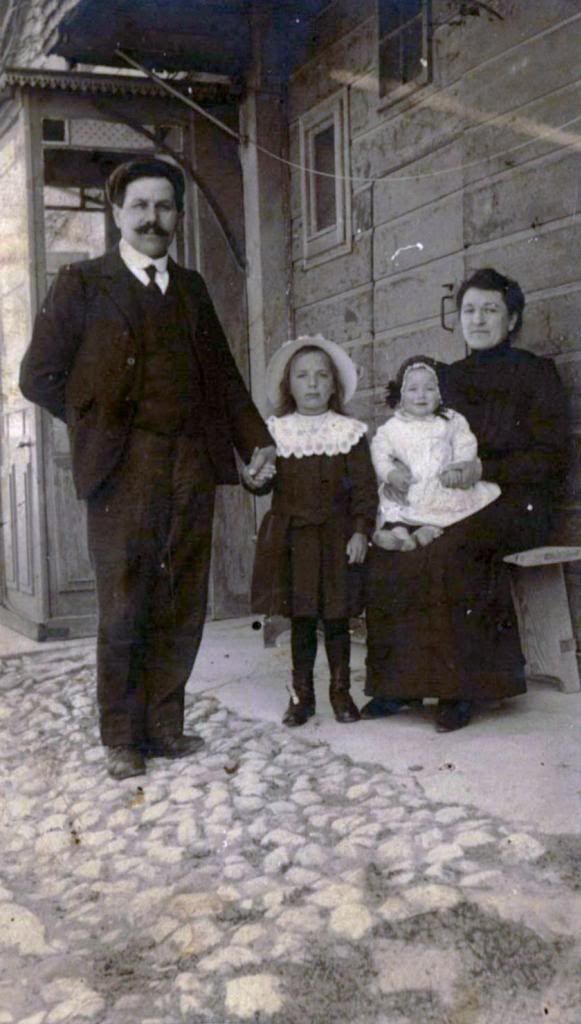 My dears, I learn at this time that Paul has not written to you about the death of the father. I'll write you during the next few days to give the details. I have been in bed for six weeks, so you see, I have not been exempt. I send you the family photo. Greetings, Alois
May 1914
20 Dec 1928
Lausanne- To all the family, best wishes for the new year. Paul
24 Dec 1928 Untranslated- a postcard from L'autre Mama's Uncle Ulysee in Celigny, Switzerland.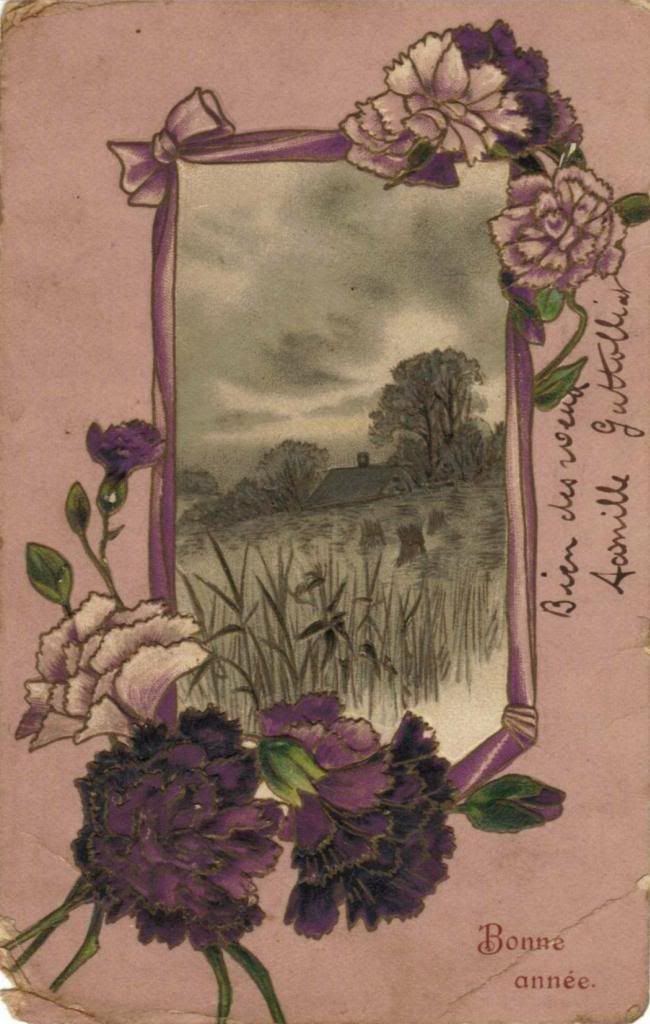 This is a lovely card, but I'm more interested in what is written on the side. Aamille? G--.
There are a few more postcards from Alois- mostly Greetings for the New Year, but they are starting to become more scarce. It appears L'autre Mama's last card from Alois was in 1931, and from Paul in 1942. She passed away in 1946.
There are also a handful of letters, but none of them were translated. A quick review shows a few were Papa's financial dealings in Switzerland, one was about the death of Papa's father, and I couldn't really figure out the letter from Tante Olga, but I did discern the names and addresses of her children.