After each decennial census, congressional districts are reapportioned between the 50 states based on population so that they may be redistricted. This process took place from 2011-2012 and North Carolina just barely missed out on winning a 14th district while Minnesota just barely held onto its 8th. In yesterday's Daily Kos Elections Live Digest, there was an item about how the Congressional Research Service used 2013 population estimates to extrapolate the likely 2020 apportionment and the result was that only that one district would switch states, with Minnesota losing and North Carolina gaining one. Since I had already analyzed this scenario and how it might have applied to 2012, I wanted to diary it in more detail.
In North Carolina, Republicans used their control over the redistricting process to radically gerrymander the state and the result was a 9-4 advantage in a state where Democratic candidates won the popular vote. Their map had been shooting for a 10-3 advantage and conservative Democrat Mike McIntyre just barely held onto the 7th district by the closest margin of any House race in the country. So what might their 14-district map have looked like?
Here Republicans are forced to draw a 4th vote sink and go for 10-4 rather than 10-3. While it's certainly possible to draw a map attempting an 11-3 split, this is highly unlikely to succeed or even be passed by Republicans. It would leave McIntyre's district without heavily Republican Johnston County and would not have been enough to defeat him, while the 4th can no longer go down to Fayetteville to pack Dems.
So this map draws a 4th Democratic vote sink comprised of the heavily Democratic minority and Blue Dog heavy precincts in southeastern NC with Fayetteville, Wilmington, and Robeson County. It draws together both Mike McIntyre and Larry Kissell, but the kicker is that it's heavily Democratic unlike the Blue Dog districts they held prior to 2012. Additionally, it's majority non-white and the Democratic primary electorate is likely majority black. Primaries in North Carolina go to a runoff if no candidate wins more than 40% of the vote and after McIntyre voted against Health Care Reform and a whole host of other Democratic policies, I firmly believe he would have lost the primary to someone more liberal. A likely contender is State Senator Eric Mansfield, who is African-American and from Fayetteville and ran for Lieutenant Governor last year.
The 14th district goes to the man McIntyre narrowly defeated in the 7th district in 2012. David Rouzer would easily have won this heavily conservative district and with his base of Johnston County almost entirely in the district would have been a heavy favorite in the primary. The last consequence of the additional district is that the 9th and 13th districts move a few more points in the Republicans direction.
In Minnesota, the state's Democratic governor and Republican controlled state legislature couldn't pass a map so a court stepped in as has been the case for the last several decades and drew a non-partisan communities of interest based map. That map saw Democrats easily win 5 of 8 districts and come within 1% of winning a 6th over lightning rod Michele Bachmann.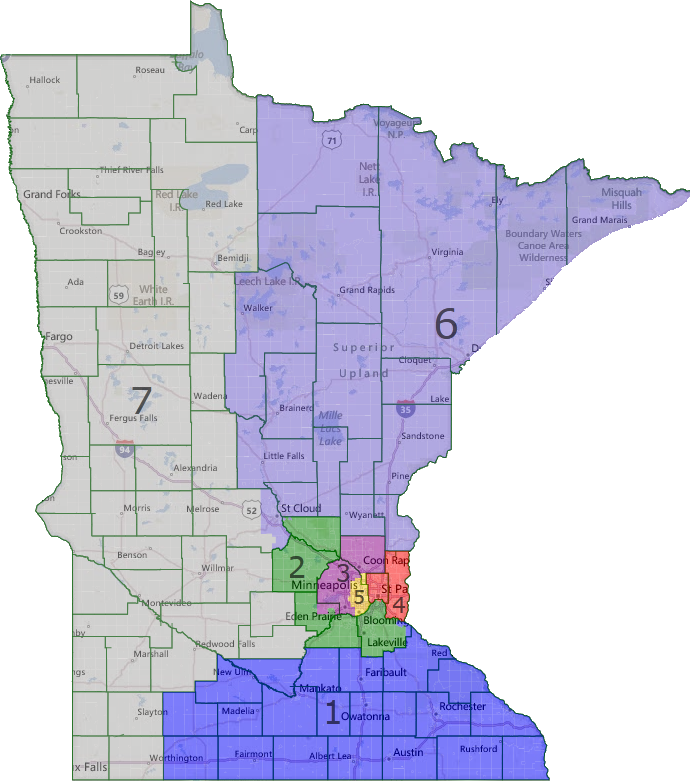 In this map Democrats also come out ahead like they did in North Carolina. Since the state has to shed a district, the one that is by far the most likely eliminated is Michele Bachmann's which gets split between several districts. She would almost certainly have retired to focus on her unsuccessful presidential run. The partisan impact on the remaining districts still sees Democrats in a very strong position to win 5 seats thanks to the huge incumbency advantages in districts 1 and 7. The 7th and 6th, the latter of which takes the place of the old 8th, each move half a point towards Republicans, but with the 6th it is still Democratic leaning and with the 7th Collin Peterson is a very entrenched incumbent. However once the 69 year old eventually retires it would have been slightly harder to succeed him. The 1st district however actually moves half a point towards the Democrats but it is already safe for us despite being a swing district. The Republicans do get strengthened considerably in the 2nd and 3rd which go from Obama districts to Romney ones, but their incumbency already made both of these Republican-leaning seats safe already so it is not really much of a loss for Democrats.
So the net result is that Michele Bachmann is eliminated, and although David Rouzer is pretty equally as conservative he isn't such of a loudmouthed lunatic. Democrats though still benefit aside from this in that Mike McIntyre's very Republican district gets replaced by a safe Democratic one and McIntyre himself, one of the most conservative Democrats in Congress, gets replaced by a black liberal. Obama also loses one inconsequential electoral vote to Romney. Sadly this outcome didn't happen, but looking forward to 2020 it is practically guaranteed that North Carolina will gain one congressional district (if not 2) while Minnesota is still a candidate to lose one. However party control can still change and though it is very unlikely to do so in North Carolina, it is plausible that Minnesota, which currently has a Democratic trifecta, could still have one in 2020 and thus allows us to draw a 5-1-Peterson map.