Today's from Colorado Springs, Colorado" on the ground report", one of the two recall elections of Democratic State Senators, funded by the NRA and other authoritarian groups in guise of ALEC's coalition, is: voter suppression efforts are working. There are over 69,000 voters in Senate District 11, (SD-11) after three days of voting and $4M spent on gathering petitions, building campaign narratives, propaganda, field organizations and other activities, only 9287 have officially cast a ballot.
[UPDATE: Colorado Springs Gazette Reports buried in an article reporting on Right Wing publicist Jon Caldara purposely engaging in voter fraud]

A total of 2,328 ballots were cast Saturday, bringing the total number of votes so far to 9,485. Of those, 3,923 were cast by Republicans, 3,081 by Democrats and 2,351 by unaffiliated voters.
[
UPDATE 2
: In a related article the
Gazette reports
that Sen Giron's turnout favors Democrats]
Friday morning, Pueblo County election officials said 5,887 Democrats had voted during the week compared with 3,314 Republicans and 2,054 independents.

That gives Democrats nearly a 2-to-1 margin over Republicans.
KRDO reported that turnout dipped on Saturday, link here
COLORADO SPRINGS, Colo. -
Saturday saw the fewest votes cast in the recall election since early voting began Thursday in El Paso County...

...On the first day, there were 3,657 votes cast. On Friday, 3,302 voters turned out. On the first day of the weekend, just 2,328 votes were cast across a handful of early voting locations in El Paso County.
I state
officially
in that emergency absentee ballot submissions, (once known as merely Mail In Ballot voting, where in 2012, 66% of the districts voters cast a ballot in that matter, where over 50,000 voted).
9287 represents a mere 13.8% turnout, so for voter suppression enthusiasts, this is a great number! However---standing in the Elections Department Director's office yesterday half an hour before the day's polls closed, I was told that the real number was going to closer to 10,000 submitted ballots. The discrepancy probably ie related to absentee ballots since they have not been processed, they know the number of applications and ballots distributed, and the number of received in ballot in boxes, they just haven't had their signatures verified and ballots counted.
Ironically, those are believed to be mostly Democratic votes, identified as 'shut-ins', the disabled, or elderly in nursing homes, etc., unable to make a trek to the voting centers. This is not an easy chore. They have to complete an emergency absentee application that is an affidavit, volunteer then becomes a trustee who physically picks up a ballot and then delivers it to the voter, then to a voting center. Yesterday I did this twice. It takes about 1½ hours start to finish. I also transported two other persons to the voting centers who didn't have transportation. Each felt grateful and another loss of personal dignity.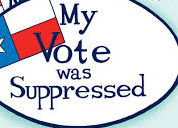 Voter turnout fell on Saturday, (counter intuitive to the bull shit artist known as El Paso County Clerk, Wayne Williams) who continuously states that turnout will be 30,000 even the face of diminishing numbers. Link to KDVR Denver Fox 31, last Thursday

"Our staff has worked extremely hard to try to make this a good experience for the voters," said Clerk and Recorder Wayne Williams. "And, thus far, it's been a very good turnout.
"We're actually planning for an election where there are more votes cast in this election, the recall election, than there were in the original election in 2010."
The same day link to KRDO reported Williams saying:
"It's the state's first ever recall election. El Paso County Clerk and Recorder Wayne Williams estimates 30,000 people will vote in the recall election."
Okay Wayne is wrong. By a level of two times. For many of us in El Paso County, this is about par
for him
. (I hope you get this Wayne because we both know it is true.)
Now some good news:
We have reason to believe that the enthusiasm has played out from the Recallers who have pretty much voted and without them knowing it, many Republicans and Unaffiliated voters who voted No. More so than normal cross-overs for El Paso County.
Sen. Morse interviewed this morning on UP at MSNBC, world news, and Sen. Morse interviewed this morning on UP at MSNBC
">]
[LAST Sunday UPDATE: Tomorrow the campaign has lined up over 60 voters who either need a ride or emergency absentee ballot application. I work so won't be able to help much but with each of these votes it puts a wooden stake into the heart of the blood sucking voter suppression efforts of the Right Wing]
[Monday AM UPDATE] The website Colorado Pols is reporting

What Democratic National Committee chair Debbie Wasserman Schultz calls "the worst election you've never heard of" ...

We are hearing more and more cautious optimism from Democrats as Election Day nears. In Pueblo, all news reports show Democrats still way out ahead in terms of ballots returned, though Republicans in this heavily Democratic district are likely to have a high turnout. Although you can't be certain of a 1:1 Democrat/recall "no" vote ratio, especially in fractious Pueblo, organizers on the ground seem confident they will not just win for Sen. Angela Giron,but run up the scorea little to shore her up for the 2014 general election. The reason they're not already celebratory, they say, is they don't want to encourage any kind of complacency–and that makes very good sense.

In Senate District 11, the extremely expensive and contentious fight between Senate President John Morse and ex-Springs councilman Bernie Herpin is virtually certain to be a closer race than Giron's–perhaps very close. Both sides have worked very hard to personalize this high-profile race, and Morse's campaign believes they have done what they needed to drive up Herpin's negatives. Overall, the candidates personally have mattered more to this race than in Pueblo.

The biggest factor now, though, is the high degree of professional organization in both sides' field operations. That reflects the high stakes of this one recall, compared to the two that have already failed and in Pueblo where it's increasingly likely the GOP will lose. This is the race where Republicans have basically placed all their chips, pouring massive nationwide resources into this tiny state Senate district and obliging Democrats to do the same. The national proxy battle that the Senate District 11 recall represents at this point cannot be overstated.

To Democrats' credit, we can tell you the very best and most experienced field operatives in Colorado are working the canvassing operation in Senate District 11. These are the same people who oversaw and participated in the groundbreaking Democratic field campaigns of 2004-2012, one of the major reasons why Colorado is considered a blue state today.
[bold, italics and underline emphasis mine]
[UPDATE 7 Denver Post Blog reports Gov Hickenlooper worries about "making a mockery of the democratic process"

Gov. John Hickenlooper is the latest to weigh in with concerns about Jon Caldara's residency switch Saturday so he could vote in the recall election of Senate President John Morse of Colorado Springs.

Caldara, a longtime Boulder resident, said he was was trying to make a point that a new election law passed by Democrats and signed into law by Hickenlooper in May undid residency requirements that had been in Colorado law for years.

"We are hearing disturbing reports that some people are being encouraged to go to the polls, not to legitimately vote, but to disrupt the process," Hickenlooper said in a statement issued today. "That would be unlawful and makes a mockery of the democratic process. We urge the county clerks in Pueblo and El Paso counties to make clear that people engaged in attempting to disrupt the elections are open to criminal prosecution. We've also reached out to the attorney general to help us ensure fair elections take place this week." [emphasis mine]
The field organization believes that most of the 2328 votes on Saturday were mostly NO supporters. These voters were cross checked with known supporters from the campaign's database. Again, that is how it was discovered that unreported absentee votes were not being recorded or processed. They are also tracking emergency assisted ballots and their submissions.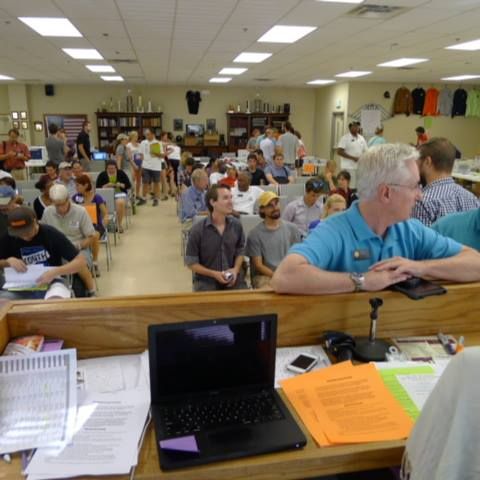 ">
This is a picture from yesterday morning's volunteer canvass training and deployment. John Morse is pictured in front standing by the podium. [Updated 4, someone from the campaign sent me this picture expressing an overflow crowd yesterday as Morse spoke to them.]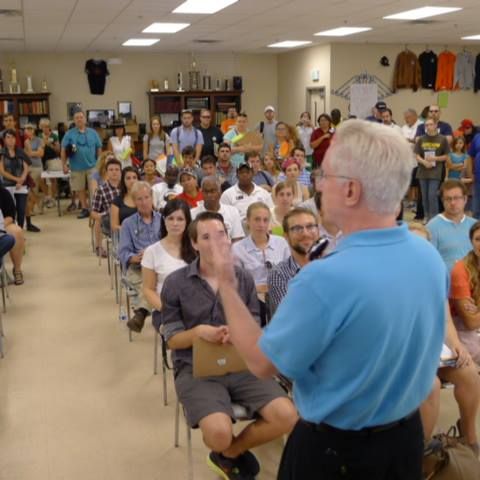 ">
Monday and Tuesday the County is going open up three more voting centers, where the final push from our field organization will be to deliver supporters.
Yesterday, visiting three of the four polling centers I found a half a dozen or so Yes Recall supporters loudly 'manning' tables outside the 100-foot from polling location non-solicitation zone. They were trying to use that location to make last second persuasion of voters. (HA!). They were not out knocking on doors, they were not calling voters, they were not delivering voters to the polls or getting emergency absentee applications.
When I dropped off an elderly, disabled veteran, (registered as Unaffiliated) he was contacted that morning by one of our volunteers. The voter told me he usually voted Republican. He is a former computer programmer, possessing cantankerous pride and self-esteem, though now on hard times. When we reached the curb at the voting center, and he was having trouble getting out of the car a Yes-Man ran up to help him, (kudos). In misguided audacity the helping Recall supporter then said:

I hope you are voting to Recall Morse?

It was a thing of beauty when reality came face-to-face to the Yes Man's fantasy. The voter spoke with deep conviction and indignation.
"I am not here to vote yes to anything. I was not driven here by you, a misinformed Yes Men either, it was you who tried to suppress my vote so I couldn't vote Mail In with dignity."
His reply silenced the jeering group of gun enthusiasts, mostly 60-year old men as he walked past them with his cane, clad in his Korean Veterans hat.
On that day each of the four people I assisted to make their voter's will expressed how their own personal dignity was diminished further by this obvious suppression effort.
From Jonathan Alter's book, "The Center Holds", he discussed how voter suppression efforts by the Republican and Right-Wing supporters actually worked against the GOP, as a backlash effect. Alter writes in: Chapter, Voter Suppression Project, page 72:

Many Americans saw voting as both a right and a rite, a core value and almost sacred tradition. So Republicans need a cover story. They embraced the convenient fiction that massive voter fraud threatened the integrity of the ballot box. This became writ with the party. Any Republicans admitting the truth---that fixing voter fraud was a solution in search of a problem—risked being ostracized. Their insecurity about attracting voters trumped their faith in democracy. Few stopped to think of the backlash should their obvious motive—voter suppression—became widely recognized among those whose rights they sought to violate.
This sentiment became more real as late in the day at 4:58 I drove up to the same polling location with an absentee ballot of a 77-year old, shut-in. She thanked me profusely for coming to her apartment, then driving 12 miles to the County Clerk's office, driving back because she failed to have signed it in the correct spot, starting over with another form, went back to the Clerk's office, then back again with her ballot, finally took it to the polling location.
As I got out to the voting center the Yes Men yelled that I was too late, Libertarians yelled to write in their candidate, but my friends on the other side of the alleyway started humming the theme from "Chariots of Fire" that still had time.
Coming back out I walked by the Yes Men. I made a comment that they were merely cheerleaders, "we are out there franchising suppressed voters, you are here cheer-leading". Then I continued:

"Back in high school when I played football and basketball, I never knew a cheerleader who actually scored a point or even had a genuine affect on the game's outcome. You remind me of Will Ferrell in his brilliant SNL skits."
They just glared, "
we are fighting for our 2nd amendment rights
". I smiled, yeah right.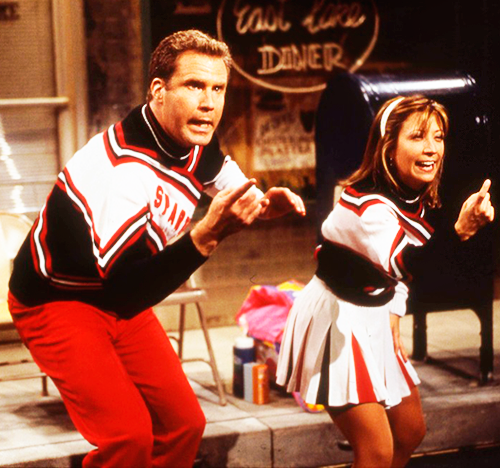 ">