Farewell, African elephant
The Animals are Leaving

One by one, like guests at a late party
They shake our hands and step into the dark:
Arabian ostrich; Long-eared kit fox; Mysterious starling.

One by one, like sheep counted to close our eyes,
They leap the fence and disappear into the woods:
Atlas bear; Passenger pigeon; North Island laughing owl;
Great auk; Dodo; Eastern wapiti; Badlands bighorn sheep.

One by one, like grade school friends,
They move away and fade out of memory:
Portuguese ibex; Blue buck; Auroch; Oregon bison;
Spanish imperial eagle; Japanese wolf; Hawksbill
Sea turtle; Cape lion; Heath hen; Raiatea thrush.

One by one, like children at a fire drill, they march outside,
And keep marching, though teachers cry, "Come back!"
Waved albatross; White-bearded spider monkey;
Pygmy chimpanzee; Australian night parrot;
Turquoise parakeet; Indian cheetah; Korean tiger;
Eastern harbor seal ; Ceylon elephant ; Great Indian rhinoceros.

One by one, like actors in a play that ran for years
And wowed the world, they link their hands and bow
Before the curtain falls.

Poem copyright © 2006 by Charles Harper Webb. Reprinted from Amplified Dog by Charles Harper Webb, published by Red Hen Press, 2006, by permission of the author and publisher.
What we're losing
Adios, gorgeous tiger
From
World WWF
:
Experts estimate there are as few as 3,200 tigers left in the wild, due to poaching, the loss of their habitat and depletion of the tiger's natural prey. Hunters, traders and poor local residents use the forest for subsistence, directly competing with the tiger. Some of the largest remaining areas where tigers occur are the mangrove forests of India. The projected rise in sea levels could cause these living spaces of the tiger to vanish altogether.
Join me below the fold for some more long—or in some cases, very short—goodbyes we'll be saying because of climate change.
It was nice knowing you, sea turtle
From
WWF
:
Sea turtles lay their eggs on Brazilian beaches, many of which are threatened by rising sea levels. Climate change also threatens the offspring of sea turtles, as nest temperature strongly determines the sex: the coldest sites produce male offspring, while the warmer sites produce female offspring.

This nest-warming trend is reducing the number of male offspring and seriously threatens turtle populations.
*
Wish we'd had more time together, lynx
From the
Los Angeles Times
:
The world's most endangered feline species may become extinct in the wild within 50 years, researchers say, a victim of climate change.

A new report projects that Iberian lynx could become the first cat species in at least 2,000 years to become extinct, researchers found, largely because of the decline of the European rabbit, which makes up 80% of the cat's diet.
The last generation of Iberian lynx cubs at play?
*
Aloha, Honeycreeper. And we don't mean hello, we mean goodbye.
From the
USGS
:
Today, native Hawaiian birds face one of the highest rates of extinction in the world. Of 41 honeycreeper species and subspecies known since historic times, 17 are probably extinct, 14 are endangered, and only 3 are in decent shape….

"With this kind of temperature change, about 60 to 96 percent of the high-elevation disease refuges would disappear," said Atkinson. For example, available high-elevation forest habitat in the low-risk disease zone would likely decline by nearly 60 percent at Hanawi Natural Area Reserve on Maui to as much as 96 percent at Hakalau Forest National Wildlife Refuge on Hawaii Island. On other islands, such as Kauai, with lower elevations and no low-risk zones even now, predicted temperature changes would likely be catastrophic for remaining honeycreeper species.
*
So long, polar bear.
From
WWF
:
Dependent on sea ice, the animal uses it as a floating platform to catch prey. Experts believe that the Arctic sea ice is melting at a rate of 9% per decade, endangering the polar bear's habitat and existence.
Last fight for survival, little ones?
*
See you later, bull trout. Or not.
From the
U.S. Department of the Interior
:
The threatened bull trout (Salvelinus confluentus) depends more on cold water than any other species of salmon or trout in the Northwest. Bull trout can also be sensitive to floods that disturb eggs and fry that incubate in stream gravel nests over the winter. Climate warming is likely to spell trouble for bull trout if it leads to warming of stream temperatures and more rain and flooding during the winter. We also know that bull trout are threatened by existing human land and water uses, as well as non-native trout species that can compete with and sometimes interbreed with them. The challenge in this study is to address these different threats across the vast area where bull trout live in the Northwest, including Oregon, Washington, Idaho, Nevada, and Montana. To this end we are mapping the habitats where bull trout live, and measuring the importance different threats across the species' range in the Northwest. The results of this work will allow us to better understand where different threats are operating to influence bull trout and help to identify appropriate conservation actions to ensure the bull trout can persist in the face of climate change.
*
Such a little guy, the American Pika. And so little time left for him.
From
tcktcktck
:
New research shows that the American pika, the mountain-dwelling relative of the rabbit roughly half as big as a football, began rapidly fleeing lower elevations and dying off in the Great Basin region of the U.S. West a decade ago.

The change coincides with the time frame when human-generated greenhouse gas emissions began to leave a massive imprint on climate and sea levels, scientists say, and the implications are considerable for a multitude of species.
*
Farewell, orangutans, our fellow primates ....
From
WWF
:
Asia's only ape—the orangutan—is in deep trouble. Its last remaining strongholds in the rainforests of Indonesia are being threatened by a range of pressures, including climate change, putting the animal at risk of extinction within a few decades. With global warming increasing the duration and frequency of droughts, bushfires are occurring more often in these heavily logged forests, further fragmenting the orang-utan's living space.
*
Farewell, sweet giant pandas.
From
WWF
:
The giant panda's future remains uncertain due to a number of threats. Its forest habitat in the mountainous areas of south-western China is fragmented, and giant panda populations are small and isolated from each other. Bamboo, the panda's staple diet, is also part of a delicate ecosystem that could be affected by the changes caused by global warming. Poaching too remains an everpresent threat, with only 1,600 individuals left in the wild.
*
A surfacing North Atlantic right whale mother and calf ... surfacing, to disappear again...
From
WWF
:
The North Atlantic right whale is one of the most endangered of all large whales, with a long history of human exploitation. Since warming waters contain less plankton for whales to feed on, the availability of food due to climate fluctuations is also becoming an increasing cause of mortality. Between 300 and 350 individuals still exist, with little hope of population growth.
*
This marmot may be sitting on top of the world, but he's endangered.
From
Scientific American
:
A warming world will present Punxsutawney Phil and his cousins with a host of new challenges, possibly enough to put some species at risk of extinction. According to research published last month in the journal Natural Science, climate change will bring temporary benefits to several of the world's 15 marmot species (including the groundhog), but any gains will quickly be offset by climate-driven drought, shifts in edible vegetation and habitat loss. "If climate change is not mitigated, then extinction becomes a real threat," says the paper's author, Kenneth B. Armitage, professor emeritus at the University of Kansas in Lawrence, who has spent the past 40 years studying marmots.
*
Nice having you around, Magellanic penguins.
From
ecopedia
:
Magellanic penguins are native to the areas around the southern tip of South America including the Straits of Magellan. Climate change is displacing the penguin's major food sources by up to 25 miles as the undersea currents change in the warming waters. This forces the male penguins to swim 50+ miles more than they used to to gather food for their mates and young. The colony just south of Buenos Aries has declined 20% in the past 22 years and, as the waters warm and fish move further out, the trend is only looking worse.
*
Take a long last look in the grizzly bear's soulful eyes.
From the
Sierra Club
:
In addition to continued threats from habitat loss, mining and drilling, grizzly bears face new struggles as warming temperatures force them to search out new food sources and homes. In the Greater Yellowstone region, one of the bear's important food sources, the whitebark pine, has been declared officially endangered by the Fish and Wildlife Service.

The whitebark pine is one of the first species to be listed with an official acknowledgment that climate change is a major factor in its decline. Vast stands of the pine have been devastated by the mountain pine beetle, whose populations have grown dramatically and spread to higher elevations as climate change has created warmer winters.
With the lowest reproduction rate of any mammal in the lower 48 states, grizzlies are particularly vulnerable to extinction. As climate change erodes the health of prime grizzly habitats in some areas, bears will need additional room to roam in search of better habitats to find food and safety.
"Hummingbirds" Blogathon: September 9-September 13, 2013
---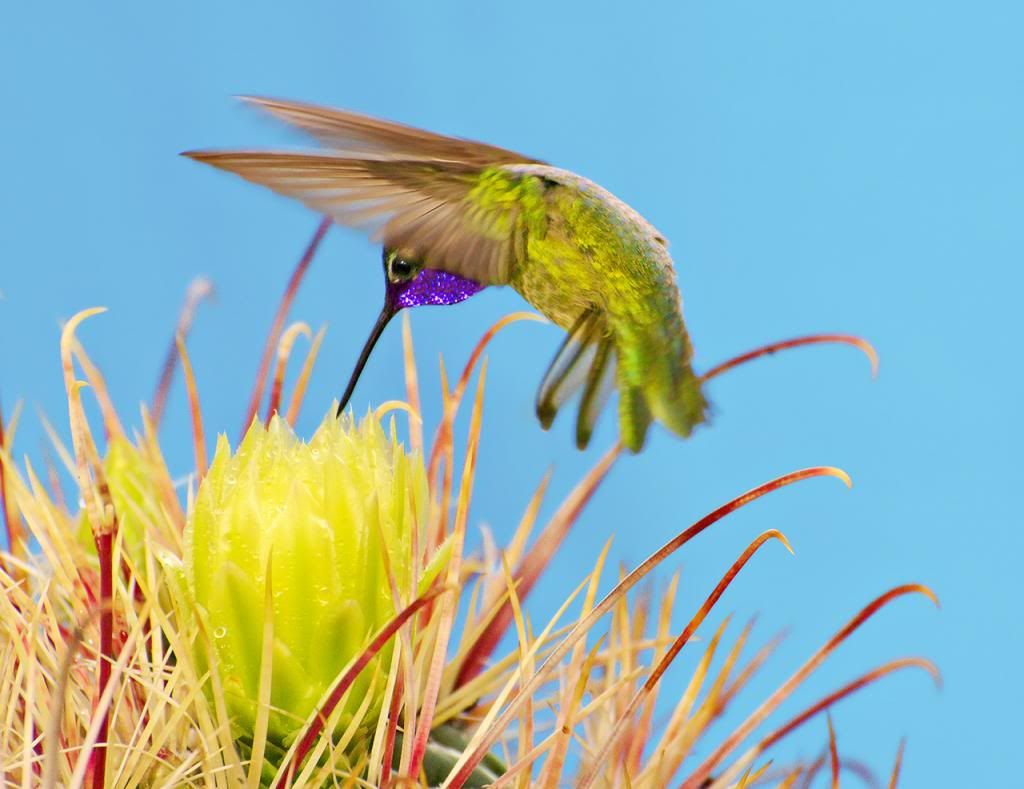 ---
In May 2006, the late environmental activist and Nobel Peace Prize winner Wangari Maathai addressed 7,000 international educators who had gathered in Montreal for the 58th annual conference of the National Association of Foreign Student Advisers (NAFSA). Here is the story she shared with them.

One day a terrible fire broke out in a forest - a huge woodlands was suddenly engulfed by a raging wild fire. Frightened, all the animals fled their homes and ran out of the forest. As they came to the edge of a stream they stopped to watch the fire and they were feeling very discouraged and powerless. They were all bemoaning the destruction of their homes. Every one of them thought there was nothing they could do about the fire, except for one little hummingbird.

This particular hummingbird decided it would do something. It swooped into the stream and picked up a few drops of water and went into the forest and put them on the fire. Then it went back to the stream and did it again, and it kept going back, again and again and again. All the other animals watched in disbelief; some tried to discourage the hummingbird with comments like, "Don't bother, it is too much, you are too little, your wings will burn, your beak is too tiny, it's only a drop, you can't put out this fire."

And as the animals stood around disparaging the little bird's efforts, the bird noticed how hopeless and forlorn they looked. Then one of the animals shouted out and challenged the hummingbird in a mocking voice, "What do you think you are doing?" And the hummingbird, without wasting time or losing a beat, looked back and said:

"I am doing what I can."
In this time of escalating climate change, this is our challenge.

To refuse to surrender to the apathy of denialism and fatalism.
To be fierce in our defense of the Earth.
To continue to fight in the face of overwhelming odds.
And always, always, to do what we can.

Because it is only by each of us doing what we can, every day, that we will save the Earth – for ourselves, and for the generations to come. Like the hummingbird.
---
Our Daily Kos community organizers are Patriot Daily News Clearinghouse, boatsie, rb137, JekyllnHyde, citisven, peregrine kate, John Crapper, Aji, and Kitsap River. Photo credit and copyright: Kossack desertguy and Luma Photography. All rights reserved. Used with permission.