Every day is a new day and with that, a new opportunity.
EVERYONE is welcome and please join us each morning at 7:30 AM PACIFIC
to tell us what you're working on, share your show & tell, vent, whatever you want...
...this is an open thread. Nothing is off topic.
Boujou!
The last week seems to have been a big week for Native arts and humanities. From the (entirely appropriate) closure of a museum's alleged historical exhibition to an update on a Pawnee rap duo to new ways of looking at Tonto to the last American Indian on earth (no, really!), the news has been full of important stories. All of those appear below the jump; up here, we've got three pieces on non-artsy kinds of news.
We begin with another update on the Baby Veronica case.
Last Tuesday, the Oklahoma Supreme Court weighed in, granting biological father Dusten Brown an emergency stay of the order that he turn his daughter over to the white South Carolina couple who want to own adopt her. Yet another suit contesting custody is pending before the Oklahoma high court, with no word on when it will be decided.
Two days later, Oklahoma Governor Mary Fallin (R) tried to bigfoot the court's jurisdiction, taking sides in a manner that is sure to raise all sorts of questions about conflicts of interest and outright racism: After fellow Republican Governor Nikki Haley of South Carolina likewise inserted herself into the dispute, demanding that Dusten Brown turn over the child, Fallin issued an extradition order for Mr. Brown to permit South Carolina to prosecute him for custodial interference (and to force him to turn over his child).
Aside from all the many jurisdictional transgressions involved here, I hope this sends a very blunt message to that unfortunate percentage of Oklahoma Indians who vote for Republicans: This is what you get. Betrayal of your sovereignty, infringement on your families, and destruction of your peoples and cultures.
Don't be that Indian. Vote for Democrats.
INDIAN VOTING RIGHTS WORKERS FACE STATE SLAPP-STYLE SUIT FOR FEES, COURT COSTS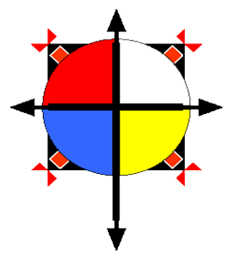 Speaking of voting . . . .
I wrote a few weeks ago about Four Directions, Inc., the South-Dakota based organization dedicated to preserving American Indian voting rights, and its efforts to prevent Montana state officials from suppressing Indian votes. The Native-run organization is based in South Dakota, and works with tribes in a number of Northern Plains states in efforts to help secure American Indian voting rights. As I noted a few weeks ago, they are also representing three South Dakota tribes, Cheyenne River, Crow Creek, and the Pine Ridge Oglala Lakota tribal nations, in their attempt to force recalcitrant Secretary of State Jason Gant (R) to use federally allocated Help America Vote Act [HAVA] funds to establish desperately needed satellite voting offices on their reservations for the 2014 elections. Gant, by the way, is still doing everything possible to drag his feet.
Recently, the group represented 25 Lakota tribal members in South Dakota's Shannon and Todd Counties, two of the poorest counties in the nation. The group sought to force South Dakota officials to open satellite offices on reservation lands in those counties to create greater parity of ballot access of the sort enjoyed by non-Indians in the state's urban and suburban areas.
They earned a win of sorts in federal court: The state agreed to open such satellite offices in Shannon and Todd Counties through the 2018 election cycle. Because the parties reached a settlement, the judge found that no cause of action remained for trial and dismissed the suit.
Now, the state of South Dakota is taking action that is simultaneously greedy, punitive, and most likely entirely wrong on the law.
Officials of both of those counties and the state are claiming that since the suit was dismissed, they are the "prevailing parties." Under federal rules, a prevailing party can be awarded costs associated with some aspects of the litigation.

Last week, Sara Frankenstein, a Rapid City lawyer representing the counties, filed for costs amounting to more than $6,000. The Indian voting rights group Four Directions, which paid for the lawsuit, replied with a letter from Executive Director O.J. Semans that went to many of the state's top elected officials, asking them to denounce the effort to collect costs against 25 impoverished Indians.

Shannon and Todd counties are not only two of the poorest counties in South Dakota – they rate among the most poverty-stricken areas of the United States. The Shannon and Todd county commissions, along with the state of South Dakota have decided to add to the misery of people living in those counties – people who dared to take a stand and defend their right to vote.
In other words, the state is attempting to bootstrap a dismissal into a "win" that officials say justifies suing Four Directions and its 25 Lakota plaintiff clients for court costs and fees.

I hope the judge in the case is willing to push back on this redefinition of what constitutes a "prevailing party." If not, since by the state's own standard, Four Directions should be even more of a "prevailing party" — unlike the state and the counties, it actually got what it asked for, after all — then I hope Four Directions countersues for fees and court costs, both for the original litigation that ended in a settlement, and for this SLAPP-suit nonsense designed to punish the current Indian plaintiffs, as well as to intimidate any potential future ones who might be considering seeking to enforce their rights of franchise. [The term "SLAPP" is an acronym: "Strategic Lawsuit Against Public Participation," or attempts via litigation to intimidate people into not exercising their rights of participation in the public sphere, whether through speaking out under the First Amendment, exercising one's right to vote, or in other ways.]

Four Directions executive director O.J. Semans clearly recognizes it for what it is. Recent negotiations designed to get the counties and the state to drop the demand for costs and fees fell through (because the state insurance carrier tried to insist on language that was unacceptable to Four Directions, and might negatively affect its ability to pursue litigation if the state does not keep up its end of the settlement agreement). Afterward, Mr. Semans blasted the entire process:
Semans said Thursday "I was saddened in the way they wouldn't meet halfway. What they have done now is clearly indicating what I have been saying from the very beginning. They know how poor the plaintiffs are. They are not going to receive anything. This is purely an intimidation tactic, used not only to scare the 25 plaintiffs now but to clearly send a message to any minority in South Dakota seeking civil rights that they are going to pay."
And just in case anyone is questioning how poor the Native residents of Todd and Shannon Counties are: Both counties lie entirely within Indian reservations — Shannon County within the Pine Ridge Reservation, and Todd County within the Rosebud Reservation. As I noted last week, they are two of the poorest reservations in the United States: Rosebud has the tenth-highest unemployment rate of all tribes, at 83%; Pine Ridge, the third-highest, at 89%. At last check, Pine Ridge's median annual income was less than $3,750. This, in a state that brags that its overall unemployment rate is 4%.

Of course, making voting easier — or, you know, possible — might go a long way toward creating conditions that would improve those numbers.

And then where would the state's Republican "leadership" be?


NATIVE FIREFIGHTERS JOIN YOSEMITE RIM FIRE BATTLE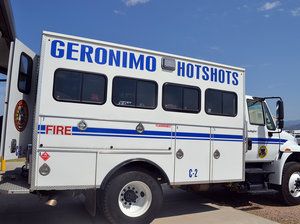 Firefighting crews from all over the country have converged on Yosemite to help battle the gigantic Rim Fire, which continues to rage out of control. Among them are the Geronimo Hotshots, an elite crew of San Carlos Apache firefighters who are specially trained to deal with particularly dangerous and hard-to-fight wildfires. The Geronimo Hotshots are one of seven tribal nation crews that are members of the BIA's official Interagency Hotshot Program. However, many more tribal nations than these seven have expert firefighting crews specifically trained to battle wildfires; many of these, such as members of Taos Pueblo's own crew, are in great demand and are sent wherever their skills are needed during wildfire season.
On the San Carlos Apache Indian Reservation, firefighting jobs are one of only a few ways for many young men to earn a living. For team member Jose Alvarez Santi Jr., 25, the work is rewarding — but being away from home fighting fires can be tough.

"I don't really see it as a job. Being out away from my family — that's the part that I'm down about, is just being away," Santi said not long before the team got the call to fight the Rim Fire.

Santi has a 3-year-old son. He's only seen him for a dozen or so days this entire spring and summer. The 20-member crew works a fire for 14 days, then it's a long trip home for maybe one or two days of rest, then back out again. This late in the season you can see this is starting to take its toll on a lot of the guys. But they know it's also good money. In a good year, you could make $40,000. That goes far here.
Some of the comments to the NPR story, by rez hotshots themselves, objected to the story's tone, noting that it seemed to portray a reservation with no other opportunities, forcing crew members into taking dangerous work purely for the pay it provides. In fact, on several fronts, San Carlos is thriving. But the hotshot jobs remain highly sought-after, whether for the prestige of the position, the challenge of the skill set needed, the chance to use one's talents to help others, the opportunity to represent their specific tribal nation and culture to the wider world, or the fundamental thrill of the adrenaline rush that has attracted a subset of workers to specific jobs since time immemorial. In many — perhaps most — cases, it's a combination of all five.

And, in fact, the story itself supports that; the reporter just didn't realize the significance of what he was writing:
For Santi, this is the moment when it becomes clear what it means to be a Geronimo Hotshot. "I hold the name up high. Wherever I go, my family, they're proud of what I do," he says.

Santi says it's not just about fighting fire or saving people's homes. It's about representing his people off the reservation. He says the crew meets a lot of people who have never heard of the San Carlos Apaches or their history.

"We come from a people that were pushed around, shoved into reservations, and to me, I want our people to show that we can do a lot of things other than being pushed around and shoved around," he says. "It's a good feeling."
This time of year, particularly in the American West, it's Indians who take on the burden of pushing and shoving — risking their lives to force "the dragon," as the crews refer to wildfire, back into its lair where it can be caged until next season.

More "This Week In American Indian News" and Latest Updates on Kossack Regional Meet-Up News Below the Frybead Thingey

IN FACE OF CONTINUING OBJECTIONS FROM MASSACRE SURVIVORS' DESCENDANTS, HISTORY COLORADO CLOSES EXHIBIT ON SAND CREEK
Earlier this year, Meteor Blades wrote about a then-ongoing exhibit at the History Colorado Museum Center that purported to tell the story of the Sand Creek Massacre. Except, of course, the all non-Native curating team failed to consult the tribes whose ancestors were massacred; attempted to depict a bloody, genocidal slaughter as simply a "collision of cultures"; and produced an exhibit riddled with factual errors and racist undertones. [For the real story of the massacre, I recommend reading Meteor Blades's other diary on the subject. I also covered the descendants' quest for the long-promised accounting and reparations here, and a university investigation into one of its founders' role in the massacre here.]
Now, after more than a year of public criticism from the Arapaho and Southern Cheyenne Nations, the museum has closed the exhibit entirely, pending consultation with and agreement by the tribes on the exhibit's future content and focus.
Tribal historians found some dates were wrong, excerpts from letters left out crucial details, and the exhibit attempted to explain Native American-white settler conflicts as a "collision of cultures," claimed [descendant of Chief Sand Hill Dale] Hamilton, of Concho, Okla., where he lives with Cheyenne and Southern Arapahoe tribes.

"This wasn't a clash of cultures. This was a straight-up massacre. All we are looking for is respect for our relatives who were murdered," said Hamilton.
The museum and its allies, of course, are trying to paint tribal objections as merely ones of process, not of substance:

Troy Eid serves on a federal advisory board on Native American affairs and volunteered to negotiate with the tribes on behalf of the state. He said the closure had more to do with the state's failure to consult with tribes before the exhibit opened than with differences over history.

"They had some objections to the process, and the museum agreed to close the exhibit until the consultations are concluded," Eid said.
Perhaps Eid, a non-Native Republican who makes his living as a so-called "Indian lawyer," should, you know, consult with the tribes himself before presuming to speak for them, since they've already made it abundantly clear that it's very much a matter of "differences over history."

Patricia Calhoun at the Denver Westword blog has been relentless on this story. Now, from Darryl House comes news that the editorial board of The Denver Post has followed her lead and gone on record publicly supporting the closure. Their editorial doesn't mince words, concluding:
The museum now says it is committed to working with the tribes on how to appropriately depict one of the most tragic events in American history.

That's a good idea. However, the end product must reflect the best historical consensus of experts.

For the sake of history, and to respect those murdered and their descendants, we hope the museum gets it right this time.
I hope so, too.


RAPPERS MIKE BONE NAMED "INDIAN CELEBRITIES OF THE YEAR" AT INDIAN EXPO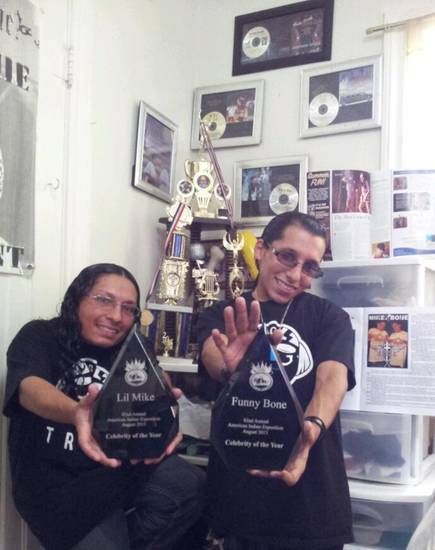 A few weeks ago, I wrote about Mike Bone, the two Pawnee rappers who competed on America's Got Talent. They may not have won on a nationally-televised stage, but now they've been honored closer to home: They were given the "Indian Celebrities of the Year" Award at the 82nd Annual American Indian Exposition, held every year in Anadarko, Oklahoma.
The rappers, known individually as Lil Mike and Funny Bone, received high praise from the reality TV show's judges in their first appearance, but were cut during the second round. On that occasion, apparently not satisifed with the harsh criticism the judges delivered after the duo's performance of "Crunk Nativez," Howard Stern recalled them to the stage for a second browbeating. As I said earlier, "One wonders whether Stern would've been so insistent on the repeated public shaming with another act — say, for example, one comprising non-Indians of Stern's own size."
The brothers, who are what the dominant culture calls LPs (Little People), have survived far worse than anything Stern could ever hope to inflict. Each brother is about 4'9", and from childhood, they've heard all the jokes and slurs. They don't tolerate labels, and they don't mince words about it:
"Call us short," Funny Bone said. "We don't like being called midgets or dwarves. We're short."
Growing up poor, short, and Indian in Oklahoma City is riddled with traps at the best of times. For Lil Mike, the traps threatened to swallow him whole.
When he was about 10, Lil Mike said, he joined the North Side Piru Bloods, an Oklahoma City branch of a Los Angeles gang.

By that point, the boy had already suffered more than most kids his age. Lil Mike said he was abused, endured bouts of depression and threatened suicide. Being small and poor didn't help.

He didn't care about school, where he eventually ended up in special education classes. But he did care about the gangsters, who encouraged his violent temper by calling him Young Fighter.

One day in 1989 or 1990 - he can't remember which - Lil Mike witnessed a gang shooting. The image stuck with him.

When he tried to break free of the gang, he said, the others attacked him, kicking him in the back and pummeling him repeatedly. Scars on his forehead, he said, date back to that attack.
He wound up in church. There, he met Christian bodybuilders, Christian rappers, and other groups of young people whose example he followed as positive role models. He joined a group that toured area schools, where he was able to perform by reciting his own poetry, dancing á la Michael Jackson, and eventually, rapping. Anxious to keep his younger brother safe, Lil Mike brought him in on the act, and they performed their comedic rap act at schools, churches, and local events.

Then their mother won a computer from a local bank, and they eventually figured out how to use it to help them make music.

At last report, their highest-paying gig wasn't really a "gig" at all: It was a $1,000 payment for writing a commercial song for hire by a private company. But now, with the exposure from America's Got Talent and the local affirmation by way of the American Indian Expo in Anardarko, it could be the break the duo needs.

As I noted earlier, in 2010, they were profiled in the documentary short Looked Over But Never Overlooked: The Story of Lil Mike and Funny Bone, a film that appeared in two Oklahoma film festivals: the 2010 Trail Dance Film Festival and 2010 Bare Bones International Film & Music Festival.

You can watch the film on YouTube here. The brothers also have a Facebook page to promote it here. You can view their performance of "Rain Dance" on America's Got Talent here, and a full version of "Crunk Nativez (Idle No More)," of which barely a fraction apparently aired on the NBC program, here.

MOHAWK HARRY J. SMITH AND HOW "JAY SILVERHEELS" CAME TO BE
From Dave in Northridge comes a link to a new profile of Harry J. Smith.
Don't recognize the name? That's probably because you know him by his stage name: "Jay Silverheels." I'll bet you also didn't know how he got that name. I certainly didn't.
Mr. Smith, a member of the Six Nations of the Grand River in Canada, began his career as an athlete, playing box [i.e., indoor] lacrosse. He grew up playing the traditional outdoor version of the game, and was active in the sport right at a pivotal moment:
In 1931, the owners of the N.H.L.'s Montreal and Toronto franchises needed to fill summertime dates at their buildings. Their solution: shrink traditional lacrosse to 7 men a side from 12 and move it indoors to the Forum and to Maple Leaf Gardens. Professional box lacrosse was born, with Smith a player on the Toronto Tecumsehs.
It was the game that gave him the "Silverheels" name.

"One time, the boys won new white lacrosse shoes for playing good," another Six Nations lacrosse star, Ross Powless, recalled in 1989. "And Harry ran so fast in them new white shoes, all you could see was flashes of white at his heels. I guess they couldn't very well call him Whiteheels, him being Mohawk and all, so they called him Silverheels."
From that point forward, he used the name "Silverheels" professionally, both as a lacrosse player and during a stint as a professional middleweight boxer.

In 1937, while touring professionally with his lacrosse team in the Los Angeles area, comedian Joe E. Brown happened to be in the audience. Impressed, he encouraged the now Mr. Silverheels to try acting, and he landed a stunt role in a Basil Rathbone film that same year. He went on to appear in a total of 85 movies, plus television roles, the most famous of which was, of course, as Tonto.

In his Indian roles (which, at that time, were nearly always played by white people of entirely European ancestry), he sometimes had occasion to speak his own Mohawk language — i.e., whenever an Indian character was required to "speak in Indian." The language required was never Mohawk, but that didn't matter to directors and producers, much less audiences, who couldn't tell the difference anyway:
Powless remembered the reaction at home when Silverheels played a Comanche or an Apache.

"I used to get a kick out of Harry speaking Mohawk, especially when it didn't go with the story line," he said. "Us Mohawk would be sitting in the Brantford movie house laughing, and all the other people would be wondering what was so funny."
Mr. Silverheels was known for despising the character of Tonto, yet for feeling a responsibility to continue in the role to afford it — and therefore Indians, whether as characters, as actors, or simply as people — a measure of dignity and respect that they would not receive with someone else in the role. He also launched an actors' workshop to help support the dreams and efforts of other Native actors.

While the dominant culture forgot that the Silverheels of Native lacrosse even existed, his own people have not. Although he walked on in 1980, at the age of 67, his widow is alive today at 92, as is his son Jay, 52, and his nephew Steve Smith.
"My uncle was an amazing lacrosse player," said [Mr.] Smith, 64, who lives at Six Nations. His own nephew, Sid Smith, will play for the Chiefs when they travel to British Columbia this week for the Mann Cup finals, the Canadian championship, against the Victoria Shamrocks.

"There are a lot of good players from here, and they come from families and generations of lacrosse players," Steve Smith said. "And Tonto, my uncle, was one of the best."
Perhaps it was appropriate, after all, that the next incarnation of Tonto, a minstrel's character, should have been filled by a white man wearing redface. Because while it seems likely that no subsequent Indian actor would want to lend credibility to the character now, at the time, Mr. Silverheels's portrayal perhaps mitigated the harm of the stereotypes in ways the we can only begin to imagine today.

It's possible that when the multi-dimensional, multi-talented Mr. Silverheels played the original Tonto, he broke the mold forever. And I think that might be how he would want it.

DID YOU KNOW THAT TONTO IS REALLY A SUBVERSIVELY PROGRESSIVE THEME?
Yeah, me neither.
But that's the silly angle a French fanboi site is trying desperately to manufacture.
Courtesy of Meteor Blades comes news of this bit of hackery po-mo lit-crit faux-deconstructionism.
By A.O. Scott, film critic for The New York Times, the piece is entitled "Maybe 20 Years From Now, Tonto." The conceit — which, after reading it, I don't think Scott even believes — is that this latest iteration of The Lone Ranger and Johnny Depp's Tonto were simply a couple of decades ahead of their time, and that eventually, we'll all be able to see how wrong we were about this piece of truly progressive filmmaking.
[Aside: I cannot believe I just typed that.]
Never mind that director Jerry Bruckheimer is an unreconstructed right-winger. Never mind that the movie traffics in tropes of redface minstrelsy and gins up cheap laughs over the spectacle of genocide.
No, America's inferiority complex when compared with all things Continental once again surges to the fore:
Maybe in the future it will seem that way. "The Lone Ranger" may yet ride again, and sooner than you think. Whispers of revisionism have started to come from France, where some critics are much more favorably disposed toward it than their American counterparts. (Chinese audiences have embraced "Pacific Rim," which has made more money after three weeks in theaters there than in six weeks here.) The French have a long history of appreciating our popular art sooner and more fully than we do, something that has been the case with movies in general and westerns in particular.

"The Lone Ranger" has so far upheld this rule, finding its most passionate defense in the pages of Les Inrockuptibles, a savvy and irreverent publication that might be described as a hybrid of Entertainment Weekly, Gawker and The New York Review of Books. The Inrocks' critic, Jacky Goldberg, found not only "constant surprise" and "incalculable joy," but also an unexpected political resonance, "an astonishingly progressive discourse, especially on the part of the right-wing producer Jerry Bruckheimer." Noting the film's depiction of an America founded on slaughter and exploitation "in the name of rapacious capitalism and nutty religion," Mr. Goldberg wondered if Mr. Bruckheimer had been reading the works of Howard Zinn and Karl Marx.
Yeah, no. Mr. Goldberg, accompanied by Mr. Scott (who calls such wild-eyed speculation "an intriguing possibility"), needs to go back to the deconstructionist drawing board.

Because sometimes racism is simply racism. And no amount of post-hoc rehabilitation can turn the regressive minstrel-show Tonto into a progressive leftist archetype. Not in 2013, and not in 2033.


"THE LAST AMERICAN INDIAN ON EARTH"
Yes, really.
Note the quotation marks. It's performance art writ large, in your face, and exceedingly uncomfortable.
The performance artist in question is Gregg Deal (Pyramid Lake Paiute), who has a great many other forms of artistic talent, as well. Mr. Deal's latest endeavor is simply to walk around various public areas of Washington, D.C., wearing traditional dress and a warbonnet, and occasionally carry a home-made cardboard sign. Meanwhile, he gets video footage of his various encounters. Examples include Mr. Deal seated beside a reflecting pool, in a grocery store, mowing a lawn, catching a ride on one of the D.C. Ducks tourist transport vehicles, buying frozen yogurt from a delivery truck, on a Metro escalator, in front of a Capitol Hill Starbucks, and standing outside various monuments and tourist attractions with one of his Sharpie'd signs.
The ultimate goal is to turn that footage into a documentary that he hopes to submit as an entry in the Sundance Film Festival in 2014.
But the project is already paying vivid, if disquieting, dividends in the form of people's reactions.
One of the signs says, "THANK THE CREATOR FOR JOHNNY DEPP." Another, evoking Twitter, simply reads "#NOBLESAVAGE." My favorite reads "WHITE GUILT RELEASE STATION #INQUIRE WITH INDIAN."
The reactions are telling, showing just how ingrained and acceptable anti-Indian racism remains. One photo shows a non-Native tourist sitting next to him and pointing to his own baseball cap — bearing an image of the racist "Chief Wahoo," mascot of the Cleveland Indians Major-League Baseball team.
The project began filming last month and so far the reactions to Deal's out-of-place appearance have included a pedestrian shouting "How!" and holding up a hand in salute, as well as a teenage girl exclaiming outloud, "Look, a real live redskin." Another bystander chanted "hi-a-wat-ah-hi-a-wat-ah" upon seeing Deal in costume, prompting a videographer, Emmanuel Soltes, to follow him up for an explanation. As you can see in the clip [at the link above], the man proclaimed that he was not trying to be offensive, and if he had, he would have mentioned the Dallas Cowboys.
Predictably, Mr. Deal's Facebook page contains a series of trollish comments from someone who is clearly non-Indian, taking him to task for wearing the warbonnet (she compares him to a non-veteran drug dealer wearing a Medal of Honor), and telling him how wrong he is to use the term "American Indian." Yes, it was with great effort that I refrained from replying to her, so that there would be no further hijack of the news stories and incredible artwork posted on his page.

You can also visit Mr. Deal's personal Web site here.

Chi miigwech.

:: COMMUNITY BUILDING UPDATES ::
Let's build communities!

Every region needs a meatspace community like SFKossacks.
We take care of each other in real life.
I urge YOU to take the lead and organize one in your region.
Please tell us about it if you do and we're here for advice.
•
THINK GLOBALLY, ACT LOCALLY
>>>Instructions on
HOW TO FORM A NEW DAILY KOS GROUP
NEW GROUPS IN THE PROCESS OF ORGANIZING:


Send a Kosmail to the organizers and ask for an invitation to the group.

• Northern Indiana Area: Kosmail Tim Delaney

• Long Island: Kosmail grannycarol

• Northern Michigan: Kosmail JillS

• Nebraska: Kosmail Nebraska68847Dem

• Westburbia Chicago Kossacks: Kosmail Majordomo

• New York Hudson Valley Kossacks: Kosmail boran2

• North Carolina Triangle Kossacks: Kosmail highacidity

• Caprock Kossacks (Panhandle/Caprock/Lubbock/Amarillo area) : Kosmail shesaid

• West Texas Kossacks (including Big Bend Region and El Paso) : Kosmail Yo Bubba

Note to the above new leaders: Feel free to leave a comment any day reminding readers about your new group. Also, tell us about your progress in gathering members. Kosmail me when you've chosen a good name for your group and have created a the group. Then I'll move you to the NEW GROUPS LIST. When you've planned a date for your first event I'll make a banner for you to highlight your event in our diaries and your diaries.
These are the groups that have started since * NEW DAY * began. Please Kosmail navajo if you have started a group before that.
NEW GROUPS LIST:

• California Central Valley Kossacks - Formed: Jul 29, 2012, Organizer: tgypsy

• New England Kossacks - Formed: Aug 6, 2012, Organizers:
Clytemnestra for Lower New England (Conneticut, Massachusetts, Rhode Island)
nhox42 for Upper New England (Maine, New Hampshire, Vermont)

• Houston Area Kossacks - Formed: Aug 7, 2012, Organizer: Chrislove

• Kossacks in India - Formed: Aug 14, 2012, Organizer: chandu

• CenTex Kossacks - Formed: Sep 9, 2012, Organizer: papa monzano

• Central Ohio Kossacks - Formed: Sep 26, 2012, Organizer: VetGrl

• Kansas City Kossacks - Formed Oct 15, 2012, Organizer: [Founder stepped down]

• Phoenix Kossacks - Formed Oct 16, 2012, Organizer: arizonablue

• Chicago Kossacks - Formed: Oct 31, 2012, Organizer: figbash

• Koscadia the Pacific Northwest coast from Northern California to Alaska
- Formed Oct 17, 2012, Oganizer: Horace Boothroyd III based in Portland, OR

• Boston Kossacks - Formed: Nov 7, 2012, Organizer: GreyHawk

• Motor City Kossacks South East Michigan (Detroit) Area - Formed: Nov 10, 2012, Organizer: peregrine kate

• Pittsburgh Area Kossacks - Formed: Nov 12, 2012, Organizer: dweb8231

• Salt Lake City Kossacks - Formed: Nov 17, 2012, Organizer: War on Error

• Twin Cities Kossacks - Formed: Nov 17, 2012, Organizer: imonlylurking

• Dallas Kossacks North Texas - Formed: Nov 21, 2012, Admins: Catte Nappe and dalfireplug. Please contact them to join the group. An Event Organizer needed.

• The Southern California Inland Empire Kossacks - Formed: Dec 3, 2012, Organizer: SoCaliana

• Los Angeles Kossacks - Formed: Dec 17, 2012, Organizer: Dave in Northridge

• Northeast Ohio Kossacks - Formed: Jan 16, 2013, Organizer: GenXangster

• Kansas & Missouri Kossacks - Formed: Jan 17, 2013, Organizer: tmservo433

• I-77 Carolina Kossacks who live from Columbia, SC to north of Winston-Salem, NC. - Formed: Jan 30, 2013, Organizers: gulfgal98 and eeff

• Indianapolis Kossacks - Formed: Feb 6, 2013, Organizer: CityLightsLover

• Southwest Ohio Kossacks - Formed: May 10, 2013, Organizer: Dr Erich Bloodaxe RN

• Northern Arizona Kossacks - Formed: Jul 5, 2013, Organizer: Sam Sara

• Mexican Kossacks - Formed: Apr 14, 2013, Organizer: roberb7
ESTABLISHED GROUPS LIST: (List will grow as we discover them)

• SFKossacks Founded by navajo, Formed: May 2, 2005

• Maryland Kos Founded by timmyc, Formed: Feb 23, 2011. Contact: JamieG from Md for a group invite.

• New York City Founded by Eddie C - Contact the group organizer for meet-up events: sidnora

• Baja Arizona Kossacks, Event Organizer: Azazello

• Three Star Kossacks Tennessee, Founded by maryKK, Formed: Apr 8, 2011

• Nashville KosKats, Founded by ZenTrainer Formed: Jan 30, 2012

• Virginia Kos Founded by JamieG from Md, Formed: May 3, 2011

• Kos Georgia Founded by pat208, Formed: Feb 13, 2011

• Colorado COmmunity Founded by Leftcandid, Formed: Feb 13, 2011

• New Mexico Kossaks Founded by claude

• Philly Kos Founded by mconvente Formed: Aug 29, 2011

• DKos Florida Founded by ThirstyGator, Formed: Feb 14, 2011, Currently organizing: Kosmail Vetwife to be included in next event.

• Oklahoma Roundup Founded by BigOkie, Formed: Feb 13, 2011, Currently organizing: Kosmail peacearena to be included.

• DKos Asheville Founded by davehouck, Formed: Feb 13, 2011 - Organizing Assist by: randallt
:: Events Currently on the Books for ALL Kossacks ::

Sunday, Sept 15th

Chicago Kossacks Meet-up at a Powwow!

TIME: 11:30 AM
LOCATION: Chicago's 60th Annual American Indian Center Powwow
Busse Woods Forest Preserve • Elk Grove Village

ORGANIZER: Send figbash a kosmail to attend.

RSVPs:
1. figbash
2. broths
3. Mr. broths
4. Satya1
5. Liberal Granny
6. Railfan
7. Expat Okie
8. LeftOfYou

Maybees:
peregrine kate
palantir
edwardssl
Millie Neon


Latest diary: Chicago Kossacks Go To A Powwow: Sunday, Sept 15 2013





DeKalb, Illinois Kossacks




Saturday, September 21st

DeKalb, Illinois Kossacks Dinner & a Show!

DINNER:
TIME: 5:30 PM
LOCATION: Rosita's Mexican Restaurant
642 East Lincoln Highway • DeKalb

SHOW:
TIME: 7:30 PM
LOCATION: The Stage Coach Players Theater
126 South 5th Street (2 blks. from dinner) • DeKalb

ORGANIZER: Send NormAl1792 a kosmail to attend.

RSVPs:
1. NormAl1792 (on stage as Henry II)
2. winifred3
3. luvsathoroughbred
4. Mr. luvs
5. Amber6541
6. Amber6541's sister
7. 1864 House

Maybees:
edwardssl
jwinIL14
JeffW
Calamity Jean


Latest diary: Northern IL Kossacks Dinner and a Show - Saturday, Sept. 21




Saturday, September 28th

Indianapolis Kossacks First Ever Meet-up

TIME: 2:00 PM
LOCATION: Shapiro's Deli
808 S Meridian • Downtown Indianapolis

ORGANIZER: Send CityLightsLover a kosmail to attend.

RSVPs:
1. CityLightsLover
2. annan
3. Mokuar
4. Alexandra Lynch
5. dylanfan
6. zenbassoon
7. Hawksana

Maybees:

Latest diary: [Waiting for linked diary]

Saturday, October 19th

DKos Asheville Kossacks Meet-up

TIME: 1:00 PM
LOCATION: The Bywater
796 Riverside Dr. • Asheville

ORGANIZER: Send randallt a kosmail to attend.

RSVPs:
1. randallt
2. davehouck
3. Joieau
4. Gordon20024
5. gulfgal98
6. DawnN
7. Sandy on Signal
8. Mr Sandy on Signal
9. Munchkin
10. Alecia
11. Mr Alecia
12. cultjake
13. flwrightman

Maybees:
Otteray Scribe
Burns Lass
people power granny
One Pissed Off Liberal
Christian Dem in NC
SteelerGrrl
SteelerGuy
polecat
Audri
Phil S 33


Latest diary: DKos Asheville - Weekly Open Thread




Sunday, October 20th

MEGA Philly/NJ/NYC Kossacks Meet-up!

TIME: Noon
LOCATION: Stuff Yer Face
49 Easton Avenue • New Brunswick, NJ

ORGANIZER: Send mconvente a kosmail to attend.

RSVPs:
1. mconvente
2. belinda ridgewood
3. thankgodforairamerica
4. gchaucer2
5. sidnora
6. rubyr
7. mattc129
8. hayden
9. mallyroyal
10. Avilyn
11. blue jersey mom
12. ericlewis0

Maybees:
aravir and son
ask
Cinnamon
No Exit
andgarden
asterkitty
pfiore8
joanneleon
renzo capetti


Latest diary: Philly/NJ/NYC Mega Meetup! Initial Information & Interest Diary





Friday, October 25th

LAKossacks & SoCal Inland Empire See Lewis Black!

TIME: 9:00 PM
LOCATION: Agua Caliente Casino Resort & Spa
32-250 Bob Hope Dr. • Rancho Mirage

ORGANIZER: Send 714day a kosmail to attend.

RSVPs:
1. 714day
2. jakedog42
3. susans
4. Otoelbc

Maybees:
Shockwave
SoCaliana


Latest diary: L.A. Kossacks, Lewis Black Fans in So Cal

Friday, October 25th

Meet the Daily Kos Editorial Staff!

TIME: TBD in the PM
LOCATION: Daily Kos HQ
Address given privately to RSVP'ers • Berkeley

ORGANIZER: Send navajo a kosmail to attend.
You will need to bring Potluck. Stay tuned for assignments.

RSVPs:
1. Markos
2. Susan Gardner
3. Meteor Blades
4. Faith Gardner
5. Will Rockafellow
and many more staff... stay tuned
6. navajo
7. Lusty
8. side pocket
9. paradise50
10. smileycreek
11. citisven
12. norm
13. Lorikeet
14. kimoconnor
15. remembrance +TLO?
16. Glen the Plumber
17. madhaus
18. dharmasyd
19. ceebee7
20. lineatus
21. Dave in Northridge
22. linkage
23. LinSea
24. Shockwave
25. Eyesbright

Maybees:
Cedwyn
LaughingPlanet


Saturday, November 2nd

SFKossacks BBQ in the Wine Country

TIME: TBD
LOCATION: Andrew McGuire's home in the Wine Country
Address to be given privately to RSVPs • Windsor

ORGANIZER: Send navajo a kosmail to attend.


Andrew McGuire is Executive Director of California One Care

RSVPs:
1. Andrew McGuire
2. navajo
3. Shockwave
4. Hunter
5. elfing
6. Hunter/elfling offspring
7. smileycreek
8. paradise50
9. dharmasyd
10. maggiejean
11. norm
12. Lusty
13. dksbook
14. Mr. dksbook

15. kimoconnor
16. jpmassar
17. side pocket
18. Mrs. side pocket
19. ceebee7
20. ceebee7's sister
21. leema (will carpool from Marin)
22. Meteor Blades

Maybees:
Glen The Plumber
remembrance
TLO™

Send navajo a kosmail if you post a diary about an event so we can update our round-up.

Okay. Floor's open.
Tell us what you are doing on this NEW DAY?