I've been a regular visitor to the Sierras in California for twenty years. It's hard to express what that means to me, but I'm drawn there and I feel like I belong. The Sierra lets me co-exist. I fell in love with my husband in the Sierra wilderness. I spent my honeymoon backpacking there. I've climbed and hiked and sat on my butt in those mountains, and my remains will someday rest there forever. That's what it means to me.
The Sierra Nevada is in a precarious place right now -- a dangerous place. Years of persistent, increasing drought have dried it too much, a century of mismanagement leaves it full of dry foliage that would have naturally burned away in small fires every decade or two, and the climate has changed remarkably.
It's always been dry, but it is now parched in a profound way. Two years ago at Christmas, there was no snow. The mountain pass was open. What once was covered by 15 feet of snow every winter, passable only with skis and snowshoes, was absolutely bare. There just wasn't any snow. We drove up to the pass and I walked on it. It was surreal and dreamlike. A group of kids played ice football on Mosquito Lake.
The Sierra serves as a watershed for the entire state of California. Without snow on the mountaintops, there isn't enough water to go around. These mountains are quietly strained. Rather, the life support they provide for us is strained -- they will live on with or without us.
We returned from the Sierra a week ago, where we were about 50 miles north of the Yosemite fire. That fire is now mostly contained, although it is still burning. It is expected to take a couple more weeks to contain. The photos here were taken on a walk going south on the Pacific Crest Trail from Ebbetts Pass -- one mountain pass north of the area directly threatened by the fire. This trail is where I took my very first walk in the Sierra Nevada.
This creek bed is where I collected my first drinking water in the Sierra. As you can see, there isn't much water today. It's late in the year, so I expect the stream to be low -- but this is dry beyond my wildest expectations. There is some green, so there is moisture somewhere, but much less than I remember seeing in Augusts prior.
The haze you see in these photos is smoke from the north rim of the Yosemite fire. The air quality was not pristine, to say the least.
Here is a photo of a smoky Noble Lake. It's a cold, pretty much fishless lake -- at least there are none to be seen. It could be that this lake freezes solid in the winter. There are maps that claim it has golden trout, but it's really not high enough to ensure that the goldens don't lose out to more aggressive trout species.
I've added a map below where I've circled Noble Lake. The other circle contains my honeymoon spot -- Asa Lake. Asa does have fish, and I'm here to tell you that those fish are brilliant at catching Boy Scouts. We wound up sharing the space with a couple dozen 8-12 year old boys as we celebrated our first days of marriage. Their leaders took the opportunity for a lesson in camp etiquette. It was astounding. If we were in our tent, they sounded like a loud band of boys having fun at the lake. If we stepped out of our tent, they were silent.
I'm told that there are grinding stones near Asa Lake. The Native people who lived in this part of the Sierra ate acorns, which they had to wash and grind into a kind of flat bread to eat. I've never seen the grinding stones around Asa, although I have seen them in and around Yosemite Valley.
The photo below looks northward from Noble Lake. There is a lot of smoke. By the Paciific Crest Trail, this spot is about 30 miles north of Sonora Pass, where highway 108 crosses over the Sierra. An area south of 108 down to 120 is where the fire burns. The fire has now burned nearly 400 square miles, including a significant fraction of the land at the Hetch Hetchy Reservoir, which supplies water to people in the Bay Area.
It isn't hyperbole to say that water doesn't flow freely in California under the best of conditions, and as water becomes more scarce, that shortage will threaten lives and whole economic sectors. Drought is a climate impact that gets people's attention. It is also one that climate scientists can model with a high degree of confidence. The period where climate denial is tolerated must come to an end.
What can a Hummingbird do about looming drought? He can hope that El Nino smiles upon us while bloated atmospheric rivers smile somewhere else. There isn't a lot the Hummingbird can do to bring water to California today, but he can work to change climate and energy policies and practices that will support water flow in coming decades.
Honestly, we've tolerated willful climate ignorance for far too long.
There is still a trickle in this stream. It's full of life. It really doesn't have to be too late.
"Hummingbirds" Blogathon: September 9-September 13, 2013
---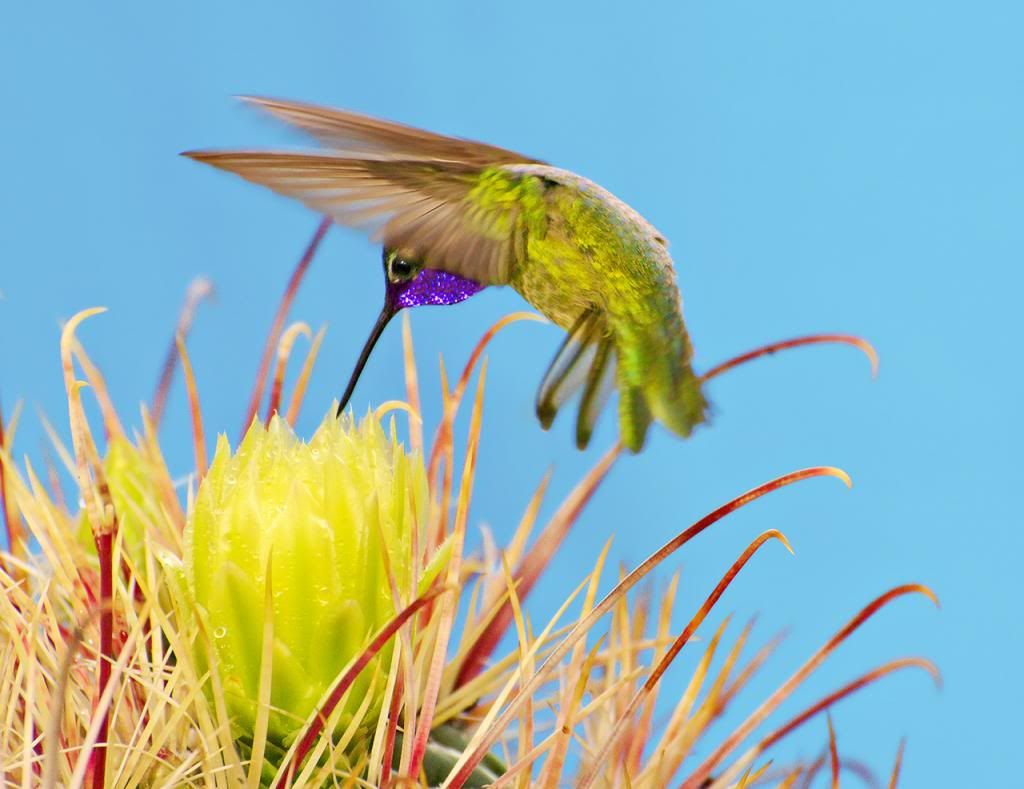 ---
In May 2006, the late environmental activist and Nobel Peace Prize winner Wangari Maathai addressed 7,000 international educators who had gathered in Montreal for the 58th annual conference of the National Association of Foreign Student Advisers (NAFSA). Here is the story she shared with them.

One day a terrible fire broke out in a forest - a huge woodlands was suddenly engulfed by a raging wild fire. Frightened, all the animals fled their homes and ran out of the forest. As they came to the edge of a stream they stopped to watch the fire and they were feeling very discouraged and powerless. They were all bemoaning the destruction of their homes. Every one of them thought there was nothing they could do about the fire, except for one little hummingbird.

This particular hummingbird decided it would do something. It swooped into the stream and picked up a few drops of water and went into the forest and put them on the fire. Then it went back to the stream and did it again, and it kept going back, again and again and again. All the other animals watched in disbelief; some tried to discourage the hummingbird with comments like, "Don't bother, it is too much, you are too little, your wings will burn, your beak is too tiny, it's only a drop, you can't put out this fire."

And as the animals stood around disparaging the little bird's efforts, the bird noticed how hopeless and forlorn they looked. Then one of the animals shouted out and challenged the hummingbird in a mocking voice, "What do you think you are doing?" And the hummingbird, without wasting time or losing a beat, looked back and said:

"I am doing what I can."
In this time of escalating climate change, this is our challenge.

To refuse to surrender to the apathy of denialism and fatalism.
To be fierce in our defense of the Earth.
To continue to fight in the face of overwhelming odds.
And always, always, to do what we can.

Because it is only by each of us doing what we can, every day, that we will save the Earth – for ourselves, and for the generations to come. Like the hummingbird.
---
Our Daily Kos community organizers are Patriot Daily News Clearinghouse, boatsie, rb137, JekyllnHyde, citisven, peregrine kate, John Crapper, Aji, and Kitsap River. Photo credit and copyright: Kossack desertguy and Luma Photography. All rights reserved. Used with permission.