::Dramatic Television Voice:: Four cameras. Eleven days. Two states. Over 2000 pictures. Out of this, brillig will attempt to craft a cogent, interesting diary three cogent interesting diaries in the time provided. Remember, she was not allowed to ignore the daily strains and stresses of life after her return from Vacation. And, as an extra challenge, we ::whispers:: threw curveballs left, right and sideways into her free time. Stay tuned for The Vacation Diaries, here on Daily Kos Top Comments, below the dingledoodle squigglie dKosagnocchi dividerthingie fold and after a word from our sponsor... ::Voice Fadeout::

Here at Top Comments we strive to nourish community by rounding up some of the site's best, funniest, most mojo'd & most informative commentary, and we depend on your help!! If you see a comment by another Kossack that deserves wider recognition, please send it either to topcomments at gmail or to the Top Comments group mailbox by 9:30pm Eastern. Please please please include a few words about why you sent it in as well as your user name (even if you think we know it already :-)), so we can credit you with the find!
Last week's episode left Casa Brillig getting ready on Monday to drive via the scenic route from Portland, OR to Leavenworth, WA, and from there onto Seattle. We'd take I-84E to The Dalles, then go up US-97N to Yakima and on to Leavenworth. We'd go by the Columbia River, maybe see Mount Hood, pass gorgeous scenery and big sky, and end up at a resort in Leavenworth Mr. Brillig and I'd stayed at a decade ago and loved.
The kids weren't so excited by this plan. Scenery, and a day of driving. Nonetheless, we set off, because really... what choice did they have :).
We stopped about an hour into the drive at the Bonneville Dam, because we just don't have this stuff at home:

There is a really interesting fish ladder. You first look from the top: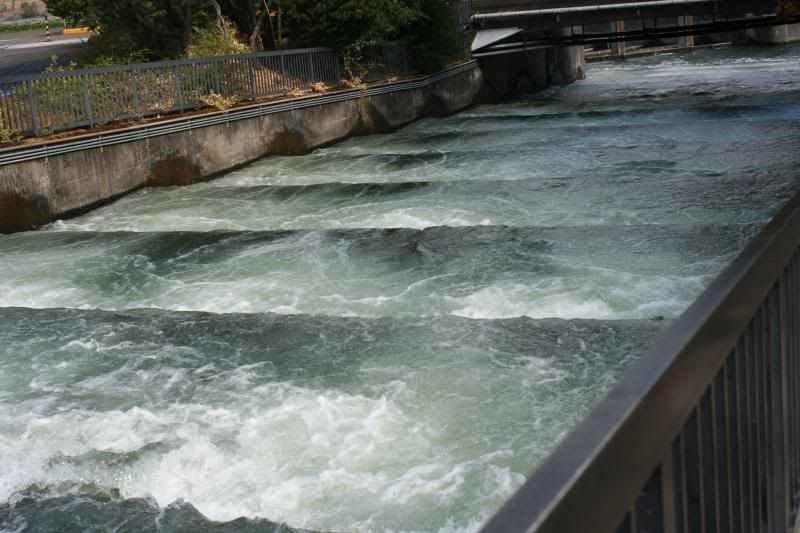 Then see the fish under the water: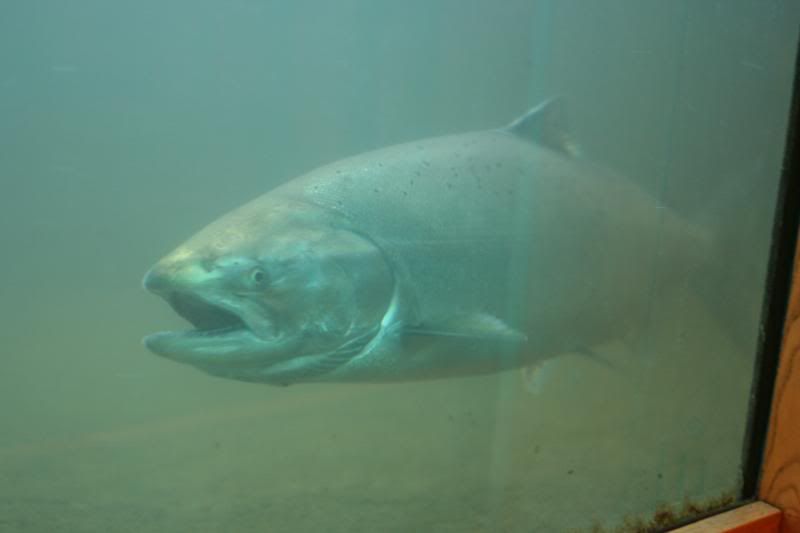 Satisfied our kids knew all about salmon life cycles, we continued on. There is just a vastness to the land that New England does not have. This was somewhere along the Columbia River, before The Dalles:

We crossed the Columbia into Washington State, where wind power seems a way of life:

Field, field, vast expanse of grass, VOLCANO! Mount Adams, iirc: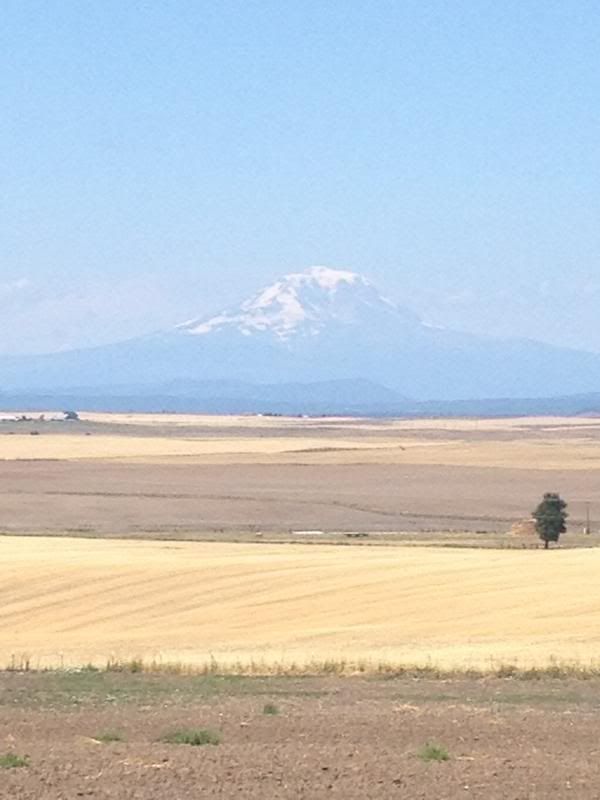 Somewhere past Yakima, K1 thought we should see what their view was from the back: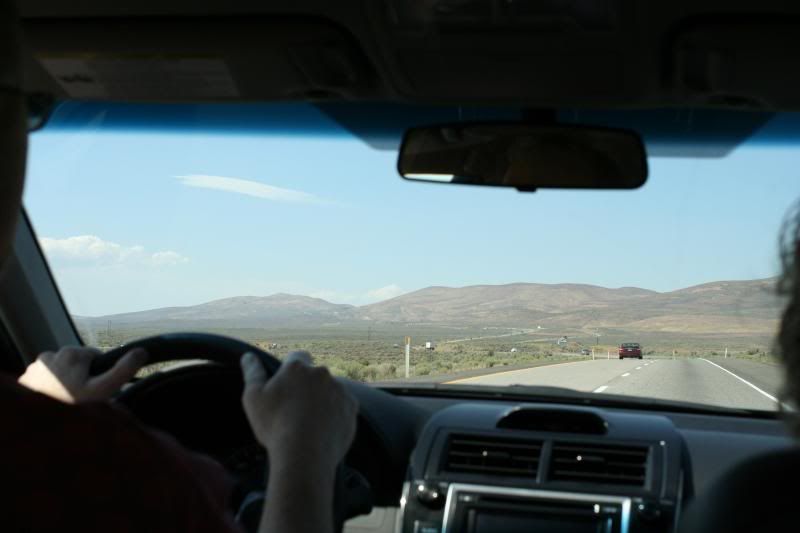 We arrived in Leavenworth, glad to be spending the next two days at one of the nicest places I've ever been- Sleeping Lady Resort. Well-designed, tranquil, and beautifully nestled into the environment.
Why's it called Sleeping Lady? Take a look at the nearby mountain and see if you can tell:

The pool and hot tub are natural stone and outdoors, the better to watch the stars at night: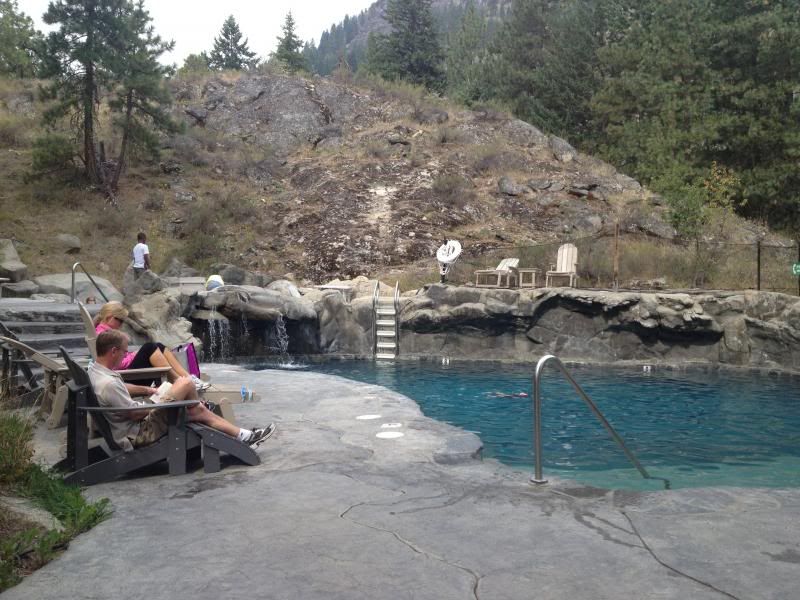 The food was delicious:

And best of all, no cars are permitted except for the single parking lot. Luggage gets to your hotel room the old-fashioned way:

We spent two glorious days horseback riding and lazying in the pool. We took a trip into town to sightsee. I am glad I remember how to pronounce German, as Leavenworth WA bills itself as "Bavaria in Washington":

Even Starbucks uses the official town font:

Wednesday we packed up and headed to Seattle via some diabolical road that sent me into a panic attack due to the sheer drop downward. Thankfully the kids were asleep and missed my hyperventilating. We arrived in Seattle with enough time to do the Seattle Underground tour. I had no idea that when the original Seattle buildings burned down, the rebuilt city was gradually raised above tide level. Eventually the ground levels were covered and now there's a whole forgotten underground.
The old skylights are still present, part of the current sidewalks:

Old toilets build on platforms (so as to avoid tidal, erm, backflow) are still there:

I also learned, but have no pictures, of the fact that much of Seattle's early money that went to education was provided by Lou Graham, and was derived from her brothel earnings. Why this makes me smile I don't know, but it does!
Of course we went to Pike Street Market:

We ALSO went to the coolest museum ever, the Experience Music Project. It's at the base of the Seattle Needle and had everything from a treasure trove of fantasy and science fiction memorabilia, which hopefully need no descriptors: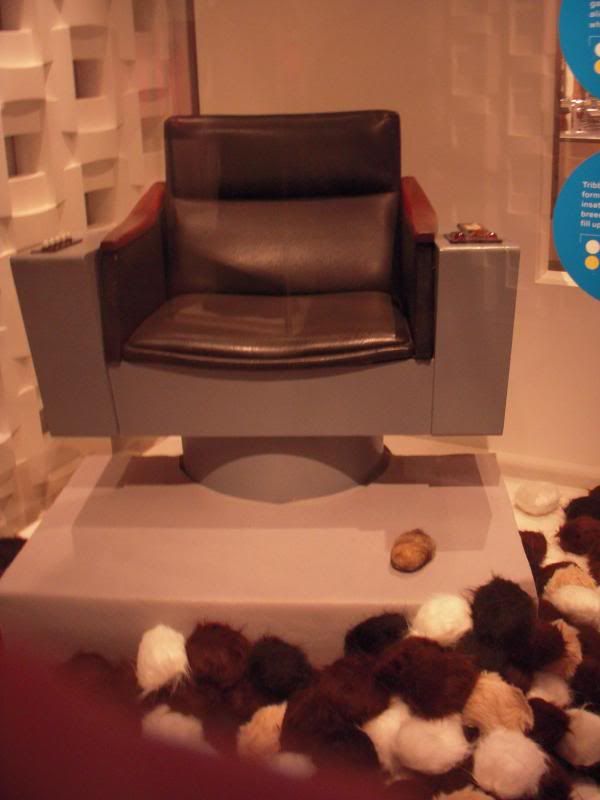 There are also music rooms where everyone can play and lay down drums, guitars, bass, or voice tracks. No pictures because it's mostly face pictures of the Ks, but it was a fantastic experience. I instead have pictures of some of the rock memorabilia:
Kurt Cobain's drawings:

Hendrix' Woodstock guitar: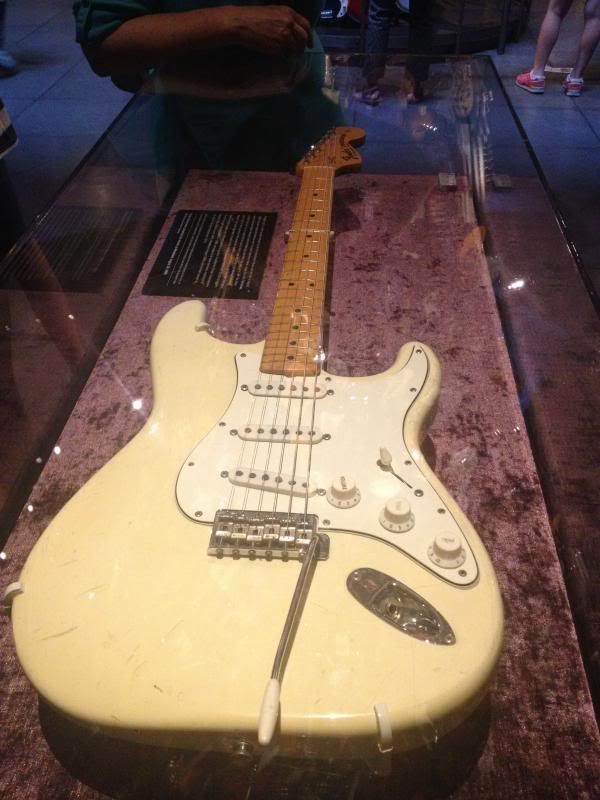 Seattle sunsets were gorgeous, what looked like clouds, were really mountains in the distance. Seriously, we do NOT have this in New England: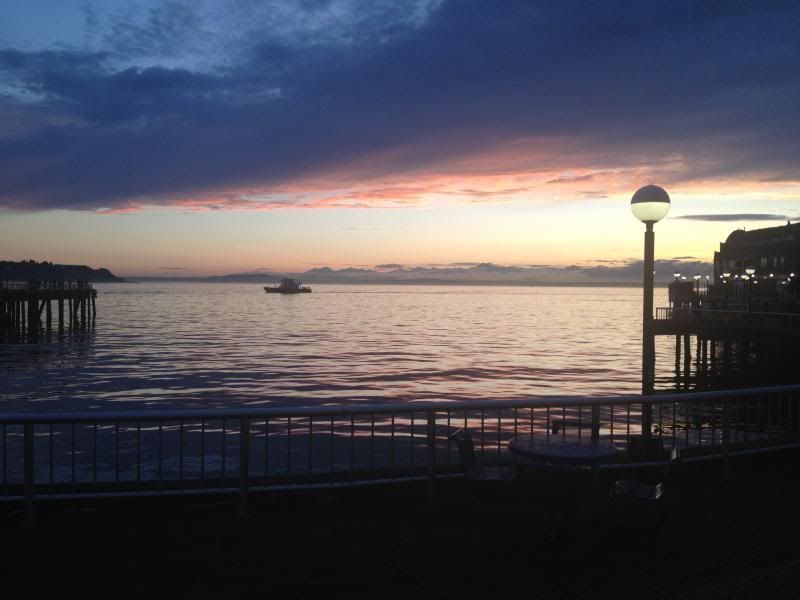 Our last morning in Seattle, we had a meetup with a wonderful group of people we know from the progressive political community Cafe Wellstone in the virtual world of Second Life. I am not posting a picture because not everyone is a Kossack and not everyone wants their pictures all over Teh Google. SeattleTammy, JacksonStreetDan, rd, Bobo, Quant, Arenosa and HRM - you were an absolute pleasure to enjoy brunch with, and I had a wonderful time!
::Dramatic Television Voice:: We'd hoped to get us back to Portland in this installment, but with the President talking and the rest of the diary not formatted, the remainder will have to wait until next week. Find out why brillig and mik did NOT go to Detention, and why the kids thanked them for driving for hours. Again. ::Dramatic Television Voice Fadeout::
---
Brillig's ObDisclaimer:
The decision to publish each nomination lies with the evening's Diarist and/or Comment Formatter. My evenings at the helm, I try reeeeallllyy hard to publish everything
without
regard to content. I really do, even when I disagree personally with any given nomination. "TopCommentness" lies in the eyes of the nominator and of you, the reader - I leave the decision to you. I do
not
publish self-nominations (ie your own comments) and if I ruled the world, we'd all build community, supporting and uplifting instead of tearing our fellow Kossacks down.
A quiet night, I suspect people were getting ready to listen to the President tonight, or otherwise engaged. Please, we live for your comment noms, so don't forget to send them in!

From Samer:

This comment by Gooserock, from AnitaMaria's The RWNJs Held a Rally and Nobody Showed Up.
tb mare flagged this comment by bigtimecynic, in Joan McCarter's diary NSA news: More spying on Americans, smart phone intelligence, and this is national security?.
From Yours Truly, brillig:

In Laura Clawson's story USDA plans to expand pilot program that leaves meat contaminated with fecal matter, the response to "we better elect a Democratic President next time" is the truest statement ever by Catte Nappe.

I'm somewhat afraid to nominate FishOutofWater's advice in Hunter's Florida attorney general delays execution to attend fundraiser, mostly because I worry they'll think it's a viable idea!
---
Top Mojo for yesterday, September 9th, first comments and tip jars excluded. Thank you
mik
for the mojo magic! For those of you interested in How Top Mojo Works, please see his diary
FAQing Top Mojo
.
1) If luck is "always" on your side by plf515 — 211
2) Beyond the obvious horror of this situation by cassandracarolina — 151
3) Now that he beat the murder charge by MadRuth — 132
4) how about a fatwa on these so-called clerics by BlackSheep1 — 129
5) My daughter is 9. I'm crying. Sick fucks. nt by BadKitties — 117
6) He decided on a second helicoptor for the by merrywidow — 114
7) How about on the parents by leftynyc — 106
8) To thine own self be true by ontheleftcoast — 105
9) I think that's not quite right by blue aardvark — 98
10) Prety damned sick. -eom- by TheOrchid — 98
11) That's a pretty hateful comment. by Tamar — 96
12) The man appears to have a fetish for guns by Walt starr — 88
13) Thank you, TLO. You probably don't remember me by boatsie — 86
14) Incredible! by Buckeye Nut Schell — 86
15) An Absolutely Fantastic Diary, TLOâ"¢ by JekyllnHyde — 84
16) I've had enough of these fucking morons by MichiJayJay — 83
17) So Dems should support bombing the fuck by S Kitchen — 83
18) This is pretty amazing if it succeeds, because the by NedSparks — 81
19) And my gut reaction was right by ontheleftcoast — 81
20) such a powerful diary, susan, thanks so much by Patriot Daily News Clearinghouse — 80
21) There is no problem that gun can't solve. by Bob Johnson — 80
22) The NSA are nothing more than corporate spies by Horace Boothroyd III — 80
23) That kind of comment is simply unhelpful. by Vayle — 79
24) Good conclusion: by varii — 79
25) Bingo. by Fonsia — 78
26) Justice for the innocents killed on 9-11 by Texas Lefty — 75
27) Maybe the saber rattling by I love OCD — 73
28) A welcome development if true by grubber — 71
29) Yup, The downward spiral; OJ style. by bigtimecynic — 71
30) Here's what you do, if you're Zimmerman: by zenbassoon — 71
31) Yep, It Was In the News and Much Commented by Gooserock — 71
---
Top Pictures for yesterday, September 9th. Click any image to be taken to the full comment. Thank you
jotter
for the image magic!
1) If luck is "always" on your side by plf515 — 211
2) Beyond the obvious horror of this situation by cassandracarolina — 151
3) Now that he beat the murder charge by MadRuth — 132
4) how about a fatwa on these so-called clerics by BlackSheep1 — 129
5) My daughter is 9. I'm crying. Sick fucks. nt by BadKitties — 117
6) He decided on a second helicoptor for the by merrywidow — 114
7) How about on the parents by leftynyc — 106
8) To thine own self be true by ontheleftcoast — 105
9) I think that's not quite right by blue aardvark — 98
10) Prety damned sick. -eom- by TheOrchid — 98
11) That's a pretty hateful comment. by Tamar — 96
12) The man appears to have a fetish for guns by Walt starr — 88
13) Thank you, TLO. You probably don't remember me by boatsie — 86
14) Incredible! by Buckeye Nut Schell — 86
15) An Absolutely Fantastic Diary, TLOâ"¢ by JekyllnHyde — 84
16) I've had enough of these fucking morons by MichiJayJay — 83
17) So Dems should support bombing the fuck by S Kitchen — 83
18) This is pretty amazing if it succeeds, because the by NedSparks — 81
19) And my gut reaction was right by ontheleftcoast — 81
20) such a powerful diary, susan, thanks so much by Patriot Daily News Clearinghouse — 80
21) There is no problem that gun can't solve. by Bob Johnson — 80
22) The NSA are nothing more than corporate spies by Horace Boothroyd III — 80
23) That kind of comment is simply unhelpful. by Vayle — 79
24) Good conclusion: by varii — 79
25) Bingo. by Fonsia — 78
26) Justice for the innocents killed on 9-11 by Texas Lefty — 75
27) Maybe the saber rattling by I love OCD — 73
28) A welcome development if true by grubber — 71
29) Yup, The downward spiral; OJ style. by bigtimecynic — 71
30) Here's what you do, if you're Zimmerman: by zenbassoon — 71
31) Yep, It Was In the News and Much Commented by Gooserock — 71