We hear about the impact of sea level rises in the future, so some might view this as a harm that will occur years down the road. But, the Arctic region of Alaska is warming twice as fast as other parts of the U.S. For years now, indigenous communities face forced relocation due to rising sea levels, melting permafrost (permanently frozen soil), decreased arctic sea ice and shoreline erosion.

Native peoples are no stranger to forced relocation. It is a bitter chapter in the history of North American tribal peoples.

Now, the 21stcentury version of Native relocation has emerged in Alaska, this time, as a consequence of man-made climate change.
Most of
180 out of 200
coastal Alaska Native Villages are hurt by flooding and erosion. Thirty Native locales must relocate their entire villages due to climate change. However, few qualify for federal assistance, according to a 2003
government report
. "The key programs that construct projects to prevent and control flooding and erosion are administered by the [U.S. Army Corps of Engineers] and NRCS [Department of Agriculture's Natural Resources Conservation Service]. However, Alaska Native villages have difficulty qualifying for assistance under some of these programs—largely because of program requirements that the economic costs of the project not exceed its economic benefits." That is, "many of these villages are not developed to the extent that the value of their infrastructure is high enough to equal the cost of a proposed erosion or flood control project." For example, the Native village of Kongiganak is impacted by severe erosion from the Kongnignanohk River. But, the "Corps decided not to fund an erosion project because the cost of the project exceeds the expected benefits." Some programs might consider social or environmental factors, such as "protecting the subsistence lifestyle of an Alaska Native village," when calculating the potential benefits of a program. For the most part, this is an infuriating mess where state and federal governments pass the issue off to another agency such that years pass, and villages are still trying to move out of harms way.
KNBA, the first Native radio station in an urban market did a special series on how climate change affects Alaska Natives. (audio tapes and transcripts here) Four villages – "Kivalina, Koyukuk, Newtok, and Shishmaref—are in imminent danger from flooding and erosion and are planning to relocate." Melting permafrost is literally sinking the land of the Arctic village of Selawik, Alaska.
Studies show Selawik may be entirely under water in less than 50 years. The sinking land swallows up the houses, walkways, utilities, and buildings. Today, "houses have cracks in the windows and walls, doors don't close and the Arctic pipes carrying [water to and sewage from] homes are far from level as they thread their way through this village, which spans both sides of the Selawik River with an island in the middle. Selawik, which once stood on firm, mostly frozen, ground – is now sinking into the surrounding wetland and eroding away." Today, the heaving ground creates leaks in the water and sewer system, creating bills of $180 a month. One resident had an electric bill of $1600 for one month because it was the only way to keep the house's water pipes from freezing.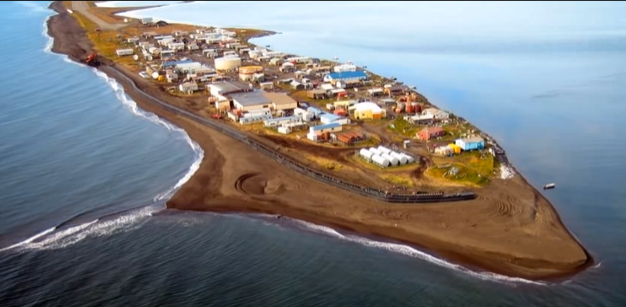 Kivalina is an Inupiaq village of 400 people that will likely be under water in less than 10 years. It is located on a peninsula, but as the Arctic ice retreats and thins, there is no longer a natural buffer of thick ice to protect the village's shorelines from destructive storms and rising sea levels.
In 1992, Kivalina voted to move, and "petitioned various government bodies to begin a relocation process, and hit a dead end." In 2005, an Inuit petition was filed with the Inter-American Commission on Human Rights, seeking assistance to protect culture and resources by adaptation assistance, but the commission rejected the request. In 2006, the Corps of Engineers recommended the village move to a nearby site, but the villagers did not like the site or have the money to make the move. In 2008, the Corps built a stop-gap measure of a defensive wall. The federal government estimates it will cost up to $400 million to relocate the people of Kivalina to higher ground, but "there is no sign the money will be forthcoming from public funds." Kivalina has not yet received government approvals for a new site for their village. So, the villagers filed a lawsuit against 22 of the oil companies for damages due to climate change to get the needed $400 million. The judge concluded: "But the solution to Kivalina's dire circumstance must rest in the hands of the legislative and executive branches of our government, not the federal common law." Right. No reason to find that fossil fuel industry is at all responsible to pay even some of the damages for the harm caused by their greed.
Court passes off to another branch of government, and then state government passes off to the private sector. Alaska Gov. Sean Parnell, when he was lieutenant governor recognized the "dilemma" of the need to move at a cost that makes it unlikely: "State government, federal government, we just don't have the dollars available for each village, but I think" new approaches are needed, including seeking help from the private sector.
Newtok, Alaska, is in the process of relocating because the village is physically sinking due to natural erosion accelerated by climate change, causing the village to sink into the river. " A study by the Army Corps of Engineers found the highest point in the village would be below water level by 2017." The new site of Mertarvik is on higher ground 9 miles away.



For more than a decade, the relocation of the village has been hindered by the same obstacles of financial, legal and unprepared and unwilling federal and state governments:

Melting permafrost, sea-level rise, erosion – these are some of the worst consequences of climate change for Alaska. But none of those elements in Newtok's slow destruction are recognised as disasters under existing legislation.

That means there is no designated pot of money set aside for those affected communities – unlike cities or towns destroyed by floods or tornados.
Stanley Tom, the village's administrator, has knocked on many doors seeking help to relocate:
Government officials praised Tom for finding other sources of funds, such as development grants, and putting them to use for building the new village site. But it has been a laborious process for the remote village to find its way through the different funding agencies and a maze of competing regulations.

As Tom found out, each agency had its own set of rules. The state government would not build a school for fewer than 10 children. The federal government would not build an airstrip at a village without a post office. But the rules, from Newtok's vantage point, appeared to have at least one point in common. They seemed to conspire against the village ever getting its move off the ground.

…But the cost of relocating just one village — Newtok — could run as high as $130m, according to an estimate by the Army Corps of Engineers. That's more than $350,000 per villager. Multiply that by half a dozen, or several more times, and the cost of protecting indigenous Alaskan villages from climate change soon soars into the billions.
The
U.S. military has helped Newtok
with some of the relocation to Mertarvik because it just happened to be a good opportunity to accomplish self-interest, such as training for war: "Marines, sailors and other service personnel involved in expeditionary engineering projects and to do something so far away from home, up in the remote Alaskan tundra in a difficult place to get to by boat, by air, every kind of way, this is exactly the type of challenge that offers us a training opportunity that will enhance our ability to go to war in the future, do other engineering projects in remote location in the future and that's why we're here. It just so happens that the needs of the Newtok planning group and the needs of the state and the needs of the military all came together in this very specific project."
Mead Treadwell, the state's lieutenant governor has the answer to how villages can fund forced relocations:
Treadwell admitted the state government would not cover the entire cost of fortifying or moving all of the villages threatened by climate change.

"On the question of is there money to help them with one cheque? That is something there clearly is not," he said.

Treadwell suggested some of the at-risk villages could raise funds by setting themselves up as hubs for oil companies hoping to drill in Arctic waters.
Oh, the irony.
A different picture emerges when you are not looking at Native villages. The working class community of around 5,000 in Highlands, N.J., wants the federal government to pay $200 million to raise the town 10 feet as a flood control measure after Hurricane Sandy. "The cost of doing nothing ultimately would be much higher," said Mayor Frank Nolan, who lost his own house to Sandy and lived in a shelter for several days after the storm." The Corps of Engineers agreed to "consider it as part of a feasibility study of the best long-term way of dealing with flooding in Highlands." And should have an answer in 2015. The plan is based on the city of Galveston, Texas being raised 17 feet back in 1900 after a hurricane killed 6,000.
When you consider all the Native villages at risk and fighting state and federal government for years, the comparison of even moving forward with consideration is outrageous:

With thousands of miles of vulnerable shoreline in the U.S., it's unclear why Highlands should be more qualified than other locations to receive hundreds of millions of dollars in federal assistance for such a project, said Rob Young, director of the Program for the Study of Developed Shorelines at Western Carolina University.

All the real estate in the borough is valued at $574 million post-Sandy, according to assessment records. Highlands raised $15 million last year from property taxes for local, school and county operations.
The tribal report of the 2013 National Climate Assessment found the
U.S. needs to address forced relocations
:
The tribal report finds that the United States currently lacks an institutional framework to relocate entire communities and calls for new governance institutions to specifically respond to climate-induced relocation.
Congress needs to focus
on helping people now:
"We weren't thinking of climate change when federal disaster relief legislation was passed," said Robin Bronen, a human rights lawyer in Anchorage who has made a dozen visits to Newtok. "Our legal system is not set up. The institutions that we have created to respond to disasters are not up to the task of responding to climate change."

In Bronen's view, Congress needed to rewrite existing disaster legislation to take account of climate change. Communities needed to be able to access those disaster funds — if not to rebuild in place, which is not feasible in Newtok's case, then to move.

The authorities also had responsibility under the treaty agreements with indigenous Alaskan tribes to guarantee the safety and wellbeing of indigenous communities, she argued.
Forced relocation from climate change is not just a reality for Alaska.
Coastal Louisiana tribes
are told to relocate:
State government has proposed relocation for individuals; however that would fracture the tribe and reduce the possibility of achieving federal recognition. For some tribes, such as the Grand Caillou/Dulac, the dwindling resident and resource numbers are seriously hindering the function of their communities, resulting in the harsh reality of relocation. On the Isle de Jean Charles, 95% of the community has had to move away for work (leaving just the older folks and grandkids). Some, such as Chief Albert Naquin, are fighting to pull their communities back together despite the land loss, culture loss, and lack of funding (NRCS Workshop 2012). Other tribes must also contend with politicians who are pushing relocation for their own goals. In the Grand Bayou Village, developers want to "buy out" the tribes and build condominiums and fishing camps near the bayous the tribes have traditionally owned for generations.
In 1988, Dr. James Hansen
warned Congress about global warming
, which was important because previously scientists were cautious about attributing rising temperatures to climate change. Back in the 1970s, the Alaska Native elders noticing the physical changes to their environment and wildlife warned the young to prepare for hard times ahead. The elders created a "Native think-tank in the 80's. They met four times a year for four years. The Council of Bering Sea Elders' discussions 30 years ago outlined things that scientists are just now beginning to confirm."
Many scientists are also now turning to Natives for help in understanding the changes sweeping the world. As one said to me recently, "Climate change is too big. We need to listen to each other."
State and federal governments quite frankly need to get off their collective climate denying/delayer/obstructionist asses. These Native villages did not contribute to or cause climate change but face the consequences of greedy fossil fuel industry in a country that says it believes in holding people responsible for the harms they cause others. Remaining silent, not doing what we can, similar to the hummingbirds facing the forest fire, makes us all complicit in the death and destruction of people, natural resources, community, culture, and villages.