There is a quiet order and a continuity to library work; if you listen very closely, it is as if you can hear the faint scratching of a goose quill echoing down the ages from some dark scriptorium, or the frenzied rustling of a chained, wild grimoire from Terry Pratchett's Library of the Unseen University (I am a strong believer in 'L Space'). A modern library is very soothing, hardly ever stressful, and just the place for someone who can still use his brain, even though his body fails him, at times.
I had worked in a bustling town library, but our readers rarely penetrated to the relative calm of the basement where the Inter Library Loan Department was located, so I was able to set my own pace, which was a blistering one. I simply adored sending volumes around the world, trusting that other libraries would play fair and send them back; but the time came when the serpent of politics entered the Garden of Eden known as the Public Library, and the great fall - via a wrecking ball - occurred (see previous diary).
I bailed out, and ended up in the next town, where there was a lovely little medical library attached to a teaching hospital. It was fun; there was a fine Director who I admired, some research projects to assist with, an ever-changing flock of medical students and D.Pharm candidates, and nurses taking higher degrees to mentor, along with much intellectual joy! I forgot my constant companion - pain - and worked until I was happily tired, each night. Amongst other things, I tackled the 9,000 volume collection of bound medical journals, filling in gaps, trading with other libraries around the country and badgering people until they gave up what I needed.
The hospital sits on on beautiful, wooded site with some of the buildings dating back to the 1880s. When I first arrived I took a campus tour, and it was easy to see why the Town Aldermen had slapped an Historic District designation on the eastern half of the estate. I arrived during the Fall, and that portion of the hospital reminded me of nothing more than 'Willie Gillis in College' by Norman Rockwell (1946).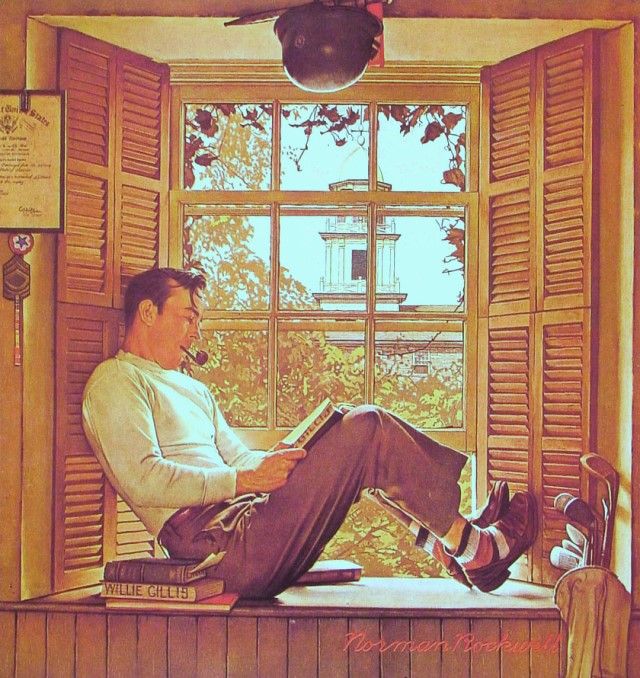 Yes, indeed, we do still have some lovely administrative buildings that look just like a typical New England college of that era, with features from the Classical Revival period!
We are part of a large hospital group, one of the largest employers in the State, with control of more than a dozen facilities. One of the reasons that I was glad to take the job that was offered to me was because of the magnificent health insurance package that went with it; plus the fact that I could just gently stroll down the corridor to see my PCP, nephrologist, cardiologist, endocrinologist, gastroenterologist, or my foot & ankle surgeon (to his eternal shame, my dermatologist is off site - about a half mile away) I am their patient, they are my friends - it is a nice arrangement (I am going to see the Red Sox vs the Yankees with the Chief of Pulmonary Medicine on Sunday night; don't worry, he's just a friend, not yet one of my specialists)!
About three months ago, it was announced that one of the largest hospitals in our group (one of several with a national reputation) would be taking over virtually the whole of our second floor, in order to establish a major cardiology center. This would feed patients into their site, after they had been diagnosed and possibly had some non-invasive treatments - the major procedures would take place downtown.
This gave rise to disquiet, as it was soon realized that almost every other department would be affected. Pain Relief, Research and Physical Therapy would move to a new building off site; Human Resources and Public Affairs to yet another off-campus venue. These were permanent, not temporary, moves. Medical Records went to the basement, and the Administration and Management Suite moved from the second floor. Everything was being shuffled and shifted. Then the blow fell.
The library was to lose 60% of its floor area and 95% of its storage - to a new locker room. The axe was then dulled somewhat, by our being told that we would be refurbished - what was left of us, that is. That didn't last long, and potential renovations have shrunk to a coat of paint, some carpet, and some electronic journal subscriptions to make up for the loss of 9,000 bound volumes. Complete backfiles of classic medical journals, some from 'Volume 1, Issue 1', would have to go. Several doctors expressed dismay, but it really was a lost cause. The latest news is that at least the space we are losing is now not to be converted to a locker room; instead, the Psychiatry Department will be enlarged when the new wall is built across the library!
The first photograph you can see is of part of the stripped stacks, along with a rack for loose journals which was pushed into that area. There were another four of these stack modules plus lots of peripheral shelving (you can see some of the shelves in the distance, filled with colorful Princeton files; these were about to be boxed up and given away to other, local libraries). My boss contacted all the local academic institutions to encourage them to take what they needed from our collection (Tufts took half a ton of bound journals), whilst I wrote to every medical library in the country - every....single....one! I appealed to them all in my most persuasive fashion (usually, the British accent worked). We would pack and ship volumes for free, I wrote, all they needed to do was send us back the USPS Library Rate postage in stamps (and you would not believe how low that is).
For four weeks I packed and shipped, shipped and packed, as libraries from all over the USA selected what they need from the closely-typed pdf file I had sent out. All double-walled boxes, nothing over 42lbs weight, despite the fact that Library Rate has a maximum package weight of 70lbs. Sometimes, I would pack 40 or more of these boxes in a single day. They were sent to Nome, to Denver, to St Louis, to Philadelphia - the very last box was sent to the Library of the American Institute of Sports Medicine, in Birmingham, Alabama. The Research Center of the New York Nurses Association in Albany sent us an effusive note of thanks, as they now possess a complete collection of the Journal of Advanced Nursing from 1976 onwards - and, of course, we don't. I could have easily snagged a bit part in 'Shaun Of The Dead' by the end of it all. We 'saved' over 2,800 volumes, by sending them to new homes - but had to see nearly 6,000 others go to be pulped. I tried, people, I REALLY tried, but it was still heart-breaking to see the work of over a decade go out the door; the sense of loss was palpable. My boss calculated that I had picked, boxed and mailed over 4 tons of books - yes, that is TONS - by myself.
At least I THOUGHT that was the end. However, there was still the problem of what to do with several hundred pounds weight of high-quality library shelving, along with a number of magazine racks. Give them to a school or another library, you say? Everyone laughed. If those public institutions acquired shelving from us, and did not buy it from a regular supplier, their legal departments would sue our hospital if something fell on little Katie or Fred. Then, at the last minute, when I thought that we would have to scrap the lot, along came our friendly New England Mobile Book Fair, Inc. - and took everything. It needed a work crew of four of their staff (and me, helping/hindering) to unbolt, disassemble and pack away in a panel truck all that fine shelving. Here is the result - a naked library photograph, folks!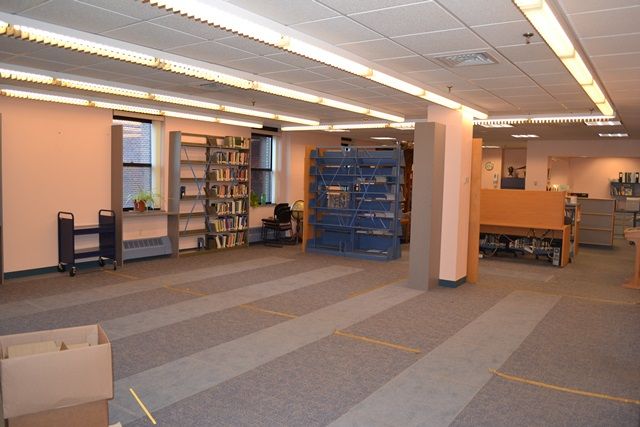 This photograph was taken in what will soon become a new clinical area, when the wall is finally built, that is. We are a mere shadow of our former selves, (or, indeed, our former shelves) and it will now cost more for us to service the requests of our clients because we will have to pay for copies of research articles from other libraries, through the 'Docline' System of the National Library of Medicine, rather than use our own resources. Despite what you hear, not EVERYTHING is online, people!
We have survived, after a fashion. I am lucky, I suppose; I will soon have lost my office space, and won't even have a coat-hook to my name, but at least I have a job. Other hospital staff come into our library and say, 'Where are you moving to, then?' When I tell them what is happening, a stunned silence usually ensues.
At least I can enjoy myself at the Red Sox/Yankees game on Sunday night (my late father-in-law played in the Yankees minor league system). The game will be nationally televised, and my friend and I will be sitting on the front row, behind home plate, so I had better be on my best behavior (that means no raucous shouts of 'Libraries are people, too, my friends!'). For a few hours, I shall be able to forget about the famous 'Shrinking Library'!
Be well, people, be well.......
Readers & Book Lovers Series Schedule