Here is an interesting example I stumbled upon while browsing the web. I came across SafeBuilt, a company that specializes in outsourcing building inspection departments from local governments. One of their posterboys of success is the city of Troy, Michigan. You may or may not have heard of Troy - they recently recalled their mayor for being an idiot and gained international fame for almost-closing their library. Anyway, if you read some the stats: average household income over $100k, high proportion of college grads, etc, you'd think this was a smart city full of smart people doing smart things....
... surprise over the squiggle ....
First a little bit on Safebuilt. It isn't rocket science what they do: You fire your building inspectors, they hire them, they sell you their service. All of the expertise they boast of is yours that you threw away, so when you read about their seasoned vets, well, you know. Anyway, they also claim to have saved Troy millions, which is at-first curious because how do you save millions on people reviewing building plans and checking construction sites...???
Oh, it turns out that part is easy - they fired 2/3 of them. Safebuilt took Troy's building inspection unit of 22 full-time city employees and retained only 8. Ok, no real rocket science here on the savings. Now, number of inspections hasn't gone down. It did dip during the recession but has since returned to pre-recession levels. So you have 8 people doing the work of 22. Again, no rocket science. But this isn't the fun part.
The fun part is when you examine the cost. Troy's building inspection budget slowly rose from 2002 to 2010 (when the outsourcing occurred) from just over $80k per person to just over $90k per-person. That is about a 12% rise over 8 years. Understand that this is budget, not take-home pay, so it includes payroll taxes, benefits, all that good stuff.
Anyway, so what happens when they outsource? Expenses explode by over 50% to about $145k per-person! So now do you see it? Fire 2/3 of the department, reduce cost to the city by 1/3, and bank the difference. Never mind you have 8 people doing the work of 22, that is someone else's problem. Also pay no mind to the fact that the 2nd year of outsourcing has already produced a 4.4% increase of cost - or 4x the rate of increase when it was an internal department. After all, 1/3 less cost is still alot of ground to cover. Here it is in picture form: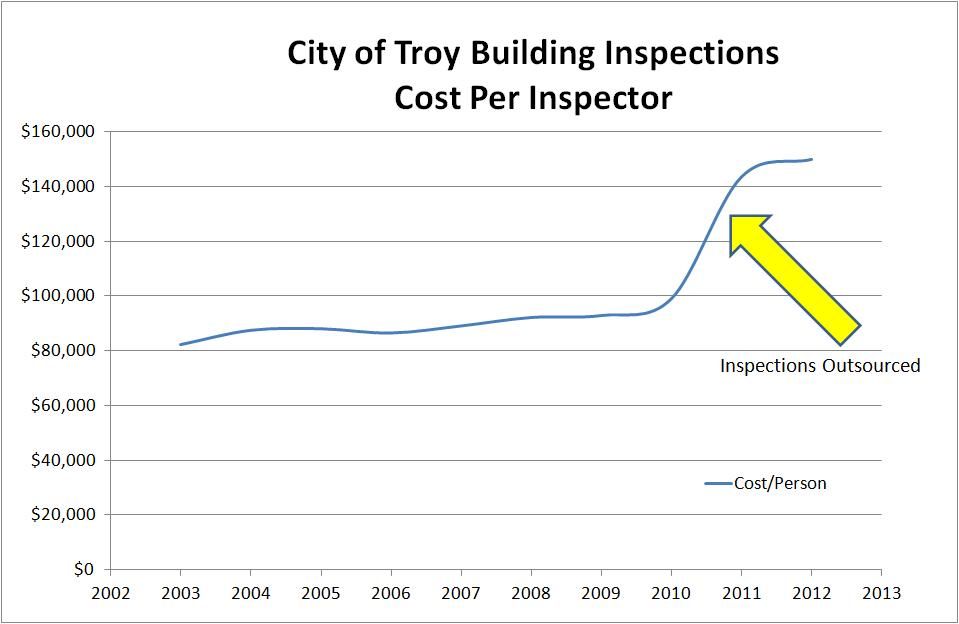 And, did I mention that by all appearances the 8 people that Safebuilt is 'providing' are the same engineers that Troy fired. It's like you have Larry, Curly, and Moe working for you, so you fire them all and then hire Larry back (through Safebuilt) to do the exact same job he was doing at almost twice what you were paying him. Rest assured that Larry doesn't see any of the increase, he's probably lucky if he is making 80% of what he had before. The rest is tribute to Wall Street.
So there you have it - outsourcing made easy to understand: 1/3 the service for 2/3 the price. If a city with a 55% college graduate adult population can do it, you can too!
PS - the financial numbers are pulled from their two financial reports here. The 'Popular Annual Financial Report' has a nice graph of costs for building inspections, and the 'Comprehensive Annual Financial Report' has a nice table of head-counts. Neither has a summary of hours billed for inspection services. Safebuilt charges a fee-for-service - they get 80% of a building inspection fee, so it is in their interest to make the permits as expensive as possible.
11:25 AM PT: Wow - Community Spotlight! Cooool! It is actually hard to diary about this because it is so inane. They are hiring back the same people, it is like "Fire Larry & Curley because they are idiots, but Moe can magically do 3x the work he was doing!" Even if that were true, it would cast more than enough doubt on Moe's integrity to make it not worth the trip. After all, if an employee told you he was sandbagging for the last 10 years, what would you do...???