Every day is a new day and with that, a new opportunity.
EVERYONE is welcome and please join us each morning at 7:30 AM PACIFIC
to tell us what you're working on, share your show & tell, vent, whatever you want...
...this is an open thread. Nothing is off topic.
Boujou!
I vacillated for a long time on what to include in this week's edition. Last week, I scrapped several stories at the last minute in favor of the news about flooding and other extreme weather in Indian Country. So there are several stories from last week that I wanted to cover today.
A growing number of reports about environmental issues affecting Indian tribes have appeared over the last couple of weeks. Some are good news; some, just the opposite; all are important. With that in mind, I've postponed a couple of the pieces I had planned for today. Next Monday will be a special environmental edition, containing those items and several others: everything from PV solar projects to wind power to pushback against mining corporations.
What that means for this week is that the subject matter ranges far and wide. It's a lot of ground to cover, so let's get to it.
We begin with Native women.
PRESIDENT OBAMA NOMINATES FIRST NATIVE AMERICAN WOMAN
TO FEDERAL BENCH
Last week, President Obama announced the nomination of Diane J. Humetewa to the bench of the U.S. District Court for the District of Arizona.
Ms. Humetewa, an enrolled member of the Hopi Tribe, has a stellar résumé that demonstrates longtime bipartisan support for her career in public office. Her career path has its roots in her work some thirty years ago as a victim's advocate, when she helped to found one the country's first federal victims' services programs. She began her legal career in earnest by earning her J.D. in 1993 at Arizona State University's Sandra Day O'Connor College of Law where she now serves as a faculty member.
After graduation from law school, she went to work as Deputy Counsel for the United States Senate Committee on Indian Affairs, a position she held from 1993 to 1996. In 1996, she joined the Department of Justice, detailed to the U.S. Attorney's Office for the District of Arizona; from 1996 to 1998, she simultaneously held the title of Counsel to the Deputy Attorney General. She would remain with the U.S. Attorney's Office until 2009: While an AUSA, she served as the office's Tribal Liaison, was promoted to Senior Litigation Counsel in 2001, and then advanced to the top job as U.S. Attorney [USA] in 2007.
It is entirely likely that she enjoyed such strong bipartisan [i.e., Republican] support for the USA job because, as a Native woman, she was an effective distraction from George W. Bush's scandalous mid-term firing of certain U.S. Attorneys. She was the permanent successor to Paul K. Charlton, a white male attorney who, by all accounts, had a good record on tribal issues and who was one of the USAs fired by Bush's administration for being an insufficiently pure disciple of the Gospel according to Karl Rove. But it appears that, however much Republican operatives and politicians may have regarded her gender and ethnicity as a convenient political fig leaf, Ms. Humetewa nonetheless had, and has, far more than enough legal chops to support her successful rise in her chosen career. She also oversaw the high-profile prosecution, launched by her Paul Charlton and continued by her interim predecessor, of Congressman Rick Renzi (R-AZ) on multiple corruption charges. In 2009, Ms. Humetewa resigned as USA as a matter of course, to permit President Obama to nominate his own choice for the position, a long-accepted tradition among USAs and other presidential appointees; she was not forced out mid-term for political gain as he predecessor was.
During her tenure with the Department of Justice, Ms. Humetewa had served in a variety of other roles, as well: a five-year tenure as an appellate court judge for the Hopi Tribal Court; a stint as a member of the U.S. Sentencing Commission's Native American Advisory Committee. In 2009. she joined the multinational law firm Squire Sanders in an "of counsel" position. She currently serves both in the administration of Arizona State University, as Special Counsel and Special Advisor to the President, and on the faculty of the school's College of Law.
Assistant Secretary for Indian Affairs Kevin Washburn, a law dean at the University of New Mexico before joining the administration last year, expressed optimism on learning of the selection.

"Diane Humetewa will make an excellent judge," said Washburn, a Chickasaw Nation citizen. "She was a very capable U.S. Attorney for Arizona and a capable career prosecutor before that. She is tough, but compassionate, and I know that she can gracefully handle the stress of being the first Native American woman to travel this path. This is a historic nomination."
If confirmed, Ms, Humetewa will be only the third American Indian judge to serve on the federal bench. The first two were Frank Howell Seay (who at the time of his nomination was assumed, even by himself, to be entirely white), nominated by Jimmy Carter in 1979 and now on "senior status," and Billy M. Burrage (Choctaw), nominated by Bill Clinton in 1994.

She is also President Obama's second Native nominee for a federal judgeship. The first was Arvo Mikkanen (Kiowa) whose nomination was scuttled by Senate Republicans — allegedly because of a lack of consultation with Oklahoma's Republican senators (sorry; Dan Boren doesn't qualify as a Democrat), but in reality as simply another thumb in the eye of the President.

For now, Indians are hoping for an easy confirmation. With the Republican Party, that of course is by no means guaranteed. But her strong prosecutorial background with its record of public bipartisan support should help make it bit harder to obstruct her nomination simply because of the identity of the President doing the nominating.

CANADA'S HARPER GOVERNMENT REJECTS INTERNATIONAL CALLS FOR PLAN TO END VIOLENCE AGAINST FIRST NATIONS WOMEN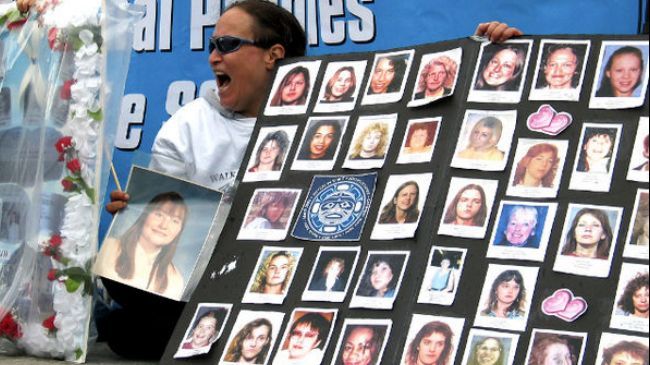 In recent weeks, I've written quite a lot about violence against Native women, particularly near (and straddling) the Canadian border. This phenomenon is neither new nor unusual, in either country. What is unusual, on the Canadian side of the border, is the amount of public attention it gets compared to this country's nearly complete approach of pretending that it doesn't exist.
In part, that difference is due to a very vocal First Nations community, comprising both women and men, that has organized successfully to draw public attention to the issues [Facebook link], and to push back on governmental inaction and misconduct. But Canada's Harper government has made clear its indifference to the abuses inflicted upon both tribal communities as a whole and First Nations people, especially women, as individuals.
Now, it's taken that indifference a dangerous step further.
Every four years, the UN Human Rights Council conducts a "Universal Periodic Review" of a country's human rights record. It's Canada's turn this year (among others). Part of the process involves allowing other nations to call for human rights reforms in the country under review. And under the guise of rejecting criticism from nations that Canada describes as having "dubious rights records," the Harper government is also rejecting, wholesale, a series of resolutions calling for the investigation of and a halt to violence being inflicted on First Nations women.
In Ottawa, Shawn Atleo, national chief of Canada's Assembly of First Nations, said there is deep concern among aboriginals over the government's refusal to conduct a national review of the problem.
"There is strong support for this action domestically among provincial and territorial leaders and the Canadian public and strong international support, not to mention a multitude of reports and investigations that urge Canada to act," Atleo said in a statement.

The federal New Democrats also issued a statement calling the government's response "shocking."

In Toronto, Teresa Piruzza, the Ontario minister responsible for women's issues, expressed disappointment, saying it is "really a national issue."
Demands for such efforts are not new: They occurred during the last UN review of Canada's human rights record, in 2009. No steps were taken, and in the intervening years, the problem of assault, rape, abduction, trafficking, and murder of Canada's aboriginal women has only worsened.

Harper and his mouthpieces are very good at offering up excuses: They argue that the racial data are insufficient, and more, properly so, "due to operational, methodological, legal and privacy concerns." They also deride the demands as mere "meetings and studies," whereas they pretend to be "focused on action."

UN Special Rapporteur James Anaya isn't having any. His portfolio is to ensure protection of the rights of indigenous peoples worldwide, and he's shown a willingness to face off against state governments here in the U.S. to do so. He's visiting Canada next month to conduct his own investigation.

With the Canadian government's record, both historical and contemporary, of violence against aboriginal communities, this is not an issue that First Nations activists can afford to let go. And they won't. But in light of the ongoing violence against American Indian communities here in the U.S., our own activists should take a page from the book of our brothers and sisters to the North.

INDIAN HEALTH SERVICE EXPANDS AVAILABILITY OF PLAN B TO NATIVE WOMEN

Indian Health Service [IHS] medical professionals and Native women activists have at long last succeeded in making the oral contraceptive known as Plan B more readily available to Indian women.
After more than a decade of pressure, IHS announced in 2012 that it was revamping its policy on availability and distribution of Plan B. The policy changes are now reportedly finalized, although the actual text has not be released (perhaps a wise move in today's political climate). Nonetheless, according to IHS officials, all federal IHS facilities have received verbal directives ordering them to provide Plan B at their pharmacy windows upon request to all women aged 17 and older, and to do so without a prescription.
Meanwhile, women's health advocates are pushing IHS to issue a written policy on emergency contraception.

"A verbal directive can be rescinded at any time," [California Senator Barbara] Boxer said through a spokeswoman. "We need a permanent policy that says that all IHS facilities, including those that serve Alaska Natives, shall carry and offer emergency contraceptives consistent with law."

IHS said it is working to update its pharmacy policy but would hold all employees accountable for following the verbal directive on medication.
Some advocates continue to fight for full access, including access for patients under 17.
"We've made some progress, and we have to acknowledge that, but there's still more," [Charon] Asetoyer said. "They're still violating our rights to access by denying women who are age 16 and under. ...We have to ask, why are we being treated differently?"

Quick, easy access to emergency contraception is crucial considering the prevalence of domestic abuse and rape of Native women, Asetoyer said. One-third of all American Indian and Alaska Native women will be raped in their lifetime, and nearly three of five had been assaulted by their partner, the U.S. Department of Justice has said.
Ms. Asetoyer (Comanche) is the director and a co-founder of the Native American Women's Health Education Resource Center in Lake Andes, South Dakota. A long-time activist on Native women's health issues, she knows too well the effects of sexual violence on Native women. I have no doubt that she will continue to fight to expand that access, as well she should.

But this is an exceedingly welcome — if long overdue — first step.


More "This Week In American Indian News" & Latest Updates on Kossack Regional Meet-Up News Below the Frybead Thingey
COLVILLE CONFEDERATED TRIBES NOW SIXTH TO RECOGNIZE MARRIAGE EQUALITY
The Colville Confederated Tribes of Washington State have become the sixth tribal nation to formalize marriage equality.
Last Thursday, tribal members voted "overwhelmingly" to extend formal legal recognition to marriages between spouses of the same sex. The decision applies to all enrolled members of the Colville Confederated Tribes, more than 9,300 people, regardless of whether they live on or off the reservation.
It's a logical extension of the tribal nation's existing policies, which were already more progressive than those found in much of the rest of the country:
Council chairman Michael Finley told the paper that the tribe has long recognized and respected LGBT identities, usually referred to as two-spirit in the tribal vernacular. Last week's vote means two-spirited Colvilles will be treated equally and with respect, Finley said. The tribe had already permitted members in same-sex partnerships to add their spouse to their insurance and other benefits plans.
As I've noted previously, Oregon's Coquille Indian Tribe was the first tribal nation in the country to legalize marriage equality. Washington's Suquamish Tribe was next, in 2011. This year has seen a small but significant domino effect, beginning with Michigan's Little Traverse Bay Band of Odawa, about whom I wrote here and here, followed by the Pokagon Band of Potawatomi, also in Michigan, and California's Iipay Nation of Santa Ysabel Indians.

It seems a small step, but six tribal nations in a two-year period is significant. In many of our cultures, the number seven holds special significance; perhaps the seventh tribal nation to legalize marriage equality will serve as a tipping point.


ONEIDA NATION ANNOUNCES CAMPAIGN TO FORCE WASHINGTON [REDACTED]
TO END USE OF RACIST MASCOT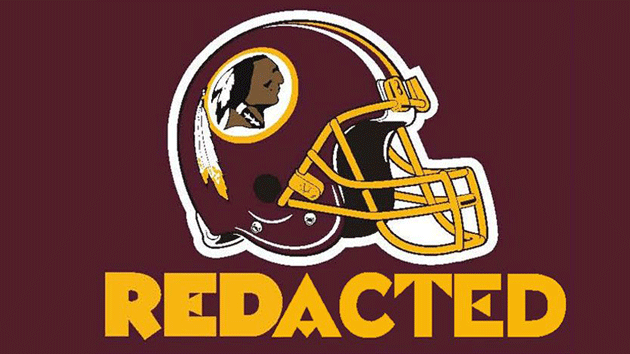 To coincide with the season opener of Washington's NFL team (which they lost — LOST!), New York's Oneida Nation has announced the launch of a radio advertising campaign to force the team to cease using the racial slur that it has as its mascot. The ads were slated to run on radio stations throughout the D.C. market last Monday before the start of the game.
In the ad, Oneida Nation Representative Ray Halbritter says NFL Commissioner Roger Goodell should "stand up to bigotry" by denouncing "the racial slur" in the team's name.

"We do not deserve to be called 'redskins'," the Oneida leader says in the ad. "We deserve to be treated as what we are — Americans."
Mr. Halbritter has rather effectively put Roger Goodell on the spot, since Goodell nearly tripped over himself trying to be among the first to denounce Riley Cooper, the Philadelphia Eagles wide receiver caught on video referring to African Americans by a vicious racial slur. Cooper, for the record, has been fined, has been sent to "sensitivity training," and has apologized both privately and publicly. Washington team owner Dan Snyder, on the other hand, continues to double down.

So, for that matter, do members of Goodell's staff, apparently.
League spokesman Brian McCarthy, in an email to The Associated Press, said they "respect that reasonable people may have differing views."

"The name from its origin has always intended to be positive and has always been used by the team in a highly respectful manner," McCarthy wrote.
No, Brian. Someone who thought it appropriate to call the team the Washington N-----s would not be considered "reasonable." It is no more reasonable to use one of the most vicious slurs ever slapped on our peoples.

For that matter, Brian, how about knocking off with the lies? Because that's what you're doing: You're continuing to spread the outrageous lie that this was ever intended to be "positive" or that it's ever been "used in a highly respectful manner." Neither is true, and you know that, because you and your organization have been told this repeatedly - by actual Indians - for more than 40 years now. So knock off with the whitewash, already.
One thing that's encouraging to see is young Indians stepping up on the issue.
American Indian Movement Youth Council Leader Tessa McLean of the Ojibwe Nation agrees with NoiseCat and adds that Indians as sports mascots is yet another consequence of European settlement in the Americas.

"The term (Redskins) is offensive because it is another sad fact of colonization," she told NBC News. "The dominating society says 'we're going to take your land, your language and culture and we're going to determine a mascot for you, and you're supposed to be okay with it.'"
The Oneida Nation, meanwhile, is putting its money where its mouth is, too. NBC reports that, earlier this year, the tribal government awarded $10,000 to an area high school that agreed to change its mascot from the [Redacted] to the Hawkeyes. The money will be used for new jerseys for school athletes.

Of course, coward that he is, Goodell will punt. Again. It's what he and his organization always do.

Snyder, on the other hand, will simply dig his heels in deeper. There's no question that the Oneida campaign will be utterly ineffective in inducing Snyder to change the name. For him, it's now a matter of principle - that is, of the principle of defending his racism. No power on earth will do that, with one possible exception: the power of the almighty dollar. It's a franchise worth billions annually. If the League were ever to develop enough of a spine to the right thing - the non-racist thing - it could force him to change it. Absent that, only money has any hope of ever trumping his racist fantasies.

The ad campaign, which is expected to run into the thousands of dollars in costs, will continue throughout the season. The ad buy will include stations in the D.C.-area market for home games, and in the markets of whatever team Washington plays against when on the road. The tribe has also launched a Web site to aggregate public support for the name change. You can add your name to the effort at www.changethemascot.org/.

Note: I had written about this for last week's edition, before extreme weather intervened. In the meantime, Denise Oliver Velez showed how an ally does it: She wrote about this very issue as the feature for last week's edition of Black Kos: Tuesday's Chile. If you haven't read her take on it, go do so. And Dee: Chi miigwech for always remembering us.

FALL FASHION WEEK 2013, AND YET ANOTHER DESIGN HOUSE GOES PRETENDIAN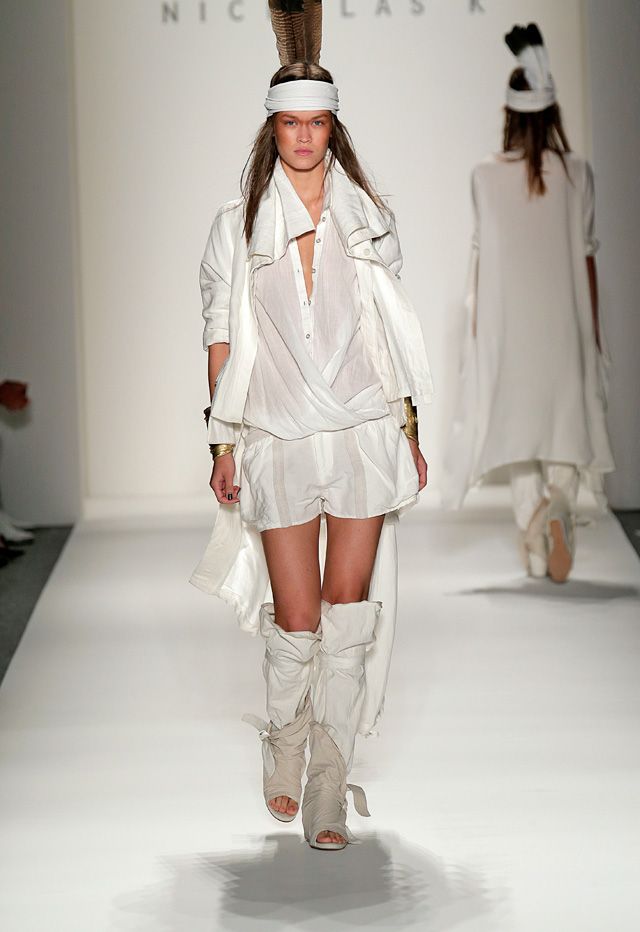 [Sigh . . . .]
They never learn. Because they don't want to learn.
Nicholas K, a fashion house comprising two white siblings with the surname Kunz (hence the "K") who hail from Arizona, is the latest to engage in appropriation (and insulting distortion) of American Indian culture and imagery. No, strike that; it's theft, pure and simple.
From these two idiots' press release, cited with syrupy approval by one fashion writer:
For Spring 2014, brother and sister designers and CFDA members Nicholas and Christopher Kunz explore the spiritual roots of the small bands of indigenous people that formed the Ndee or Apache Nation. Antique smudge fans found on a reservation in the mountains of Central Arizona sparked the inspiration of a shamanistic journey that is embraced by the brand's own nomadic urban roots.
Then it's a bit about the [fake] "symbolism," punctuated incorrectly, I might add. And then this bit of drivel appears:
Like the Shamans, who were draped in a mixture of textures, the collection consists of an array of free flowing fabrics. Matte gauze with shimmering lurex symbolically represents desert stones speckled with shining mica, while geods dance across printed viscose paired with reinvented linen and suede moccasins. The silhouettes of the season call to spirit light dancers – they are magically free and playful.
"Shamans?" Really?

Not only are you two morons not honoring, respecting, or "exploring" the Apache culture to which you claim "roots" by some sort of bizarre transference via one-time geographic proximity, but you clearly know nothing about it — or any other indigenous cultures.

And if indeed those really were "[a]ntique smudge fans found on a reservation in Arizona," I hope a visit from federal officials, followed by some arrests and prosecutions and convictions and repatriation, ensues. Soon. Because I guarantee you that those two didn't "find" them there free for the taking.

"AND ALL OF THE INDIANS WILL BE GHOSTS":
WRITING THE GREAT AMERICAN INDIAN NOVEL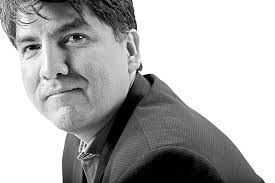 Once in a while, I come across something that is such truth, real and raw, that it pierces both heart and soul. And so it was with a piece that Native author Sherman Alexie [Coeur d'Alene/Spokane] published by way of Montana Public Radio's "Monday Poems" feature.
It speaks to a culture of appropriation at a level so fundamental, it's almost physically painful. It's a form of appropriation that many of us here have tried to address honestly and openly, and have told we're wrong, racist and worse, for doing so. But perhaps Mr. Alexie, widely revered in the dominant culture, can bring the point home in ways that we cannot.
I'm going to post only excerpts. You should go to the link and read the entire thing. And before commenting about, try to internalize it, from his — our — viewpoint. Contemplate it. Think it through to its logical conclusion, which he makes so painfully plain. And then go forward accordingly.

All of the Indians must have tragic features: tragic noses, eyes, and arms.
Their hands and fingers must be tragic when they reach for tragic food.

The hero must be a half-breed, half white and half Indian, preferably
from a horse culture. He should often weep alone. That is mandatory.

If the hero is an Indian woman, she is beautiful. She must be slender
and in love with a white man. But if she loves an Indian man

then he must be a half-breed, preferably from a horse culture.
"Tragic." Or, my personal favorite, "proud." Which, of course, raises in the reader's mind the very opposite.

Why?

We know why.

The stereotypes write themselves anymore.

And the thefts can be justified on all and any grounds.

An Indian man can be hidden inside a white woman. An Indian woman
can be hidden inside a white man. In these rare instances,

everybody is a half-breed struggling to learn more about his or her horse culture.
There must be redemption, of course, and sins must be forgiven.

For this, we need children. A white child and an Indian child, gender
not important, should express deep affection in a childlike way.

In the Great American Indian novel, when it is finally written,
all of the white people will be Indians and all of the Indians will be ghosts.
[Emphasis mine.]

Chi miigwech.

:: COMMUNITY BUILDING UPDATES ::
Let's build communities!

Every region needs a meatspace community like SFKossacks.
We take care of each other in real life.
I urge YOU to take the lead and organize one in your region.
Please tell us about it if you do and we're here for advice.
•
THINK GLOBALLY, ACT LOCALLY
>>>Instructions on
HOW TO FORM A NEW DAILY KOS GROUP
NEW GROUPS IN THE PROCESS OF ORGANIZING:


Send a Kosmail to the organizers and ask for an invitation to the group.

• Northern Indiana Area: Kosmail Tim Delaney

• Long Island: Kosmail grannycarol

• Northern Michigan: Kosmail JillS

• Nebraska: Kosmail Nebraska68847Dem

• Westburbia Chicago Kossacks: Kosmail Majordomo

• New York Hudson Valley Kossacks: Kosmail boran2

• North Carolina Triangle Kossacks: Kosmail highacidity

• Caprock Kossacks (Panhandle/Caprock/Lubbock/Amarillo area) : Kosmail shesaid

• West Texas Kossacks (including Big Bend Region and El Paso) : Kosmail Yo Bubba

Note to the above new leaders: Feel free to leave a comment any day reminding readers about your new group. Also, tell us about your progress in gathering members. Kosmail me when you've chosen a good name for your group and have created a the group. Then I'll move you to the NEW GROUPS LIST. When you've planned a date for your first event I'll make a banner for you to highlight your event in our diaries and your diaries.
These are the groups that have started since * NEW DAY * began. Please Kosmail navajo if you have started a group before that.
NEW GROUPS LIST:

• California Central Valley Kossacks - Formed: Jul 29, 2012, Organizer: tgypsy

• New England Kossacks - Formed: Aug 6, 2012, Organizers:
Clytemnestra for Lower New England (Conneticut, Massachusetts, Rhode Island)
nhox42 for Upper New England (Maine, New Hampshire, Vermont)

• Houston Area Kossacks - Formed: Aug 7, 2012, Organizer: Chrislove

• Kossacks in India - Formed: Aug 14, 2012, Organizer: chandu

• CenTex Kossacks - Formed: Sep 9, 2012, Organizer: papa monzano

• Central Ohio Kossacks - Formed: Sep 26, 2012, Organizer: VetGrl

• Kansas City Kossacks - Formed Oct 15, 2012, Organizer: [Founder stepped down]

• Phoenix Kossacks - Formed Oct 16, 2012, Organizer: arizonablue

• Chicago Kossacks - Formed: Oct 31, 2012, Organizer: figbash

• Koscadia the Pacific Northwest coast from Northern California to Alaska
- Formed Oct 17, 2012, Oganizer: Horace Boothroyd III based in Portland, OR

• Boston Kossacks - Formed: Nov 7, 2012, Organizer: GreyHawk

• Motor City Kossacks South East Michigan (Detroit) Area - Formed: Nov 10, 2012, Organizer: peregrine kate

• Pittsburgh Area Kossacks - Formed: Nov 12, 2012, Organizer: dweb8231

• Salt Lake City Kossacks - Formed: Nov 17, 2012, Organizer: War on Error

• Twin Cities Kossacks - Formed: Nov 17, 2012, Organizer: imonlylurking

• Dallas Kossacks North Texas - Formed: Nov 21, 2012, Admins: Catte Nappe and dalfireplug. Please contact them to join the group. An Event Organizer needed.

• The Southern California Inland Empire Kossacks - Formed: Dec 3, 2012, Organizer: SoCaliana

• Los Angeles Kossacks - Formed: Dec 17, 2012, Organizer: Dave in Northridge

• Northeast Ohio Kossacks - Formed: Jan 16, 2013, Organizer: GenXangster

• Kansas & Missouri Kossacks - Formed: Jan 17, 2013, Organizer: tmservo433

• I-77 Carolina Kossacks who live from Columbia, SC to north of Winston-Salem, NC. - Formed: Jan 30, 2013, Organizers: gulfgal98 and eeff

• Indianapolis Kossacks - Formed: Feb 6, 2013, Organizer: CityLightsLover

• Southwest Ohio Kossacks - Formed: May 10, 2013, Organizer: Dr Erich Bloodaxe RN

• Northern Arizona Kossacks - Formed: Jul 5, 2013, Organizer: Sam Sara

• Mexican Kossacks - Formed: Apr 14, 2013, Organizer: roberb7
ESTABLISHED GROUPS LIST: (List will grow as we discover them)

• SFKossacks Founded by navajo, Formed: May 2, 2005

• Maryland Kos Founded by timmyc, Formed: Feb 23, 2011. Contact: JamieG from Md for a group invite.

• New York City Founded by Eddie C - Contact the group organizer for meet-up events: sidnora

• Baja Arizona Kossacks, Event Organizer: Azazello

• Three Star Kossacks Tennessee, Founded by maryKK, Formed: Apr 8, 2011

• Nashville KosKats, Founded by ZenTrainer Formed: Jan 30, 2012

• Virginia Kos Founded by JamieG from Md, Formed: May 3, 2011

• Kos Georgia Founded by pat208, Formed: Feb 13, 2011

• Colorado COmmunity Founded by Leftcandid, Formed: Feb 13, 2011

• New Mexico Kossaks Founded by claude

• Philly Kos Founded by mconvente Formed: Aug 29, 2011

• DKos Florida Founded by ThirstyGator, Formed: Feb 14, 2011, Currently organizing: Kosmail Vetwife to be included in next event.

• Oklahoma Roundup Founded by BigOkie, Formed: Feb 13, 2011, Currently organizing: Kosmail peacearena to be included.

• DKos Asheville Founded by davehouck, Formed: Feb 13, 2011 - Organizing Assist by: randallt
:: Events Currently on the Books for ALL Kossacks ::

Tuesday, September 24th

Farm Day for Oregon Kossacks! Baby Goat and Goat Cheese Edition

TIME: Anytime, all day!
LOCATION: Oregon Gal's farm
Address given privately • Alsea, Oregon

ORGANIZER: Send Oregon Gal a kosmail to attend.

RSVPs:
1. Oregon Gal
2. Sara R
3. winglion
4. Horace Boothroyd III
5. Blue Jessamine
6. loggersbrat
7. 6412093
8. exlrrp
9. Wise Ferret

Maybees:
Cedwyn
Kit RMP
Lilyspad


Latest diary: Oregon Kossacks: FARM DAY! (with baby goats)




Saturday, September 28th

Indianapolis Kossacks First Ever Meet-up

TIME: 2:00 PM
LOCATION: Shapiro's Deli
808 S Meridian • Downtown Indianapolis

ORGANIZER: Send CityLightsLover a kosmail to attend.

RSVPs:
1. CityLightsLover
2. annan
3. Mokuar
4. Alexandra Lynch
5. dylanfan
6. zenbassoon
7. Hawksana

Maybees:

Latest diary: [Waiting for linked diary]

Saturday, October 19th

DKos Asheville Kossacks Meet-up

TIME: 1:00 PM
LOCATION: The Bywater
796 Riverside Dr. • Asheville

ORGANIZER: Send randallt a kosmail to attend.

RSVPs:
1. randallt
2. davehouck
3. Joieau
4. Gordon20024
5. gulfgal98
6. DawnN
7. Sandy on Signal
8. Mr Sandy on Signal
9. Munchkin
10. Alecia
11. Mr Alecia
12. cultjake
13. flwrightman
14. Otteray Scribe
15. Burns Lass

Maybees:
people power granny
One Pissed Off Liberal
Christian Dem in NC
SteelerGrrl
SteelerGuy
polecat
Audri
Phil S 33
emmasnacker
bobwilk
Elaine


Latest diary: DKos Asheville - Weekly Open Thread




Sunday, October 20th

MEGA Philly/NJ/NYC Kossacks Meet-up!

TIME: Noon
LOCATION: Stuff Yer Face
49 Easton Avenue • New Brunswick, NJ

ORGANIZER: Send mconvente a kosmail to attend.

RSVPs:
1. mconvente
2. belinda ridgewood
3. thankgodforairamerica
4. gchaucer2
5. sidnora
6. rubyr
7. mattc129
8. hayden
9. mallyroyal
10. Avilyn
11. blue jersey mom
12. ericlewis0

Maybees:
aravir and son
ask
Cinnamon
No Exit
andgarden
asterkitty
pfiore8
joanneleon
renzo capetti


Latest diary: Philly/NJ/NYC Mega Meetup! Initial Information & Interest Diary




Friday, October 25th

LAKossacks & SoCal Inland Empire See Lewis Black!

TIME: 9:00 PM
LOCATION: Agua Caliente Casino Resort & Spa
32-250 Bob Hope Dr. • Rancho Mirage

ORGANIZER: Send 714day a kosmail to attend.

RSVPs:
1. 714day
2. jakedog42
3. susans
4. Otoelbc

Maybees:
Shockwave
SoCaliana


Latest diary: L.A. Kossacks, Lewis Black Fans in So Cal

Friday, October 25th

Meet the Daily Kos Editorial Staff!

TIME: 6:00 PM
LOCATION: Daily Kos HQ
Address given privately to RSVP'ers • Berkeley

ORGANIZER: Send navajo a kosmail to attend.
You will need to bring Potluck.

HQ will be providing the main course like before. Please sign up for a beverages or side dishes below.

- POTLUCK SIGNUP BELOW -

Beverages:
16 six-packs of beer [3 down, 13 to go]
20 bottles of wine [5 down, 15 to go]
4 packs Bottles of water
4 packs Soft Drinks
I'll be bringing my large ice chest with ice, as before.

Appetizers:
Anything goes here. Whatcha' got? [3 down]

Side Dishes:
6 green salads needed, each to feed 10 [4 down, 2 to go]

Desserts:
6 desserts, a dozen hand-held desserts each [4 down, 2 to go]

RSVPs:
1. Markos
Editorial Staff:
2. Susan Gardner
3. Meteor Blades
4. Joan McCarter
5. Hunter
Staff:
6. Faith Gardner
7. Will Rockafellow
8. Jen Hayden
Activism Team:
9. Paul Hogarth
10. Chris Bowers
11. Rachel Colyer
12. Michael Langenmayr
SFKossacks:
13. navajo
14. Lusty + dessert
15. side pocket + two 6pks beer + 2 wines + stuffed mushrooms appetizer
16. paradise50
17. smileycreek
18. citisven + beer + beet dip
19. norm + pumpkin bars
20. Lorikeet + big bowl of fruit
21. kimoconnor + appetizer
22. remembrance and TLO? + 1 wine
23. Glen the Plumber + Pasta Mystery Dish
24. madhaus
25. dharmasyd + brownies
26. ceebee7 + green salad
27. lineatus
28. Dave in Northridge + 2 bottles of wine
29. linkage
30. LinSea + bottled water
31. Shockwave
32. Eyesbright
33. catilinus
34. FogCityJohn
35. justiceputnam + grilled balsamic veggies
36. zmom
37. exlrrp +souvenirs ;) !
38. shanikka + salad
39. DAH
40. BroadBlogs
41. jpmassar + dessert

Maybees:
Cedwyn
LaughingPlanet



Saturday, October 26th

New England Kossacks Meet-up

TIME: 10:30 AM
LOCATION: Silly's
40 Washington Avenue • Portland, ME

ORGANIZER: Send nhox42 a kosmail to attend.

RSVPs:
1. nhox42
2.
3.

Maybees:

Latest diary: C+J Kossack Fall Meetup

Saturday, November 2nd

SFKossacks BBQ in the Wine Country

TIME: TBD
LOCATION: Andrew McGuire's home in the Wine Country
Address to be given privately to RSVPs • Windsor

ORGANIZER: Send navajo a kosmail to attend.


Andrew McGuire is Executive Director of California One Care

RSVPs:
1. Andrew McGuire
2. navajo
3. Shockwave
4. Hunter
5. elfing
6. Hunter/elfling offspring
7. smileycreek
8. paradise50
9. dharmasyd
10. maggiejean
11. norm
12. Lusty
13. dksbook
14. Mr. dksbook

15. kimoconnor
16. jpmassar
17. side pocket
18. Mrs. side pocket
19. ceebee7
20. ceebee7's sister
21. leema (will carpool from Marin)
22. Meteor Blades

Maybees:
Glen The Plumber
remembrance
TLO™

Send navajo a kosmail if you post a diary about an event so we can update our round-up.

Okay. Floor's open.
Tell us what you are doing on this NEW DAY?