I post a weekly diary of historical notes, arts & science items, foreign news (often receiving little notice in the US) and whimsical pieces from the outside world that I often feature in "Cheers & Jeers". For example .....
By Request SEPARATED at BIRTH from legendmn - the pop singer Morrissey (formerly of "The Smiths") as well as the Academy Award-winning screenwriter and director Quentin Tarantino - whaddya think?
OK, you've been warned - here is this week's tomfoolery material that I posted.
ART NOTES - works by Gustave Courbet in an exhibit entitled Mapping Realism are at the McMullen Museum of Art at Boston College through December 8th.
BRAIN TEASER - try this Quiz of the Week's News from the BBC.
SATURDAY's CHILD is Marcus the Cat - a Pennsylvania kitteh who went missing two months ago ... and then made a couple's 67th wedding anniversary complete ... by simply returning home one day.
THE OTHER NIGHT yours truly hosted the Top Comments diary with a look at the On-Ramp to Glory Road - three college basketball teams of the 50's-60's that integrated the game (under duress) and the segregationist governor who was determined to thwart history.
DURING MY RECENT MOVE .... I found this twenty year-old photo (from the parking lot of a driving range/mini-golf place in New Hampshire). Sure hope they got this sign painted for free ..... say, if this sign appeared in 'The Little Rascals' ... the S in 'capasity' would have been backwards. ...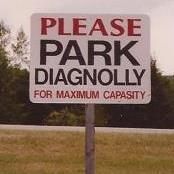 BUSINESS NOTES - South African grocery chains - due to sluggish growth at home - are expanding northward in selected markets elsewhere in Africa.
FRIDAY's CHILD is Poppy the Cat - an English kitteh who went missing ... then sneaked onto a ship bound for a North Sea oil rig ... but was located and sent home (after two weeks) due to her microchip.
WHILE I DISAGREE with libertarian economist Tyler Cowen on how to counter-act it: his new book (predicting a downturn for the middle class) doesn't claim that more tax cuts and less regulation will stop it - which is the cruel hoax that Paul Ryan and Co. have sold to low-information voters.
GRANDFATHER-GRANDSON? - "Three Stooges" star Moe Howard and Germany's World Cup team manager Joachim Löw.
...... and for a song of the week ......................................................... the world of R&B had many female performers of the 1950's-60's whose early star faded, and who left to either raise a family or take an office job (or both) until the time was right for a comeback. But in the case of the singer Bettye Lavette - well, since she never really left music ... it's awkward to refer to a 'comeback'.
And yet, her rise in popularity this decade after toiling on the club circuit for many years is a sight to behold - particularly since her versatility (and knack for creative cover versions) makes it difficult for her to settle into a niche that might lead to commercial success.
The Muskegon, Michigan native grew up in Detroit and recorded her first songs at age 16, "My Man - He's a Lovin' Man" that made the Top Ten on the R&B charts .. which proved to be her highest-ranked single. But at the time it spawned a tour with stars such as Clyde McPhatter, Ben E. King and a (then) unknown Otis Redding - and later a short stint in the James Brown Revue. Her other early hit of the era was "Let Me Down Easy", later a hit for the Isley Brothers.
After then recording for several Detroit-area labels, she moved to Atlantic in the early 1970's. Like Dusty Springfield, she was brought to Alabama's famed Muscle Shoals studio to record.
Yet her album Child of the Seventies - as well as a major tour - were both cancelled without an explanation. It took thirty years for the album to be released on Rhino .... and one wonders what her career might have been, otherwise. Frustrated, she spent some time in the mid-70's in the touring cast of Bubbling Brown Sugar from Broadway, and then plied the disco circuit ("Doin' The Best That I Can") in the late 70's.
The 1980's saw the release of a new album Tell Me a Lie as reviewer Thom Jurek noted was "out of its time ...soul in the 1980s had been following the paths of disco and neo-funk" - the story of her life back then, one surmises. And over the course of the next twenty years she plied her trade in the small clubs over the years both here (and fortuitously in Europe).
It was not until this past decade that fortune smiled upon her. Just as French producer Jean-Philippe Allard championed the return of vocalist Abbey Lincoln to stardom: it was Frenchman Gilles Pétard who listened to Bettye's demo copy of "Child of the Seventies" and realized what a buried treasure it was.
He asked Atlantic Records if he could license it in Europe and searched for it himself (as Atlantic (incorrectly) believed it had burned in a legendary 1978 warehouse fire in New Jersey). But Pétard located it and had a hit 2000 release with it in Europe ... as did a German release of a live album in 2003 ... which garnered a W.C. Handy Comeback Award in 2004. Suddenly, she was in the public eye.
This led to new recordings of A Woman like Me and 2005's I've Got My Own Hell to Raise that - while not making her a household name - made many critics' "Best Of" lists. This led to her back catalog being released on Rounder, with many wondering "Why has this been kept under wraps"? for so long.
Her 2007 recording, aptly named The Scene of the Crime saw her returning to Muscle Shoals, where her career derailed decades earlier ........ but backed by the Drive-By Truckers it was nominated for a Grammy in Best Contemporary Blues. She has continued non-stop ever since; appearing on Garrison Keillor's Prairie Home Companion from Detroit in 2010, appearing with Ringo Starr and Paul McCartney at a 2009 David Lynch Foundation benefit concert in New York and sang alongside Jon Bon Jovi at the Obama pre-inauguration ceremonies at the National Mall.
She had a 2010 British Rock Songbook recording with tunes by the Beatles, Rolling Stones, Led Zeppelin and Pink Floyd among others. And her most recent album, 2012's Thankful N' Thoughtful featured songs by Bob Dylan, Neil Young, and the title track by Sly Stone.
Bettye Lavette is the winner of a Rhythm & Blues Foundation Pioneer Award for 2006 and her 2012 autobiography A Woman Like Me tells her life story in a no-holds-barred fashion.
Her upcoming tour dates begin in early October, beginning at the Hardly Strictly Bluegrass Festival in San Francisco. What does that tell you? As always, her interpretations of classic songs are recognizable yet unorthodox ...... the difference now: she's found an audience for it.
Easily her most notable performance the past few years was at the 2008 Kennedy Center Honors program. Among the honorees were the two surviving members of The Who (Pete Townshend and Roger Daltrey) with contemporary artists performing tributes.
The Foo Fighters' Dave Grohl described his first encounter with Bettye's rendition of the song to Air America's Richard Greene:

"We showed up for rehearsal, and one of the performers was rehearsing the song for the Who segment. It was a woman named Bettye LaVette… She is gonna steal the show. She was so phenomenal, this performance of The Who song that she did. It will bring you to tears. The room was pin-drop silent when she did this song, and it was just unbelievable."
She performed the final track from The Who's 1973
Quadrophenia
album. And after she sang
Love Reign O'er Me
, Pete Townshend later wrote on his blog, "
My favorite moment was when Bettye LaVette sang a very fine version of 'Love Reign O'er Me' at the Gala and Barbra Streisand turned to ask me if I really wrote it."
And at this link you can listen ..... and understand why Barbra Streisand asked the question.
Only love can make it rain
The way the beach is kissed by the sea
Only love can make it rain
Like the sweat of lovers
Laying in the fields.

On the dry and dusty road
The nights we spend apart alone
I need to get back home to cool, cool rain
I can't sleep and I lay and I think
The night is hot and black as ink
Oh God, I need a drink of cool, cool rain

Love reign o'er me
Love reign o'er me
rain on me