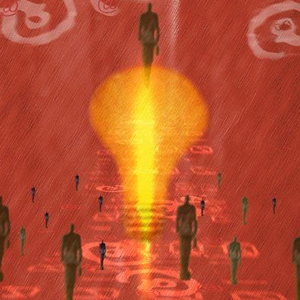 Commentary: African American Scientists and Inventors
by Black Kos Editor, Sephius1


When you plug your printer, keyboard or monitor into your PC, the majority of the time you'll find, happily, that it simply works, no matter what brand your peripherals are or how long ago you purchased them.
This is largely because of the developments of inventors Mark E. Dean and Dennis L. Moeller, who developed the internal architecture of what's know as the ISA (Industry Standard Architecture) systems bus at IBM in the early 1980s.
(con't.)
Mark Dean was born on March 2, 1957, in Jefferson City, Tenn. He earned a B.S. in electrical engineering at the University of Tennessee in 1979, followed by a master's degree in electrical engineering from Florida Atlantic University in 1982. He later went on to earn a Ph.D. in electrical engineering from Stanford University, in 1992. He began working for IBM in 1980.
Dennis L. Moeller was born on April 28, 1950, in St. Louis, Mo. He received B.S. and M.S. degrees in electrical engineering from the University of Missouri. In 1974, he joined IBM's semiconductor manufacturing team, and later moved onto IBM's Series 1 mini-computer printer project.
The pair began working together on a team tasked with building a microcomputer system with bus connectivity for peripheral processing devices for IBM computers and compatible PCs. A bus is a device that connects a computer's central processing unit with devices such as keyboards, mice, monitors, printers and the like. A bus allows the devices to communicate with one another, making it possible for devices to work together efficiently and at high speeds.
Dean and Moeller made architectural improvements within the PC and the bus that laid the foundation for explosive growth in the computing industry. Their invention, for which they received U.S. Patent No. 4,528,626 in 1985, made it possible for users to connect computers to peripherals by simply plugging them in.
IBM first brought the concept to market in 1984 with its PC/AT computer. An augmented version of the ISA bus remains standard within most PCs to this day. Dean and Moeller were inducted into the National Inventors Hall of Fame for their invention in 1997.....Read More


~~~~~~~~~~~~~~~~~~~~~~~~~~~~~~~~~~~~~~~~~~~~~~~~~~~
News by dopper0189, Black Kos Managing Editor
~~~~~~~~~~~~~~~~~~~~~~~~~~~~~~~~~~~~~~~~~~~~~~~~~~~

~~~~~~~~~~~~~~~~~~~~~~~~~~~~~~~~~~~~~~~~~~~~~~~~~~~
Residents of one of the few remaining Gullah-Geechee communities on the Southeast coast opened new appeals Monday against soaring property values that brought them big tax hikes, fearful they could be forced off lands their families have owned since their ancestors were freed from slavery. Daily Mail: 'They'll be forced off': Georgia's island community of slave descendents fight tax hikes of up to SIX HUNDRED per cent.
~~~~~~~~~~~~~~~~~~~~~~~~~~~~~~~~~~~~~~~~~~~~~~~~~~~
A tiny community descended from slaves on Georgia's Sapelo Island is again fighting local officials over property assessments that resulted in huge tax increases. Residents and landowners of the small Hog Hammock community say they could be taxed out of their homes and forced to sell their family land.
They waged a second round of appeals Monday with the McIntosh County Board of Equalization, which in January ordered assessors to recalculate land values on the island. Appraisals remained well above values from two years ago.
County officials argue that property tax values have been kept artificially low in the past, and they are just trying to create a tax that reflects how much the land is worth.
But residents say they aren't getting the same government services to reflect that tax hike. The island hasn't had a school since 1978 and residents must bring their own trash to the dump instead of having a collection service.
Julius and Cornelia Bailey saw the acre property on which they have their home, a convenience store and an inn jump from $220,285 in 2011 to $327,063. For some, it's a 500 or 600 per cent increase. Appraisers in Georgia's McIntosh County held firm on the new value after being ordered to take a second look in January by local authorities. The Baileys and more than 40 of their neighbors appealed anew Monday after seeing little relief from the new appraisals.
Roots: Most of the island's 50 or so residents are direct descendents of the over 385 slaves who worked on the rice plantation of Thomas Spalding in the 1850s.
~~~~~~~~~~~~~~~~~~~~~~~~~~~~~~~~~~~~~~~~~~~~~~~~~~~


~~~~~~~~~~~~~~~~~~~~~~~~~~~~~~~~~~~~~~~~~~~~~~~~~~~
Urging Obama to focus on urban gun violence. BlackAmericaWeb: Why Black America Needs Obama's Voice on Gun Violence.
~~~~~~~~~~~~~~~~~~~~~~~~~~~~~~~~~~~~~~~~~~~~~~~~~~~
President Barack Obama is using his White House bully pulpit to speak out against gun violence in America -- particularly in black neighborhoods where more young black men are gunning down each other in the time it takes to blink.
As the black body count continues to rise in cities like Chicago, Detroit and St. Louis, Obama is correctly using his second term in office to confront a crisis in the black community where black gang members show absolutely no remorse after pulling a trigger and taking a life.
The black community needs the president's voice -- and leadership.
"We can't rest until all our children can go to school or walk down the street free from the fear they'll be struck down by a bullet," Obama said Saturday night during the Congressional Black Caucus Foundation's Phoenix Awards Dinner in Washington, D.C.
Earlier this year, in the president's State of the Union address, Obama [...] shined a bright light on urban gun violence in America which has been neglected by Capitol Hill legislators for decades. Much of mainstream society has ignored crime in inner cities, and, let's be honest, some black folks generally don't like to discuss the root causes of gun violence in urban America.


President Barack Obama (Win McNamee/Getty Images)
~~~~~~~~~~~~~~~~~~~~~~~~~~~~~~~~~~~~~~~~~~~~~~~~~~~
'The Rejected Stone' book excerpt. NewsOne: Al Sharpton says Shirley Chisholm faced misogyny from the Civil Rights movement.
~~~~~~~~~~~~~~~~~~~~~~~~~~~~~~~~~~~~~~~~~~~~~~~~~~~
I don't think we've had an honest discussion about misogyny in the black community. I don't think we've talked about the latent feelings of hostility many black men have toward black women, a misguided sentiment that black women somehow have taken part in society's emasculation of black men. Maybe at some point back in our history, black women were used to emasculate us, but if so, they were being used against their will. They can't keep paying for that. And black male insecurity cannot continue to be the justification for asking black women to step back and let some insecure boys play out their manhood issues.
It all brings to mind the battles I had when I was eighteen and was made the youth director of Shirley Chisholm's presidential campaign in 1972. It was the first year that I would be eligible to vote, and I was so excited about the whole campaign and my role in it. Chisholm had been the first African-American woman elected to Congress in 1968, representing the twelfth congressional district in Brooklyn. Chisholm was fierce, brilliant, and courageous. I was proud to be in charge of organizing young people in support of her presidential campaign. But that sentiment wasn't shared among the black leadership. Chisholm said that during her legislative career, she faced much more discrimination because she was a woman than because she was black. I can definitely attest to that, because I saw it with my own eyes.
I attended the unprecedented gathering of black leaders and activists that happened that year in Gary, Indiana, and I was shocked that they would not endorse Chisholm. Jesse Jackson and the others were going with George McGovern. I think a lot of their problem with her was because they felt, Shirley's into that feminism. But my response was, Well, wait a minute, Shirley's a black candidate with our agenda, in addition to a feminist agenda. Why can't we support her? Shirley lived in Brooklyn, and I knew her very well. I saw the hurt and pain she went through having to fight black men. Shirley was more gifted and courageous than most of her contemporaries, but because she was a woman, she was denied a loftier status.


Shirley Chisholm
~~~~~~~~~~~~~~~~~~~~~~~~~~~~~~~~~~~~~~~~~~~~~~~~~~~


~~~~~~~~~~~~~~~~~~~~~~~~~~~~~~~~~~~~~~~~~~~~~~~~~~~
Continued good news on the African economic front. BusinessWeek: Africa: Go Early, Stay Long.
~~~~~~~~~~~~~~~~~~~~~~~~~~~~~~~~~~~~~~~~~~~~~~~~~~~
It's the most populous landlocked country in the world, with a population of more than 91 million. But its economy, with a nominal GDP of about $41 billion, is not much larger than Wyoming's (population around 577,000). The Pan African Chamber of Commerce and Industry is headquartered in its capital, as is the African Union and the United Nations Economic Commission for Africa.
The largest hydroelectric power plant in Africa is under construction there, signaling that boom times lie ahead. And in some minds the boom times already are here. According to the International Monetary Fund, the economy averaged 10% annual growth from 2004 through 2009, slowing to 8% in 2010, 7.5% in 2011, and 7% in 2012. Some place the figures higher.
One of the reasons for the recent slowdown is diversity: There isn't much. The economy is dominated by agriculture, which accounts for about 40% of GDP, 80% of exports, and eight of every 10 jobs.
The country is Ethiopia: one of the poorest in the world. Like most of the countries in Africa, however, we need to look at Ethiopia in terms of its potential, rather than its accomplishments. And there the story gets brighter. Known as the "water tower" of eastern Africa, Ethiopia is home to 14 major rivers, including the Blue Nile. It has the greatest water reserves on the continent. And its leading cash crops, including corn and coffee, always seem to be in demand.


Photograph by Elias Asmare/AP Photo
Construction work at the site of the planned Grand Ethiopian Renaissance Dam near Assosa, Ethiopia.
~~~~~~~~~~~~~~~~~~~~~~~~~~~~~~~~~~~~~~~~~~~~~~~~~~~~~~
Member of black women's step team says 'ugly' faces were forced. The Grio: Rick Owens Paris Fashion Week angry models.
~~~~~~~~~~~~~~~~~~~~~~~~~~~~~~~~~~~~~~~~~~~~~~~~~~~~~~
When Rick Owens held his Paris Fashion Week show featuring "angry models," most of whom were black, he was hailed as a genius by many for his Spring 2014 runway presentation. But some saw the menacing scowls on the black women who modeled his collection as a stereotyping affront to African-Americans, and a weak attempt at fashion diversity. Now, one of the black women who danced in Owens' industrial chic-meets-athletic garb showcase is speaking out. And she says the "angry" faces were forced on them.
"It was a struggle, certainly," show performer Arin Lawrence explained to Buzzfeed. "We were all told, you have to make these faces. To be honest, it was one of the most frustrating things because as step teams, we just don't make 'grit faces,'" as they are called within the step dance community. "It's not that we're skipping around wide-eyed and smiling, because there's a serious element to stepping. It's not meant to be giddy, and not to be taken as a joke. But, again, we're not angry and we're not trying to scare people in the audience or anything like that, so constant and consistent pressure to make weird faces was tough."


Rick Owens Spring 2014 Womenswear Paris
Note: YouTube wouldn't embed for some reason, so here is the link -->
Rick Owens Spring 2014 Womenswear Paris
~~~~~~~~~~~~~~~~~~~~~~~~~~~~~~~~~~~~~~~~~~~~~~~~~~~~
Jamaica's first openly LGBT superstar popularity continues to grow, as he drew 14,000 people to a recent performance in Jamaica. Elite Jamaica: Shebada Bashes Dancehall Artiste, Speaks About Sexuality And Homophobia.
~~~~~~~~~~~~~~~~~~~~~~~~~~~~~~~~~~~~~~~~~~~~~~~~~~~~
Shebada talks about his career and how he got to were he is now. He also went on to talk about his sexuality and some dancehall artistes.


Note: The videos wouldn't embed for some reason, so here are the direct links -->
Shebada interview part 1
and
Shebada interview part 2
~~~~~~~~~~~~~~~~~~~~~~~~~~~~~~~~~~~~~~~~~~~~~~~~~~~~~
The historically tumultuous relationship between Haiti and the Dominican Republic (two nations that share the same island) continues. Jamaican Observer: UN urges Dominican Republic to ensure citizens of Haitian origin do not lose nationality.
~~~~~~~~~~~~~~~~~~~~~~~~~~~~~~~~~~~~~~~~~~~~~~~~~~~~~
The United Nations human rights office has urged the Dominican Republic to take all necessary measures to ensure that citizens of Haitian origin are not deprived of their right to nationality in light of a recent court ruling. Last week the country's Constitutional Court ruled that the children of undocumented migrants who have been in the Dominican Republic and registered as Dominicans as far back as 1929, cannot have Dominican Republic nationality as their parents are considered to be "in transit".
"We are extremely concerned that a ruling of the Dominican Republic Constitutional Court may deprive tens of thousands of people of nationality, virtually all of them of Haitian descent, and have a very negative impact on their other rights," said Ravina Shamdasani, the spokesperson for the United Nations Office of the High Commissioner for Human Rights (OCHR).
She said the decision could have "disastrous" implications for people of Haitian descent in the Dominican Republic, leaving them in a state of constitutional limbo and without access to basic services for which identity documents are required.
Until 2010, the UN said the Dominican Republic had followed the principle of automatically bestowing citizenship to anyone born on its soil. But in 2010, it said a new constitution stated that citizenship would be granted only to those born on Dominican Republic soil to at least one parent of Dominican blood or whose foreign parents are legal residents.
The decision, which cannot be appealed, gives the Central Electoral Board one year to elaborate a list of people to be excluded from citizenship, and it outlines a number of steps leading to the elaboration of a regularization plan for undocumented migrants, OHCHR said.


~~~~~~~~~~~~~~~~~~~~~~~~~~~~~~~~~~~~~~~~~~~~~~~~~~~~~~~~~~
Welcome to the Black Kos Community Front Porch!
Pull up a chair and sit down a while and enjoy the autumn air.