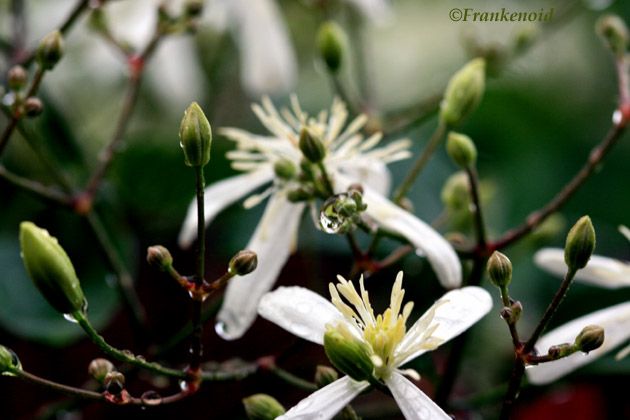 Good morning, and Winter is coming. Welcome to Saturday Morning Garden Blogging.
Yesterday was cloudy, with light sprinkles of rain on and off, with the daytime high only 47°.
And warm-weather gardening is over in my little spot of heaven: last night we skipped the "frost warning" phase and, with an overnight low of 27°, went straight to freezing — what little remained of the frost-tender cucurbits and tomatoes were wiped out.
Good. It was a painful year.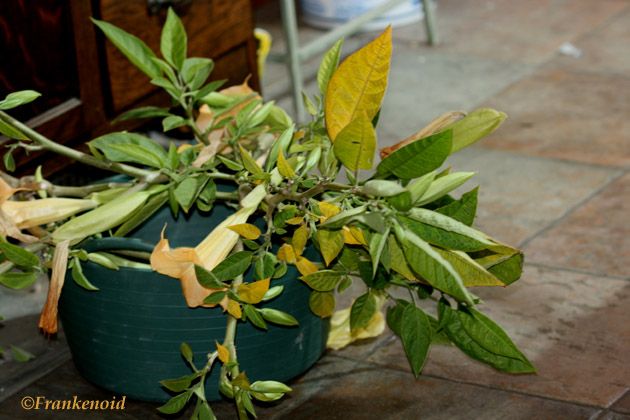 In preparation for the first freeze, on Thursday I gave the patch of lawn it's last mowing of the season; pulled out the giant nicotiana sylvestris; picked the tomatoes, cucumbers, squash and eggplants; and bagged up the powdery-mildewed killed melon vines.
Yesterday, with the assistance of Da Boys, the brugmansia were shoved into the cold storage space in the basement — after brutal pruning to get the plants short enough to fit.
And then I put as many clippings as I have room for into water to root — by December I should have at least a few plants to pot up. I also need to get clippings from the geraniums to root.
All part of planning for next year — let's see, just a couple of months before the first seed catalogues arrive.
That's what's happening here. What's going on in your gardens?