I post a weekly diary of historical notes, arts & science items, foreign news (often receiving little notice in the US) and whimsical pieces from the outside world that I often feature in "Cheers & Jeers". For example .....
SEPARATED at BIRTH - the guy from the Go Daddy Super Bowl commercial and Corner Guy - an aide-de-camp to .... your-friend-and-mine.
OK, you've been warned - here is this week's tomfoolery material that I posted.
ART NOTES - the first exhibition in the United States of works by Basque painter Carmelo Ortiz de Elgea is at the Nevada Museum of Art in Reno to January 5th.
NEXT WEEK - if you receive a phone call from a Professor Staffan Normark, take the call .... for he will be telling you (in his Swedish accent) that you have won a Nobel Prize ... in either physics or chemistry.
THURSDAY's CHILD can be found at the Café des Chats - France's first cat café - home to a dozen felines in the heart of the capital's Marais district.
BRAIN TEASER - try this Quiz of the Week's News from the BBC.
OF NOTE - Portugal is the latest of several European countries to start selling visas to foreign investors: with the right to live and travel within the European Union. (A passport often follows a few years later).
FRIDAY's CHILD is Ernie the Cat - who works at the Bealton Library in Virginia.
CONGRATULATIONS to the author Philip Roth - who has been awarded the Legion d'Honneur (Legion of Honor), France's highest decoration.
I WILL BE ON THE ROAD for much of today (to attend a wake of a somewhat distant family relative) and thus won't be available to respond to comments until much later. Will catch up this evening.
OLDER-YOUNGER SISTERS? - model Christy Turlington and TV star Jessica Biel.
......and finally, for a song of the week ............... while I had other bands that were my favorite in my youth: certainly The Doors were part of the soundtrack of that era. Even with them, however, I was something of a contrarian: having less interest in the hit singles (save Light My Fire, of which I wrote about recently) and some of the more epic-length tunes.
And one major exception I took was to The Soft Parade - the band's fourth album. Many fans besides myself liked it, of course, though not without exceptions. There is even a Doors tribute band that adopted the name "Soft Parade".
However, the critics were fairly united: with reviews ranging from average-to-poor. These included Slant Magazine, All Music's Richie Unterberger as well as Robert Christgau and Rolling Stone as well.
One reason in particular was the album's use of both string sections and horns - which in 1969 was often seen as selling-out. The band's two follow-up efforts (Morrison Hotel and L.A. Woman after that) garnered much more critical praise.
Yet I always had an attraction to the Soft Parade: partly (as already noted) due to the contrarian nature of my youth ... but also because I admired the sophistication of the album. It had one hit single Touch Me - which reached #3 in the US charts, but had some more unusual tunes, as well.
One of them was Runnin' Blue - a tribute to Otis Redding, who died in a plane crash in December, 1967 (The Doors were scheduled to play with Redding three weeks later) that featured guitarist (and the song's composer) Robby Krieger singing the chorus. He also wrote Tell all the People while Jim Morrison contributed more common Doors material such as Shaman's Blues and Wild Child - which was the "B" side of the "Touch Me" single. Jim also contributed the album's title track - another epic-length song that wasn't among my favorites, though it has held up better (on a re-listen) than I gave the tune credit for.
Over the years, I hadn't listened much to the album, but six years ago I had a pleasant surprise: a favorable review of it by a music critic. Dan Ouellette is a freelance music reviewer, who has written for Billboard, Stereophile, the New Yorker, San Francisco Chronicle and other publications. He specializes in jazz - and has a project featuring tribute interviews to retired record executive Bruce Lundavall (a former president of both Columbia as well as Blue Note Records) - but Dan has long written about other types of music.
He has long been a contributor at Downbeat magazine, which has album reviews not only in the Jazz category ... but also Blues, Historical, Re-Issues and the "Beyond" category - where reviews of pertinent rock, folk, soul and other music can be found.
In reviewing the 40th anniversary remixes of the six Doors album - forty years after the band's debut - Dan Ouellette (photo right, below) gave this album Downbeat's highest award (5 stars) along with their debut album. He felt it was "the apex" of the band's creativity, along with some other laudatory praise (which, alas, is not posted online) and these reviews formed the entire "Beyond" reviews for that particular month's issue.
I e-mailed him to thank him for this nearly unique review (and received a prompt and courteous reply). I did tell him his line about "every song's a gem" was overdone (as "Do It" and "Easy Ride" sounded pedestrian) which he nonetheless defended. Still, I appended a line to the Wikipedia review citing him by name along with his review ... and it remains there to this day.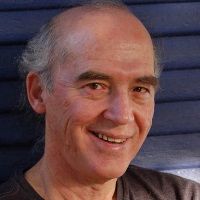 Of all of the songs on the album, easily my favorite is Robby Krieger's
Wishful Sinful
- which the New Age musician
George Winston
has a nice solo piano version of. And
below
you can hear the original Doors version.
Wishful crystal
Water covers everything in blue
Cooling water
Wishful sinful
Our love is beautiful to see
I know where I would like to be
Right back where I came

Magic rising
Sun is shining deep beneath the sea
But not enough for you and me and sunshine
Love to hear the wind cry

Wishful sinful
Our love is beautiful to see
I know where I would like to be
Right back where I came

Wishful, sinful, wicked blue
Water covers you
Wishful, sinful, wicked you
Can't escape the blues