I Got The News Today (IGTNT) is one of the oldest continuous series on Daily Kos. It is a way for our community to pay respect to those who have died as a result of war.
The beautiful logo was created by Timroff
Tonight we mourn the loss of yet another young man who was serving our country overseas.
Specialist Angel L. Lopez
was from Ohio and has family there and in Kentucky. He was a son, a brother, a husband, and a dad to two young children.
Specialist Angel L. Lopez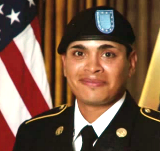 Angel L. Lopez was from Parma, Ohio. He was the oldest of nine children from the blended family of his widowed mother, Veronica, and his stepfather, Santos Pacheco. Lopez was a graduate of John Marshall High School in Cleveland, Ohio.

Lopez had enlisted in the Army two years ago. He was assigned to the 201st Brigade Support Battalion, 3rd Infantry Brigade Combat Team, 1st Infantry Division at Fort Knox in Kentucky.

He was based in Kentucky and that is where his wife, Maria, lives with their two children, 6-year-old Lydia and 15-month-old Antonio.

While serving in the Zabal province of Afghanistan, Lopez worked as a wheeled-vehicle mechanic. This was his first deployment. He had recently been promoted, and was scheduled to return home, in just 30 days.

Lopez talked recently with one of his siblings, who had been in Afghanistan. According to Cleveland's Fox 8 News channel:
"The last thing we talked about, he said he went on a mission and he got blown up. And he couldn't sleep at night. And it was easy for me to relate because it's happened to me multiple times. And I told him, 'Hey, I'm home; you're coming home," said Jose Lopez, brother.

That was the last time the family of 27-year-old Army Specialist Angel Lopez, of Cleveland, would hear from him.
Specialist Angel L. Lopez was injured in an attack on his unit by enemy forces on October 5th. He died in the Zabul province of Afghanistan from wounds he suffered from small arms fire. He was 27 years old.
A story at the
KPBS.org
website shows a video about Specialist Lopez and says:
Lopez's aunt, Maomi DeJesus, told the Cleveland Plain Dealer that the family is reeling from the loss.

"We hope he did not suffer. We hope he was not alone...

"He was a great kid. He loved his family. He'd never been in trouble.If you didn't have a chance to know him, you missed out. He was an amazing person."
Awards and decorations earned by Specialist Angel Lopez included the Afghanistan Campaign Medal with Combat Star, National Defense Service Medal, Global War on Terrorism Service Medal, Army Commendation Medal, NATO medal and the Army Service Ribbon.
An article in Cleveland's
The Plain Dealer
quotes Maomi DeJesus, the aunt of the fallen soldier. She also relates how the officers, who were to inform the family of its loss, drove all the way from Kentucky to Ohio:
Officers from Fort Knox drove to Cleveland to notify his family of the soldier's death. They will escort the family to Burke Lakefront Airport to meet his body early next week, his mother said. Services have not been scheduled.

Because of the government shutdown, Lopez's last paycheck was not released to his wife, the family said. News reports today said a private foundation was stepping in to cover death benefits until the shutdown ends.

"This is how awesome Cleveland is -- the funeral home said 'don't worry, they will wait until they're paid by the government,'" DeJesus said. "But his family shouldn't have to worry. He did what he was supposed to do -- now the government is supposed to do what they promised."
Lopez leaves behind his wife, Maria, and their two children: Lydia and Antonio. Also surviving him are his mother, stepfather, and eight siblings.
His family is hosting a candlelight vigil in honor of Specialist Angel L. Lopez at 7:30 pm on Monday night in Brooklyn. A memorial service was held on Tuesday in Afghanistan.
Specialist Lopez is the first soldier from the "Duke" brigade to be killed during this current deployment that began in phases starting last April. Fort Knox is planning a Duke remembrance ceremony to honor Lopez in the near future.
**********************
Helping our troops:
If you wish to assist our military and their families, consider contributing to Fisher House. Donating to Netroots for the Troops provides care packages that make a real difference in a military person's life. To assist the animal companions of our deployed military, information is available here. Also, you could visit:

When our veterans come back home, they need jobs. Look at the programs of Hire Heroes USA and Welcome Back Veterans to see if you can help out.
About the IGTNT series:
"I Got the News Today" is a diary series intended to honor, respect, and remember the fallen, and to remind us that each casualty has family and friends who received the terrible news that their loved one has died. US service members whose names have been released by the US Department of Defense will usually be diarized two days after the official announcement on the DoD website. This allows the IGTNT team to cover each person more fully, but still in a timely manner. Click the IGTNT tags below to see previous diaries in the series, which was begun by i dunno, and is maintained by i dunno, Sandy on Signal, Monkeybiz, Noweasels, Blue Jersey Mom, Chacounne, twilight falling, SisTwo, Spam Nunn, True Blue Majority, CalNM, Wide Awake in Kentucky, maggiejean, Jax Dem, The Fat Lady Sings, Ekaterin, & Joy of Fishes. These diaries are heartbreaking to write, but show our community's respect for those who have died.
Please bear in mind that these diaries are read by friends and family of the service members mentioned here. May all of our remembrances be full of compassion rather than politics.