The November
Harper's Index
is now available. Some excerpts:
• Minimum percentage of federal criminal defendants who qualify for court-appointed counsel: 80

• Minimum number of furlough days federal public defenders have taken since March as a result of sequestration cuts: 12,500

• Estimated percentage by which the cost to the government rises when private attorneys must be appointed: 28.6

• Percentage of long-term-unemployed Americans not receiving any federal unemployment benefits: 64

• Estimated portion of homes in Gary, Indiana, that are abandoned and unoccupied: 1/3

• Number of these homes the city has been able to sell to qualified buyers for one dollar: 12

• Percentage of public-school teachers who spent their own money on school supplies during the past academic year: 99.5

• Average amount they spent: $485
---
Blast from the Past. At Daily Kos on this date in 2004—And Wisconsin:
It never ends.

Milwaukee County Executive Scott Walker, citing vote-fraud concerns, is publicly balking at a City of Milwaukee request for almost 260,000 additional ballots in anticipation of high turnout for the Nov. 2 presidential election.

Mayor Tom Barrett blasted Walker's stance, and Common Council President Willie Hines Jr. immediately joined in, saying it was an attempt to suppress the central-city vote.
"I'm going to lay this at the footsteps of the county if there aren't enough ballots in the city," said Barrett.

Barrett said that the 679,000 ballots the county had agreed to print were less than the amount prepared for the presidential election in 2000 as well as for the the gubernatorial race in 2002.
---
#GovShutdown has wasted $3.3 BILLION+ so far. That's 8.5 TIMES what we spend on Housing for the Elderly. cc @NLIHC
http://t.co/...
— @other98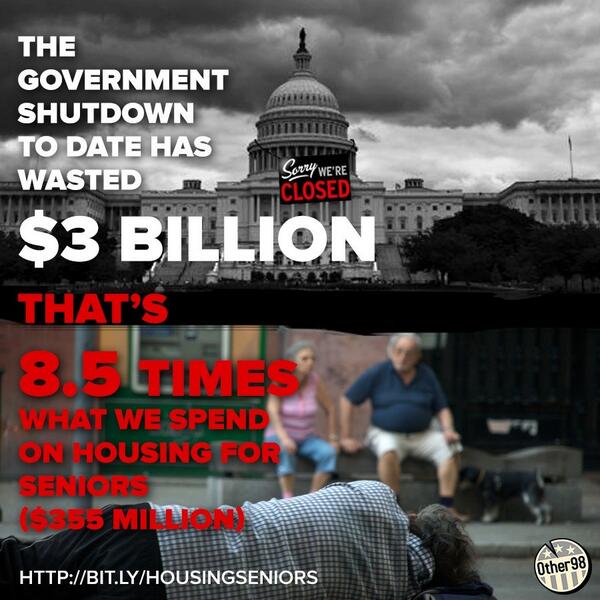 ---
On
today's Kagro in the Morning show
, we welcome
CREDO Mobile
, our newest sponsor!
Greg Dworkin
reviews the devastating NBC/WSJ shutdown polling. Then comedian
Matt Filipowicz
chimes in on the day's news, and tells us about his latest project: an MST3K style "live-riffing" of
Atlas Shrugged
! Also: a peek at the 1% of the 1% (including an actual person named "Muffy") as they hold a whine & cheese send-off for Michael Bloomberg's girlfriend;
The Hill
on a little-noticed additional Republican demand; Crazy Ted Yoho bullshits constituents about paying federal workers, and; a Seattle #GunFAIL case comes out much better than those from SC and MD yesterday.
---