Meet Dennis Baxley, he currently represents District 23 in the Florida House of Representatives. On Tuesday, 10-8-13 in the Florida House K-12 Subcommittee panel discussion on how to improve the state's middle schools he made disparaging comments on LGBT parents, comparing them to abusive parents and equating same-sex parents with alcoholism and drug abusers. Below is the text of his statement lamenting the lack of "functioning" parents in his district.
"It's easy to say parents need to get involved, but half these kids are raising themselves; they don't have any parents that are functional. How can we address that? I know it's scope and I know it's hard, but you're probably their only hope. I mean I sat an hour and a half with a teacher telling me, well this child has got serial men coming through the house, this one has two mommy's, this one has abusive father whose home, this has alcoholism, this one has drug abuse. It was a casualty warfare event to hear - just her classroom - how many dysfunctional, atypical - to me - uh, structures are in the way of a kid having a chance to learn." Representative Dennis Baxley
This guy is one of the most extreme politicians in Florida. He is a former Executive Director of the Christian Coalition.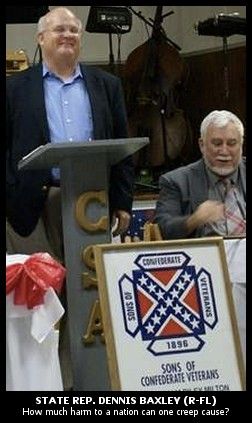 Source: Brad Blog
Some of his quotes to the The Miami Herald on President Obama:

On Obama's description of himself as a devout Christian: "I don't want to pass judgment. I take him at face value. I do look at his story and where he's been, and the influence of the Rev. Wright-type of Christianity, and I'm not sure that's what I relate to...He wants to tax the rich more and redistribute wealth to other people -- where I come from that's socialism. Karl Marx was not a Christian."
"He's pretty scary to us,'' he said. "I think his Muslim roots and training -- while they try to minimize it -- it's there."

He was one of 8 Republican Representatives that pushed through the infamous "Stand your Ground Law" in 2005. The
Huffington Post Miami
reports the following:
Ocala Republican and funeral home director Dennis Baxley is so close to the NRA's past president and current Florida affiliate director, Marion Hammer, that he once publicly joked the two were having an affair, according to the Tampa Bay Times. He sponsored Florida's NRA-backed Stand Your Ground law in 2005, and has stood by it since -- despite high-profile cases where gunmen have gone free. "I don't understand some of these cases. These mystify me," Baxley told the Miami Herald.
He sponsored a law designed to keep Students and Renters from
voting
.
Why were there 25 percent more provisional ballots this year? Because Rep. Dennis Baxley, R-Ocala, sponsored a law tightening change-of-address guidelines on how Floridians could vote. Monday he told reporters he was inspired to do so after hearing friend and Alachua County GOP chairman Stafford Jones's voter conspiracy theories, which later proved unfounded.

Jones told Baxley that liberal voters had moved to his county for just one day to vote for openly gay mayor, Craig Lowe, the Miami Herald reports, who won by 42 votes.

"They don't really understand the politics of this community," Jones told CNN. "They don't have a stake in it."

As a result, Baxley sponsored a law that required anyone who recently moved counties to vote with a provisional ballot if they hadn't changed their address one month before Election Day.
After Sandy Hook, he wanted to end gun free zones in Florida
schools
.
Florida state lawmaker Dennis Baxley (R-Ocala) said Monday that everything must be "on the table" legislatively in response to the massacre at Sandy Hook Elementary School in Newtown, Conn. According to Baxley, that includes allowing school personnel to arm themselves while on school grounds.

"We need to be more realistic at looking at this policy. In our zealousness to protect people from harm we've created all these gun-free zones and what we've inadvertently done is we've made them a target," Baxley said, according to the Sarasota Herald-Tribune. "A helpless target is exactly what a deranged person is looking for where they cannot be stopped."

Baxley went on to say that he had no plans to submit such legislation himself, because his position as chairman of the state Judiciary Committee could create a conflict of interest.
He
argued
against removing a racial slur in the
State song
.
When arguing against doing away with Florida's state song about a slave pining for the good old days on "de old plantation" with the "darkeys," Baxley argued: "I don't pretend that the past was all beautiful and wonderful. I'm sure it was painful for some people, but we're in a multicultural area and everyone's culture is celebrated but mine."
Rachel Maddow reports on him here.
Visit NBCNews.com for breaking news, world news, and news about the economy
Reverend Al Sharpton interviews him here.
Visit NBCNews.com for breaking news, world news, and news about the economy