By the sixteenth century, Europeans had begun to notice similarities between European, Indian, and Iranic languages. An English Jesuit missionary, Thomas Stephens, in 1583 pointed out the similarities between Sanskrit, Greek, and Latin. The real study of language connections, however, started with a lecture by Sir William Jones, a British judge in Calcutta, India, on the similarities between three of the oldest languages then known: Latin, Greek, and Sanskrit. He also added Gothic, Celtic, and Persian to this list of ancient languages. He recognized that these languages were similar in structure and vocabulary. In 1813, Thomas Jones used the term "Indo-European" in referring to this group of related languages.
Nineteenth century linguists abandoned the ethnocentric biblical account of the origin of language diversity and began to adopt a model adopted from biology. The scientific discipline of linguistics developed as scholars studying the historical development of language began to adopt a model for language relationships based on the concept of a family tree, a model borrowed from biology. Comparative linguists began putting together family trees of the Indo-European languages. The basis for classifying languages, for grouping them into types, was comparing grammars, sound systems, and syntax.
Linguists envisioned a language tree as having a trunk—the proto-language—with roots fixed in a particular geographic area and then branches which had geographically spread out.
The Indo-European language family includes about 439 languages which are currently spoken as native languages by almost 3 billion people. Of the 20 most frequently spoken languages, 12 are Indo-European: Spanish, English, Hindi, Portuguese, Bengali, Russian, German, Marathi, French, Italian, Punjabi, and Urdu.
In their work on reconstructing Proto-Indo-European, linguists have managed to develop a list of more than 1,500 word roots. This shared vocabulary provides some important clues about the nature of environment in which Proto-Indo-European developed. This vocabulary clearly shows that these people were farmers and that they kept stock. Their vocabulary included a number of terms for cattle, sheep, goat, pig and dog. They also had domesticated horses.
Six thousand years ago, the speakers of Proto-Indo-European lived in a forested environment whose trees included: alder, birch, elm, fir, hawthorn, maple, pine, yew, and others. The wild mammals in this environment included: hare, squirrel, beaver, mouse, fox, wolf, bear, otter, deer, boar and aurochs (wild cattle). The early Indo-Europeans were familiar with a number of different birds: crane, goose, eagle, duck and thrush. They also had words for fish and trout.
The environmental clues strongly suggest that the homeland for Indo-European was north of the Black Sea in what is today the Ukraine. From here, the people migrated, using horse-drawn chariots, to the east into China (Tocharian is the easternmost Indo-European language) and west into Europe and Britain (English is the westernmost Indo-European language).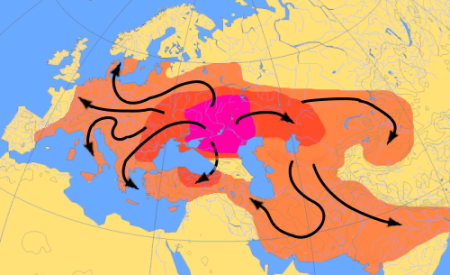 With regard to time, Proto-Indo-European was spoken after 4000-3500 BCE. By 2500 BCE Proto-Indo-European was a dead language.
For those wanting to know what Proto-Indo-European sounded like, Dr. Andrew Byrd has recorded a reconstructed fable known as "The Sheep and the Horses."