I post a weekly diary of historical notes, arts & science items, foreign news (often receiving little notice in the US) and whimsical pieces from the outside world that I often feature in "Cheers & Jeers". For example .....
DIRECT DESCENDANTS? - clergyman and abolitionist Henry Ward Beecher and Comedy Central host Jon Stewart.
OK, you've been warned - here is this week's tomfoolery material that I posted.
Tags -
ART NOTES - an exhibit of Dutch painters entitled Masterpiece in Focus is at the National Gallery of Canada in Ottawa through January 5th.
MUSIC NOTES - a Chicago Tribune music critic wonders if the recording of live albums - once a cornerstone of many a performer's career, as well as a way for newcomers to discover their music - has become a non-event today?
BRAIN TEASER - try this Quiz of the Week's News from the BBC.
THURSDAY's CHILD is Mario the Cat - who survived 79 days trapped in a deserted home in Mégantic, Québec (after that horrific train-derailment fire destroyed much of the town) ... but appears to be recovering nicely.
LAST NIGHT yours truly hosted the Top Comments diary with a look at the life of the cabaret/jazz singer Susannah McCorkle - and her tragic death as a result of mental illness.
TELEVISION NOTES - next month, public TV will have a new documentary on the life and times of Jimi Hendrix - whose estate has released many, many more of his works after his death than during his life.
MOTHER-DAUGHTER? - conservative pundit Peggy Noonan and Marketplace radio fill-in host Lizzie O'Leary.
JOURNALISM NOTES - journalist Ken Auletta has a comprehensive look at the success that Britain's Guardian newspaper has had in this new century.
PHOTOGRAPHY NOTES - a young architect risked arrest when he began photographing life in his hometown of Bucharest, Romania under the communist dictator Nicolae Ceausescu.
FRIDAY's CHILD is Stacks the Cat - who fulfilled her task of ridding the Litchfield, Illinois Public Library of mice ... and is now the library mascot.
....... and for a song of the week .......................................................... regular readers know that I avoid profiles of superstar performers - what can I tell people about them that they don't know already? When I do go there, it's usually about a side aspect - say, a Mick Jagger solo album, or James Brown's legendary Boston concert, or Elton John's lyricist, etc.
And that's what I'll do with someone yet-again in the news, more than ten years after his death: focus only on the later career of Johnny Cash - after his final album releases three years ago.
F. Scott Fitzgerald once declared "There are no second acts in American lives" - but to me, Johnny Cash had as many as four acts in his. The first part (recounted in the Walk the Line film) went up to his marriage to June Carter, then (2) the late 60's into the 70's were super-stardom (Folsom Prison, his TV show, meeting President Nixon).
This was followed by (3) a slow time selling records in the 1980's, as country music tastes were changing (with the exception of his time in The Highwaymen band). Cash's long association with Columbia Records came to an end in the late 1980's.
He signed with Mercury Records in 1987, but he had no better luck. As he told Fresh Air's Terry Gross he had become 'disgusted' with their efforts - and while he could still sell concert tickets, he wondered what the future would hold in recording?
A revitalized future came (4) in the (improbable) form of producer Rick Rubin (photo right, below) - best known as a rap and heavy metal producer - who told Cash in 1993 he wanted to sign him to his American Recordings label. A partly skeptical Cash asked "What can you do to sell my records that others haven't done?" - and was delighted to hear Rubin say, "Let's just record you singing what you really want to - and we'll worry about sales later".
The six albums the two men recorded - the last of which was released in 2010 - not only rescued Cash from merely being a performer on the legacy concert tour, it introduced his music to a new generation of young people, which he told Terry Gross he was thrilled to see. Here are those recordings, with some notes and highlights:
American Recordings - from 1994: just Johnny recorded in his home on acoustic guitar. It includes Leonard Cohen's Bird on a Wire plus Cash's own tunes "Redemption" and "Drive On".
Unchained - from 1996: features Johnny backed up by Tom Petty & the Heartbreakers. Songs include "Spiritual" by Charlie Haden's son Josh, Cash's "Mean Eyed Cat" and the Geoff Mack song I've Been Everywhere that Hank Snow first made famous.
Solitary Man - from 2000: features Johnny backed-up by several guest performers (such as Tom Petty and Merle Haggard) and tunes such as One by U2, plus Tom Petty's I Won't Back Down as well as Cash's own "I'm Leaving Now".
The Man Comes Around - from 2002: sees Johnny backed-up by guest performers (such as Fiona Apple, Don Henley and Marty Stuart). It contains cover versions of Bridge Over Troubled Water and the WW-II classic We'll Meet Again plus Cash's own title track.
A Hundred Highways - from 2006, released three years after Johnny's death - was the first posthumous release of new material. By 2002, Cash was in failing health - Rick Rubin said they had to record when Johnny was up to it, and stop when he wasn't. It contains mostly covers: If You Could Read My Mind plus Hank Williams' "On the Evening Train".
And finally the last album Ain't No Grave concludes the series with some more simple recordings. Covers include Bob Nolan's classic Cool Water plus Tom Paxton's "Can't Help But Wonder Where I'm Bound" as well as Sheryl Crow's Redemption Day - for which Johnny called her for insight into the lyrics - to his last original song "I Corinthians 15:55" - and the album concludes with Aloha Oe - the traditional Hawaiian tune.
Johnny Cash died in September, 2003 (at the age of 71) due to complications from diabetes, which resulted in respiratory failure. But his name comes up frequently years later:
In 2007 his home in Hendersonville, Tennessee burned to the ground. Later, a man from Georgia won a prize for making the the 10 billionth download from the iTunes music service - and thrilled the Cash family by choosing one of Johnny's tunes. Fans have long sought the re-release of his virtually unknown 1964 album Bitter Tears - a protest album that lamented our nation's mistreatment of Native Americans.
Now, in 2013 - a full ten years after his death - his hometown of Dyess, Arkansas hopes to convert his childhood home into a "socially responsible Graceland". And next month, he will be inducted into the Memphis Music Hall of Fame along with blues guitarist Albert King and several others. It would seem that the last chapter of the Johnny Cash story - though he isn't around to see it - has yet to be written.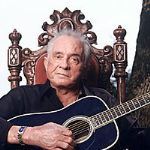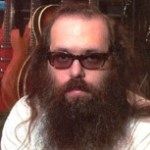 While my favorite of his songs (by far) remains his 1970 single What is Truth? - of all of his American Recordings, it is a hard-hearted person who can listen to his 2002 version of the Nine Inch Nails song Hurt and not be moved.
Its composer Trent Reznor said afterwards, "It instantly became his song after that. I saw the video and it took my breath away". And if you listen below ... you can hear why.
]
The needle tears a hole
The old familiar sting
Try to kill it all away
But I remember everything

You could have it all
My empire of dirt
I will let you down
I will make you hurt

What have I become?
My sweetest friend
Everyone I know
Goes away in the end

If I could start again
A million miles away
I would keep myself
I would find a way