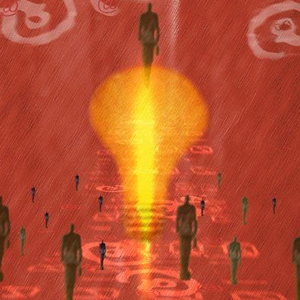 Commentary: African American Scientists and Inventors
by Black Kos Editor, Sephius1


Miriam E. Benjamin (September 16, 1861 - 1947) was an African-American school teacher and inventor from Washington, D.C. On July 17, 1888 she obtained a patent for her invention, the Gong and Signal Chair for Hotels. The chair would "reduce the expenses of hotels by decreasing the number of waiters and attendants, to add to the convenience and comfort of guests and to obviate the necessity of hand clapping or calling aloud to obtain the services of pages." The chair worked when the person sitting would press a small button on the back of the chair which would then send a signal to a waiting attendant.
(con't.)
Miriam Elizabeth Benjamin was born, a free woman of color, in Charleston, South Carolina in 1861, the eldest of five children of Francis Benjamin and Eliza (Hopkins) Benjamin. In 1873, the Benjamin family moved to Boston, Massachusetts, where she attended high school. She moved to Washington, D.C. where she was a schoolteacher in the segregated municipal school system. In 1888, she was living at 1736 New York Avenue, N.W. in Washington.
Miriam Benjamin briefly attended Howard University's medical school, but after passing a competitive civil service examination and working as a government clerk in a number of federal departments, she enrolled in the law school of Howard University; upon graduation, she set herself up in business as a "solicitor of patents."
In 1920, she returned to Boston, where she lived and worked with her brother, Boston attorney Edgar P. Benjamin.
She died in 1947.......Read More
~~~~~~~~~~~~~~~~~~~~~~~~~~~~~~~~~~~~~~~~~~~~~~~~~~~
News by dopper0189, Black Kos Managing Editor
~~~~~~~~~~~~~~~~~~~~~~~~~~~~~~~~~~~~~~~~~~~~~~~~~~~

~~~~~~~~~~~~~~~~~~~~~~~~~~~~~~~~~~~~~~~~~~~~~~~~~~~
The Signatures of Hundreds Who Sued For Freedom. Slate: Beyond "12 Years a Slave".
~~~~~~~~~~~~~~~~~~~~~~~~~~~~~~~~~~~~~~~~~~~~~~~~~~~
This grid of tiny Xs is made up of the signatures of slaves who petitioned for their freedom in the courts of St. Louis during the time between Missouri's statehood (1821) and the Dred Scott decision (1857). Some of these plaintiffs—like Solomon Northup, the historical figure whose story is the basis of the film 12 Years a Slave—were formerly free men who were victims of kidnapping. All of them showed great bravery in resisting their enslavement publicly.
University of Iowa law professor Lea VanderVelde worked with a set of around 300 antebellum civil cases from the courts in St. Louis while writing her forthcoming book, Redemption Songs: Courtroom Stories of Slavery. Some petitions that VanderVelde reviewed based the slaves' claim to freedom on their previous status, while others argued that they had resided in a free state (usually Illinois) with their masters and were therefore legally free.
VanderVelde thinks that enslaved people in St. Louis, particularly women who worked as laundresses alongside free black counterparts, probably heard about the option to sue for freedom through word of mouth. In this urban setting, slaves had a certain degree of mobility, conferred so that they could pursue their masters' errands. Often, VanderVelde says, they would slip away to the courthouse or to a justice of the peace to file.


Image courtesy Lea VanderVelde.
~~~~~~~~~~~~~~~~~~~~~~~~~~~~~~~~~~~~~~~~~~~~~~~~~
American Apparel should dismantle its "makeshift Vodou" display and not associate African spiritual traditions or religions with Halloween. Ebony: African Voodoo Should Not Be Fodder for Halloween.
~~~~~~~~~~~~~~~~~~~~~~~~~~~~~~~~~~~~~~~~~~~~~~~~~
Vodou, which has come to be known as "Voodoo," has been bastardized in popular culture and subsequently demonized within Black communities throughout the African Diaspora. If you visit New Orleans, every other tourist shop in the French Quarter is fully stocked with so-called "authentic" Voodoos dolls meant to seek revenge on one's enemies. This commercialized Voodoo is one of many grossly inaccurate faces of one of Africa's most ancient traditions thanks to ridiculous stereotypes created first by French planters who escaped alive from the revolutionary uprising that took place on Saint Domingue in the late 18th century and later, sensationalized accounts of travelers to Haiti in the 20th century.
What many do not know about the Haitian Revolution -- which inspired enslaved Africans everywhere from South Carolina to Curacao -- was that the earliest revolts were led by Vodou priests.
In a contemporary context, it is indeed in territories once ruled by the French, Spanish and Portuguese -- Cuba, Puerto Rico, Haiti, Brasil -- where you see the largest adherents of practitioners of African religions. Complex religions that were brought over in the Trans-Atlantic Slave Trade by millions who were from different nations -- the Bambara, Fon, Bakongo, Fulani, Yoruba, Ashanti, Ewe, Dongon -- and adapted to the needs of Black people in the New World ...
Now this isn't the first time that American Apparel has engaged in problematic practices concerning the treatment of other people's cultures. Nor are they the only company to profit off of misappropriated cultural dress during Halloween. It baffles me as to why a store would make the decision to mis-appropriate a sacred spiritual system that is old as time in Africa itself. Alas, we know that even hipsters -- for all their self-congratulatory "progressive" ways -- can be just as bigoted and racist as any one else.


Generic image (Thinkstock)
~~~~~~~~~~~~~~~~~~~~~~~~~~~~~~~~~~~~~~~~~~~~~~~~~
I'm just going to show one picture, check the rest of the photos out yourself. Slate: White Women, Black Hairstyles.
~~~~~~~~~~~~~~~~~~~~~~~~~~~~~~~~~~~~~~~~~~~~~~~~~
t almost sounds like the opening line to a joke: A young black woman takes a bunch of middle-aged white women who she doesn't know in Woodstock, N.Y., to a black salon, gives them a new "black" hairdo, and then takes their portrait.
Although photographer Endia Beal laughs freely while discussing "Can I Touch It?" the point of the series that she worked on this summer during a five-week residency with the Center for Photography at Woodstock isn't about getting laughs.
The rules were simple: After getting their new styles, the women had to agree to be photographed in a traditional corporate portrait, even if they weren't happy with the result.
Beal decided not to give the women an option of choosing a style. "I said, 'I am going to give you a black hairstyle,' and they were like, 'You're going to give me cornrows?' " Beal recalled of her conversations with her subjects. "And I said, 'No, we're going to do finger waves.' 'Finger waves? What's that? You mean from the '20s?' And I said, 'These are a little bit different type of finger waves!' "


From 'Can I Touch It?' by Endia Beal.
~~~~~~~~~~~~~~~~~~~~~~~~~~~~~~~~~~~~~~~~~~~~~~~~~~~


~~~~~~~~~~~~~~~~~~~~~~~~~~~~~~~~~~~~~~~~~~~~~~~~~~~
Mayor Cory A. Booker of Newark easily won New Jersey's special Senate election on Wednesday, finally rising to an office that measures up to his national profile. New York Times: Booker, Winning Rocky Senate Bid, Gets a Job to Fit His Profile.
~~~~~~~~~~~~~~~~~~~~~~~~~~~~~~~~~~~~~~~~~~~~~~~~~~~~
He will arrive in Washington already one of the country's most prominent Democrats, and its best-known black politician other than President Obama, who backed him aggressively. Mr. Booker's fund-raising prowess puts him on course to lead his party's campaign efforts in the Senate, and he has been mentioned as a possible vice-presidential pick for 2016.
With 99 percent of the precincts reporting, Mr. Booker had 55 percent of the vote to 44 percent for Steve Lonegan, a Republican former mayor of Bogota, N.J., and state director of the conservative group Americans for Prosperity, according to The Associated Press. Still, the campaign gave a wider audience to certain facets of Mr. Booker that long ago began to prompt eye-rolling among his constituents.
With a Twitter following six times as large as the city he has led, Mr. Booker was known outside Newark largely for his appearances on late-night television and his heroics: rescuing a neighbor from a burning building, shoveling out snowbound cars, living on a food stamp diet.


~~~~~~~~~~~~~~~~~~~~~~~~~~~~~~~~~~~~~~~~~~~~~~~~~~~


~~~~~~~~~~~~~~~~~~~~~~~~~~~~~~~~~~~~~~~~~~~~~~~~~~~
A new documentary explores the challenges two families faced after their sons got into prep school. The Root: For Black Boys, Dream Education Deferred.
~~~~~~~~~~~~~~~~~~~~~~~~~~~~~~~~~~~~~~~~~~~~~~~~~~~
Anyone black who's done time in prep school can appreciate the mixed bag of experiences it can bring: On the one hand, there's the potential -- the promise -- of receiving a world-class education, one that makes the transition to the Ivy League practically painless. On the other hand, there's the potential -- the threat -- of experiencing all kinds of feelings of alienation, the discomfort of being one of the "onlys," the kid everyone turns to stare at whenever the history teacher brings up slavery.
Such is the premise of American Promise, a two-hour-plus documentary debuting on Friday in New York theaters. (The film opens nationwide over the next few weeks.) When their precocious 5-year-old son, Idris, was accepted into the Dalton School -- one of New York's most prestigious private schools -- filmmakers Joe Brewster and Michele Stephenson, a middle-class black couple from Brooklyn, at first saw only promise.
"Dalton will open doors for him for the rest of his life," says Brewster, a trained psychiatrist. "Expecting great things," they turned the cameras on Idris and his best friend, Oluwaseun, or Seun, who was also accepted into Dalton. And they kept those cameras trained on the boys for the next 13 years. The result is a complex, though oft-times rambling, look at two black families trying to help their sons navigate a world of privilege, a world that often looks at them as the problem rather than the problem solver.
At first blush it would seem that the path of success for Idris and Seun would be relatively easy. They both hail from loving, two-parent, middle-class families (though Seun's family seems to be a rung or two down the economic ladder from Idris' family). They are both smart, funny, sweet. Dalton was in the midst of a concerted effort to bring in more students of color, and the boys were strong candidates.
But even in the allegedly postracial landscape of 21st-century America, race is never really post-anything. Stephenson worries what the boys will encounter going to school with "a bunch of rich white kids disconnected from the larger world," and as it turns out, she's right to worry.




~~~~~~~~~~~~~~~~~~~~~~~~~~~~~~~~~~~~~~~~~~~~~~~~~~~~~~~~~~
Welcome to the Black Kos Community Front Porch!
Pull up a chair and sit down a while and enjoy the autumn air.