Mount Auburn Cemetery in Massachusetts was not only America's first garden cemetery and became the final resting place for many famous Americans, but it has also been the setting for ongoing conflicts between rivals. One of these involved William Morton and Charles Thomas Jackson—at the time, one living and one dead.
In the nineteenth century, surgeons tended to take the moral view that pain was God's punishment for sin. These doctors took pride in the ability to execute complicated procedures quickly and they had little interest in using laughing gas or ether in their practices as a way of reducing pain in their patients.
On the other hand, dentists at this time were largely self-taught and they attempted to attract new patients by making dentistry less painful. In Hartford, Connecticut, Horace Wells and William Morton were partners in "mechanical dentistry", a practice which specialized in replacing rotting teeth with dentures.
Morton, who had been a clerk, printer, and salesman, had enrolled in the Baltimore College of Dental Surgery, but left without graduating. He went to Hartford to study under the dentist Horace Wells.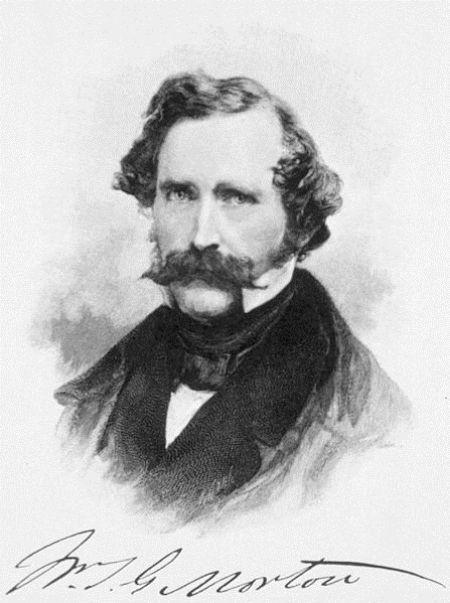 Morton is shown above.
In 1844, Horace Wells found that nitrous oxide—generally known as laughing gas—could be used to make dental extraction relatively painless. He tried to convince other doctors and dentists to incorporate this into their practices, but failed. In 1848, he committed suicide, being depressed and addicted to sniffing ether.
In 1843, Morton married Elizabeth Whitman. Her parents strongly objected to Morton's profession and agreed to the marriage on the condition that Morton study medicine. Morton entered Harvard Medical School, and once again dropped out before graduating. While at Harvard, however, he had attended the chemistry lectures of Dr. Charles Thomas Jackson. Jackson introduced Morton to the anesthetic properties of ether. Ether was the main ingredient in toothache drops which could be applied to teeth topically before extraction.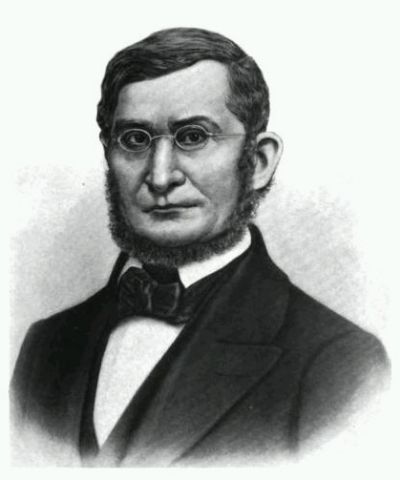 Jackson is shown above.
Morton was determined to find a painkiller which he could use in his dental practice. He decided that he could get a more controlled effect if the patients inhaled ether vapors. He also realized that he would have to purify the ether vapors. As a result he created what he called Letheon Gas.
Following a successful painless tooth extraction with the use of Letheon Gas in 1846, Boston surgeon Henry Jacob Bigelow arranged for a demonstration of the new anesthetic at the operating theater of the Massachusetts General Hospital. At this demonstration, Dr. John Collins Warren removed a large neck tumor with no pain to the patient.
The painting shown above depicts Morton administering ether to a patient.
While it was widely known that Letheon was actually ether, Morton obtained a patent for Letheon. With this action, Morton's old mentor, Dr. Jackson, claimed that he had first come up with the idea of using ether as an anesthetic. For the rest of their lives these two men would be locked in an acrimonious battle for fame and fortune.
Morton died in 1868 and was buried in the Mount Auburn Cemetery. His supporters erected a memorial at his grave which credited him as the discoverer of anesthesia.
Mount Auburn Cemetery was also a place for the living and throngs of people came in for outings, walks, and a quiet lunch. According to one story, Jackson was walking through Mount Auburn one day when he happened upon Morton's grave and monument. According to some people, Jackson was drunk and threw a major fit. Some people feel that this is the event that drove him into insanity. He died in 1880 in the McLean Asylum in Somerville, Massachusetts and was buried in the Mount Auburn Cemetery.