These twenty-seven photos were taken last Saturday between 77th and 81st Street on the sidewalk that separates the dinosaurs from the Columbus Avenue traffic. The scene is the 34th Annual: Autumn Crafts on Columbus Festival. If you live near New York City, you can see it again today or tomorrow. Sadly, it's looking like there won't be another Autumn Crafts on Columbus Avenue.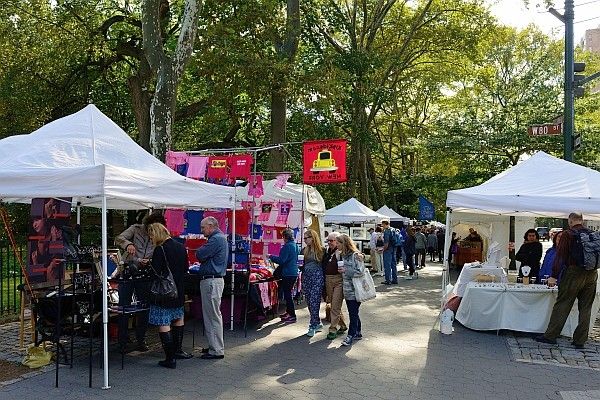 I'll try to explain why these artist and organizers have lost their lease, why it's a bad thing and who it will hurt in the stories and photos below.
First, here's a handy guide to the best free outdoor Manhattan fairs. New York City street fairs are usually a waste of time but if you are in the city during any of these fairs, they are very much worth visiting. The oldest and the best is the Feast of San Gennaro where local restaurants fill stands with delicious Italian food and oversized portions of ethnic charm offer an energy level that shouldn't be missed. PrideFest, that follows the March each year with music, staging, unique venders, civil rights and great community comes in at a close second. Another must see is the Gracie Square Art Show where limited space and beautiful surroundings turns Carl Schurz Park into an outdoor gallery of fine art. Much of what is bad about street fairs has encroached on the Ninth Avenue International Food Festival but there are still enough local restaurant stands and out of town food vendors who only come to New York once a year to make the food fight on Ninth one of the best. For arts and crafts the scenery is pretty hard to beat at the American Crafts Festival at Lincoln Center for the Performing Arts but the Upper West Side Nora Ephron charm of the Autumn Crafts on Columbus Festival is where it all started.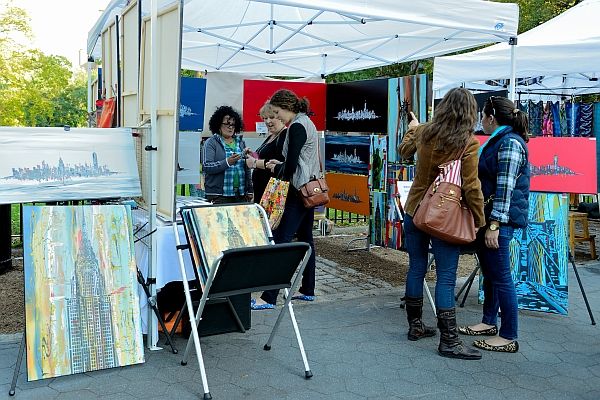 The setting is one of the most charming streets in New York City. There are mature sycamores overhead and underfoot are the six sided stones that are usually associated with the perimeter of Central Park. The tree cover turn these four unbroken blocks into the coolest and darkest streets in Manhattan, a sort of concrete forest. Bloomberg's bicycle path has recently improved the atmosphere by moving the traffic one lane further away from this sycamore allée. For the interior boarder, the sextagonal stones give way to cobblestones and park benches that alternate with the huge tree trunks. The background is Roosevelt Park with the American Museum of Natural History behind that and while the walk makes you feel a bit like Simon Morley being inside the Jack Finney novel "Time and Again," the romance of a scene from "When Harry Met Sally" comes to mind as well.
The story of how this will end is an odd one and hard to follow. Perhaps it is a story of Greenmarkets becoming a little too successful. The Farmer's now occupy the same area as the Lincoln Center Crafts on the other forty-six Sundays of the year and get moved to a less romantic school yard for the six that are claimed by these many artisans and artist. The best thing Autumn Crafts has going for it is that it brings in many families with money from all over and the farmers that the Community Board want to replace Autumn Crafts with only brings in local bucks.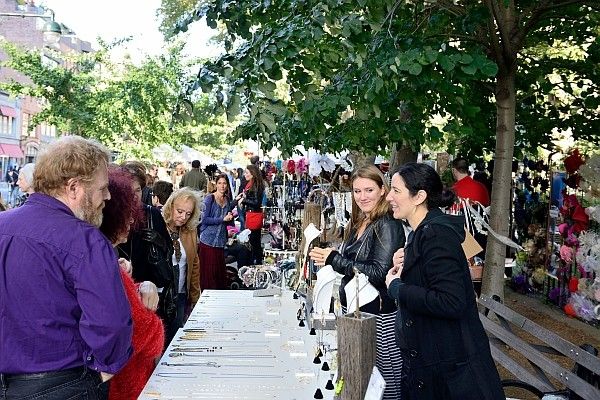 It could be the fact that so many concert goers, opera and ballet fans become instant customers at the Lincoln Center Crafts Fest and many old regulars go there instead to pay the much higher fees than the renting the space on Columbus Ave. When it first happened almost everyone noticed the peculiar behavior on the part of Community Board 7. At some points it sounds like a few noisy residents upset about having to walk a few extra blocks six times a year for their fresh ciabatta, people who are willing to associate the artist with gypsies and consider the visitors who come from all over for the arts and crafts to be foreign invaders. Whatever is going on the headlines now read 30-Year-Old Columbus Craft Fair Gets the Boot and when they come back in the spring it will mark the end of arts and crafts fairs there. Time's Up for Arts and Crafts.
Being in the habit of sitting down at the information booth each year and chatting with the organizers of the event I learned a few things and all is not lost. Usually I sit down because of their wealth of art history knowledge but last week the discussion was about the future. While the lease expires in the spring the decision is not actually up to the community board. Because this particular Sycamore Lane is the sidewalk to Roosevelt Park, the decision will come from the Department of Parks. Opinions varied from "We're screwed" to "The Park will take our side." The discussion even went to The Culture Paradox of 21st-Century New York which was entertaining enough since I'd actually seen David Byrne browse these tables and booths in the past. During the discussion everyone agreed about two things. It all seems like a case of empty barrels making the most noise. My remark "sort of like an Upper West Side tea party" went over big. The other agreement was that if the Department of Parks takes the side of the community board, they will not seek a new location. The Crafts Fair and this community will die unless cooler heads prevail.
It may not seem like such a great tragedy. Most weeks when there is a Craft Festival on Columbus, just about twenty blocks south there is another in Lincoln Center but trading in the cobblestones for travertine is not as easy as it sounds. Lincoln Center that charges the big bucks is all about successful artist while you'll meet people who work 9 to 5 and make jewelery on nights and weekends at Columbus Avenue. One said "I don't gross what they charge to rent space." Many of the artist I talked to were quite upset and will not be able to afford making the jump to Lincoln Center.
Others who will move on to Lincoln Center pointed out that they could not if they were just starting out and the loss of Columbus will make it hard for young people to get started. Besides where will I go when I need a new hat?
There isn't much more to report and as the rest of this story starts to seem like a paid advertizement I should mention that I have no financial interest in this fair. I am very fond of walking under those trees and interacting with many happy people at the Craft Fair. Like many visitors I start there in the morning, then take an autumn walk in Central Park and come back in the afternoon.
And I do have an emotional bond here. Because of many experiences at the Craft Fair I disagree with my fellow New Yorkers about the Bow Bridge in Central Park being the most romantic spot in New York. This strip where Harry said to Sally "You know you may be the first attractive women I've not wanted to sleep with in my entire life" is the place for me. A woman I once lived with confessed much later that since she was leery of a going on a blind date my being introduced to her there was a carefully set up. On another occasion a long term platonic relationship was upgraded by a first kiss at one of the benches on this block when we stopped a sat a spell between dinner at Pappardella on Columbus and dessert at Café Lalo. I also met a beautiful German tourist there once and showed her the rest of the city. So many good memories and when you are a couple, isn't shopping for scarves and wraps romantic?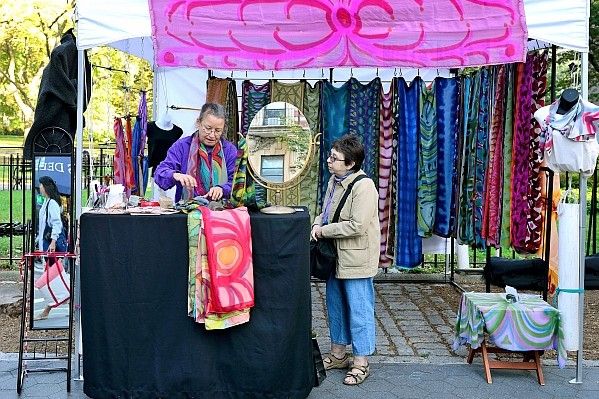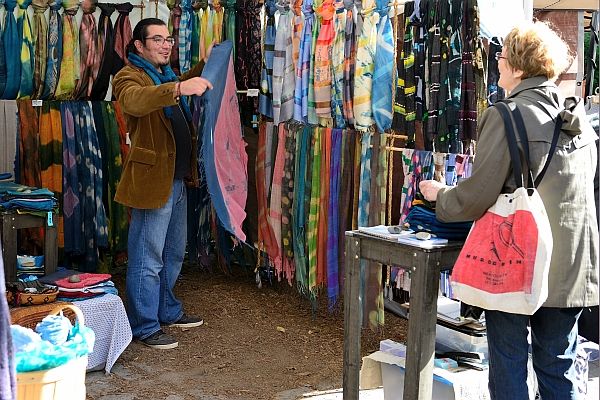 Who knows? There might be hope for me yet. Perhaps the Department of Parks considers the people involved, people using their skills and visitors supporting the economy, then maybe the Fair continues and someday...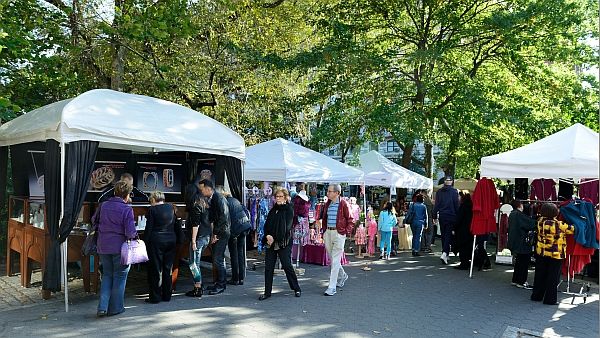 One of my favorite paintings this year is ROSE READING ROOM by Meg Azzoni.
Here's a photo of Meg Azzoni checking her list. I really like her art. You can like her on Facebook here.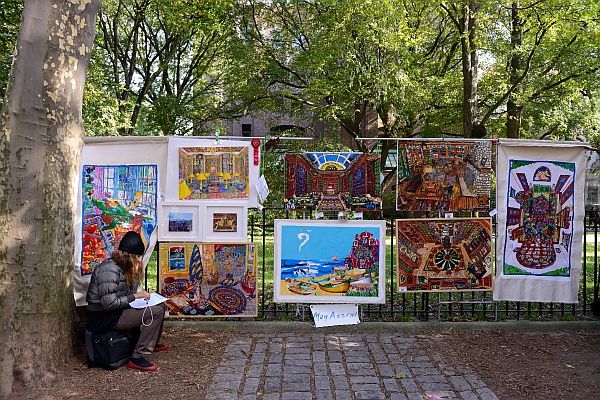 And here are Two Witty Knitters who can spin a yarn. Notice the clever use of a park bench but don't even think about asking "Does that make you knit wits?"
How about a once around of the art of Smadar A. Livne?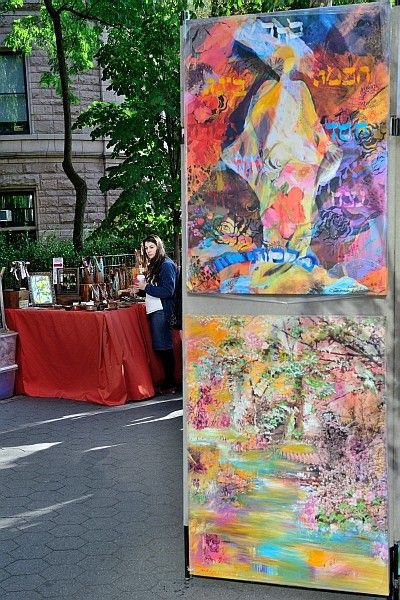 Here's an interesting guy, Bernard Zalon and his etchings. View his work here or check out this instructional video where Bernard Zalon Makes an Etching.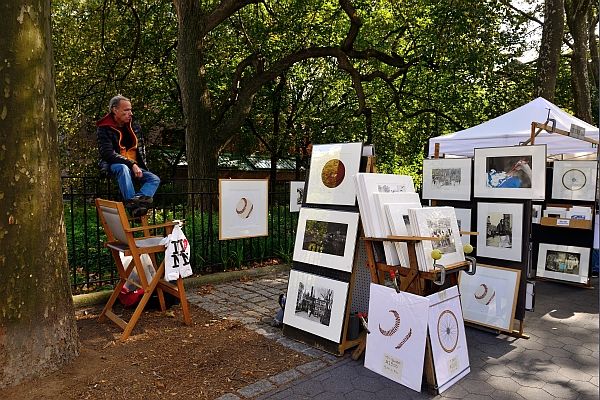 Kid's clothing, children's books and a mouse running for mayor, Kip Kids has got it all.
Here is one of my favorite regulars at Autumn Crafts on Columbus. Henrietta Drewes and her whimsical children's clothing has been part of the Columbus Craft for a long as I can remember. With just two helpers all of the creative merchandise is hand cut and sewn locally. That's really what it's all about. A little early Christmas shopping?
And just to show that it's not all old guys, a triptych tribute to youth and beauty. An up-and-coming designer on the New York scene with many great fun websites to choose from and I was not the least bit surprised that Lindsay Degen is also a fashion model. Here's her line of children's knits.
At the end of the day, keep smiling.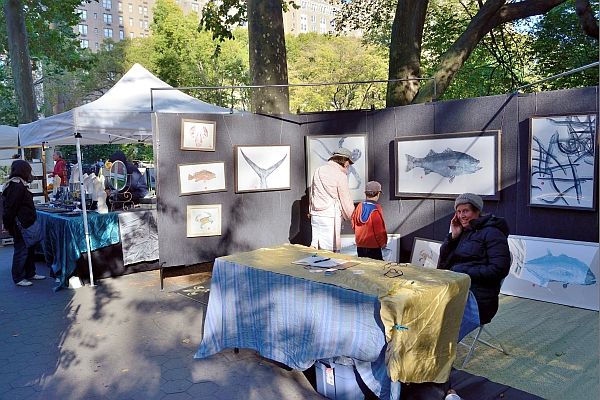 Chances are that there will be another Autumn Crafts on Columbus.
Have a nice day.