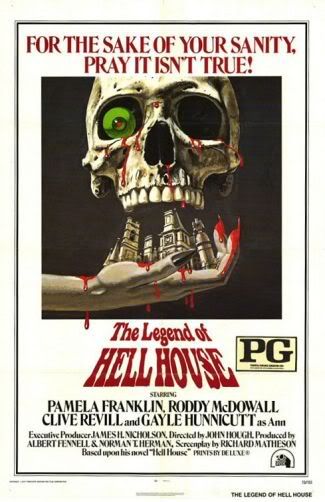 A team of paranormal investigators venture into the old, abandoned Belasco house for a four-day study. They have been sent there by an eccentric billionaire searching for scientific proof concerning life after death - for or against. The team consists of physicist Lionel Barrett, his wife Edith, and two mediums; Florence Tanner and Ben Fischer. Fischer was the sole survivor of the previous investigation, and returns only on the promise of a big payday. While Fischer cuts his psychic sensitivities off from the house, Florence immediately senses a myriad of tormented souls and is quickly in touch with a spirit named Daniel, who claims to be the son of the house's evil owner Emeric Belasco. This is the set-up for a ghost story out of Britain that is as effective today as it was when it was first released. The film is 1973's THE LEGEND OF HELL HOUSE.
More below!
THE LEGEND OF HELL HOUSE stars Roddy McDowall and Clive Revill in roles that seem tailor made for them. McDowell as the eccentric, reluctant medium Fischer and Revill as the no-nonsense, skeptical scientist. Gayle Hunnicutt is wonderful as Lionel's repressed wife, and Pamela Franklin is perfect as Florence Tanner, the talented medium who is nonetheless not as 'tuned-in' as she thinks she is. The film even features a cameo by Michael Gough as Emeric Belasco himself.
Under the confident, steady hand of director John Hough, the events unfold at a deliberate, yet brisk pace. Clocking in at 95 minutes, the film packs a lot of story into that time. Hough stages his camera angles to make us feel as if we are the house itself watching these people try and figure out what is going on - knowing much better than they just how over their heads they are. It's almost as if the house is a point-of-view character in this film just as much as our protagonists are. It is interesting that few other films have tried telling a haunted house story from this angle before.
Though now 40 years old, the film looks and feels as if it could have been made last year. The photography, acting, and sound all translate well (only the score comes off as dated, but the film uses very little music). THE LEGEND OF HELL HOUSE is a delicious "Old, dark house" story that is worth a look by anyone looking for a good ghost story to warm a cold night…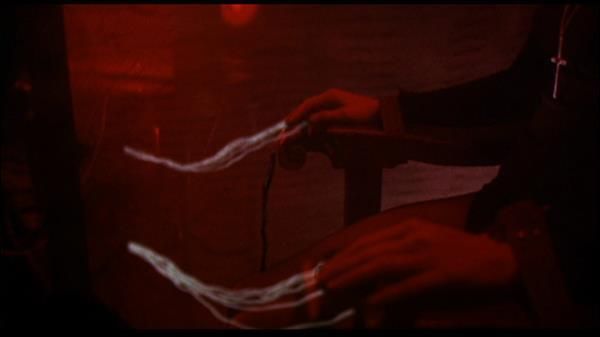 THE LEGEND OF HELL HOUSE fun facts - Emeric Belasco was based on famed occultist Aleister Crowley
The location was changed from the US (it is in Maine in the novel) to Britain to better accommodate the British production.
Dialogue from this film has been sampled by Skinny Puppy and Orbital, to name a few.
Emeric Belasco - "Welcome to my house. I'm delighted you could come… "

Ann Barrett - "You can't solve it. It can not be solved. You're going to die."

Dr. Barrett - "It's the Mount Everest of haunted houses. There were two attempts to investigate it. Both were disasters. Eight people died. Fischer was the only one who survived, and when he crawled out he was a mental wreck."