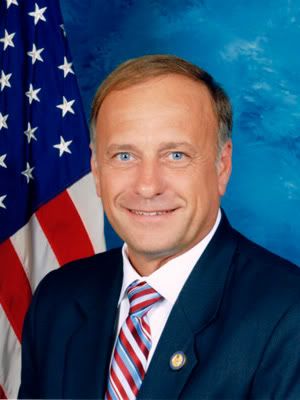 Buried deep in today's New York Times article about conservative and business groups descending on Capitol Hill next week to try to convince reluctant Republican House members to support immigration reform, you'll find this piece of nastiness from Representative Steve King (R-IA):

"We have seen the character of this president, and the way that he does business," said Representative Steve King, Republican of Iowa, explaining why he will oppose any measure.
Steve King, who has characterized Latinos and Hispanics as dope dealers, their
calves enlarged to the size of cantaloupes
from lugging narcotics across the Rio Grande, will never support any serious reform of immigration policy. But his willingness to publicly disparage the President's character in such an insulting manner says as much about the GOP's prospects in 2016 and beyond as it does about King.
A push to bring immigration legislation to the House floor, led by an unusual coalition of business executives, prominent conservatives and evangelical leaders, threatens to create another schism in the Republican Party and could have a noticeable effect on campaign contributions before the midterm elections.
The intense lobbying effort is spearheaded by 600 Republican big donors, among them "conservative leaders in business, agriculture and religion," as well as executives of technology companies, all hoping to convince 80 or so Republican Congressmen to sign on to meaningful immigration reform. Some are threatening to shut off their cash spigot to Republican candidates if reforms are not passed. The primary motivation of these "conservative leaders," however, is not to provide a "path to citizenship" for undocumented immigrants but to secure cheap labor and fatten their wallets. As one self-professed "Tea Party" supporter in the farming industry puts it:
"You wake up and it is 25 degrees, and a cow that is giving birth, and you have 400 cows to milk that day, and you don't have the help you need — that stinks," Mr. Jones said, citing a shortage of labor that he says could be eased through a new immigration law. "I bet not one of those legislators back there have been in that position."
Mr. Jones is absolutely correct. Few if any of the rabid Tea Party House members have the experience of milking cows in 25 degree weather, and even fewer of their constituents have. What the Tea Party House members are experienced in, and what their constituents crave, is sticking it to the arrogant black President. Steve King's disrespect and contempt towards President Obama illustrates this beautifully.
The contention centers on what to do with the illegal immigrants already in the country, which Democrats in both chambers say must be addressed in any final deal. Many House Republicans have already expressed support for proposals to strengthen border security and make it easier for high-skilled workers and farm laborers to get visas, all elements of the Senate package.
So Republicans are trapped. Their natural instincts are to jump when big business says jump. And big business is saying that. But the President and the Democrats hold the trump card -- any meaningful reform has to be accompanied by a path to citizenship and fairer treatment of undocumented immigrants. How to explain that to a base of voters that reacts violently to the slightest suggestion of compromise? In districts where (by and large) there is no meaningful Hispanic or Latino presence to drive the debate? The short answer is --
you can't
. The Tea Party has already demonstrated it has complete control of the Republican House's agenda. They shut the government down and brought the country to the brink of default over a hopeless effort to repeal the Affordable Care Act, the President's signature achievement. King's remarks about the President's "character" reflect the failure of that effort. The idea that they would support any type of legislation the President supports that hasn't even passed yet is simply laughable.
Pushing back against the pressure to act from within their own party, a core group of conservatives said in interviews this week that they would not be intimidated by corporate America or other outside parties, even though in this case that includes farmers, evangelical leaders and some prominent conservatives.
We've already seen prominent Republicans
laying the groundwork
for their retreat on this issue with the lame excuse that the President's refusal to abandon his health care law undermined the prospects for immigration reform. They've even begun to commission
artfully crafted polls
to
reassure
themselves that there is no urgency on the issue. Of course, if the GOP were thinking rationally, the only factor worth considering would be
Hispanics' and Latinos' increasingly hostile feelings towards their party
.
But they're not thinking rationally. They're thinking like Steve King, blinded by their own contempt for the President. And they've convinced themselves that they can keep kicking the can down the road:

A growing number of Republicans, however, privately say they see no political advantage for the party to move ahead on immigration legislation right now. They do not expect it to be a critical issue in the 2014 midterms — in fact, some House Republicans may be even more reluctant to take a tough vote on immigration during an election year — and they say it simply needs to be dealt with before the 2016 presidential election. Thus, they say, they are most optimistic about pushing through an overhaul in 2015.
They can tell themselves they'll pass something in 2015, but it's hard to understand how or why--or what. After all, even in 2015 the President will still be black.