The Daily Bucket is a regular feature of the Backyard Science group. It's a place to note the things you've seen in the natural world around you. Whether it's snails, bears, fish, bugs, weather, meteorites, climate, birds, flowers, or old rocks, nothing is too big or too small, if it's part of the natural world, this is the place to talk about it.
So please let us know what's going on in your neighborhood and whereabouts that is.
After an August trip to Elephant Rocks State Park we talked about how cool it would be to get down there in the fall to see them all decked out in fall colors. Last week things fell into place and we were able to make that trip. The timing was off by just a bit and the colors weren't quite what we had hoped for and had we been able to wait another week we'd have seen more color but with our granddaughter having a couple days off school we took the opportunity to take a little road trip while we had the chance. Elephant Rocks was our first stop.
In a diary I wrote about our earlier trip I talked about the geology of the area and tried to explain in layman's terms how these marvelous rock formations came to be so I won't go into all that again. This will just be a collection of some of the pics we took last week. But the geology of this area and the story of how these amazing boulders were created is fascinating and anyone interested in that aspect of it, or if you just want to see some different views of the rocks themselves, I urge you to check out that diary. It can be found here.
Meanwhile, put on a warm jacket and your favorite rock climbing shoes and climb over the funny shaped orange rock to see a bit of Missouri's fall colors.
As I mentioned, if we'd been able to put our trip off for another week the foliage would have been more colorful but even so we found that a lot of the smaller trees and shrubs in the understory were already wearing their autumn best.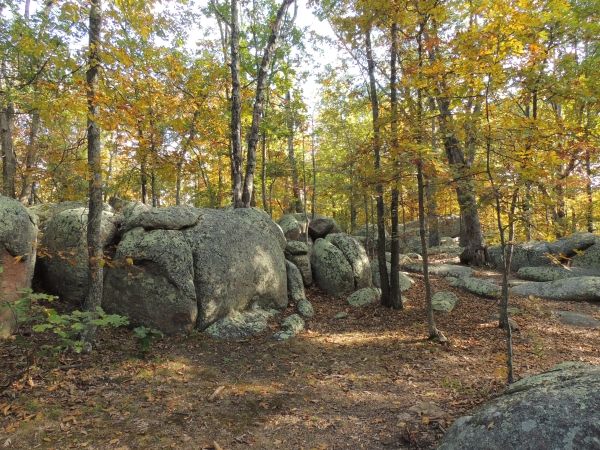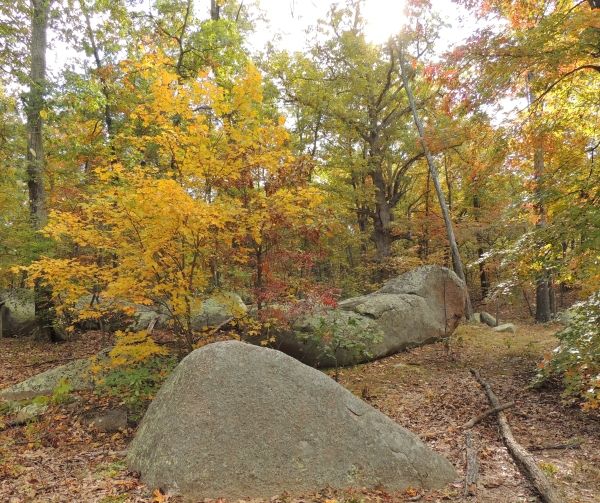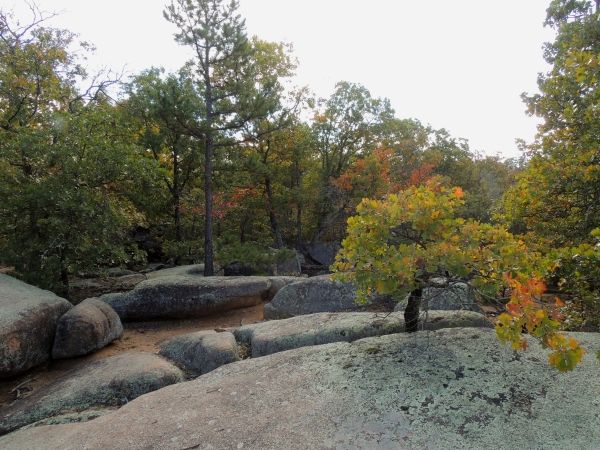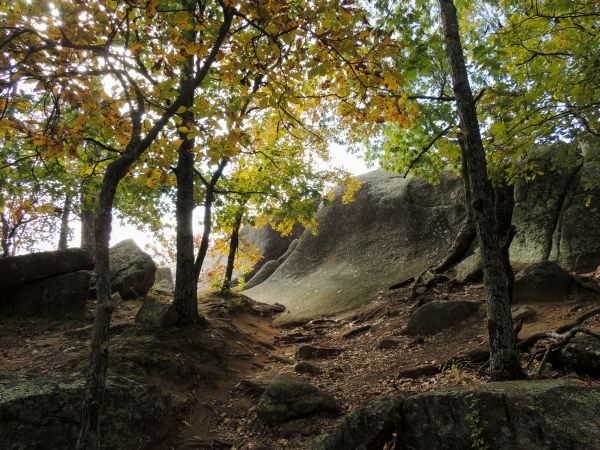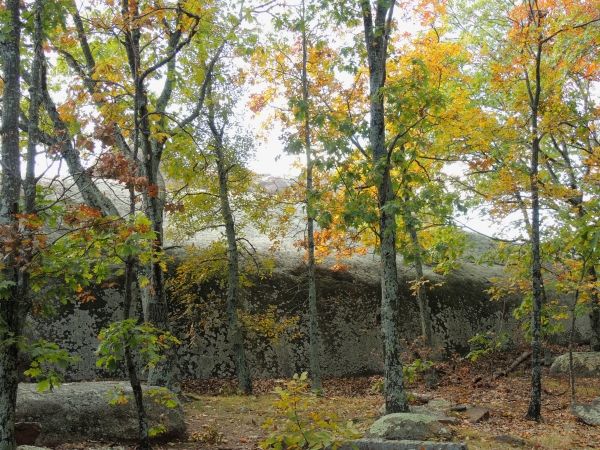 The granite was quarried for a while in the late 1800s and there is evidence of that scattered throughout the area.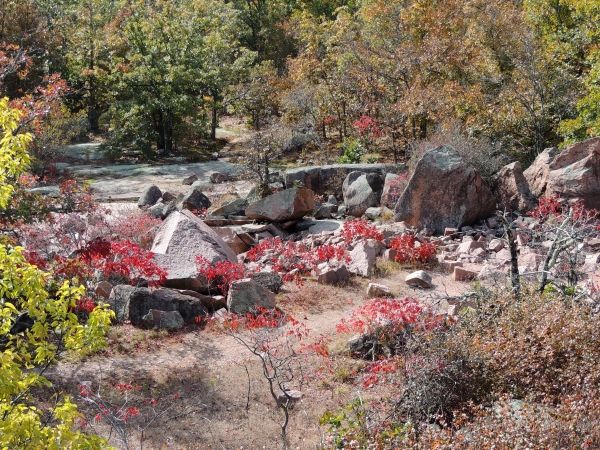 One of the most colorful spots was around an old quarry hole that has now filled with water creating this lovely little pond and a source of permanent water for the wildlife in the midst of the otherwise dry rocky dome.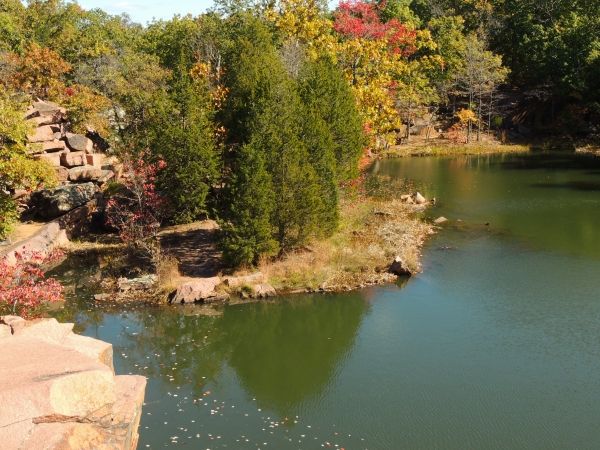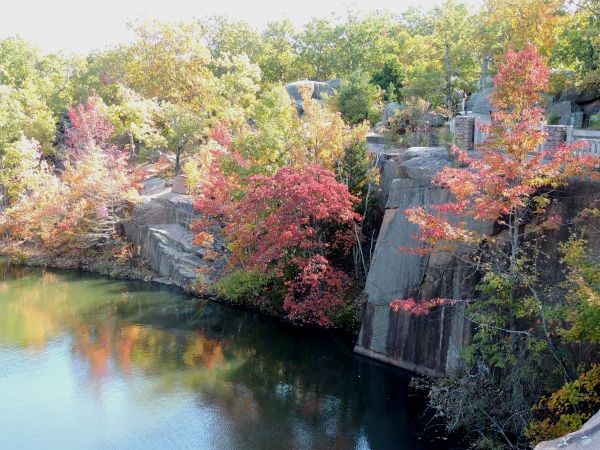 It always impresses me to see trees that have managed to take root and grow in any crack or crevice where soil has accumulated. They are a testament to natures ability to survive under all kinds of conditions.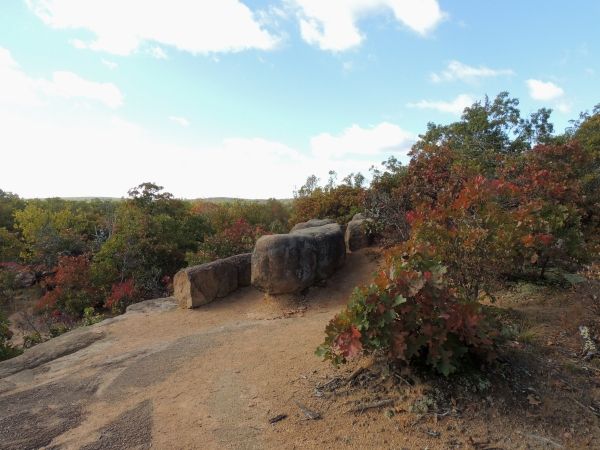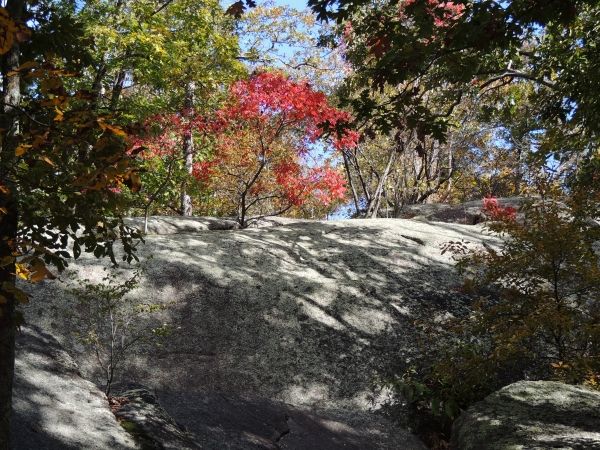 A startling touch of blue and pink popped up here and there along the way.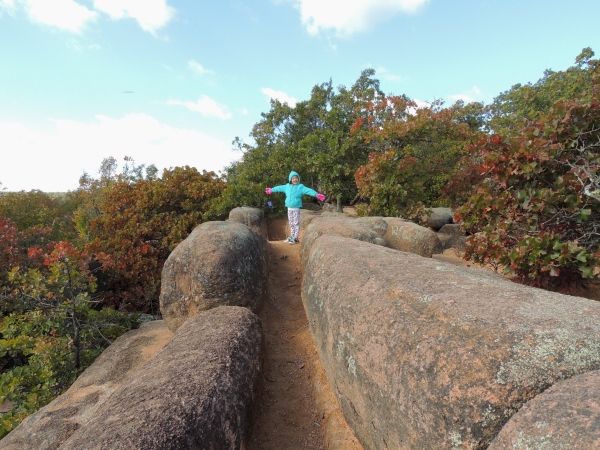 Once we had gotten above the canopy we could see that the forests biggest trees still had a few days to go before they'd reach the peak of color. Most were still showing mostly green but a few standouts could be seen here and there giving promise of things to come.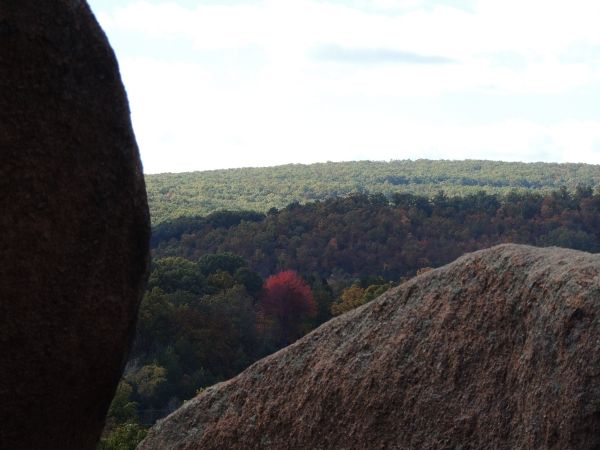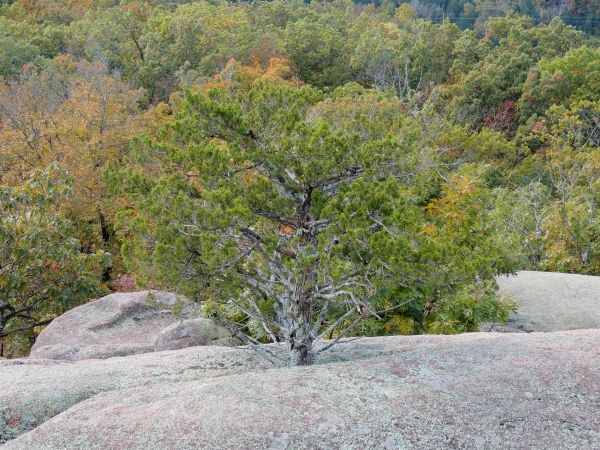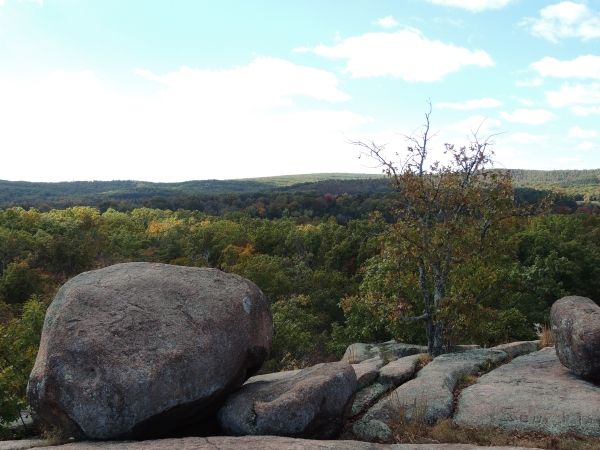 The slow erosion of the ancient granite is helped along by lichens which seem to be thriving on the surface of most of the giant boulders. They grow everywhere but seem to do better in the shaded areas.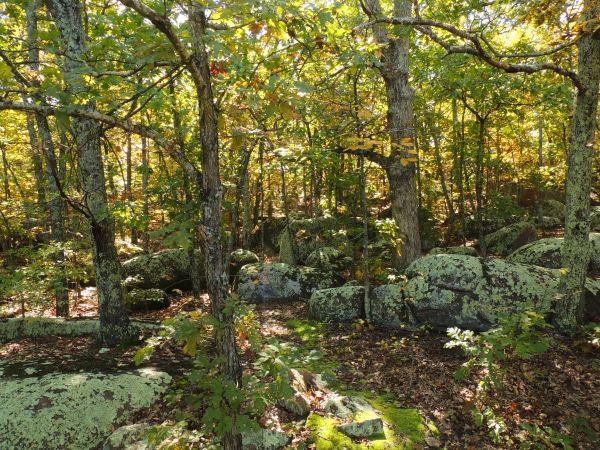 The larger bluish green ones are by far the most common but little patches of the lime green ones seen in this pic are scattered about here and there.
This rock supported a lichen community that had formed some interesting circle shapes as it grew.
One of the few insects braving the chilly weather that day was this European hornet. It was a new species for all of us. We later saw two more of the same species so I suspect there's probably a nest hidden among the rocks somewhere.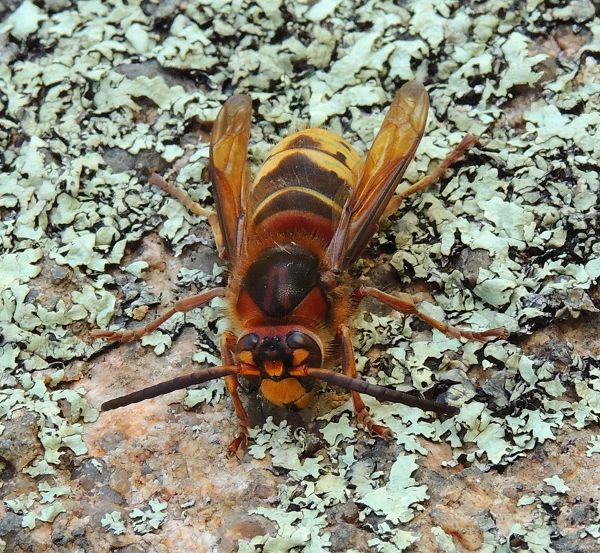 Once reaching the top the view is always spectacular no matter the season. I'd be a bit hesitant to climb around on these rocks with snow on them but I'd love to see them all dressed in white and just might talk myself into one more trip later this year.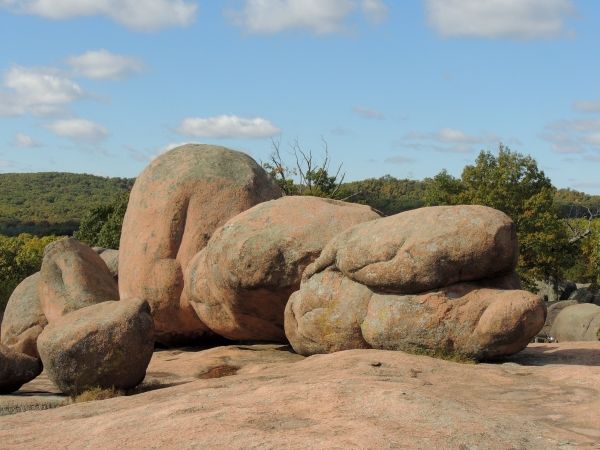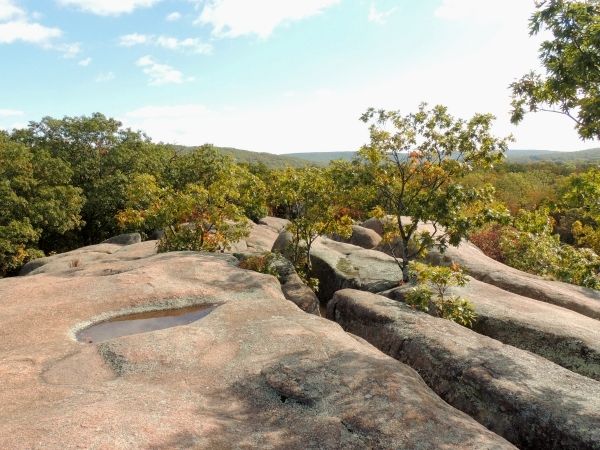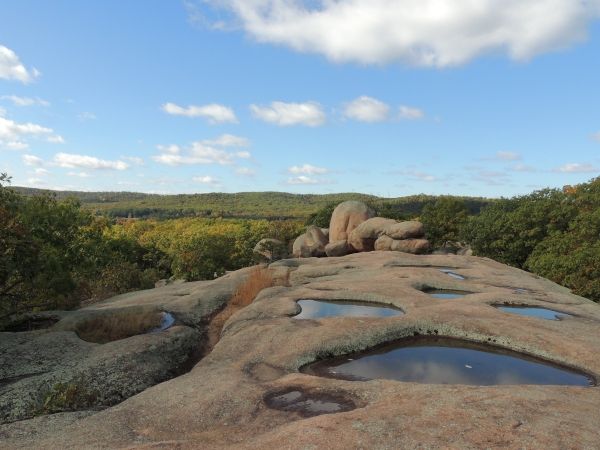 I had told LB that the depressions where she'd discovered tadpoles on our previous trip would probably be dried up but evidently some recent rain had replenished them and she was delighted that the natural bird baths were still holding water but was a bit disappointed to find no tadpoles this time although she searched each pool diligently.
It was the chilliest day of the year but with the beauty all around us and the exertion of the uphill climb helping to warm us, the temperature hardly seemed noticeable to any of us. By noon the sun had warmed things up considerably and in the afternoon when we traveled a few miles down the road to another natural area, we exchanged our heavier coats for light weight jackets. That second stop of the day was at Johnson's Shut-Ins State Park, with some equally interesting geology and landscape, but that's a diary for another day.
In the few days that have passed since our road trip, the woods right here at home are very near their peak of color and although not quite as amazing as the record setting colors we had last year they are still quite beautiful.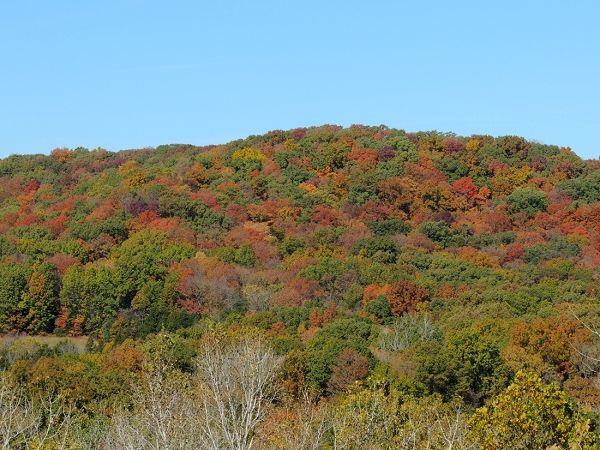 And now it's your turn to tell us what you've been seeing in your area. Radar looks like rain will be keeping me inside most of the day so I should be around to reply to any comments. Thanks for reading.