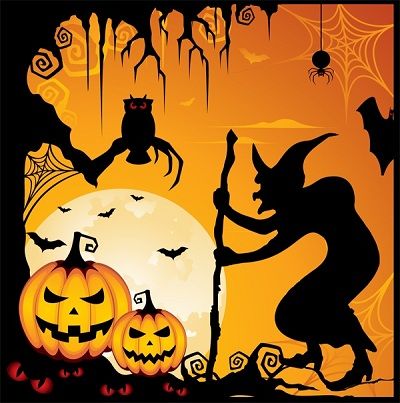 As you make your rounds through the dark, eerie streets tonight, treading nervously between furtive ghosts, shuffling mummies and and cackling witches, you may have the occasion to be accosted by a Republican. If this should occur, then in the spirit of the Holiday here are some scary factoids for you to carry in your back pocket. These are guaranteed to send chills down the spine of any Republican and send him (or her) fleeing in a state of fevered panic.
First you can shake them to the core with this from their very own Fox Business:

According to McGraw-Hill's (MHP) S&P Capital IQ, the S&P 500 has rallied an average of 12.1% per year since 1901 when Democrats occupy the White House, compared with just 5.1% for the GOP.

Likewise, gross domestic product has increased 4.2% each year since 1949 when Democrats run the executive branch, versus 2.6% under Republicans.
The data don't lie:

Even corporate profits show a disparity: S&P 500 GAAP earnings per share climbed a median of 10.5% per year since 1936 during Democratic administrations, besting an 8.9% median advance under Republicans, S&P said.
Or you can pull out even scarier stuff from Bloomberg.com:
While Republicans promote themselves as the friendliest party for Wall Street, stock investors do better when Democrats occupy the White House. From a dollars- and-cents standpoint, it's not even close.
"Not even close" is an understatement:
The BGOV Barometer shows that, over the five decades since John F. Kennedy was inaugurated, $1,000 invested in a hypothetical fund that tracks the Standard & Poor's 500 Index (SPX) only when Democrats are in the White House would have been worth $10,920 at the close of trading yesterday.

That's more than nine times the dollar return an investor would have realized from following a similar strategy during Republican administrations. A $1,000 stake invested in a fund that followed the S&P 500 under Republican presidents, starting with Richard Nixon, would have grown to $2,087 on the day George W. Bush left office.
And if you they start stammering that the data must be skewed because of the Clinton Expansion and the Bush Collapse, well, you can just take them out of the mix!
The Democratic edge is so large that the party comes out ahead even without counting Bill Clinton (the Democrat with the biggest S&P 500 gain) and George W. Bush (the Republican with the worst market record). A hypothetical $1,000 investment under Democrats excluding Clinton was worth $3,539 versus $3,296 invested under Republicans except Bush.
Finally, you can unveil the coup de grace, from none other than Forbes magazine:

Want a Better Economy? History Says Vote Democrat[ic]!

* * *

Personal disposable income has grown nearly 6 times more under Democratic presidents
Gross Domestic Product (GDP) has grown 7 times more under Democratic presidents
Corporate profits have grown over 16% more per year under Democratic presidents (they actually declined under Republicans by an average of 4.53%/year)
Average annual compound return on the stock market has been 18 times greater under Democratic presidents (If you invested $100k for 40 years of Republican administrations you had $126k at the end, if you invested $100k for 40 years of Democrat administrations you had $3.9M at the end)
Republican presidents added 2.5 times more to the national debt than Democratic presidents
The two times the economy steered into the ditch (Great Depression and Great Recession) were during Republican, laissez faire administrations
You can say this ain't rocket science,
no matter what aliens may have told them:
The results are simple: Democratic presidents have consistently higher economic growth and consistently lower unemployment than Republican presidents. If you add in a time lag, you get the same result. If you eliminate the best and worst presidents, you get the same result. If you take a look at other economic indicators, you get the same result. There's just no way around it: Democratic administrations are better for the economy than Republican administrations.
And as they're running home to the safety of Fox News, be sure to wish them a
Happy Halloween
!
UPDATE: Whoa! Here's the long version by Jon Perr!